ABOUT THE SURF CAMP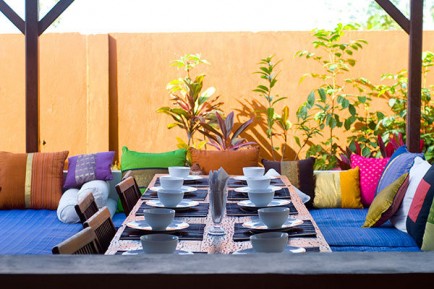 ---
CAMP CHARACTER
---

THE TEAM
The camp was set up by soul-surfer Josh, known as "Dude" and has been managed by him ever since.
Josh has been surfing since he was seven and he has been all over the world looking for waves. Bali is now what he calls home and together with his Portuguese wife Ana he'll make sure your daily desire for surf is satisfied. He's been teaching surfing now for ten year and will be able to help you with professional and advice tips.
At Padang Camp our local guide team is responsible for planning your surfing. They all are experienced surfers and so they always know when, where and for whom the best break is. The real heart and soul of the camp is Sunny. Not only are her massages a delight for aching muscles, she'll also spoil you with her culinary skills. Her wonderful Balinese cuisine is legendary!

Then there are Made "Mr. Boss" and his son, Nyoman known as "Bones". They make sure everything's ok at the camp – rooms, garden etc. If you like, Made will also be pleased to give you a guided tour of the island.
ACCOMMODATION AND CATERING
---
ACCOMMODATION TYPES
---

The camp is made up of traditional Balinese bungalows, mini villas and a main house embedded in a lovely, tropical garden with pool.

The deluxe dorm room accommodates 4 people in bunk beds with a/c. The twin rooms come with airconditioning or ventilation.

For couples or people who prefer to be on their own, there is a double bungalow, the surf shack, the luxury surf shed or our villa. These accommodations come with private bathroom and air-conditioning.

After a hard day's surf a place to chill can always be found in the tropical garden, on the large terrace, in the pool, or in the camp house.

There is an optional WIFIinternet connection available.



---
CATERING
---

Our camp cook, Sunny will set you up every morning with a great breakfast and in the evening she conjures up delicious local and international dishes.

Just around the corner on the main road there's also a good Mexican and smaller snack bars.



SURF COURSE AND ACTIVITIES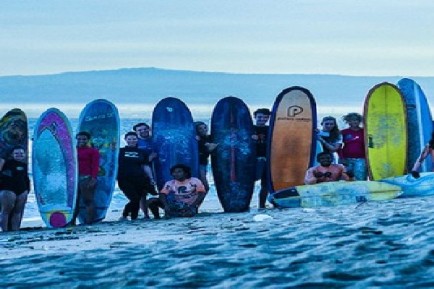 ---
SURF COURSE DETAILS
---

SURF GUIDING

At Padang Kima Surf Camp you can either use the numerous breaks in the area, or take off with your guide on one of our camp motor bikes or cars to do the rounds of the near-by spots.

The surf guide certainly knows his way around and can take you to the right spot where the surf is at its best, depending on the tide and swell. Plans for the next day are made at dinner so you're well briefed for the first morning session.

The spots around especially suit intermediate and advanced surfers, but also beginners can surf here at small swell and high tide.



MOBILITY

Kuta is only about an hour's drive from the Surf Camp. There you'll find not only cinemas with English language movies, costing something like 2 Euro, but also the supposedly greatest density of surf shops in the whole world.

But we don't just have perfect waves, the countryside is awesome and certainly well worth exploring: waterfalls, rice paddies, hot springs, Lake Batur, the largest Hindu temple at the foot of Bali's highest mountain and the Volcano Agung.

These are just a few of the sights worth seeing. Bali has everything to offer, from organised climbing tours, horse-riding on the beach, spoil-yourself programme in a spa – the only weak point is winter sports.

If you want to take the ultimate plunge, we can organise scuba diving trips for you. If surfing should for some reason not be possible we'll take you on an excursion. Or if you want to find your own way around, you can use our camp mopeds or other cheap methods of transport.


---
SURF MATERIALS
---

Our material pool has been put together to suit the conditions we have here: short boards (6'0'' - 7'0''), funshapes and mini-malibus from 7'0" - 8'0" for our beginners. Leashes are included in the rental.

If you don't mind the haul, please feel free to bring your own equipment or favourite board with you, so you can put them to the ultimate test here. Board shorts, booties and wax can be had here at reasonable prices.

Leashes and lycras are included in the rental, however, possible repairs have to paid for. If you want to be on the safe side as far as ding repair is concerned, you can "insure" your rental board – or your own one – for 25 Euro.

That means that we will carry the costs for any repairs over a period of 1 – 3 weeks, whether it's a tiny dent or a major break. Any damage will of course be immediately and professionally repaired. If the board or parts of it get lost - for instance gone forever sailing over the wide, wide sea – the costs have to be borne by the user despite any insurance.


MORE INFO, HOW TO GET THERE & FAQ
-
PACKAGES & PRICES
---
PACKAGE  - from 161 € per Week / Person
---
 
SERVICES Padang Camp covers: 
• breakfast daily
• 5 dinners a week (Monday – Friday)
• 2 Guided sessions per day + local spot info (Tuesday-Sunday)
 
 
 
 
 
 
 
ACCOMMODATION
 
 
 
 
 
 
 
 
 
 
 
 
 
 
 
 
 
 
 
 
 
 
Package A
 
 
 
 
 
 
Double room
(fan cooling)
 
 
 
 
 
from 23,00 € / night
 
Package B
 
 
 
 
 
 
Double room
(air-conditioning)
 
 
 
 
 
from 27,50 € / night
 
Package C
 
 
 
 
 
 
Deluxe dorm style room
 
 
 
 
 
from 27,50 € / night
 
Package E
 
 
 
 
 
 
Bungalow
(1-2 persons)
 
 
 
 
 
from 49,00 € / night
 
 
 
 
 
 
 
 
 
 
 
 
 
 
 
 
Package F
 
 
 
 
 
 
Surf Shack
(1-2 persons)
 
 
 
 
 
from 52,00 € / night
 
Package G
 
 
 
 
 
 
Villa
(1-2 persons)
 
 
 
 
 
from 55,00 € / night
 

Package H

 
 
 
 
 
 

Surf Shed 
(1-2 persons)

 
 
 
 
 
from 67,50 € / night
 
 
 
 
 
 
 
 
 
 
 
 
 
 
 
 
The longer you stay the cheaper it gets!
Get 1 % discount for every night booked - max. 50 nights.
EXTRAS
 
 
 
 
 
 
 
 
 
 
 
 
 
 
 
Airport transfer
 
 
 
 
 
 
18 € / way
 
 
 
 
 
 
 
 
Surfboard rental
 
 
 
 
 
 
11 € / day
 
 
 
 
 
 
 
 
Learn-to-surf
(in small group)
 
 
 
 
 
 
39 € / day
(2x2 hours)

165 € / week
( 6 days á 2x2hours)
 
 
 
 
 
 
 
 
Learn-to-surf
(private)
 
 
 
 
 
 
88 € / day
(2 hours)