ABOUT THE SURF CAMP
---
LOCATION AND SURF CONDITIONS
---
We are based 200 meters from the beach and a super central location in town with access to shops, restaurants, bars etc.

Sintra is also only a short bus ride away or you can choose to take the quaint little tram.


---
CAMP CHARACTER
---
Surfiberia was started by local and dedicated surfers. We want to bring people together to learn about the art of surfing.
From "first timers" to the competitively minded, for the young and not so young, light hearted or serious; Surfiberia offers the complete surf package.
Our staff is a small circle of friends and family who share the common bond of surfing.


ACCOMMODATION AND CATERING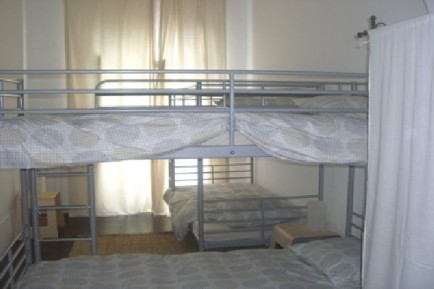 ---
ACCOMMODATION TYPES
---
The Lodge in Praia das Macas
At the Lodge you have all the comforts you need after a "hard day" at the beach. Indoors you have: Projector screen TV, DVD`s, Music, Internet, Skype, Playstations etc.
On the roof garden you will be able to chill out in the sun in one of the fantastics beds, have a drink at the bar !!
There is also a massage room to easy away all those aches and pains offering various types of treatments.
There are six rooms in total all ensuite with either a shower or a bath, from doubles to twins, triples, quads and dorms.


SURF COURSE AND ACTIVITIES
---
SURF COURSE DETAILS
---
Surfiberia school works with qualified coaches under the Portuguese Surfing Federation and the British Surfing Federation. Safety, board control and knowledge of waves, tides and currents, are some of the main factors of our teaching methods.
We have different options:from weekly packages to just accommodation, lessons and any plan you wish to make. we pretty much can make a taylor made plan for you so, think what suits you best and we will arrange it for you.
We are very flexible with days and times and offer transfers to and from Lisbon and other areas.

We always look for the beaches with the best conditions for the different levels so, if it depends on us, you will never miss a surf lesson!



We also offer rentals only
Boards - 25 Euros per day
Wetsuit - 15 Euros per day
Board and wetsuit - 30 Euros per day
MORE INFO, HOW TO GET THERE & FAQ
---
JOURNEY
---
Ways to get to the camp
SURFIBERIA is located on the West side of Lisbon. 30 minutes drive from the airport and within easy reach from Sintra.
We offer transfer services from and to the airport costing 20 Euros per person, discounts for groups.
There is also a train and bus service from Lisbon into Sintra and then to Praia das Macas.
A taxi will cost around 60 Euros from the airport but be careful if you are bringing your own boards as sometimes they do not take them or charge extra.


PACKAGES & PRICES
---
PACKAGE A - WEEKLY PACKAGE - 360€ / WEEK
---
This package includes:

- 7 nights accommodation ( standard or upgrade )
- 5 days surf lessons with 2 lessons per day
- All equipment needed during lessons
- Transport to and from the beach


---
PACKAGE B - INDIVIDUAL PROGRAMS - from 30€ / NIGHT 
---
This package includes:

- Choose from 1 night to 100 nights
- 1 lesson to 100 lessons
- Any option is possible