ABOUT THE SURF CAMP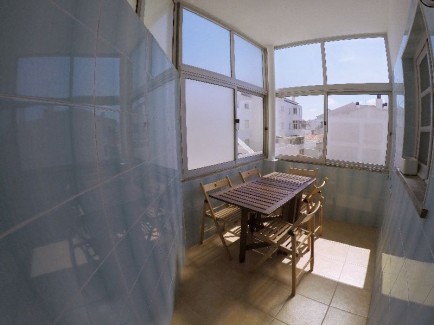 ---
LOCATION AND SURF CONDITIONS
---
Located in the heart of Ericeira, Blue Buddha allows for easy walking access into the centre of the village or a beautiful stroll to some of Portugal's famous surf spots and beaches.
Ericeira village is located in Portugal west Atlantic coast located 40 km north of Lisbon known by the beaches, surf and way of life.
It is famous for its constant swells and for its healthy air, beautiful beaches and landscape, the excellent food and its weekend parties...during the summer.
The sandy beaches some with reef 300 days of sunshine mild temperatures and sea-breezed summers invite you to come all year long...
Walking tracks, facilities for surfboards rental and surf lessons are just some alternatives to the life on Ericeira.
Being a surfer you'll enjoy Ericeira and even if you're not a surfer, for sure you'll enjoy it to!!!
---
CAMP CHARACTER
---
Blue Buddha is thrilled to accommodate you, and all world travelers, who love experiencing multicultural environments, relaxing in the Portuguese way of life.
ACCOMMODATION AND CATERING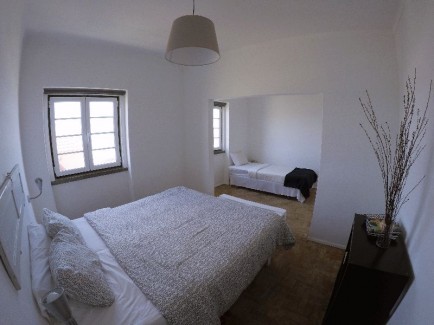 ---
ACCOMMODATION TYPES
---
BEACH HOUSE - BIG SEA VIEWS, SMALL BUDGET

Ideally located at the north entrance of the town centre, and positioned in front of Europe's first World Surfing Reserve, the Blue Buddha Beach House provides fantastic location with some great ocean views, and direct access to the surf.
It has easy proximity to all of Ericeira's unique lifestyle, beaches, restaurants and bars, bakeries, supermarkets, surf shops and other amenities. We offer you bright and clean accommodation with the distinctive Blue Buddha design and quality. We have 7 Twin Rooms - 4 with private bathroom. All rooms with single beds (1 in bunk bed), common kitchen access, guest living room and WiFi included throughout. There is also an extensive free parking area just in front of the hostel.
What's Included:
- Bed Linen and Bath Towel
- Common areas including; kitchen & guest lounge. Sea views available from some rooms
- Hand towels & hand soap in shared bathrooms
- All guests check-in: from 13:00 till 20:30
  From 21:00 till 00:00 there is 10€ fee for late check-in.
  After 00:00 more 10€ are charged
Change Towel and Change Linen possible extra cost
---
CATERING
---
You will have access to a fully equipped kitchen.
SURF COURSE AND ACTIVITIES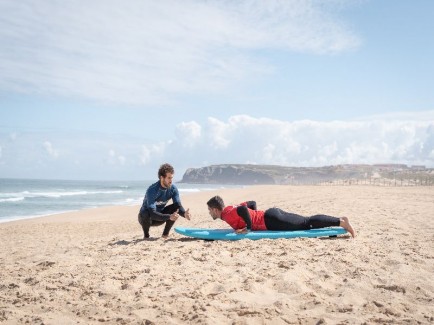 ---
SURF COURSE DETAILS
---
We can organize you from group of beginners, intermediate or advance surf classes with Semente Surf School and Ericeira SUP includes all surf equipment, pick-up & drop-off at the hostel.
SURF LESSON
Blue Buddha with Semente Surf School provides group surf lessons with a maximum of 8 people per instructor. Each day our certified instructors choose the best beaches with the right conditions for the level of the group. Personal feedbacks are done for each person to improve the skills you need to surf in the right way, without doing mistakes.
Get your group surf lesson with Blue Buddha and Semente Surf School and we will take care of you, ensuring quality and safety in all surf lessons. The Surf Lessons offer is for beginners, intermediate and advanced surf levels. Intermediate and advanced surfers can also have an experience with a local guide and surf coach that will take you to the next level.

What's Included:
- Surf Board plus Wetsuit during the lesson
- Transfer to/from the beach
- Insurance
- Around 3 Hours since pick/drop from the House/Hostel
- Certified Instructure
- Maximum of 8 people per instructor

SUP SESSION
Blue Buddha with Ericeira SUP offer different Experiences in order to contemplate the levels and customer motivations. If you want to do an experience with your friends, your family or others, to do a session in the bay, session in the river, surf yoga session, Tour in Ericeira World Surfing Reserve or to have a challenging waves session you're in the right place!
What's Included:
- SUP Board, Paddle plus Wetsuit during the session
- Transport
- Insurance
- Around 3 Hours since pick/drop from the House/Hostel
- Certified Instructure
- Maximum of 6 people per instructor
---
SURF MATERIALS
---
At the hostel or real around the hostel you will find best surf shops where you can hire Surf Material.
Surf Board plus Wetsuit are included during the lesson.
---
OTHER ACTIVITIES
---
Bikes and Scooters

There are several scooter and bike rentals ask more info at the reception
Yoga
With our certified partners we can organize Yoga activities for you.
MORE INFO, HOW TO GET THERE & FAQ
---
 REGION
---
Characterization of region
Ericeira is a delightful old fishing village, which is now one of Portugal's surfing Mecca. Our Hostels cater for surfers from complete beginners to the most advanced, and you will sure have a love for surfing in no time.
---
 JOURNEY
---
By Car
Coming from A8, from either Lisbon or Leiria, exit to A21 direction Malveira / Mafra / Ericeira.
At the roundabout just after Ericeira toll, take the 4th exit towards center in the sea direction. Entering Ericeira turn right to S. Sebastião / Ribeira D´Ilhas /Parque de Campismo. Blue Buddha Beach House is at your right side after the kids playground at São Sebastião - Moinhos do Mar first house.
By Bus
From Lisbon (nearly 45 Km) – take Ericeira bus at Campo Grande Terminal
From Torres Vedras (nearly 35 Km) – take Ericeira bus at Terminal Rodoviário
From Sintra (nearly 35 Km) – take Ericeira bus at Portela de Sintra Terminal
Turn right out of the bus station walk 3 minutes on the main road until you reach the Galerias Comerciais São Sebastião (shopping centre). Cross over the road to the car park, & there you will find the Surf Hostel & Apartments situated on the right.

Transfer
We can organize Transfers from/to the Lisbon airport

PACKAGES & PRICES
---
Sleep and Surf - from 800€ per Week / 2 Pax
---
This package includes:
7 Nights at Blue Buddha Beach House
5 Surf Lessons
1 Visit to Semente Surfboards Factory (includes transfer to/from the factory)
| | | | | | | | |
| --- | --- | --- | --- | --- | --- | --- | --- |
| Room/Bed |   |   | Low Season |   | Mid Season |   | High Season |
|   |   |   |   |   |   |   |   |
| Twin Room with Sea View and Private Bathroom |   |   | 800€ |   | 900€ |   | 1.100€ |
| Twin Room with Garden view and Private Bathroom |   |   | 800€ |   | 900€ |   | 1.100€ |
| Twin Room with Private Bathroom |   |   | 800€ |   | 900€ |   | 1.100€ |
| Twin Room with Shared Bathroom |   |   | 740€ |   | 800€ |   | 1.000€ |
| Twin Bunk Bed Room with shared bathroom |   |   | 700€ |   | 750€ |   | 900€ |
Low Season: February - March - April - May - October - November - December
Mid Season: June - September 
High Season: July - August
---
EXTRAS
---
SURF LESSON (Prices per person):
Per Lesson: 35 €
PACK 5 Lessons: 30 € (per lesson)

SUP SESSION (Price per person):
Per Lesson: 35 €