ABOUT THE SURF CAMP
---
LOCATION AND SURF CONDITIONS
---
There are two different spots in Iztapa.
The first one breaks at the sea in front of the river mouth and runs to the beach. It is a strong, fast and long right, with two barrels sections. This wave can hold big swells over 10 feet. For experienced surfers.
The second one is a river wave, generally a left that changes according to the tide. There can also be right ones. It is a fatter wave, ideal for beginners or not so experienced surfers.
---
CAMP CHARACTER
---
Family Friendly
Beginner, Improver, Intermediate
---
OTHER ACTIVITIES
---
-Surf
-Bodyboard
-Kayak
-Stand-up paddle
-Fishing
-Bycicle
-Snorkeling
-Massage
-Spanish practicing
ACCOMMODATION AND CATERING
---
ACCOMMODATION TYPES
---
The Hostel offers five rooms and cabanas, option of single, double or triple, with private or shared bathroom, kitchen and pier.
---
CATERING
---
A fully equipped kitchen is available.
SURF COURSE AND ACTIVITIES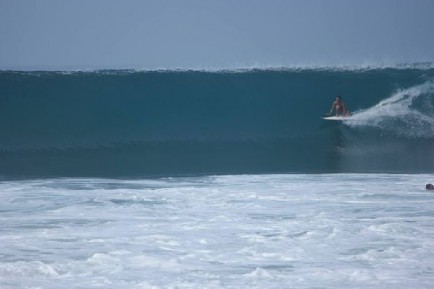 ---
SURF COURSE DETAILS
---
At Surf Shack on the beach there is a Surf Project with the local children. The Project consists on lending and donating Surf Boards and bodyboards, surf lessons, following their surf sport progress. In charge the children must keep the beach clean and do activities for their own development and the benefits of the community and environment.
---
SURF MATERIALS
---
Equipment incuded
MORE INFO, HOW TO GET THERE & FAQ
---
SURROUNDINGS / REGION
---
Characterization of surroundings/region

Puerto de Iztapa is a municipality in the department of Escuintla in Guatemala. Located on the shores of the Pacific Ocean and bathed by the Michatoya or María Linda rivers and the Chiquimulilla Canal. It has about 15 thousand inhabitants. Their settlers are dedicated mainly to the artisan fishing, the agriculture, the care of "chalets" or service in these.
The most common means of transportation is the bicycle and rowing boats. In order to go to some of its villages it is obligatory to cross by ferry, if you go by motor vehicle or boat.

---
JOURNEY
---
Ways to get to the camp
From ANTÍGUA by Chicken Bus: First get to ESCUINTLA, from the Bus Terminal take the bus to PUERTO SAN JOSÉ  and stop at the CROSS that goes to IZTAPA. Take another to IZTAPA CENTER and stop at SUPER24 store.
From EL PAREDÓN: Take the only bus that runs at 6h am to PUERTO SAN JOSÉ. There take another to IZTAPA. Stop at SUPER24 store.
From MONTERRICO: Take a bus to PUERTO VIEJO, and then take another to IZTAPA. Stop next to SUPER24 store.
From SUPER24 store: Super24 is located at Principal Street and 3rd Street cross.  Walk through 3RD Street (Calle 3) on the river direction until the end of the street. The Hostel is the last house by the river, in the right side with a wooden gate, lote 50.
PACKAGES & PRICES
---
PACKAGE SURF - from 270$ per week / person

---
The package includes:
7 days accommodation 
7 days surf class - 2 hours / day
7 days surf board rental
Transport to surf spots
---
PACKAGE ONLY ACCOMMODATION - from 120$ per week / person

---
The package includes:
7 days accommodation
Surf Lessons are $10 for 2 hours.
Board Rental are $10 a day.