ABOUT THE SURF CAMP
---
CAMP OPERATOR
---

Youssef

Youssef is the spirit of Travel Surf Morocco. As a real waterman, he is the main surf and stand up paddle teacher of the team, with more than 15 years of surfing experience. He knows all the spots and will enable you to surf the best places ! He can read the ocean… assure you to make progress and inspire you with his passion for surfing with love!

Elsa
Elsa will take care of all your needs, from the booking to the logistic details of your stay. As a surf lover, she's involved in the coastline protection through Surfrider Foundation Maroc. She will share her passion for the ocean and the moroccan waves with you!
ACCOMMODATION AND CATERING
---
ACCOMMODATION TYPES
---
Tamraght Hostel
Is a beautiful new guesthouse upon the hill of Tamraght, a quiet traditionnal village 14 km north of Agadir. Modern and comfortable rooms with personal bathrooms. Suites are available for couples or families. You'll marvel at the spectacular ocean view and enjoy the open terrace for yoga and a sunset chill-out.

Imessouane Hostel
A comfortable new hotel situated in the village of Imessouane, a quiet anglers' and surfers' paradise located about 90 km north of Agadir. Beautiful suites are available with panoramic views of the bay. Each room has a balcony to chill in the sun and relax. There is also a big terrace, perfect for yoga and a nice swimming pool to relax after surfing.

BoardX House
A cosy house in the village of Imessouane, a quiet anglers' and surfers' paradise located about 90 km north of Agadir. Pure and simple, with 3 large apartments, 3 rooms (2 double rooms and 1 double bed + 2 bunk beds), ideal for groups of friends and families. You'll enjoy a magical view of the Bay of Imessouane. An outdoor terrace is available as well as other common spaces: an open kitchen & living room with Moroccan taste. The swimming pool with an ocean view is the perfect place to relax after a hard day with Mother Nature.

Banana House
Traditional and charming small houses right in front of the ocean with a view and direct access to Banana Beach. Nice, clean rooms with a terrace and garden to relax in whilst listening to the sound of the waves between the sessions.


---
CATERING
---
When you book a package: 3 meals per day (breakfast, lunch at the beach and dinner)
SURF COURSE AND ACTIVITIES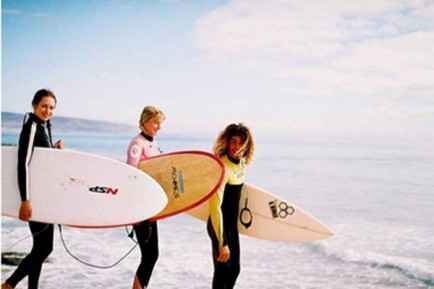 ---
SURF COURSE DETAILS
---
Surf Passion:
You've never tried surfing? You're already a surf junkie? "Surf passion" is for all those who aspire to discover the Moroccan surf with safety and peace of mind! As a beginner or intermediate surfer, you want to progress quickly and to improve your technique and style on your board? Learn from our expert surf instructor, discover the local surf culture and some beautiful landscapes and don't forget to bask in the sun and year-round warm weather. You will be staying in Tamraght, where you will delight in Chef Ahmed's delicious home-made food. Be warned: this adventure could change your life!

Surf Guiding:
You are an intermediate or professional surfer? You're looking for adventure and excitement? "Surf Guiding" is for you! The program for your surf holiday: finding the best waves at the perfect time! The early bird gets the worm, so we wake-up early and return late to make sure we don't miss any sessions. We enjoy the world-class spots when they are empty at sunrise and sunset! Be ready to experience plenty of different spots: beach breaks, reef breaks, point breaks, slabs, you name it. You will even try the famous ones: the legendary Anchor Point, Dracula, Banana, Anza, Killer Point, Imessouane, The Cave ...). You'll share your sessions with an experienced local waterman who ensures security during your practice and makes you feel like local! You will be staying in Tamraght, where you will delight in Chef Ahmed's delicious home-made food...

Stand Up Paddel:
Have you really never tried stand up paddling (SUP)? Or maybe you're already an addict? "Stand Up Paddle Morocco" is for those of you who'd like to discover stand up paddling or to polish their skills. First, we will take you to flat water to get the feel of the board, after which you'll begin trying to SUP the waves! You'll be hitting the region's best spots and maybe some wild places, enjoying pure and natural landscapes. At Morocco's first SUP school, you're gonna practice this sport with quality materials: paddles and boards adapted to your level and morphology. Your instructor is a professional SUP waterman, sponsored by the Swiss brand Indiana SUP. He will share with you his passion for challenge and love of the sea! You will be staying in Tamraght, where you will delight the delicious home-made food made fresh by Chef Ahmed ....

Right Time Right Place:
Surf lover and travel addict? This package is made for you! You'll have the best surf during your stay, at the right time and in the best places. You will discover the potential of the south coast spots of Morocco, from sunrise to sunset. Your guide will find the conditions adapted to your level (beginner, intermediate or advanced) from Tamraght to Sidi Kaouki, through Douira, Taghazout or Imessouane and its magic bay. You will be staying in Tamraght and Imessouane, where you will enjoy the delicious healthy Moroccan food ! Home is where the waves are!

Surf Nomad:
Surf trip lover, get your back pack ready! "Nomad Surf" is a package the adventurer that is hiding inside each and every one of you. From Tamraght, you will travel along the coastline with the region's best surf guide to discover wild landscapes and empty spots "searching for the waves!" Southbound : Mirleft, Legzira beach with the beautiful red arch, Sidi Ifni Northbound : Imessouane, Tafdna, Iften, La grotte, Sidi Kaouki, Essaouira You will be staying in different hostels and you may taste the best tajines and couscous of your life! Yallah, let's explore the ocean! ! A minimum of 4 people is required for this package.
MORE INFO, HOW TO GET THERE & FAQ
---
SURF CONDITIONS
---
Seasonal conditions
The weather is all year long good.
---
JOURNEY
---
You can book cheap flights to Agadir.

PACKAGES & PRICES
---
SURF PASSION - from 420 € per Week / Person
---
This package includes:

-Full accommodation
-Transfer from/to Agadir airport or bus station
-3 meals per day (breakfast, lunch at the beach and dinner)
-Surf equipment (board and wetsuit)
-Surf lessons for 6 days (around 4h/day, depending on conditions)
-Half day excursion to Paradise Valley or souk market in Agadir
-1 hour massage to relax your body*
*included from 10 Days on

10 Days - 600 € per Week / Person
14 Days - 770 € per Week / Person

---
SURF GUIDING- from 470 € per Week / Person
---
This package includes:

-Full accommodation
-Transfer from/to Agadir airport or bus station
-3 meals per day (breakfast, lunch at the beach and dinner)
-Surf equipment (board and wetsuit)
-Guiding and analysis by an experienced local surfer
-Surfing from sunrise to sunset
-Half day excursion to Paradise Valley or souk market in Agadir
-1 hour massage to relax your body

included from 10 Days on

10 Days - 660 € per Week / Person
14 Days - 820 € per Week / Person


---
SUP - from 490 € per Week / Person
---
This package includes:

-Full accommodation
-Transfer from/to Agadir airport or bus station
-3 meals per day (breakfast, lunch at the beach and dinner)
-SUP equipment (board, paddle and wetsuit)
-SUP lessons for 6 days (around 4h/day, depending on conditions)
-Half day excursion to Paradise Valley or souk market in Agadir
-1 hour massage to relax your body

included from 10 Days on

10 Days - 680 € per Week / Person
14 Days - 870 € per Week / Person


---
RIGHT PLACE - from 470 € per Week / Person
---
This package includes:

-Full accommodation
-Transfer from/to Agadir airport or bus station
-3 meals per day (breakfast, lunch at the beach and dinner)
-Surf equipment (board and wetsuit)
-Surf lessons for 6 days (around 4h/day, depending on conditions)
-Guiding to the best surf spots at the right moment
-Analysis by an experienced local surfer

included from 10 Days on

10 Days - 660 € per Week / Person
14 Days - 910 € per Week / Person