ABOUT THE SURF CAMP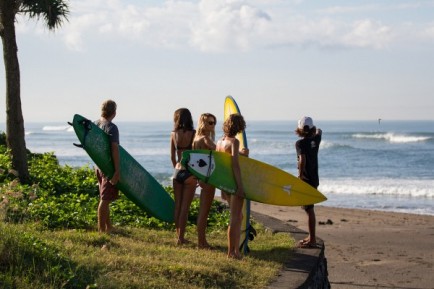 ---
LOCATION AND SURF CONDITIONS
---
Exploring Bali

The concept of our Kima Bali Surfaris encompasses daily exploration of adjacent and surf spots further afield. Our years of Bali experience lead you to the island's best surf such as the riff in Bingin, 6 km of sandy beach at Kuta Beach or shorebreak in Dreamland.

Depending on daily conditions, participants' wishes and surf level, our guests spread out across the island in small groups by car or boat. This allows you to take part in at least 14 surf sessions at different spots a week.

There's also a lot of culture and different activities to be experienced around the island. Hindu Bali offers a great number of ancient temple sites, royal palaces and rice terraces inland, but also shopping and dining options or trendy hotspots in the coastal cities. Sports enthusiasts at our Serangan surf camp can choose from a wide variety of activities, such as diving, wakeboarding/kiteboarding, stand-up paddling, volcano trekking, rafting, mountain biking or climbing giant trees.

Cultural and sports trips

We offer a different island tour on every day of the week for those looking to explore inland Bali, providing you each day with one or more vehicles including a driver for a small fee. The itineraries include tours to the volcano lakes along rice terraces stopping at old temple sites and waterfalls. More often than not, several guests spontaneously decide to go on a trip together, sharing both fun and costs. These tours can therefore only be booked on site.

All on your own

Get to know Bali on our own with one of our minibuses (min. 3 guests), jeeps and mountain bikes that are available free of charge for island tours or other activities. Just check with us for availability.

You can hire a scooter with a board carrier for a few euros per day.

A driver can be organised at our reception for short trips to the supermarket or the ATM.

An international driver's licence is necessary for all vehicles!


---
CAMP OPERATOR
---

In 1989 it was "Pencak Silat", a type of martial arts, brought Ari to a training camp in Indonesia, where he was meant to be preparing for competitions in the homeland of this old Malaysian martial art. However, it wasn't long before he got hooked on something completely different: surfing, and the enchanting way and mentality of the people here. And thus the idea of a Bali Surfari was born.
organising Surf Camps and Surfaris since 1995.

Of course lots of things have changed since then, but one thing still remains: it's a get-together of like-minded people with the one and the same passion - surfing as a life-style.

And we all have one commitment: working hard to make the idea of the Bali Surf Camp an unforgettable experience for you.

No matter how long your stay with us last, Kima provides you a maximum of surf-time without spending time looking up surf spots and finding them or checking the best tides or swells for it.

YOUR SURFING HOLIDAYS ON BALI

What we want to do is make sure you have an absolutely fantastic surfing holiday, but we can't do everything for you. Bali is a beautiful island, and beside its perfect waves, there is an enormous wealth in culture, nature and mysticism - you simply have to experience and explore all this for yourself.

Keep your eyes open and always be open for a new experience and you'll soon see that Bali really is a paradise and you'll understand why we've come to call it home.


ACCOMMODATION AND CATERING
---
ACCOMMODATION TYPES
---
4-bed room (dorm style)

This cosy four bed-bunk room comes with air-conditioning, 32? LED TV, safety deposit boxes for each guest and an en-suite bathroom.

The en-suite bathroom provides hot water and a shower.

All guests of the 4 bed-bunk room share the open living room facilities, restaurant and outside swimming pool with the other guests.

Standard Twin Room (shared)

The chic and artistic twin standard rooms provide a view of marina.

This room is equipped with air conditioner, 32? LED TV, hot water and shower. All rooms are equipped with safety deposit boxes for each guest, air conditioner and an en-suite bathroom. Perfect place to read or relax between the surf sessions.

Double Deluxe Room

A spacious double bed room provide a view of marina.

This room is equipped with air conditioner, 32? LED TV, hot water and shower.

All rooms are equipped with safety deposit boxes for each guest, air conditioner and an en-suite bathroom. Perfect place to read or relax between the surf sessions.

Deluxe Balcony Room

Our signature double bed Room with private balcony to enjoy a great view of marina.

This room is equipped with Air Conditioner, 32? LED TV, hot water and shower.

All rooms are equipped with safety deposit boxes for each guest, air conditioner and an en-suite bathroom. Perfect place to read or relax between the surf sessions.


All bookings include

    AIRPORT TRANSFERS
    from a 5 nights stay
    BREAKFAST
    Healthy start of the day __
    SURF VIDEO ANALYSIS
    3x per week
    SURF THEORY
    3x per week
    BOAT SHUTTLE TO OUTER REEFS
    1x per week (advanced surfers)
    SURF GUIDING
    7 days a week, incl. spot transfer, spot instruction, coaching in the water
    CONCIERGE SERVICES
    (24 hours)
    CAMP VAN
    Shuttle Service
    KIMA T-SHIRT
    for your camp feedback
    FREE FLOW COFFEE & TEA
    (daily up to 6 p.m)
    WIFI


---
CATERING
---
Food & drink

Our restaurant at the Serangan Hotel is open from 7 am to 11 pm and offers various international and local dishes created by our experienced chef.

Daily breakfast included

Our delicious breakfast options – plus an upgrade to deluxe breakfast – are available from 7 to 12 am. Free tea and coffee is available every day until 6 pm.

Standard breakfast

Included in the camp price is our standard breakfast with a choice of fresh fruit juices, starters like fruit salads or pancakes, and main courses such as eggs of any style or fried noodles.

Indo food

The cost of living on Bali is pretty low. A healthy and filling meal (e.g. fish with a side dish) will cost around 3 €. The obligatory evening beer on the beach is likely to be the most expensive thing on the healthy indo food menu. Fruit salads or Nasi or Mie Goreng (fried rice/noodles) can be had for under 2 €, even on the most remote beaches.

International food

In Bali, there are plenty of good restaurants with high-quality food that cater for western tastes. You'll find all sorts of food: German, Persian, Italian, Japanese, Greek or Brazilian, plus international fast food chains, of course.


add ons
Kima Refill Bottle
9 EUR/pcs

Use this bottle to refill it with our fresh drinking water in the camp at any time The enormous amounts of plastic waste is becoming an increasing problem in Bali. Therefore help to keep Bali as plastic-free as possible.



SURF COURSE AND ACTIVITIES
---
SURF COURSE DETAILS
---
Kima Surf Camp's big plus is that surf guiding is inclusive, twice a day, every day! We organise up to 16 trips daily, seven days a week, for all surf levels to various breaks all round Bali. In other works: you can take part in at least two guided sessions per day.

Small groups divided into different skill levels visit surf spots taking current tide, swell and wind conditions into account.

Local Kima surf guides

Our well-trained Kima surf guides always surf with you in the water, giving you tips and showing you tricks. They are familiar with the island and will tell you everything you need to know about the spot, pointing out any potential hazards.

The sessions are filmed and analysed afterwards three times a week. You can also join the theory lessons that we offer twice a week.

Our guided surf tours are always adapted to the given conditions and, depending on the swell, the odd secret spot may come to light. Meanwhile, slightly more advanced beginners can already surf a reef break at low swell and boast about conquering Uluwatu.

With our years of experience, you'll always be at the right spot at the right time!

Daily routine

Select the surf sessions that suit you best from our digital surf planner at the surf resort in Serangan the day before. If you've got a real itch for surfing and don't mind getting up for an early morning surf, you even get to enjoy more than two sessions a day. Our surf guides will be pleased to help you to make your choices.


Beginners

For beginners the many semi-beach breaks on our doorstep are ideal for riding your first green wave and improving your take-off.
Total beginners we recommend booking our 3-day learn-to-surf package.

Intermediates

For intermediate surfers Bali has a whole series of soft reef breaks and semi-beach breaks in store.
Many perfect waves nearby or famous spots a bit further away will push your skills and maybe even make you an advanced surfer by the end of your stay.

Advanced

Of course it is also the advanced surfers that really get their money's worth on Bali.
The best waves all around Bali are on our schedule: the legendary Airport breaks, the classic Bali waves such as Dreamland and Balangan or the world famous spots like Padang-Padang, Keramas or Uluwatu.

Add ons

Board Rental
50 EUR/week or 10 EUR/day

Don´t worry about bringing your own board, we have it covered. We have shortboards (6'0'' - 7'0''), funshapes and mini-malibus (7'0'' - 7'8'') available for every level and all conditions. Leashes and lycras are included in the rental. Any repairs or loss of equipment need to be paid for.

Board Insurance
30 EUR up to 3 weeks or 5 EUR/day

Be on the safe side and "insure" your rental board. We will carry the costs for any repairs over a period of 1 – 3 weeks, whether it's a tiny dent or a major break. Any damage will be repaired professionally. If the board or parts of it get lost - even if it is in the water - the costs have to be borne by the user.
---
OTHER ACTIVITIES
---
Offroad Moto Cross
Discover Bali's amazing landscape off the beaten tracks, beginner and intermediate tracks, Transfers & Equipment included 
From €79 p.p

Learn-to-Surf
3-day beginner surfschool course, perfect preparation for the Kima surfguiding program, equipment, transfer, insurance included 
From €129 p.p

Vulcano Trekking Tour
Climb Bali's holy mountain "Gunung Agung" or "Gunung Batur" and enjoy a breath taking view over Bali 
From €59 p.p

Private Surfguiding Bali
Customized surf guiding program with experienced surfguide, without surf camp stay, hotel transfer included 
From €39 p.p

Intensive Surf Coaching
Privately coached surfsession for all surfing levels, Spottransfer, Videoanalysis, Foto & Video CD included 
From €79 p.p

Scuba Diving
Discover Bali's and Lembongan's underwater world at world-famous diving spots, individual packages, diving licenses, small groups 
From €85 p.p

Yoga
Private sessions with experienced and licensed Yogis, optional at the surfcamp, on the beach or in a Yoga-centre nearby 
From €35 p.p

Custom Surfboard
Order a custom made surfboard designed for your individual preferences, different shapes and designs from international shapers 
From 339 p.p

Wake Boarding
Beginner and intermediate courses with licensed coaches, boat and equipment hire separately available as well 
From €69 p.p

Kite Surfing
Beginner and intermediate courses with licensed coaches, equipment hire separately available as well 
From €69 p.p

Stand Up Paddle
Professional tuition for beginners, intermediates and advanced levels, Equipment, transfers and insurance inclusive 
From €39 p.p

Tree Top Climbing & Botanical Garden
Extensive ropes course with different levels of difficulties, European security standards  
From €39 p.p

Beginner Surfschool Padang Camp
The surfing school in Bali offers beginners' courses and several training classes. Well-versed surfing instructors make it easier for you to take up this sport. 
From €39 p.p




MORE INFO, HOW TO GET THERE & FAQ
---
JOURNEY
---
Ways to get to the camp
For surf camp holidays of at least five nights or more, we provide an airport pick-up and drop-off free of charge from and to the surf camp in Serangan. If you stay less than five nights, we can also organise transfer for you for 15 euros (one-way).
PACKAGES & PRICES
---
PACKAGES

---
Price includes:

AIRPORT TRANSFERS
    from a 5 nights stay
    BREAKFAST
    Healthy start of the day __
    SURF VIDEO ANALYSIS
    3x per week
    SURF THEORY
    3x per week
    BOAT SHUTTLE TO OUTER REEFS
    1x per week (advanced surfers)
    SURF GUIDING
    7 days a week, incl. spot transfer, spot instruction, coaching in the water
    CONCIERGE SERVICES
    (24 hours)
    CAMP VAN
    Shuttle Service
    KIMA T-SHIRT
    for your camp feedback
    FREE FLOW COFFEE & TEA
    (daily up to 6 p.m)
    WIFI


| | | | | |
| --- | --- | --- | --- | --- |
| Room |   |   |   | Price per person / night |
|   |   |   |   |   |
| 4-bed room (dorm style) |   |   |   | from 19 € |
| Standard Twin Room (shared) |   |   |   | from 29 € |
| Double Deluxe Room |   |   |   | from 39 € |
| Deluxe Balcony Room |   |   |   | from 44 € |

Add ons

Kima Refill Bottle                             9 € / pcs                    
Airport Pick-Up                              15 € / person                    
Airport Drop-Off                             15 € / person                    
                                                   
Activities                                                  

Learn-to-Surf                                                            129 € / person                    
Vulcano Trekking Tour                                                 59 € / person                    
Offroad Moto Cross > Beginner Tour                             79 € / person                    
Offroad Moto Cross > Intermediate Tour                      129 € / person                    
Offroad Moto Cross > Advanced Tour                           165 € / person                    
Private Surfguiding Bali                                                 39 € / person                    
Intensive Surf Coaching                                                79 € / person                    
Scuba Diving                                                               85 € / person                    
Custom Surfboard                                                      339 € / person                    
Wake Boarding                                                            69 € / person                    
Kite Surfing                                                                69 € / person                    
Stand Up Paddle                                                         39 € / person                    
Tree Top Climbing & Botanical Garden                          39 € / person                    
 

SURFEXTRAS                         
                          
Surfboard rental                   10 € / day
                                          50 € / week     
Surfboard insurance              30 €  (up to 3 weeks)
                                         or 5 € / day