ABOUT THE SURF CAMP
---
LOCATION AND SURF CONDITIONS
---
Mossel Bay's "Point" is unique; it has two waves breaking next to each other, Inner Pool and Outer Pool.  The prevailing wind is an offshore south westerly which brings the swell from Cape Town and the roaring forties.

Outer Pool works on a low tide. It has an easy take off with a slow tapering shoulder that stands up at the bottom section, creating a big turn section which, if you're fortunate, can push up into a barrel.
Inner Pool is a high tide wave and is more for a hotdogging. The infamous "Peanut Butter" rock lurks halfway down the line- catching visitor and unsuspecting local alike!
Inside the bay there are two reefs that work on different tides, swell directions and sizes.
In addition to the point and reef breaks, we have a friendly learn-to-surf beach at the back of the bay called Diaz – although Bartolomeu was probably more attracted by the safe anchorage and the fresh water spring!


---
CAMP CHARACTER
---
Waves surf school also wants to share the beauty of the Garden Route with all it's amazing attractions and activities. Along side surfing, Mossel Bay and the surounding area is ideal for a relaxing, fun filled, adventure, surfing experience.
It is a school of learning, motivation and encouragement, a place where young and old can build their self esteem and find their strengths in a secure and controlled environment.
Waves S'cool' of surfing is where you can learn what can be achieved through hard work and dedication. One can also learn that anything in life can be achieved by being passionate and focused. Through surfing you will also learn valuable life lessons, morals and be given direction and drive through self motivation.
Waves s'cool' of surfing is also about coaching and assisting talented young surfers to fulfill their potential and their dreams.
Waves s'cool' of surfing prides its self in promoting and educating learner surfers and the general public about beach safety and awareness, by doing so making the beach safer and more enjoyable
Now in my 3rd year of running I want development surfing to be a part of Waves S'cool" of Surfing.
"IF YOU DREAM YOU CAN ACHIEVE"


---
CAMP OPERATOR
---
After achieving top 14 ASP Africa series status in 2000 Llewellyn Whittaker followed his dream to become a professional surfer. Based in the U.K he competed on the WQS for 5 years consistently making the top 100. Near the end of his international career his focus turned to the British tour where he finished 3rd in 2006 and 2nd in 2007 and was also crowned U.K Triple Crown champion 2007. During this time he took part in the British surfing Associations coaching scheme where he qualified as a level 3 coach. He was extensively involved in the development of the British junior team in 2006 and 2007.
This was a calling to Llewellyn at which point he decided to move back to sunny, wave rich South Africa. Since been back in South Africa he has been selected to compete in National team trials and was first reserve for the  team in 2008 & 2009, he also finished 3rd at the South African surfing Championships 2008 and was surfer of the event. In 2009 he was assistant coach to the South African junior national surfing team which took part in the World surfing games in Ecuador.
With Llewellyn's extensive travelling and competing around the world he has much knowledge and experience to share. It is this experience through hard work and dedication that he wants to relay to YOUR surfing. His goal is to motivate, encourage you to achieve that next level in your surfing.
ACCOMMODATION AND CATERING
---
ACCOMMODATION TYPES
---
Onsuit Sharing or Dorm.


---
CATERING
---
Breakfast can be included into the price.



SURF COURSE AND ACTIVITIES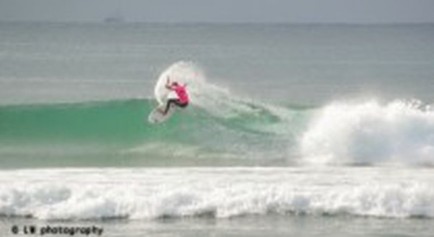 ---
SURF COURSE DETAILS
---
If you're looking for a fun, adventure filled surfing getaway come to Mossel Bay! We have beautifully mild weather all year round and great surf in almost all conditions. This is a great way to spice up your holidays by taking to the seas and learning to surf.
As well as continuous coaching, either from the beach or in the water while surfing, all sessions will be videoed and analysed on the big screen in our class room. This combination has been proven to be the most successful form of surf coaching. For this reason, and to ensure safety, groups will be limited to four people it also prevents crowding the line up which shows respect for the locals.
---
SURF MATERIALS
---
Surfboards and Wetsuits are available to rent.


---
OTHER ACTIVITIES
---
Scuba diving, walking trails, bungi-jumping, sky diving and game farm drives are all available locally too.



MORE INFO, HOW TO GET THERE & FAQ
---
SURF CONDITIONS
---
Seasonal conditions
We have beautifully mild weather all year round and great surf in almost all conditions
Crowd factor and local people
The locals are very friendly but you could run into trouble if you don't show them respect!


---
SURROUNDINGS / REGION
---

Activities and facilities
Scuba diving, walking trails, bungi-jumping, sky diving and game farm drives are all available locally too.
PACKAGES & PRICES
---
PACKAGE A - 6 Day Itinerary
---
This is the standard tour, although your visit can be tailor-made specifically to your activities of choice, your preferred budget and length of stay. The most important thing on this tour is your surfing and all tours and activities will be scheduled around premium surfing conditions. Waves School of Surfing Tours are ideal for all levels of surfing and ability. Mossel Bay has many different types of waves from beach breaks to reef breaks and point breaks that will suit your surfing. The focus of the tour is to improve the surfer's game while at the same time giving Yyou the opportunity to enjoy the many sights and activities that Mossel Bay hosts.

Day 1:
On your arrival we go surfing at the best spot of the day to see how you surf and to wash off the "dust" of travelling.   For a small additional fee, we can pick you up at your preferred airport - either George or Cape Town.

Day 2:
Every day will start with a surf check and a surf spot decided on for the day depending on surfing ability. Today at some point if the waves are not cooperating we will go shark cage diving.

Day 3
Surf check! Let's go surfing! What's the wind doing? What's the tide doing? What's the swell doing? Where are we going to surf today? We can also visit the Museum today too and take a look at the caravel that was actually sailed from Portugal on the occasion of the 250th anniversary of Diaz's arrival here.

Day 4.
Up at dawn with the birds to check the conditions. Surf permitting, we can go visit the big cats for feeding time at nearby Jukani Predator Sanctuary.

Day 5
We surf all day again and that afternoon go to Garden Route Game Lodge for the night. The next morning we go on a game drive and meet the other "locals"

Day 6
After breakfast and a game drive we head back to Mossel Bay for a final surf to end to off a great week. Transfers to your next destination can also be arranged in advance.

R 7.165,00 including surfing & video analysis, transport, lunch, tourguide


---
ACCOMMODATION
---
Onsuit Sharing

including breakfast - R975
excluding breakfast - R800

Dorm

inclduing breakfast - R650
excluding breakfast - R550


---
EXTRAS
---
Airport Pick-Up

from Cape Town - R1000
from George - R150