ABOUT THE SURF CAMP
---
LOCATION AND CAMPCHARACTER

---

WaveSisters
We offer surf courses and Surfaris for girls and women who like to have fun and share their passion for surfing with other WaveSisters. 
By teaching you to surf we would like to increase the number of women and girl surfers in the sport and share the love for the ocean that we have. Surfing is a great way to make friends and enjoy the outdoors, we hope the friends and experiences you have with us will continue with you on your surfing journey.
Women surf groups
Studies show that women learn quicker and easier when they are in an all female group, there is less pressure when surrounded by like minded girls and the results speak for themselves. Enjoy the comfort of being taught by women in all women groups with the main focus being on fun and encouragement.
The perfect getaway 
WaveSisters Surfcamps are designed by women for women, from the warm water locations we have chosen to the boards, equipment and accommodation. Our Yoga lessons are tailored perfectly to woman surfers as are the surf lessons.  
About us
We are Birgit and Julika and we know out of our own experience how important and fun it is to have other surfer girls around. We are stoked about the growing number of women surfers in the water. WaveSisters was created to contribute to this and to introduce the fun of surfing to girls all over the world.
15 years ago we both started surfing but in different parts of the world and back then it was very rare to see other surfer. Girls in the water we were such a minority. These days women make up about 50% of people on surf lessons but still only 10% of woman free surfing. That means that in between getting a lesson and taking the sport up as a hobbie is a break down. We would like to change that! Through the years we have made life long friends and had some of the best experiences of our life through surfing, now we would like to share our love and passion for riding the waves with you.
By the way…
For those who are missing the guys already: they show up on the beach, in the bar's and in the water en masse.



France The southwest coast of France
The southwest of France, Aquitaine, is famous for the 300 km long sandy beach and one of the biggest connected woodlands in  Europe. The Forest has many lakes and lagoons and plays a major role in the local climate. In the south lies Bayonne and Biarritz and in the north you will find the beautiful french city of Bordeaux. In the west of Bordeaux is the Medoc region. OnE of France'S most famous wine areas, which has the most hours of sunshine according to the statistics in France. Medoc is framed by the river Gironde and the lake Arcachon with the biggest sand Dune in the world "Dune de Pilar".
Carcans Plage
Our Surf camp is on the beach "Carcans Plage" right in the heart of the Medoc area and directly on the waterline. The small lovely village offers shopping facilities, a few restaurants and bars for the surfers and sunbathers. As well as lots of places to eat, drink and socialise Carcans Plage also has a lot of quiet spots. The surrounding Forrest invites you to explore it by foot or bike. On the beach you can walk for hours and will find less and less people. 3 km inland you will get to the village Maubuisson. The village lies on the shore of a lake and has a mediterranean flair about, with all it's Sailing boats and yachts. If you follow the coastline for 5 km you will reach Lacanau. On of the biggest holiday places of  Medocs. Lacanau offers night life, Restaurants, bar's and shopping facilities.


Spots & Climate
Aquitaine is known by surfers for it's many quality waves along the 300 km beach. Our WaveSister Surfcamp is located on the most beautiful part. The waves break along this sandy beach and are perfectly suited for beginners right up to advanced surfers. The sand banks are constantly changing from high to low tide and it is always worth checking just up or down the beach for the waves that perfectly suits you. Hossegore is just down the road and plays host to the world championship tour in the month of September. 
Summer
The waves in the summer are perfect for us to learn how to surf and enjoy the time in the water. The water has nice 17 to 22 degrees around our Spot to surf in the area of "Medoc". The air has a average of 25 degrees. You should be fine in a 2/3 mm Wetsuit. On warm days we even surf without the wetsuit in our shorts and Bikinis.
Crowds
France can be quite crowded in the classic Holiday months Julie and August because of the perfect surf and holiday conditions the coastline provides. That why we will find a bit of a crowd in the line up behind the waves. That is easy avoided by walking a few yards away from the traffic acceses of the beach. Even in the high season you are abel to find a quit spot on land and in the water.
Winter
The waves are getting big in winter time and making the surf a lot more testing. The water temperature is falling to around 12 degrees and also the air can get crispy cold. We are off in the winter to enjoy the tropical temperatures of the canaries Islands or elsewhere.
ACCOMMODATION AND CATERING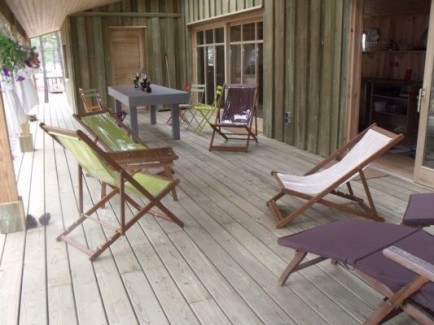 ---
ACCOMMODATION
---
In the property of the Wave Sisters surf camp up to 8 Wave Sisters can find a place to sleep. In the house there are also 2 toilets & 2 showers, a spacious kitchen and a covered terrace with garden.
You are self-catering. It is cooked together or went out to eat, depending on preference.
SURF COURSE AND ACTIVITIES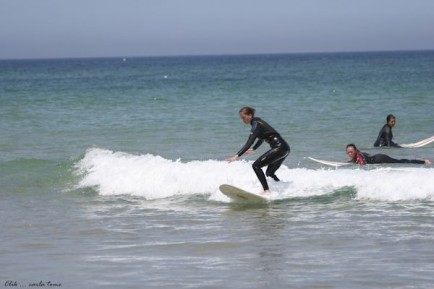 ---
SURF COURSE DETAILS

---
Surf
Experience pure joy while surfing with us - the connection between wave and surfer is unreal! Try it, you will love it, if you always liked water and beach life. Surfing is an ambitious sport but is connected to a chilled out lifestyle. It is all about having fun.

Surf lessons
The Surf teacher is educated in surf practice and theory as well as in first aid and water rescue. They teach you there knowledge and help you with tips and tricks on land and in the water.

We offer
20 hours Surf OF lesson'S, woman only, theory and practice (English/ German)
Max. 10 Persons per course
Quality and competent mentoring from licensed surf teachers
video analysis
Surf material during your stay
4 Yoga sessions

Surf course
We offer the course on a weekly schedule. All the other activities like Yoga and day trips will be organized around the surf. Surfing come's first! We recommend to come for at least two week's to learn to surf and to really take it in. Surfing is an amazing sport and your advantage comes right down to the amount of time spent in the water with the waves. In some occasions you could book the surf lessons daily.

Surfari
The Surfari is the perfect option for the girls and woman who have already some experience in the water and who would like to spend there holiday with like-minded people. We will give you guiding  to the surf spots and help you out with all our experience in the wav es of our location. If you want to you are welcome to use the boards and material of WaveSisters and you can join in to all the activities without making the surf course.

Participation terms
Lust for ocean and waves
good knowledge of swimming
If you are not of full age, we need  written permission off your parents
If you are younger than 16 years please come with a adult accompaniment


Yoga
Four times a week we will have one hour of Yoga. The lesson gives you an introduction to Yoga and is especially targeted at surfers.
Many Pro Surfers and more and more Soul surfers realize that Yoga and surfing are a perfect match. Pro Surfer Rochelle Ballard said: "In general i think that the combination of power, flexibility and the effect on the mind is super". When we are surfing we use certain muscle groups which we can relax again after the surf in the yoga sessions. Yoga also helps focus your mind. You will master your fears easier because you can face them at ease and with energy.
Yoga combines power, body tension, mobility, flexibility, balance, calmness, peace and a strong mind. Components which we need in the line up while catching waves.
Yoga is included in the WaveSister Camp price. For others one hour costs 7€.
MORE INFO, HOW TO GET THERE & FAQ
---
JOURNEY
---
Getting there
There are different way's to get to our WaveSisters Surfcamp in France. Here you will see some possibilities how you could origins your trip.
 
Car
Is One of the best ways to get to our Surfcamp because you are independent on the way as well as while you are stying with us. Please ask if you want to share the trip with other girls, We are happy to make a connection between you. It always makes sense to search for a lift to Bordeaux or to one of the beaches nearby in the surf forum's or on Car sharing pages like Carpooling orMitfahrzentrale. Here you will find the Map to Carcans Plage so you find the way to WaveSister Surfcamp.
 
Aeroplane 
The airport of Bordeaux is not that big so sometimes you have to fly via Paris.Be Careful if you book the flight because sometimes you have to change the Airport in Paris witch takes time and nerves. We listed some airlines but there are more so always search.
Germanwings, Opodo, Easyjet, Lufthansa, Air Berlin, Ryanair, Norwegian, SAS, Solfaktor, 
British Airways, KLM. Condor
You take the Jet'Bus witch leaves every 45 minutes from the Airport in Bordeaux to get to the Busstation (50 min.) or to Meringnac (20 min.). Then take one of the regional Buses. (see below).
 

Bus
From many Cities Buses are leaving to Bordeaux. It could be a cheap option to get to our Surfcamp but it takes some time. The regional Buses are leaving from the main Bustation (Gare Saint Jean) in Bordeaux to Carcans Plage. You take Bus Number 710 witch goes directly to Carcans Plage and leaves 3 times a day. Or you take The Bus Number 702 to Lacanau-Ocean which leaves more or less every 3 hours. The journey costs about 22€ both ways. Arrange with us that we PICK you up in Lacanau-Ocean.
 Eurolines 
 Regionalbusse
 

Train
A comfortable Option is to come by train to Bordeaux. It's also fast and economic which is why we offer you an Eco Discount. then From Bordeaux you travel by bus to Carcans Plage.
PACKAGES & PRICES
---
SURF & YOGA CAMP
---
 included:
-qualified + personal surf and yoga lessons 
-max 15 WaveSisters, max 8 girls/instructor 
-beautiful accomodation in wooden chalets 
-only 300m to the beach 
-Transfer from Lacanau
From June until September you can enjoy your holiday with us in France. 
The Surfcamp is for girls who want to learn or improve surfing with us. The Surfari is for girls who feel good in the line up and just wanna to join WaveSisters.
---
Package A - ADULT - FROM 445€ PER PERSON/WEEK
---
Accommodation 7 nights/ 2 or 3 bed rooms  
Surf classes/practice/theorie/material  
Yoga 3x1,5h /week  
Transfer from Busstation Lacanau 
---
Package B - SURFARI - FROM 335€ PER PERSON/WEEK
---
Accommodatoin 7 nights/2 or 3 bed rooms 
Surf material/spot informations 
Yoga 3x1,5h /week 
Transfer from Busstation Lacanau
---
Package C - KIDS - FROM 395€ PER PERSON/WEEK
---
Accomodation 7 nights/ 2 or 3 bed rooms 
Surf classes/practice/theorie/material or child care in the time or surf classes 
Yoga 3x1,5h /Woche 
Transfer from Busstation Lacanau
---
PRICES
---
 

                  low season

                  18.6.-09.7.

            high season

            09.07.-20.08.  

         low season

         20.08.-17.09.  

Camp Adult

                  445,-€

            495,-€

         445,-€

Surfari

                  335,-€

            385,-€

         335,-€

Camp Kid

                  395,-€

            455,-€

         395,-€
---
DISCOUNTS
---
Extension discount
Book a second week and get a 20€ discount. 
Coming back
If you visit us again you pay 30€ less per week if you book a Surfcamp and 10€ less per week if you book a Surfari. Please write down that you have been in a Surfcamp of WaveSisters before when you register.
Group discount
If you are travelling in a group of more than 4 WaveSisters you are getting a discount of 15% off your booking. Just name your friends when you book and you will get the discount.
Only one discount applies with each booking.