ABOUT THE SURF CAMP
---
CAMP CHARACTER
---
Our camp is an international surf camp, a place where the young people from all around the world can have fun, do sport, learn how to surf and spent the best holidays ever.
---
CAMP OPERATOR
---
Without our great team Wavy Surf Camp would be nothing. We try to always have the best team formed of open people, with the desire to enjoy themselves, have a good time and to meet young people from all around the world. We look for those who are passionate about their work, so that they never have to work again. We like what we do and we enjoy doing it so we find it easy to transmit a good atmosphere. We know how important you are for us and we back a team who are keen on living experiences and make you feel one of them in our surf camp.
ACCOMMODATION AND CATERING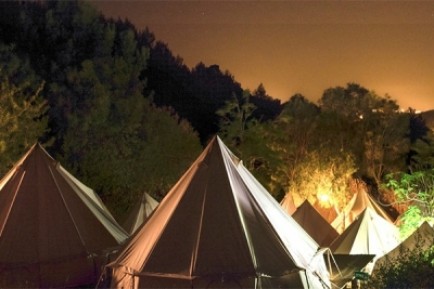 ---
ACCOMMODATION TYPES
---
Wavy Surf Camp Portugal's objective is to offer you maximum comfort and a perfect break in lodgings totally integrated in the natural surroundings. Accommodation is in high quality, spacious Bell tents with room for up to 8 people. To ensure your comfort, we'll only put two or three people in each tent. The
normal glamping tents
are equipped with wooden floor, visco-elastic matress, under sheet. As well as these, you'll have electric light and a plug to charge your devices. In
normal plus glamping tents
is also included pillow and blanket. In
luxuy glamping tents
is also included in the tent: wooden floor, bedding and pillow, mirror,  terrace with chill out area, welcome pack, 1 metre bigger tent, etc. It's no coincidence that Wavy Surf Camp chose this type of accommodation, in fact, we looked into it closely to offer maximum relaxation and comfort as well as getting you close to the natural environment – helping you get in touch with the natural world and break away from the monotony and noise of the city with an uniquely liberating experience and a real break.
---
CATERING
---
Food is essential to give you energy for your surfing days, so we create healthy and high quality menus. We have different choices for you: traditional food, vegetarian or vegan. You can enjoy the different meals and delicious desserts from our kitchen.
SURF COURSE AND ACTIVITIES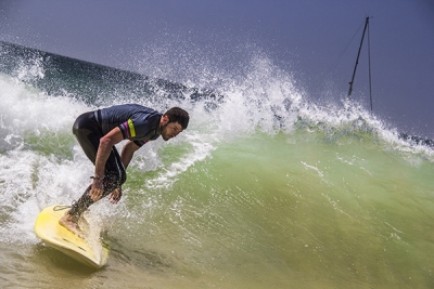 ---
SURF COURSE DETAILS
---
Learn to surf from the beginning or improve your skills with our experienced surf instructors, on wild beaches with crystal clear waters, under the sun of southern Europe. You can choose between our 2 hours 15 minutes surf course, private lessons or free surfing.
---
SURF MATERIALS
---
Wavy Surf Camp provides a wide variety to make your stay with us full and special. All the equipment we offer is designed to maximise your surfing skills and assure you have a good time in our surf camp, enjoying every moment of your time with us. Unforgettable moments are waiting for you!
---
OTHER ACTIVITIES
---
All the activities below are optional and some of them cost a bit more, so if one day you're tired or you just feel like chilling and enjoying the surfcamp atmosphere – that's cool, we'll work around you! Kayaking, Paddle Surf, Yoga, Summer Cinema, Barbacue Party, Mini Ramp Skate, Longboarding and much more...
MORE INFO, HOW TO GET THERE & FAQ
---
SURF CONDITIONS
---
Breaks directly at the main spot and at nearby spots

Sagres is located in a strategical point for surfing. Within 25km there are located a great quantity of amazing beautiful beaches perfect for learning how to surf. Depending on the swell and wind directions the surf conditions in the west or south coast are great, offering always a good point break for surfing.
Seasonal conditions
During the whole year Algarve is a sunny place, with the perfect weather for enjoying the waves.
Crowd factor and local people

No Crowds and friendly locals!
---
SURROUNDINGS / REGION
---
Characterization of surroundings/region

The best surfer atmosphere in Europe.
Activities and facilities

Come to our Surf Camp and discover all the activities and facilities that we offer for you.
---
JOURNEY
---
Ways to get to the camp
BY AIRPLANE
- Lisbon's airport (3 hours from the surf camp)
- Faro's airport (1 hour from the surf camp)
From these airports to Wavy Surf Camp, you can take a bus (eva-bus) which is the cheapest way to arrive to the camp. If you want, we can pick you up in Faro's airport or in Lagos (25€). Shuttles from Lisbon's airport are not possible.The price will depend on the place and time that you need the transfer. It also will depend on the company booked. At Wavy Surf Camp work  with some companies to offer you the best price possible.
PACKAGES & PRICES
7 NIGHTS
NORMAL
GLAMPING
N. PLUS
GLAMPING
LUXURY
GLAMPING
LOW SEASON


31/05-14/06

 

409€
449€
509€
MID SEASON


14/06-28/06

06/09-10/10

429€
469€
529€
HIGH SEASON


28/06-06/09

 

469€
509€
579€
In the price per person for one week is included

7 nights accommodation in Sagres, 3 options:  normal glamping tents equipped with wooden floor, visco-elastic matress, under sheet, electric lighting and a A/C plug to charge your devices (high quality and comfort). In normal plus glamping tents is also included pillow and blanket. In luxury glamping tents is also included, bedding and pillow, mirror,  terrace with chill out area, welcome pack, 1 metre bigger tent, etc). If you are travelling alone, you will share the tent in case of being necessary

7 days Full board (buffet breakfast, lunch on the beach and dinner with dessert in the Surf Camp). Thursday dinner is not included (free dinner in Sagres)

5 surf lessons, each lesson 2 hours 15 minutes per day

transfer to the beach with the best conditions to surf (daily update)

liability and sport accident insurance

access to all the material of the Camp: miniramp skate, longboards, volleyball, ping pong, darts, chill out area, bicycles, slackline, indoboard…Surfboards are included for the lessons exclusively. In case of being interested in using one surfboard out of the lessons, you can rent it getting a big discount

daily activities to enjoy every second with us (some activities have an extra cost)

FREE WIFI