ÜBER DAS SURFCAMP
---
LAGE UND SURFBEDINGUNGEN
---
Wir werden euch immer zu den besten Stränden mit den besten Winden und Wellen am Tag und nach euren Fähigkeiten bringen, um maximalen Surffun zu bieten.

Da Dies Wetter abhängig ist ist es uns niecht immer möglich die besten Surfbedingungen im Gebiet zu bieten.
---
CAMP CHARAKTER
---
Alle unsere Trainer sind qualifizierte, erfahrene, professionel und wir sorgen dafür das unsere Kunden sich wohl fühlen. Ihr werdet in einer fröhlichen und spannenden Umfeld surfen.
---
CAMP BETREIBER
---
Michelle Davy begann Anfang 20 mit dem Surfen. Zwei Jahre später beschloss sie ihren Job als Marketing Manager sein zulassen und auf eine vierjähriger reise um die Welt zugehen und beste surf breaks auf der ganzen Welt kennen zu lernen.
Sie Besuchte: Kalifornien, Costa Rica, Nicaragua, Chile, Mexico, Panama, Indonesien, Australien und Neuseeland.
Inspiriert durch ihre reisen und das Gefühl des "stoke" und der einzigartigen Süd Afrikanischen Kultur mit anderen Teilen zu wollen kehrte sie zurück und gründete die Stoked School of Surf. Sie kombiniert ihre gesammelten Reise und Surf Erfahrungen mit ihren Sport Science Abschluss als SSA Surf Trainer und Rettungsschwimmer Qualifikation, um qualifizierten personalisierten Unterricht in einer entspannten und fröhlichen Atmosphäre zu
bieten.
UNTERKUNFT UND VERPFLEGUNG
---
UNTERKUNFT
Alle unsere Unterkünfte sind in der Regel Schlafsaal mit Gemeinschaftsbädern. Wir können wir private Zimmer bei Bedarf anbieten.

Da unsere Camps an verschiedenen Standorten stattfinden siehe unten für eine Beschreibung der einzelnen Camps:

2 und 5 Tages Camps:

Backpackers Blick auf den Strand in etwa 45 Minuten von der Stadt, leicht mit dem Zug erreichbar und zu anderen Sehenswürdigkeiten.
Trendy Markt, Lebensmittelgeschäfte , Restaurants in der Gegend.

3 Tage Camp:

Wir übernachten in einer Privatstrand-Unterkunft 2 Stunden von Kapstadt.

7 Tage Camp:

Diese Kombination von 4 Surfstunden und 7 Nächten Unterbringung eignet sich perfekt für jene, die einerseits surfen lernen möchten und andererseits Kapstadt erkunden möchten.

Es wird Zeit geben, Geschäften zu besuchen, aber es gibt keine Geschäfte, Restaurants in der Umgebung.
---
VERPFLEGUNG
---
Bei unseren Camps sorgen wir für ein gutes Frühstück damit ihr in Topform in den Tagstarten könnt. Snacks, Getränke, Mittag und Abendessen variiert nach dem Camp- Package welches ihr wählt. Auf jeden Fall habt ihr die Möglichkeit eine Küche zu nutzen. wir geben euch auch gerne Empfehlungen für gute lokale Restaurants.
SURFKURS UND AKTIVITÄTEN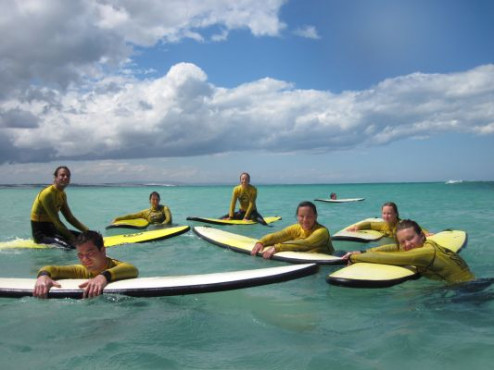 ---
ABLAUF DES SURFKURSES
---
Ihr Lernt surfen an einem der Strände an Süd Afrikas Bilderbuchküste.im Surfunterricht mit qualifizierten Surflehrern ist komfortabler Wetsuit, Surfboard und 100%" stoke" inbegriffen.
Ihr lernt den Ozean kennen und verstehen, Paddeltechniken, wie man aufsteht und mit der Welle zu Surfen, lernen der grünen Wellen zu surfen, wie ihr eure Wellen aussucht und die Regeln des Surfens.
---
SURF-EQUIPMENT
---
Wir nutzen bestes und komfortables Surfmaterial.
Seid ihr "stoked" und wollt euer eigenes Surfmaterial beraten wir euch gerne welches Material für euch das beste für euch ist. Wir können euch sicher auch Rabatte arrangieren.
---
SONSTIGE AKTIVITAETEN
---
- Paragliding
- Abseilen
- Wandern
- Skydiving
- Sightseeing Aktiviteaten z.B Table Mountain
- Weinverkostung
- Cape Penisula Touren
- besuchen von Robben Island
- andere Stadtbesichtigungen
MEHR DETAILS, ANREISE & FAQ
---
SURFBEDINGUNGEN
---
Welche Breaks gibt es direkt am Spot und in der Nähe?
Ihr werdet viele verschieden Surf Spots, entlang der wunderschonen Kuste sud Afrikas, kennen lernen.
Wie sind die allgemeinen Bedingungen zu den Jahreszeiten?
Dank unserer geographischen Lage haben wir das gesamte Jahr über gute Surfbedingungen.
Temperaturen zwischen 15 und 28C
Wassertemperatur zwischen 11 und 20C
---
UMGEBUNG / REGION
---
Wie ist die Umgebung bzw. Region?
Table Mountain National Park definiert die Stadt. Nicht nur der Flat- topped Berg ist großartig zu sehen. Sondern es gibt noch viele weitere einzigartige Natur Spektakel. Besucht die Kirstenbosch Botanic Gardens und Green point Park, entdeckt die Stadt und ihre Vergnügungen. lasst euch von Einheimischen die Umgebung zeigen um die besten Plätze zu entdecken.
Was kann man neben dem Surfen noch machen?
Geht auf Entdeckungstur, macht welche von den extra Aktivitäten und lernt die Süd Afrikanischen Menschen und Kultur kennen.
---
ANREISE
---
Welche Anreisemöglichkeiten gibt es?
Wir holen euch von eurer Unterkunft ab (Abholen von der Stadt nur innerhalb eines 10km Radius) und bringen euch direkt zum Strand mit den besten Surfbedingungen für unsere Stunde. Wenn ihr es bevorzugt selbst zu fahren geben wir euch 24h im vorraus Bescheid, wo es hingeht.

Shuttelzeiten: Beachtet das der Stadtteil in dem ihr wohnt eure Abfahrtszeit bestimmt.
Camps Bay: 8:00-8:15am
City & Sea Point : 8:15-8:30am
Green Point: 8:30-8:45am
Woodstock & Observatory: 8:45-9:00am
 Was muss ich bei der Anreise beachten?


Informiert uns wie ihr es bevorzugt zu kommen.
PREISE & LEISTUNGEN
---
PACKAGE A - UBER-FLEX SURF & STAY - ab R4350 pro Person/Woche
---
Diese Kombination von 4 Surfstunden und 7 Nächten Unterbringung eignet sich perfekt für jene, die einerseits surfen lernen möchten und andererseits Kapstadt erkunden möchten.
Preise:
Schlafsaal: R4350
Doppelzimmer: R5750 pp sharing
Einzelzimmer: R10750


Preis beinhaltet: • Benutzung des Surfmaterials • 4 x 2-hr Surfstunden • Fotos im Web hochgeladen • Transport zum Strand • 7 Nächte Unterkunft • 7 x Frühstück 
Preis beinhaltet nicht: • Flughafentransfer (mit Aufpreis möglich) • Mittag- und Abendessen • Getränke, Alkohol, Snacks
---
EXPERIENCE THE STOKE - ab 38$ pro Stunde/ Person
---
| | | | | | | |
| --- | --- | --- | --- | --- | --- | --- |
|   | Gruppenunterricht |   |   |   | Privatunterricht |   |
| 2h Unterricht (inkl Abholen) | 48$ |   |   |   | 137$ |   |
| 2h Unterricht (ex Abholen) | 38$ |   |   |   | 120$ |   |

Das Paket beinhaltet:

- 2h surfunterricht
- Transfer Option: Abholen und wegbringen (CBD und 10km radius)
- Surfboards und Rip Curl wetsuit
- Photo up-loads
*Preise für Privatstunden für bis zu 2 Personen. Extra Teilnehmer werden zusätzlich berechnet. Für gruppen ab 6 Personen gilt der Regulaere Gruppenpreis.


---
UBER STOKED - ab 120$  pro Person
---
| | |
| --- | --- |
| 4x2h Stunden (incl pick up) | 175$ |
| 4x2h Stunden (ex pick up) | 120$ |

Das Paket beinhaltet:
- Transfer Option: Abholen und wegbringen (CBD und 10km radius)
- Surfboards und Rip Curl wetsuit
- Photo up-loads