ÜBER DAS SURFCAMP
---
LAGE UND SURFBEDINGUNGEN
---
Fuerteventura ist ein sehr vielseitige Insel von Natur Liebhabern sehr geschätzt. Die Insel hat eine vulkanartige, fast wüstenähnliche Landschaft mit wenig Regen. Die vielfältige Küstenlandschaft ist mit felsigen Klippen, weißen Sanddünen, türkisfarbenem Wasser, Riff geschützten Lagunen und natürlichen Buchten gekennzeichnet.


---
CAMP CHARAKTER
---
Surf Camp Charakter
---
CAMP BETREIBER
---
Sophie - Manager

Aloha ! Mein Name ist Sophie und ich komme aus Lausanne in der Schweiz.
Ich kam nach Fuerteventura für ein Surfcamp; Ich verliebte mich in diese Insel, wo die Energie kräftig ist. Niedergelassen in Corralejo, habe ich alle meine Leidenschaften vereint; das Meer, das Surfen und Alex, der mein Ehemann wurde!
Du hast Fragen über Fuerteventura und möchtest einen Surfkurs mit der Aloha Surf Akademie buchen ? Wendet euch an mich, so dass ich alle eure Fragen beantworten und euch bei der Organisation eures Urlaubs helfen kann!


UNTERKUNFT UND VERPFLEGUNG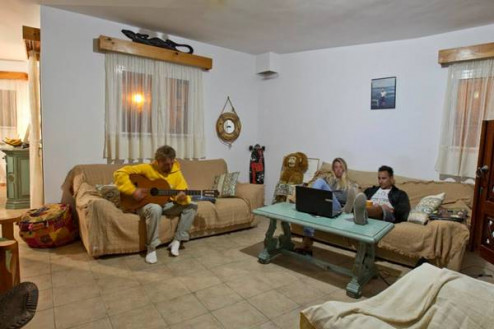 ---
UNTERKUNFT
---
The Round House – Surf Camp

Das Surfhaus liegt unweit vom Surfspot Rocky Point, in Corralejo. Es ist ein "Hostel" für Surfers, die gerne andere Leute treffen und in einem wunderschönen Haus die sanitären Anlagen mit anderen Gästen gemeinsam nutzen können. Es ist eine wunderschöne Villa mit 4 Schlafzimmern mit 4 Betten, und 4 Doppelzimmern (Kapazität von maximal 24 Personen). Die Villa verfügt über alles was das Surferherz begehrt; eine Chill out Area mit großer Couch und Fernseher, free Wifi, amerikanische Block Küche, Terrasse mit wunderschönem Garten zum bräunen und gemauertem BBQ, sowie in der 2. Etage Balkone mit Blick auf die Insel Lobos.

Preis: Ab 17 EUR pro Nacht / Person
Doppelzimmer mit teilbarem Bett: Ab 40 EUR pro Zimmer
Notiz : Die Bettwäsche wird gestellt, aber keine Handtücher

Lorenzo's bed & surf – Surf Camp

In Ruhe auf der Terrasse entspannen, in der geräumigen Küche selber dein Essen kochen, nette Leute aus der ganzen Welt treffen, hier kannst du deinen Urlaub verbringen, so wie du willst. In jedem Fall triffst du hier auf Gleichgesinnte, mit denen du einige Zeit verbringen und Erfahrungen austauschen kannst, aber ohne auf Privatsphäre, Exklusivität und ungestörten Schlaf zu verzichten.Wir bieten unseren Gästen einen perfekten Ausgangspunkt, denn unser Hostel liegt direkt im Zentrum von Corralejo, zwischen dem Hafen und dem großen Hyperdino Supermarket. Nur 3 Gehminuten von dem nähsten Strand und 5 Minuten von dem Disco/Bar Areal. Wir haben Platz für insgesamt 7 Leute. Der Surfspot el muelle ist nur 5 Minuten weit weg. Die Lage vom Hostel und die persönliche Hilfe von Lorenzo bei allem, was du brauchen könntest, geben dir eine der besten Unterbringungsmöglichkeiten in Corralejo. Schnelles, kostenloses Wifi, Bettlaken und ein Handtuch pro Person inklusive.


---
VERPFLEGUNG
---
Kommt auf die Unterkunft an.


SURFKURS UND AKTIVITÄTEN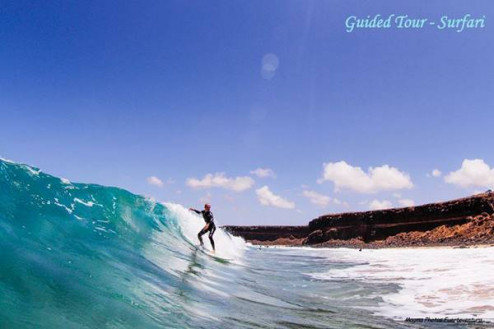 ---
ABLAUF DES SURFKURSESENT
---

Surfkurs für Kinder (Keiki auf Hawaiianisch)
Bei uns können Kinder ohne Eltern ab 12 Jahren beim Surfkurs mitmachen. Jedes Keiki ist anders, weshalb wir gerne vorher mit Ihnen, den Eltern, über ihr Kind Sprechen würden. Ist es sehr unabhängig, angstfrei, kann es gut im Meer schwimmen? Wenn alles passt, freuen wir uns auf ihr Kind!

Ist Ihr Kind unter 12 Jahre alt? Wie für ältere Kinder (siehe oben) müssen wir immer vorher mit Ihnen, den Eltern, sprechen, ob das Keiki gewisse Bedingungen erfüllt. Zusammen können wir dann entscheiden, ob ein Surfkurs Sinn macht. Da jüngere Kinder deutlich mehr Aufsicht erfordern, bitten wir Sie am Strand anwesend zu sein.
Die Kinder erhalten am Ende des Surfkurses eine Urkunde, die zeigt, dass sie ein freidenkender Surfer bei der Aloha Surf Academy geworden sind !

Privatstunde
Unsere Surfstunden sind intensiv und auf 6 Personen begrenzt, daher bieten wir keine Privatstunden an. Wir bieten aber eine Surfari mit persönlichen Tips an. Es kostet 60 euros für 2 Stunden. Nähere Infos hier auf der Homepage.

Auch..
Die Tagesplanung ist bei uns flexibel so dass auch mal Zeit bleibt ein wenig mehr von der Insel kennen zu lernen. Wenn die Bedingungen es zu lassen, abhängig von den Gezeiten und dem Swell fahren wir zu verschiedenen Surfspots, so dass man seine neuen Skills in verschiedenen Bedingungen anwenden lernen kann. Wir halten unsere Surfkurse auf deutsch, spanisch, englisch, französisch, italienisch und holländisch. Der Unterricht findet in kleinen Gruppen (max. 6 Schuler/Lehrer) statt, um eine individuelle und intensive Lehrnsituation zu schaffen.

Außerdem…
Unsere Surfschule spricht Personen an, die den Wunsch haben, Surfen zu lernen oder auf vernünftige Art und Weise weiterlernen möchten. Unser Surflehrer Alex ist dirigierend, geduldig und ermutigend am Strand. Während der Fahrten zum Strand oder auch bei den sportlichen Aktivitäten ist er stets gut gelaunt und glücklich, sein tägliches Leben mit euch zu teilen; euch kennen zu lernen oder euch seine eigene, selbstgemachte Kreation; eine kleine tropische Oase in seinem Garten vorzustellen!

Und dann…
Die Aloha Surf Academy ist eine DWV registrierte Surfschule und wir garantieren höchste Sicherheit- und Qualitätsstandards. Unser Surfcoach Alex verfügt über eine Surf GB Ausbildung und hält ein aktuelles Lifeguard Diplom der Royal Life Saving Society UK. Aufgrund der sportlichen intensivität unserer Surfkurse empfehlen wir einen Tag Pause zur Erholung, wodurch der Lernerfolg optimiert wird. Daher raten wir spätestens nach 3 Tagen zu einer Pause von einem Tag. Gut Erholt und mit voller Power kann es dann im Anschluss weitergehen !

Neben dem Surfen organisieren wir auch jede Menge anderer Aktivitäten wie Beach, BBQs und Restaurant Besuche.


---
SURF-EQUIPMENT
---
ZEITPLAN: normalerweise ist Abfahrt um 10:00 oder 14:00 Uhr *
DAUER: 4 bis 5 Stunden
PREIS: ab 55 Euro
INKLUSIVE: Abholung in Corralejo/ Fahrt zum Strand/ Material/ Kurs/ professionelle Betreuung/ Rettungsschwimmer/ sehr gute Erfahrung…!
ERFORDERLICHE INFORMATIONEN: Körpergröße in cm and Körpergewicht in Kg für das Material/ Vor- & Nachname/ Unterbringungsort
MITZUBRINGEN: Snacks & Wasser/ Strandsachen
* Zeitplan ist abhängig von den Gezeiten


---
SONSTIGE AKTIVITAETEN
---
Man kann zum Beispiel eine Vulkantour machen, die Insel Lobos oder den Hafen von Cotillo mit seinen eindrucksvollen Klippen besichtigen, einen Stadtbummel in der Surfcity Lajares machen, wo Samstag ein Handwerkermarkt ist… und noch vieles mehr.
MEHR DETAILS, ANREISE & FAQ
---
SURFBEDINGUNGEN
---
Welche Breaks gibt es direkt am Spot und in der Nähe?
Fuerteventura ist als das Hawaii des Atlantiks bekannt. Die Lage garantiert das Surfen an atemberaubenden Stränden das ganze Jahr über für jeden Level. Mit nur vier Flugstunden sehr gut aus europäischen Städten zu erreichen.
Unsere Surfschule & Surf camp befindet sich im Norden der Insel, in Corralejo. Von dort aus können wir je nach Swellrichtung und –größe, einfach und den Bedingungen entsprechend, an der Ost-, West- oder Nordküste unterrichten. Dies bietet uns die Möglichkeit, das ganze Jahr über – entweder am Strand oder auf einem Riff – surfen zu können.
Wie sind die allgemeinen Bedingungen zu den Jahreszeiten?
Wir genießen ein außergewöhnliches Klima das ganze Jahr über. Die Winter sind warm mit Minimaltemperaturen von 20 º, die Sommer sind mild mit 30º. All das bringt uns ca 365 Tage im Jahr Sonnenschein. Die Temperatur des Meeres schwankt zwischen 17º im Winter und 25º im Sommer.


---
UMGEBUNG / REGION
---
Wie ist die Umgebung bzw. Region?

Corralejo ist ein Fischerort mit schneeweißem Sand, kristallklarem, zum Baden einladendem Wasser und einem einmaligen Blick auf die Insel Los Lobos (mit eine Welle die auf der ganzen Welt berühmt für ihre Perfektion ist). Außerdem gibt es unzählige und vielfältige Unterkünfte, Restaurants, Surfshops, wo man auch Bretter ausleihen kann, und zentrale Supermärkte für den täglichen Einkauf.
Neben dem Wassersport kann man viele, abwechslungsreiche Touren und Ausflüge unternehmen.
---
ANREISE
---
Welche Anreisemöglichkeiten gibt es?
Der Flughafen in Puerto del Rosario ist mit einer Entfernung von 45 Kilometern nahe gelegen.

PREISE & LEISTUNGEN
---
PACKAGE A - ALOHA BASIC SURF PACKAGE -ab 420 € pro Woche / Person
---
Das Paket beinhaltet:

-Transfer vom Flughafen nach Corralejo und zurück
-7 Übernachtungen in unserem Surfcamp Lorenzo´s Bed and Surf, Zweibettzimmer (Wifi)
-5 Tage Surfkurs an unserer Academy (einschließlich Material, Transfers)
-1 Session Bilderanalyse, für schnellere Fortschritte beim Surfen


---
PACKAGE B - ALOHA DELUXE SURF PACKAGE - ab 814 € pro Woche / Person
---
Das Paket beinhaltet:
-Transfer vom Flughafen nach Corralejo und zurück
-7 Übernachtungen in unserem Surfcamp direkt am Strand, Deluxe Einzelzimmer mit Bad (Wifi)
-5 Tage Surfkurs an unserer Academy (einschließlich Material, Transfers)
-1 Session Bilderanalyse, für schnellere Fortschritte beim Surfen
-1 Yogastunde für Surfer
-1 Massage für Surfer
-1 Aloha Surf Academy Tee Shirt


---
PACKAGE C - ALOHA SPORT PACKAGE - ab 493 € pro Woche / Person
---
Das Paket beinhaltet:
-Transfer vom Flughafen nach Corralejo und zurück
-7 Übernachtungen in unserem Surfcamp "Round House" Bunk Zimmer (Wifi)
-3 Tage Surfkurs an unserer Academy (einschließlich Material, Transfers)
-1 Stand Up Paddle Board (SUP) Kurs
-1 Vulkan Wandertour
-1 Kayak & Schnorchel Tour


---
PACKAGE D - ALOHA FAMILY PACKAGE (4 LEUTE) - ab 1079 € pro Woche / Person
---
Das Paket beinhaltet:
-Transfer vom Flughafen nach Corralejo und zurück
-7 Übernachtungen in einer Ferienwohnung für 4 Personen
-3 Tage Surfkurs an unserer Academy (einschließlich Material, Transfers)