ÜBER DAS SURFCAMP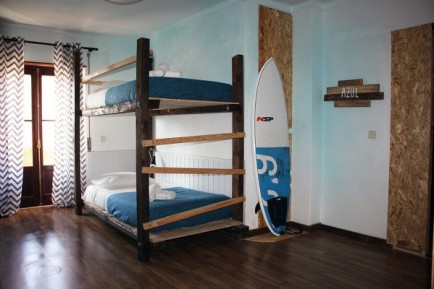 ---
CAMP CHARAKTER
---
Wir lieben das Surfen und diese Liebe möchten wir mit Dir teilen. Ob Du das erste Mal auf die Surferwelt triffst, oder Du schon längst "süchtig" bist, unser Team kann es nicht erwarten dich als unseren Gast zu begrüßen. Lass uns Dir zeigen wie wir Surfunterricht geben. Der Unterricht findet von Montag bis Freitag am schönen Vigia Beach etwa 200 Meter vom Camp statt. Der Kurs dauert etwa drei Stunden und hat eine 30-minütige Essenspause. Der Ablauf ändert sich Tag für Tag, da er auf Ebbe und Flut und die Wetterbedingungen angepasst wird, aber unser Team wird dich immer auf dem Laufenden halten. Jede unserer Surfstunden wird mit größter Sorgfalt geführt und auf die Teilnehmer angepasst. Daher ist jede unserer Unterrichtseinheiten einzigartig und die beste Möglichkeit das Surfen und den Lifestyle zu lernen.
---
CAMP BETREIBER
---
Stefan Inácio – Owner/Head Manager
"This ist the project of my life, and I wanted to build this surfcamp to enjoy the surf lifestyle and spread it into the world."

Tiago Antunes – Owner
"The first step to get what you want ist to decide what you want, and I want to make people smile by getting some waves."

Joao Serra – Camp Manager
"What can be better than work in what you like most? Surf is my passion, is what I need to feel happy and forget the "not so good" things in life."

Johny Viera – Head Surf Instructor
"Here is where I charge batteries. Where I feel alive, where I feel useful to myself."

Mário Rui – Surf Instructor
"Never let the best waves in life go by."




UNTERKUNFT UND VERPFLEGUNG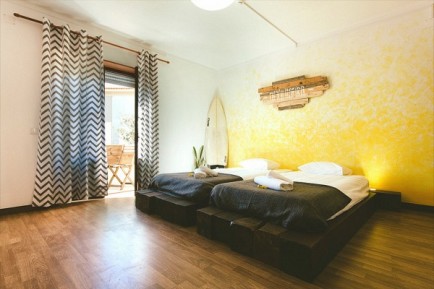 ---
UNTERKUNFT
UNSER SURFCAMP
Wohnhaus mit großzügigen Sonnenterrassen und Blick aufs Meer, elf ursprünglich eingerichtete Zimmer und eine eigene Bar & Lounge zum rundherum wohlfühlen. Wir haben sichergestellt, dass Du bei uns alles hast, was man für einen komfortablen und angenehmen Aufenthalt brauchet.

Eine voll ausgestattete Küche
Speisesaal
Bar & Lounge
Relaxbereich
Skate und Longboards
Free Wi-Fi

Ob Du uns alleine oder mit Freunden besuchst, eher Privatsphäre oder nette Gesellschaft suchen, ob Du zum Surfen kommst oder nicht, wir haben das passende Ferienpaket für Dich da. Suchen Dir eines von unseren elf, mit Liebe eingerichteten Zimmern aus. Wir haben private und geteilte Zimmer mit kleinem Balkon oder Terrasse und auch welche mit Minibar und Badewanne. Jeder Raum hat seine eigene Dusche und WC. Was Du auch wählen wirst, Du wist dich in einem geschmackvoll eingerichteten Zimmer mit größtem Komfort wiederfinden.

Praia da Mexilhoeira Unterkunft
Erstrahlt in warmen Gelbtönen, das Zweibettzimmer scheint immer mit Sonnenschein und positiven Vibes gefüllt zu sein.

Dusche & WC
Doppelbett
Balkon
Abschließbarer Schrank

Praia Azul Unterkunft
Die sanften Lagune-Blau-Töne dieses Mehrbettzimmer wird dich vom Meer träumen lassen.

3 bunk beds
Badewanne
Balkon
Abschließbarer Schrank

Praia dos Quarenta Unterkunft
Inspiriert von den Klippen unter dem blauen Himmel, fühlst du hier die Meeresluft und die Ruhe der Landschaft.

Doppelbett                                                                                                                                                                                                                  Balkon                                                                                                                                                                                 AbschließbarerSchrank                                                                                                                                           Dusche & WC

Praia da Física Unterkunft
Dieses kleine Zweibettzimmer duftet lila. Beinahe zu zart und fein, ist es eine frische Frühlings-Ecke in unserem tropengleichen Sommerhaus.

Doppelbett
Dusche & WC
Balkon
Abschließbarer Schrank

Praia do Max Unterkunft
Korallener Sonnenaufgang feuert die Wände hinauf, und brennt, und brennt, und brennt ...

Doppelbett
Dusche & WC
Abschließbarer Schrank

Praia do Navio Unterkunft
Als einziger Raum im Obergeschoss gelegen, bietet dieses Mini-Appartement mit kleiner Küche und großer Terrasse einen zurückgezogenen Aufenthalt.

Doppelbett
Dusche & WC
Balkon
Abschließbarer Schrank

Praia da Vigia Unterkunft
Kompakt und lichtdurchflutet prahlt dieses Zimmer mit einer atemberaubenden Terrasse und einladenden Liegestühlen in einem grünen Ambiente. Wo sind die Drinks!

Doppelbett
Dusche & WC
Balkon
Abschließbarer Schrank

Praia de Sta. Rita Unterkunft
Unsere coolen Kojen in diesem Vierbett-Zimmer schlagen selbst Kingsize-Betten, wenn es um den Komfort geht. Schnapp dir deine drei besten Amigos und versinke in unschlagbarer Gemütlichkeit.

2 bunk beds
Badewanne
Balkon
Abschließbarer Schrank

Praia do Pisão Unterkunft
Erinnerst du dich, wie du als Kind dein eigenes "Tisch-und-Decke-Haus" gebaut hast, um darin ein geheimes Leben zu führen?
Dieses Zimmer mit einer geneigten Decke und kuscheligen Nachttischlampen ist dieser Hand-made-Version sehr ähnlich, aber geräumiger, robuster und bequemer. Du wirst es lieben!

Doppelbett
Dusche & WC
Balkon
Abschließbarer Schrank

Praia do Mirante Unterkunft
Dieses Zimmer bietet nicht nur sechs Jimbo Pellegrine`s oder Andy Carter`s genügend Platz, es hat auch noch eine Chill-Ecke für ein offenes Zusammenkommen mit neuen Surf-Freunden.

3 bunk beds
Dusche & WC
Balkon
Abschließbarer Schrank



---
VERPFLEGUNG
---
Frühstück
Um besser zu surfen, sollte man gut essen. Aus diesem Grund serviert das Cliff Surf Camp jeden Tag leckeres und abwechslungsreiches Frühstück.
Vorbereitet mit traditionellem Touch (und einer Portion Liebe), umfasst unser Frühstücksbuffet alles was man braucht um den Tag richtig zu beginnen:
Eine Auswahl an Brot und Gebäck, Aufschnitt, Müsli, Joghurt, Marmelade und Gelees, heiße und kalte Getränke, frisches Obst der Saison.
Das Frühstück beinhaltet auch einen Take-Away-Snack für den Strand (ein Sandwich, ein Päckchen Kekse, Wasser, Saft und Obst), um Dich während der gesamten Surf-Session mit Energie zu versorgen.

Abendessen
Für uns Surfer gibt es kaum ein besseres Gefühl als nach einem erlebnisreichen Tag ein leckeres Abendessen serviert zu bekommen.
Wir bieten Dir mehrere Möglichkeiten:
Besuche in lokalen Restaurants die von uns organisiert werden oder gesunde Snacks und knackige Salate in unserer Lounge und Bar.

Im Cliff Surf Camp wollen wir die Mahlzeiten nutzen um einander kennen zu lernen, interessante Gesprächen zu führen und in die kulturelle Vielfalt einzutauchen.
Was kann besser sein als die Vorfreude auf eine bevorstehende Surf-Session mit Gleichgesinnten über eine Tasse Kaffee am Morgen zu teilen?



SURFKURS UND AKTIVITÄTEN
---
ABLAUF DES SURFKURSES
Sicherheit zuerst!

Wir bringen Dir zuerst die Sicherheitsregel bei und wie Du in kritischen Situationen reagieren musst. Du wirst erfahren bei welchen Wetterbedingungen Du Surfen kannst und wie Du sie erkennst. Außerdem bekommst Du natürlich eine Einführung in die Verwendung der Surfausrüstung. All das damit Du ohne Angst trainieren kannst.

Wie Du nicht runter fällst!

Wie sind Wellen aufgebaut und wie unterscheiden sie sich? Wie lebt und verhält sich der Ozean? Wie kletterst Du auf das Surfbrett und wie bleibst Du drauf stehen? Was ist der Unterschied zwischen 'greens' und 'foams' oder Soft- und Hardboards? Wie paddelst und drehst du? Grundsätzlich wirst Du alles lernen was Du zum Surfen brauchst.

Übung macht den Surfer!

Von Sonnenaufgang bis Sonnenuntergang, mit hohem Tempo vom trocken Üben am Stand bis zum Surfen im Wasser lernst Du alle Arten von Übungen und Techniken um alle Brandungen zu meistern:

- Bereite deinen Körper mit einem passenden Workout auf das Surfen vor
- Betrete das Wasser zum richtigen Zeitpunkt zur rechten Zeit
- Suche dir Wellen aus
- Paddel effizient und kontrolliere deine Atmung
- Stell dich auf das Surfbrett                                                                        
- Halte die Balance und fahr Kurven

...Und viele andere Sachen.  Jede Einheit ist ein ausgewogener Mix aus Theorie, Praxis und Kultur.
---
SONSTIGE AKTIVITAETEN
---
SURFKURS
Die Hauptaktiviät ist natürlich das Surfen. Wir bieten von Montag bis Freitag täglich zwei Kurse. Für die Kurse werden alle Materialien und auch der Transfer bereitgestellt. Alle Kurse werden von unseren geschulten Trainern begleitet.
SKATE
Wir haben gute Skateboard und Longboards. Einmal die Woche kommt ein professioneller Skateboarder vorbei.
REITEN & BTT
Entspanne Dich bei einer Tour auf dem Pferd oder Fahrrad.
PARAGLIDING
In Zusammenarbeit mit unserem qualifizierten und erfahrenen Lehrer kannst du Paragliding lernen und unsere schöne Küste überfliegen. Die Gegend ist bekannt für ihre optimalen Voraussetzungen für dafür.
TAI CHI
Lerne Tai Chi! Die chinesische Kampfkunst ist der beste Weg zur Entspannung im Einklang mit der Natur.
AUSFLÜGE
Im der näheren Umgebung befinden sich eine Reihe von weltberühmten Ausflugszielen ( max. 1 Fahrstunde entfernt). Lass Sie dir von uns zeigen! 
Buddha Eden Garden - Fantastische Gärten mit Pagoden, Skulpturen und Statuen.
Adega Mãe - Probiere unseren regionalen Wein.
Lissabon - Reise durch die historischen Zentren der portugiesischen Hauptstadt.
Nazaré - Besuche den Strand mit den weltbekannten Wellen.
Obidos - Besucher lieben diese kleine Stadt für die authentische mittelalterliche Empfindung und die robuste Festung der Burg.
Surfbrett Fabrik - Erfahre alles über die Herstellung von Surfbrettern.
MEHR DETAILS, ANREISE & FAQ
ANREISE
---
Mit der Reservierung bieten wir  den Transfer vom Flughafen Lissabon zum Camp an. Unser autorisierter Fahrer wird am Terminal 1 auf Dich warten. Der Transfer ist Sonntags von 8:00 bis 20:00 Uhr kostenlos.
PREISE & LEISTUNGEN
---
Bed & Breakfast - ab 20 € pro Nacht / Person
---
Das Paket beinhaltet


Übernachtung & Frühstück
Preise:Nebensaison
Mehrbett-Zimmer: 20 € pro Nacht / Person
Doppelzimmer: 25 € pro Nacht / Person
Zwischensaison
Mehrbett-Zimmer: 25 € pro Nacht / Person
Doppelzimmer: 30 € pro Nacht / Person
Hauptsaison
Mehrbett-Zimmer: 30 € pro Nacht / Person
Doppelzimmer: 35 € pro Nacht / Person
---
Explorer Pack - ab 175 € pro Woche / Person
---
Das Paket beinhaltet:
7 Übernachtungen
1 Willkommensdrink
Frühstück und Lunchpaket  am Strand
2 x Grillen
Abendkino im Camp

Preise:

Nebensaison

Mehrbett-Zimmer: 175 € pro Woche / Person (Jede weitere Nacht: 20 €)
Doppelzimmer: 235 € pro Woche / Person (Jede weitere Nacht: 25 €)

Zwischensaison

Mehrbett-Zimmer: 220 € pro Woche / Person (Jede weitere Nacht: 25 €)
Doppelzimmer: 290 € pro Woche / Person (Jede weitere Nacht: 30 €)

Hauptsaison

Mehrbett-Zimmer: 290 € pro Woche / Person (Jede weitere Nacht: 30 €)
Doppelzimmer: 350 € pro Woche / Person (Jede weitere Nacht: 35 €)


---
Experience Surf Pack - ab € 350€ pro Woche / Person
---
Das Paket beinhaltet:
7 Übernachtungen
1 Willkommensdrink
Frühstück und Lunchpaket am Strand
2 x Grillen
An fünf Tagen je zwei Surfkurse 
Abendkino im Camp

Preise:

Nebensaison

Mehrbett-Zimmer: 350 € pro Woche / Person (Jede weitere Nacht: 45 €)
Doppelzimmer: 410 € pro Woche / Person (Jede weitere Nacht: 50 €)

Zwischensaison

Mehrbett-Zimmer: 410 € pro Woche / Person (Jede weitere Nacht: 50 €)
Doppelzimmer: 470€ pro Woche / Person (Jede weitere Nacht: 55 €)

Hauptsaison

Mehrbett-Zimmer: 470 € pro Woche / Person (Jede weitere Nacht: 55 €)
Doppelzimmer: 525 € pro Woche / Person (Jede weitere Nacht: 60 €)


---
Surfkurs - ab 50€ pro Tag / Person
---
Das Paket beinhaltet:
Surfkurs (ca. 3 Stunden)
Surfbrett
Neoprenanzug
Transport

Preise:

1 Tag   50 € / Person
2 Tage  85 € / Person
5 Tage  200 € / Person


---
Surf-Verleih (ohne Kurs)

---
Surfbrett                           15 € / Tag
Neoprenanzug                   10 € / Tag
Surfbrett & Neoprenanzug   20 € / Tag


---

Nebensaison

Februar, November, Dezember, März
Zwischensaison
April, Mai, Juni, Oktober
Hauptsaison
Juli, August, September