ÜBER DAS SURFCAMP
---
LAGE UND SURFBEDINGUNGEN
---
Wir befinden uns in El Gouna, einer kleinen Stadt am Roten Meer, die nur etwa 30 Minuten von Hurghada, Ägypten, entfernt ist. Unser Kitesurf-Spot befindet sich an den nördlichen Stränden von El Gouna, wo uns der konstante Wind jeden Tag zum Kitesurfen einlädt.
UNTERKUNFT UND VERPFLEGUNG
---
UNTERKUNFT
---
Wir haben uns entschieden, mit The Three Corners Hotels als Premium-Partner zusammenzuarbeiten. Dies sind die Hotels in El Gouna, die uns am besten gefallen:
The Three Corners Rihana Resort
Das The Three Corners Rihana Resort wurde am Ufer einer Lagune erbaut und ist ein im  nubischen Stil gebautes architektonisches Meisterwerk. Die einzelnen Gebäude sind im herrlichen Garten gruppiert, mit den typischen Kuppeln und Bögen im nubischen Stil und in den herrlichen Farben des Sonnenunterganges gestaltet.Das The Three Corners Rihana Resort ist für Singles, Paare, Familien und Freunde gleichermaßen geeignet. Wir bieten das umfassendste Urlaubserlebnis und laden Sie dazu ein das Beste zu genießen. Egal, wie Sie Ihre Tage verbringen möchten, das The Three Corners Rihana Resort bietet Ihnen alle Möglichkeiten für einen entspannten Urlaub. Lehnen Sie sich zurück und entspannen Sie oder genießen Sie unsere Aktivitäten vom Wassersport bis zum Golf.
Der sandige und flach abfallende Hotelstrand an der Lagune ist ideal zum Schwimmen. Liegestühle, Sonnenschirme und Handtücher  sind kostenlos. Der Hotelstrand für das Rihana Resort befindet sich am Mangroven Strand in einem Naturschutzgebiet. Es geht flach abfallend ins Meer und ist daher sehr kinderfreundlich.

The Three Corners Rihana Inn
Das The Three Corners Rihana Inn ist als Erweiterung des Rihana Resort gebaut.Die Gebäude, mit ihren typischen Kuppeln und Bögen in den warmen Farben des Sonnenuntergangs liegen um einen großen Pool.
The Three Corners Ocean View
Das The Three Corners Ocean View Hotel **** Prestige verfügt über eine besondere Lage in El Gouna. Entlang der Abu Tig Marina liegen das einzigartige Schwimmbad: das Pool überragt das Rote Meer. Das The Three Corners Ocean View Hotel bietet Unterkünfte direkt am Meer an, Restaurants, Einkaufsmöglichkeiten oder Sie haben einfach Spaß am Pool. Alleinreisend, als Paar oder mit einer Gruppe von Freunden, bietet das Ocean View die besten Möglichkeiten für einen Urlaub in stilvollem Ambiente an. Das Ocean View Hotel bietet als "adults only" Hotel die Möglichkeit, einen Urlaub in einer kinderfreien Umgebung zu verbringen, wo Sie Ihre wohlverdienten Ferien in der Gesellschaft Gleichgesinnter genießen können.
---
VERPFLEGUNG
---
Unsere Beach Bar, die direkt am Strand liegt, serviert gesunde, frische Säfte und tolle Smoothies (probiere mal unseren Banana Rebel!) sowie alkoholfreie und alkoholische Getränke. Genieße etwas von der gesunden Speisekarte des Restaurants während Du chillst und das Geschehen auf dem Wasser beobachtest.
SURFKURS UND AKTIVITÄTEN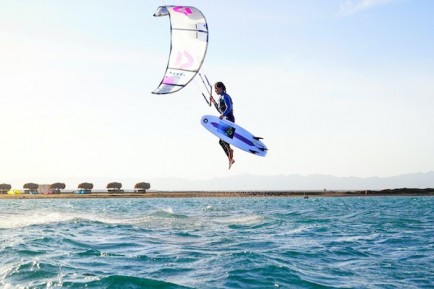 ---
ABLAUF DES SURFKURSES
---
Möchtest Du in El Gouna Kiten lernen? Dann bist Du genau richtig! Kitesurfen ist eine relativ einfach zu erlernende Wassersportart. Egal, wie alt man ist, man muss nur fit sein und auf dem Wasser schwimmen können.
Um Kiten zu lernen, musst Du lernen, wie Du Deinen Kite kontrollierst und wie Du mit seiner Kraft umgehst. Dabei geht es mehr um Technik als um Kraft.
Du lernst es Schritt für Schritt, beginnend mit der Theorie darüber, wie man einen Kite aufbaut und die Grundlagen des Kitefliegens. Wenn Du die Kontrolle über den Kite beherrschst, werden wir Dir beibringen, wie Du auf das Board kommst und die ersten Meter auf dem Board machst.  
---
SURF-EQUIPMENT
---
Erspare Dir den Stress, dein Kite-Equipment nach El Gouna zu bringen und leih Dir bei uns die neuesten Modelle von Duotone aus. Perfektes Material für alle alle Bedingungen.
Wir haben auch einen sicheren Storage, wo Du Deine mitgebrachte Ausrüstung sicher bei uns aufbewahren kannst.
---
SONSTIGE AKTIVITAETEN
---
Ab und an organisieren wir einen Tagesausflug nach Tawila: eine Insel die nur eine Stunde von unserer Location in El Gouna entfernt ist. Dort kann man im kristallblauen Butterflachwasser kiten und unglaublich viel Spaß haben.
Diejenigen, die sich gerne bewegen, können das Fitnesscenter nutzen und an Spinning-Kursen, CrossFit und vielem mehr teilnehmen. Eine gute Gelegenheit, um fit für die Kitesurf-Sessions zu sein. Für diejenigen, die eine Massage benötigen, bieten wir auch verschiedene Massagen an.
MEHR DETAILS, ANREISE & FAQ
---
 SURFBEDINGUNGEN
---
Wie sind die allgemeinen Bedingungen zu den Jahreszeiten?
Makani Beach Club ist das ganze Jahr über das perfekte Reiseziel. Die Temperaturen sind warm, mit konstantem, seitlichen Seewind. Im Durchschnitt gibt es mehr als 70% gute Tage zum Kiten im Jahr. Die Bedingungen sind perfekt für Kitesurfer allen Niveaus. Die Lagune hat flaches Wasser mit sandigem Grund ohne irgendwelche Riffe oder Steine.
Die Lagune in El Gouna ist auch insofern einzigartig in, als dass wir selbst bei Ebbe noch eine gute Wassertiefe haben, um sicher zu kiten. Unsere Gäste können also den ganzen Tag über aufs Wasser hinaus.
Alle zwölf Stunden herrscht Ebbe und Flut. Der Unterschied in der Wassertiefe beträgt dann bis zu 80 cm. Wir haben Tausende von Quadratmetern weiches, sandiges Flachwasser vor unserem Strand. Es gibt also immer einen Ort, an dem man eine sichere Tiefe für das Kitesurfen finden kann.
---
UMGEBUNG / REGION
---
Was kann man neben dem Surfen noch machen?
Nur mit einem stärkeren Körper machst Du im Sport Fortschritte. Unser professionell ausgebildeter Physiotherapeut wird mit Dir ein Übungsprogramm erarbeiten, das Dir hilft, Deine Ziele sicher zu erreichen, damit Du nach Deiner Abreise an Dir selbst arbeiten kannst.
Falls Du Dich an manchen Stellen etwas angespannt oder unwohl fühlst, schauen wir uns an, ob wir die Verspannung lösen können, bevor sie zu einem ernsthaften Problem wird. Mit einem Rehabilitationsplan, der auf der Analyse Deines Körpers basiert, werden wir Dich nach Deiner Verletzung wieder ins Spiel bringen.


---
 ANREISE
---
Welche Anreisemöglichkeiten gibt es?
Mit dem Tuk Tuk kannst Du von überall in El Gouna für ca.20 EGP pro Person und Fahrt zu uns fahren.
Wir haben auch einen Shuttle-Bus, der nach einem vereinbarten Fahrplan, von den Three Corners Hotels Rihanna Inn und Ocean View abfährt.
Falls Du vom Flughafen kommst, können wir Dich auch vom Flughafen abholen oder wieder dorthin zurückbringen.
PREISE & LEISTUNGEN
---
PACKAGE Anfänger Level: Basic Kurs I + II - ab 349€ € pro Kurs/ Person
---
Das Paket beinhaltet:

Im Einsteiger-Grundkurs wirst Du alles Notwendige lernen, um Deinen Kite sicher zu kontrollieren:
- Windtheorie, Materialeinstellung und Sicherheit
- Kite-Kontrolle, Start und Landung, Windfenster
- Relaunch - Bodydrag und powerkontrolle
- Selfrescue - Erste Wasserstart-Übungen
- Downwind fahren  
Basic I (8 Stunden): Empfohlen für diejenigen, die bereits Erfahrung mit Kites und Boardsport haben, 8 Stunden/ 2 Tage, 2-4 Teilnehmer, 349€ pp. 

Basic II (12 Stunden): Empfohlen für diejenigen, die mit dem Kitesurfen beginnen wollen und keine Boardsporterfahrung haben, 12 Stunden/ 3 Tage, 2-4 Teilnehmer, 475€ pp.
---
PACKAGE Aufsteiger Level: Refresh Course - ab 225€ pro Kurs/ Person
---
Das Paket beinhaltet:
Du warst schon lange nicht mehr auf dem Wasser und fühlst Dich etwas wackelig oder willst einfach nur sichergehen, dass Du noch zuverlässig Wasserstart, Upwind und wenden kannst? Wir gehen mit Dir alle Grundlagen durch und sorgen dafür, dass Du Dich wieder wohl auf dem Wasser fühlst. Alle Kurse beinhalten das gesamte Material, welches Du auch benötigst. Bringe also einfach nur Dich selbst mit und mache Dich bereit, das Kitesurfen wieder zu erlernen.
- Aufbau und Sicherheit der Ausrüstung
- Wasserstart
- Downwind fahren
- Körperhaltung auf dem Brett, Kante halten
- Wenden lernen
- Switch fahren
Empfohlen für diejenigen, die bereits einen Kurs gemacht haben und weiterlernen und sicherer Kiten wollen, 4 Stunden/ Tag, 2-4 Teilnehmer


---
PACKAGE Privatunterricht 1:1 - ab 60€ pro Stunde/ Person

---
Das Paket beinhaltet:
Für diejenigen, die nicht an einem Gruppenkurs teilnehmen möchten, bieten wir auch Einzelunterricht bzw. Coaching an. Der Lehrer wird sich nur auf Dich konzentrieren können und Du bekommst die volle Aufmerksamkeit. Empfohlen für Teilnehmer aller Levels, vom Anfänger bis zum fortgeschrittenen Kitesurfer, sowie für Kinder unter 16 Jahren.
- Für alle Levels: Anfänger, Aufsteiger und Fortgeschrittene
- eins zu eins Unterricht
- mit unserem Equipment oder Deinem eigenen
- Für Kids: die einzige Möglichkeit, Kitesurfen zu lernen
60€ pro Stunde exklusive Equipment
70€ pro Stunde inklusive Equipment 
Falls mehrere Stunden gebucht werden wird ein Rabatt gewährt.


---
PACKAGE Kite Event - ab 599€ pro Woche / Person
---
Das Paket beinhaltet:


- 6 Tage Intensiv-Gruppenkurs
- 4-5 Schüler pro Lehrer
- täglich 4-6 Stunden, aufgeteilt in 2 Sessions
- professionelle Betreuung durch VDWS-lizenzierte Trainer
- Theorie, Materialschulung & Selbstrettung
- No-Wind-Aktivitäten (gegen Aufpreis)
- Premium-Schulungsmaterial Duotone (ehemals North Kiteboarding), Core und Flysurfer
- gemeinsame Abendaktivitäten
- Event T-Shirt
Geeignet für Anfänger, Fortgeschrittene und Könner, sowie für Old School und Freestyle Fans.
Die Kite-Camps haben durchschnittlich 8-12 Teilnehmer pro Woche. Zwei bis drei erfahrene Lehrer sind dabei für die Gruppe verantwortlich. Wir werden die Gruppe in verschiedene Levels aufteilen, um uns besser auf die einzelnen Personen konzentrieren zu können.
Das Event startet am Freitag und geht bis Mittwoch durch.
Wenn der Wind nicht genug ist, um Kiten zu gehen, werden wir Theorie machen und flauten Aktivitäten.