ÜBER DAS SURFCAMP
---
LOCATION AND SURF CONDITIONS
---
The Matosinhos beach is one of the beaches in Portugal most suited for surfing lessons, ideal for beginners and intermediates. This beach is characterised by fine white sand and clean water, being a stone's throw from the hundreds of bars and seafood restaurants for which Matosinhos is renowned. In the summer it is a beach very requested with very easy access and lifeguard protection.

Oporto is colourful city cherished as a World Heritage Site, a lively hub for all ages, sharing of culture, food and music which makes of Oporto, a popular destination for tourists year upon year. With open doors, we share unique features: beach, river side, important historic landmark, great gastronomy and a vibrating night life. With a excelent urban trendy atmosphere you will find a population that is known for being welcoming, in a city that has the perfect size to walk by and a great transportation network.

Lonely Planet, published in leading international publisher of travel guides, named the city of Porto and the Douro region as one of the 10 best European travel destinations for 2013.
---
CAMP CHARACTER
---
Surf Camp
---
CAMP OPERATOR
---
Originated in the beach of Santa Cruz, founded in 1994 by  Marcelo Martins, Onda Pura Surf School is located in Matosinhos beach since 2002. This beach offers optimal conditions for the initiation and the safe practice of Surf.
Our classes are provided by Physic Education professionals specialised in surf.  The team that embodies this project has a vast practical experience in teaching and pedagogy techniques. In a medium long term point of view this sets the conditions for a future generation of promising surfers.
We follow teaching methods and techniques in the innovative edge, that aim in the evolution of our students in a shorter period of time.
We  proudly present since 2004 a competition tieam that participates in the National Circuit of Young Talent and are also proud of our National Surf Champion João Guedes that participates in the World Surf Circuit.
Regardless of their habillity level  All our students are part of this big family,  when they try this healthy and fun sport they become massive Fans.
UNTERKUNFT UND VERPFLEGUNG
---
ACCOMMODATION TYPES
---
CASA RIETSCH HOSTEL, one of the newest hostels in the Portuguese city of Porto, is
based on an innovative concept which allows our guests to enjoy the fantastic
northern Portuguese beaches and, at the same time, discover the hidden gem that
is Porto and the rich culture of this region. 2 minutes walking to the surf center.
---
CATERING
---
Daily Breakfast
SURFKURS UND AKTIVITÄTEN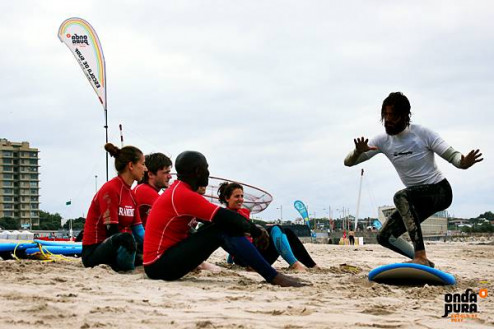 ---
SURF COURSE DETAILS
---
The main goal of this school and its teachers is to give everyone the fantastic and exciting experience of surfing. Initially, this involves give students the basics of the technique, the sea conditions, safety and surrounding materials. We guide our students in the initiation and enhancement, following techniques and methods adapted pedagogical-didactic. In a later phase, the monitoring focuses on the more refined analysis on the issues of technical, tactical and physical preparation for competition.

Onda Pura Surf School now presents an innovating program for your holidays that features beginner, intermediate and advanced surf classes at the best beaches of northern Portugal, combined with unforgettable entertainment in Oporto, a city whose beautiful downtown is part of the World's Historical Patrimony.

Oporto is becoming a popular surf destination for beginners and intermediate surfers. Come and see for yourself what makes this place one of the most desirable places to combine surf & culture in your surf holidays in Portugal, this is the best way to experience all that Oporto has to offer .
From a huge cultural heritage to endless number of beautiful beaches with a wide variety of waves for every level, just 15 minutes away. In the North of Portugal you will be able to surf more than 20 surf spots during your surf holidays and we can plan the surftrip for you.Here are guaranteed unforgettable surf holidays where most of the guests return year after year!

The Pura Onda is governed by well-defined principles:

-Teachers specialized, trained in physical education, with extensive experience in surfing.
-The ratio teacher/student of 1:8 in practical classes.
-Materials suitable for all levels of learning.
-Uniform Programs and advanced teaching techniques.
-Video recording in the classroom and later theoretical analysis.
-Choose the best times of the tides and surf zones in order to facilitate learning, group division by levels.


---
SURF MATERIALS
---
-Wetsuits isothermal mid-range high, with different thicknesses depending on the season and the student's needs.
-T-shirts lycra for signaling and differentiation of levels of students.
-Support framework that accompanies the course, covering all aspects from surfing beginners to competitive surfing, weather, and materials.
-Hardboards (resin and epoxy) and Softboards (essential for a first contact in total security and control) of different sizes to monitor the progress of the student.
---
OTHER ACTIVITIES
---
Sightseeing
MEHR DETAILS, ANREISE & FAQ
---
JOURNEY
---
Ways to get to the camp
From Airport take metro line E (PURPLE). Change trains at Senhora da Hora station to line A (BLUE- Senhor de Matosinhos) to Pedro Hispano Station - 3rd Station after Senhora da Hora.
Arriving at Pedro Hispano metro station, follow the stairs on your left upwards towards Estrada da Circunvalação. when you get to the top, turn on your right and follow the road for about 50mts and you will find Oportocean on your right in Estrada da Circunvalação 14044, Matosinhos.
PREISE & LEISTUNGEN
---
PACKAGE A - WEEKEND GETAWAYS - from 270 € for 3 Days / Person
---
Two days of stress free surf and fun. Enjoy weekend that you always wanted to have!Getaway from the stress of everyday life and come and experience a relaxing weekend full of fun in Oportocean Hostal Surf Camp by Onda Pura Surf School. We'll pick you up from the Oporto's airport and drop you off either in our surf school or in your hostel located five minutes walking distance from the beach.
During the day you will learn how to surf like a pro in one of the best and safest beaches in Portugal. In the evenings you may get some rest and relax in the Hostel or become a party animal in Oportos excellent night life right in the historic centre.

This package includes:
2 surf lessons a day
all surf equipment available, skate/bycicle use,among other
facilities)
accommodation
daily breakfast
daily surf lessons (2 surf lessons and  free surf sessions)
airport transfers
video or photo session
professional and friendly coaching- insurances

Prices:
Shared Room, price per person: 270€
Double Room, price per person: 320€
Single Room, price per person: 345€
---
PACKAGE B - FIVE UNFORGETTABLE SURF DAYS - from 450 € for 5 Days / Person
---
The more you surf , the better… Once you start you won't be able to stop! Stay a few more days and bring your surf skills to the next level.
Take your first septs on the path of the true surfer.
A memorable lifestyle experience. Spend a week on the beach , learn to surf, get to know a bunch of new people and have great nights out. You will find that time flies when you are having so much fun  in Porto, one of the best european destinations.

-Have a few relaxing days in the perfect lifestyle.
-Activities: Learn how to surf, relax on the beach, explore one of the hottest european cities and enjoy the nightlife in the historic centre.
-Your Hostel is a 5 walking minutes from the beach.
-Low-cost flights with Ryanair.
-Our very experienced instructors will turn you into a serious surfer!

This package includes:
2 surf lessons a day
all surf equipment available, skate/bycicle use,among other
facilities)
accommodation
daily breakfast
daily surf lessons (2 surf lessons and  free surf sessions)
airport transfers
video or photo session
professional and friendly coaching- insurances

Prices:
Shared Room, price per person: 450€
Double Room, price per person: 510€
Single Room, price per person: 630€