ÜBER DAS SURFCAMP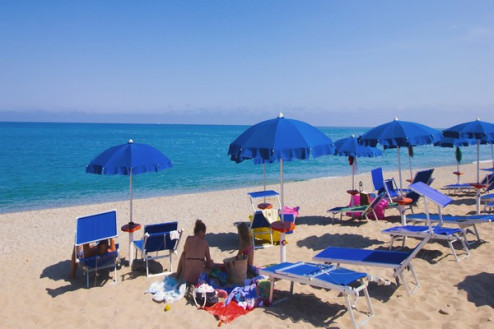 REGION
Die Region Ogliastra ist eine der Schönsten in Sardinien: die schoensten Buchten sind an dieser Kueste Sardiniens, der Golfo die Orosei mit Cala Luna bis Cala Goloritze kann man mit Bootsausfluege besichtigen, sowie auch die Hoelen Grotta del Fico un Grotta del Bue Marino. Der groesste Canyon Europas ist in diese Region, und heisst Gorropu. Auch die Wasserfaelle von Bau Mela in Gennargentu sind Merkwürdig und man kann dort Canyonig. Die Region ist auch für Bergsteiger sehr bekannt, fuer die Kletter Wände in Ulassai und Baunei. Es ist hier nie langweilig!   Activities and facilities
Andere Sportarten, die in der Region moeglich sind: Kitesurfen, Segeln, SUP, Kanu, Wakeborad, Klettern, Trekking, Fahrrad, MTB, Ebike Touren, Diving, Pferdereiten.
Der Camp ist ideal für Familien, und der Unterricht findet in kleinen Gruppen mit maximal 5 Personen statt.  
 CAMP OPERATOR
Maddalena ist seit 11 Jahren Windsurf- und Kitesurflehrerin und hat viele Jahre in Silvaplana, Schweiz und am Comer See gearbeitet. Jetzt ist sie die Besitzerin der Schule in Bari Sardo. Im Winter ist sie Skilehrerin und Snowkiting-Lehrerin in St. Moritz (und Silvaplana) in der Schweiz. Sie ist auch Personal Trainerin und hat an der Universitaet Physik studiert. Davor war sie in der Forschung und in den Krankenhäusern in der Abteilung für Radioonkologie als Medizynische Physikerin tätig. Jetzt freut sie sich alle Windsurf Schüler  glücklich zu sehen, und eine neue Leidenschaft erweckt zu haben.
UNTERKUNFT UND VERPFLEGUNG


Es gibt eine große Auswahl an Unterkünften: Einen 4 Stern-Campingplatz am Strand in der Nähe der Schule mit vielen Angeboten: Glamping, Bungalows, Zelt oder Wohnwagen Stellplaetze, oder es besteht auch die Möglichkeit, Wohnungen zu Mieten die 5 min von der Windsurf Schule  entfernt sind aber immer direkt am Strand. Oder es hat auch einen 3 Stern Camping der 400 m vom Strand entfernt ist.   CATERING

Beim Camping L'Ultima Spiaggia ist es moeglich auch Halb oder Voll Pansion zu buchen, oder jederzeit beim Restaurant zu essen. Der Restaurant am Camping ist einer der besten in der Region.
SURFKURS UND AKTIVITÄTEN
Der Anfängerkurs beginnt Morgens, es gibt zuerst eine Theoriestunde und Übungen am Land am Simulator, um die Bewegungen zu verstehen, die im Wasser geübt werden.  Insbesondere lernt man am ersten Tag, wie man das Segel auffholt, wie man startet und wie man das Brett dreht um die fahrt Richtung zu wechseln. Am zweiten Tag lernt man, die verschiedenen Fahrtkurse zu fahren, (anlufen, abfallen). 
 SURF MATERIALS
Die benutzen Anfängerboards mit hohem Volumen sein, um die Balance zu erleichtern. Die Segel sind Dacron-Segel für Anfänger mit Carbonmasten, so dass die Ausrüstung sehr leicht und ideal für Anfänger ist.  
 OTHER ACTIVITIES
Viele andere Aktivitäten sind in der Umgebung möglich: es ist kostenlos Beachvolleyball, Fußball, Tennis und Tischtennis zu spielen. Auf Anfrage SUP-Verleih, Canyoning, Bootstouren, Kanuverleih, Segel Kurse und Touren, Trekking, Jeep- und Quad-Touren, E-Bike. Diese Aktivitaeten kann man direkt bei uns buchen.  
 SURF CONDITIONS
Breaks directly at the main spot and at nearby spots Der Windsurf Spot ist an einem sandigen Strand der 8 km lang ist   Seasonal conditions
Mai und Juni, September und Oktober ist der Wind am Nachmittag stärker, aber am Morgen noch schwach genug für Anfänger. Mai bis Mitte Juni ist das Wasser ca. 20 ° C. Neoprenanzug erforderlich, Juni, Juli und September Wasser ca. 25-28 ° C. kein Neoprenanzug notwendig. Crowd factor and local people Der Strand ist auch im August ( hoch Saison) und am Wochenende selten voll.
MEHR DETAILS, ANREISE & FAQ
Ways to get to the camp:  
Die Schule ist von Cagliari oder Olbia aus erreichbar. In Cagliari und Olbia liegt der Flughafen aber am besten ist es ein Auto mieten, damit man besser die Region besichtigen kann. Taxis sind sehr teuer. In Olbia kann man auch mir der Faehre ankommen, von Genova oder von Livorno. 1,5 Std von Cagliari mit dem Auto oder 2 Stunden von Olbia.   Important details:

Es ist wichtig ein Auto oder Motorrad zu haben, Taxis sind sehr teuer.

Der Windsurfspot ist direkt am Strand des Campingplatzes, die Bedingungen sind perfekt für Anfänger am Morgen und für Fortgeschrittene am Nachmittag (mehr Wind). Der Spot ist in der Nähe von 2 Bars und Restaurants am Strand und das Dorf Bari Sardo ist nur 4 km entfernt. Der Strand ist 8 km lang und nie überfüllt. Es besteht auch die Möglichkeit, einen Sonnenschirm mit Liegestühle zu mieten.
PREISE & LEISTUNGEN
PACKAGE A - from 200 € per Week / Person This package includes: 4 Stunden Unterricht, 2 Stunden am Tag (2 Tage) und Windsurf Miete für die restlichen  3 Tage nach dem Kurs    

PACKAGE B - from 250€ per Week / Person This package includes: 6 Stunden Unterricht: 2 Stunden am Tag (3 Tage) und Windsurf Miete für die restlichen  2 Tage nach dem Kurs  

PACKAGE C - from 300€ per Week / Person This package includes: 6 Stunden Unterricht: 2 Stunden am Tag (3 Tage), 1 Stunde SUP Miete fuer 5 Tage, windsurf Miete iwe oft man will (für 5 Tage)