ÜBER DAS SURFCAMP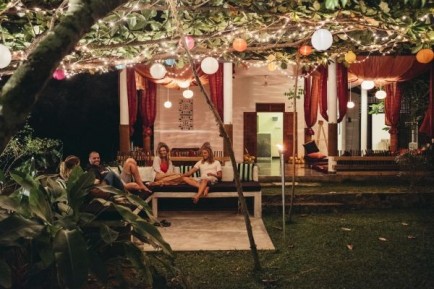 ---
LAGE UND SURFBEDINGUNGEN
---
Unsere Villa und die exotischen Cabanas bestehen aus 9 Doppel- und Twin Zimmern, so dass maximal 20 Gäste gleichzeitig zu Gast sind. Alle Zimmer sind sehr komfortabel, haben Kingsize-Betten, Moskitonetze und eine Klimaanlage. Alleinreisende haben die Möglichkeit, sich ein Zimmer mit zwei Einzelbetten zu teilen. Alle Zimmer sind individuell gestaltet. Einige Zimmer verfügen über ein exotisches Außenbad, so dass Du nach deiner Surfsession die Dusche unter freiem Himmel genießen kannst. Andere Zimmer sind mit einem großzügigen Balkon ausgestattet. Von hier wirst Du täglich die orange-rote Sonne über dem Dschungel untergehen sehen. 
---
CAMP CHARAKTER
---
Live, learn & love the Surf Spirit.
-Persönliche und familiäre Atmosphäre
-Großes Areal in absoluter Privatsphäre
-Geeignet für Paare, Alleinreisende und Freunde
-Entspanne in unserer tropischen und geschützten Dschungel Oase
-Viele Rückzugsmöglichkeiten, großzügiger Pool
-Schließe Freundschaften mit Gleichgesinnten
-Selbstbestimmter Tagesablauf ohne Verpflichtungen
In unserer familiär geführten und liebevoll gestalteten Villa bei maximal 20 Gästen vor Ort, bieten wir dir ein ausführliches Angebot aus Surf, Yoga und Entspannung. Dabei ist es uns sehr wichtig, dass du dich wohlfühlst und selbst die Intensität deines Programmes bestimmst. Bei uns gibt es keine Verpflichtungen. So kannst Du den ganzen Tag beispielsweise am Pool verbringen, wenn es das ist, was du am liebsten machen möchtest. Die Villa bietet zahlreiche kleine Ecken, die zum Entspannen in privater oder gemeinschaftlicher Atmosphäre einladen.
---
CAMP BETREIBER
---
In Sri Lanka ist unser Projekt 2017 gestartet. Mit der Idee in der Tasche aber ohne Erwartungen sind wir direkt im Dschungel von Unawatuna angekommen. Die sensationellen Surfbedingungen in der Region und das warme Wasser umgeben von tropischen Palmen hat uns sofort fasziniert. Die von uns gebuchte Villa hat uns einfach umgehauen, und wir kamen ins Gespräch mit dem Besitzer Dulip. Nachdem er unsere Surfbretter gesehen hat, berichtet er uns von seinem Traum eines Surf & Yoga Camps. Wir konnten es kaum glauben. Das war der Startschuss einer bis heute vertrauensvollen Zusammenarbeit zwischen Dulip und uns.

Aus seiner beschaulichen Unterkunft ist in enger Zusammenarbeit ein paar Jahre später eines der beliebtesten Surf & Yoga Retreats in Sri Lanka mit überwältigenden 5* Bewertungen entstanden. Wir schätzen uns gegenseitig sehr, profitieren voneinander und sind zu guten Freunden geworden. Wir sind stolz, dass unser Konzept, ihm, seiner Familie und seinen Mitarbeitern eine nicht für möglich gehaltene Chance geboten hat. Dieser Erfolg hat uns motiviert weitere Standorte  in Sri Lanka, Indonesien und Spanien zu eröffnen.
UNTERKUNFT UND VERPFLEGUNG
---
UNTERKUNFT
---
-5 x Doppelzimmer & 5 x Twinzimmer, max. 20 Gäste
-Individuell gestaltete Zimmer mit Außenbad oder Balkon
-Moskitonetze, Klimaanlage und Kingsize-Betten in jeden Zimmer
-Großzügiger Poolbereich
-Tropischer Garten mit vielen Rückzugsorten
---
VERPFLEGUNG
---
Genieße eine Vielfalt an gesundem und frisch zubereitetem Essen aus der Region.
-Gesunde, Lokale Küche
-Mix aus traditionell Sri Lankischen und Europäischen Gerichten
-7 x Frühstück
-5 x Lunch inkl. Kaffee und Tee
-6 x Abendessen
-Vielfältige vegetarische, vegane und glutenfreie Optionen 
Unsere hauseigene Küche bietet dir leckeres, gesundes und reichhaltiges Essen, das dich mit der nötigen Energie für deine Surf- und Yoga Sessions versorgt. Frisch gepresste Säfte, leckere Smoothies, Bier, Cocktails und Snacks sind außerdem den ganzen Tag von unserer Getränkekarte bestellbar.
Freue dich auf einen Mix aus lokalen und europäischen Gerichten, die stets frisch und mit Liebe zubereitet werden. Die meisten unserer Zutaten beziehen wir von den lokalen Märkten, wo es ausgezeichnete und sehr nahrhafte Früchte und Gemüsesorten gibt.
Unsere Köche bereiten alle Gerichte mit Leidenschaft auf die leckerste Art und Weise zu. Selbstverständlich wirst du auch als Vegetarier und Veganer rundum von uns versorgt. Während unser Frühstück sowie das Abendessen ausgiebige Mahlzeiten sind, servieren wir mittags frische Früchte und Snacks aus der Umgebung sowie Tee & Kaffee.
SURFKURS UND AKTIVITÄTEN
---
ABLAUF DES SURFKURSES
---
Es ist unsere Mission, dir alle Fähigkeiten mit auf den Weg zu geben, damit du in Zukunft auf der ganzen Welt surfen kannst.
-Ideal für alle Surflevel
-5 x 2,5h Surf Lessons inkl.Theorie 
-Windgeschützte Bucht mit Sandboden, konstante Bedingungen
-Surf Guiding für erfahrene Surfer
-Professionelle, lizenzierte Coaches
-1 x Surf-Videoanalyse
-Equipment jederzeit zur freien Verfügung
Bei jeder Surf Session von jeweils 2,5 Stunden arbeitest du mit unserem Surf Coach an deinen Fähigkeiten, während du das angenehme, warme Wasser und die tropische Umgebung genießt.
Damit du dich als Anfänger oder erfahrener Anfänger wohl und sicher fühlst, geben wir dir zunächst alle grundlegenden theoretischen Informationen in unserem Chill Out Bereich, bevor wir ins Wasser gehen. Wir nehmen unseren Job sehr ernst und alle Surf Spirit Coaches sind gut ausgebildet und erfahren, um dir das notwendige analytische Feedback zu geben und dein Surfen auf die nächste Stufe zu bringen. Neben dem Surfunterricht kannst du kostenlos unser Equipment nutzen und auf eigene Faust surfen gehen.
Nach deiner Woche in der Surf Spirit Jungle Villa hast du eine sichere Stand-up-Technik auf dem Board entwickelt, eine kontrollierte Fahrt auf der Welle und kannst deine ersten Manöver meistern. Zusätzlich zu diesen Fähigkeiten wirst du gute Spots eigenständig erkennen können, an denen du in Zukunft sicher selbst surfen gehen kannst.
In der Videoanalyse werden wir noch detaillierter auf deine Surf Erfahrungen eingehen und du erhältst hilfreiche individuelle Ratschläge zur Verbesserung deiner Technik. Unser professioneller Fotograf wird außerdem deine besten Wellen einfangen, sodass du die Möglichkeit hast, all deine Bilder für nur 25 Euro am Ende deiner Woche als Erinnerung mitzunehmen.
Wenn du als Intermediate Surfer (Level 3) zu uns kommst, prüfen wir zunächst deinen aktuellen Surf Status, sodass wir danach deine Technik und dein Wissen gemeinsam genau verbessern können, um dich auf das nächste Level zu bringen. Mit unseren erfahrenen Surf Coaches wirst du dich auf die nächsten individuell nötigen Schritte konzentrieren, um deine Verbesserung so effizient wie möglich zu gestalten. Unsere Unterrichtsstunden sind speziell auf die individuellen Bedürfnisse jedes Surfers zugeschnitten, um das beste Ergebnis während deines Aufenthalts bei uns zu erzielen. Oft beschäftigen wir uns mit Wellen Lesen, Wellen Auswahl, Pop Up Timing, beste Linie der Welle abfahren und die Manöver einzuführen bzw. zu verbessern (Bottom & Top Turn, Cutback und Vielem mehr). Dazu hast du die Möglichkeit an unserem zusätzlichen kostenlosen Service, dem Surf Guiding, teilzunehmen. Bitte beachte, dass unsere Trainer prüfen werden, ob das Guiding an einem herausfordernden Surfspot deinem Surflevel entspricht.
---
SURF-GUIDING
---
Advanced Surfer (Level 4) haben bei uns auch die Möglichkeit, sich bei unserem Surf Guiding in größeren und schnelleren Wellen herauszufordern. Dies ist ein zusätzlicher Service für unsere Surfer, die sich bereits auf einem Riff wohl fühlen. Diese Sessions werden zusätzlich am frühen Morgen angeboten (Info: dadurch verpasst du ggf. das Yoga am Morgen). Das heißt, du springst mit deinem Coach morgens in den Jeep, er erklärt dir einige Details zum Spot und gibt dir individuelle Tipps. Dann genießt du einfach den gemeinsamen Surf. Das strukturierte Guiding sollte als Ergänzung zu unseren Surfkursen gesehen werden. Bitte beachte, dass unsere Trainer prüfen werden, ob das Guiding an einem herausfordernden Surfspot deinem Surflevel entspricht.
---
YOGA
---
I am what I choose to become.
-10 x Yoga Lessons
-Yoga in einzigartiger Insel-Cabana
-Umgeben von der Dschungel-Kulisse in absoluter Ruhe praktizieren
-Morgens aktivierendes Vinyasa Yoga
-Abends regeneratives Yin Yoga
-Für jedes Level geeignet
-Professionelle, lizenzierte Coaches
-Einzigartige Sessions auf deine Bedürfnisse abgestimmt
-1 x Massage
Eine kleine Brücke führt dich über einen Fluss auf unsere traumhafte Yoga Insel-Cabana. Die Cabana befindet sich in absoluter Privatsphäre und der Geräuschkulisse des Dschungels. Lass dich vom Klang der Vögel, Grillen und vom Besuch unserer Yogi-Eidechse, die manchmal grüßend vorbeikommt, mitnehmen um dich ganz mit dir selbst zu verbinden. Unsere Yoga Cabana im Dschungel Retreat eignet sich besonders für all diejenigen, die in den Yogastunden komplett in der Natur abschalten möchten, um Fokus, Entschleunigung und Entspannung zu finden.
Die zweite Yogastunde des Tages ist eine sehr entspannende Yin Session im roten Licht des Sonnenuntergangs, sodass der Tag entspannt abgeschlossen werden kann. Beim Yin konzentrieren wir uns auf das Dehnen und Lösen angespannter Muskelgruppen. Besonders nach dem Surfunterricht wird sich dein Körper auf diese erholsame Stunde vor dem Abendessen freuen. Geführte Meditations Einheiten sind in den Yogastunden beinhaltet und werden bei individuellem Interesse intensiviert. Jeder Coach freut sich über Wünsche und hat ein offenes Ohr, um deine Yoga-Erfahrung bei Surf Spirit so erfüllend wie möglich zu gestalten.
Lass dich zudem, inkludiert in deinem Paket, mit einer 1 stündigen Massage in unserer Massage-Cabana verwöhnen. Auf Wunsch kannst du außerdem weitere Massagen vor Ort dazu buchen.
MEHR DETAILS, ANREISE & FAQ
---
 SURFBEDINGUNGEN
---
Perfekte Surfbedingungen für alle Level

-Meer und Lufttemperatur konstant zwischen 27° und 31° C
-Ganzjährig konstante Wellen durch windgeschützte Bucht
-Surfen an unserem Homespot immer möglich
---
UMGEBUNG / REGION
---
In und um unsere Surf Spirit Villa gibt es viel zu tun und zu sehen.
-Großartige Strände zum Baden und Schnorcheln
-15 Minuten zur Altstadt von Galle Fort (Weltkulturerbe) 
-Entdecke kleine Läden, Boutiquen und Restaurants
-Begebe dich auf eine Elefantensafari
-Bereite dein Lieblingscurry im Kochkurs zu
-Zusätzliche Massagen jederzeit buchbar
Wir helfen dir gerne dabei deine Aktivitäten vor Ort zu planen und zu arrangieren. Sprich unser Team vor Ort einfach direkt an.
---
 ANREISE
---
Dein Weg in unsere Jungle Villa
-2,5 Autostunden vom Flughafen Colombo
Shuttle Service auf Wunsch
-Shuttle Reservierung im Buchungsprozess (Bis 7 Tage vor Anreise buchbar)
-Shuttle Zahlung vor Ort beim Check Out
Hier ist ein Überblick über unsere Shuttle Preise:
-bis zu 2 Personen: ca. 65 Euro
-3 Personen: ca. 75 Euro
-Jede weitere Person zahlt ca. 25 Euro.
Wir können jedoch nicht garantieren ob die Fahrt geteilt werden kann, da unsere Gäste von überall anreisen und wir alle Informationen selbst erst kurzfristig erhalten. Bitte plane daher vorsichtshalber für dein Budget, den vollen Betrag zu bezahlen, falls du den Shuttle bestellst.

Alternativ: Eigenständige Zuganreise von Colombo nach Galle Fort
-15 Minuten Tuk Tuk Fahrt vom Bahnhof Galle Fort zum Retreat (Bitte speichere unsere Adresse für den Fahrer)
PREISE & LEISTUNGEN
---
Surf & Yoga Paket - 690 € pro Woche / Person
---
Das Paket beinhaltet:

-7 x Übernachtungen im Doppel- oder Zweibettzimmer
-7 x Frühstück
-5 x Lunch inkl. Kaffee & Tee  
-6 x Abendessen
-5 x Surf Lessons inkl. Theorie & Transfer 
-10 x Yoga Lessons
-1 x Surf-Videoanalyse
-1 Std. Massage
-geführte Meditations Einheiten
-frei zur Verfügung stehendes Surf-und Yoga Equipment
-Transfer zu den Surfspots während der Surfsession