ÜBER DAS SURFCAMP
---
Lage und Surfbedingungen
---
- der nächste Spot (es gibt 3 in der Nähe) liegt 150 Meter vom Camp entfernt
- viele verschiedene Arten von Spots in der Nähe - Beach Break, Reef Break, ...
- Spots für alle Könnerstufen
---
Campcharakter
---
- für jedermann
- mittelgrosses Camp
- viel Relax, manchmal Party
- Durchschnittsalter der Teilnehmer: 15-40 Jahre
- Hauptsprachen im Camp: Englisch/Portugiesisch
---
Campbetreiber
---
- Wem gehört das Camp? Roberto Moretto - ISA Level 2 - Life Saving ILS; Luan Meseiros - ISA Level 1
- Alles begann, als Roberto seine Liebe zum Surfen und zu seinem Land, Brasilien, entdeckte ...
UNTERKUNFT UND VERPFLEGUNG
---
Unterkunftsarten
---
- Hotel, Pousada
- Lage: gleich neben dem Zentrum in einer ruhigen Seitenstrasse
- Zimmertypen: Einzel- Doppel- oder Mehrbettzimmer (bis zu 6 Personen); Mehrbettzimmer 4 oder 6 Personen getrennt nach Geschlechtern, Balkony
- Extras: Swimming Pool, Parkplatz, Internet, Wifi, TV-Zimmer
- Bettwäsche und Handtücher werden zur Verfügung gestellt
- Steckdosenadapter ist mitzubringen
- Nichtraucher-Unterkunft
Das Hostel verfügt über 60 Betten, die sich auf Schlafsäle, Doppelzimmer und Mehrbettzimmer aufteilen.
Im Hostel bekommt ihr Informationen zu allem, was ihr in Pipa unternehmen könnt, ohne dabei viel Geld auszugeben.
Einzel-, Doppel- oder Mehrbettzimmer:
- Klimaanlage oder Deckenventilator;
- eigenes Badezimmer;
- Kühlschrank;
- TV;
- Doppelzimmer mit getrennten Betten oder Doppelbett;
- Mehrbettzimmer bis zu 4 Personen mit Klimaanglage, bis zu 6 Personen mit Deckenventilator
Schlafsäle:
- Deckenventilator;
- eigenes Badezimmer;
- Balkon mit Hängematten;
- Schliessfächer.
Angebot:
- Frühstück inklusive;
- Gästeküche;
- Wäscheservice;
- Gepäckaufbewahrung;
- Internetzugang;
- gratis Wifi;
- gratis parken.
Freizeitangebot:
- Swimming Pool;
- Barbecue;
- TV- und Videozimmer;
- Pool Billard;
- Drehfussball;
- Brettspiele;
- kleine Bücherei und Tauschbörse.
Sicherheit:
- 24 Hours Rezeption;
- Gebäude videoüberwacht;
- Schliessfächer.


---
Verpflegung
---
- nur Frühstück
- Gemeinschaftsküche
- viele Einkaufsmöglichkeiten
- Restaurants in der Nähe - ab 7 Real/3 Euro (Selbstbedienung) bis zu 80 Real/35 Euro (Toprestaurant)
SURFKURS UND AKTIVITÄTEN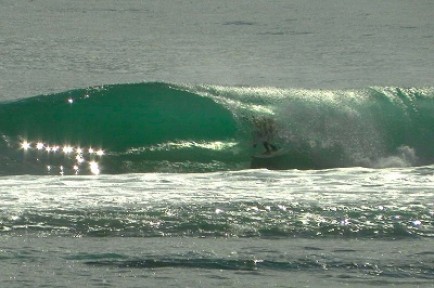 ---
Surfkurs-Details
---
- die Kurse werden von 3 Instruktoren abgehalten
- 3 Kursstunden/Tag (1 h Theorie, 2 h Praxis)
- Kursdauer: 3-6 Tage
- Kursort und Programm abhängig vom Level der Teilnehmer
- Kurse für alle Könnerstufen
- Breaks: nur bei Surftrip
- Kurssprachen: Englisch - Spanisch, Portugiesisch, Italienisch, Französisch
- nur Kursteilnahme (ohne Unterkunft) ist möglich
---
Surfzubehör
---
- während des Kurses verwendetes Zubehör: Softboards für Anfänger, alle möglichen Boards für Fortgeschrittene
- Fiberglas-Boards für Fortgeschrittene
- 3 Kursstunden pro Tag
- professionelle ISA- und ILS-zertifizierte Instruktoren
- Wachs - Leinen - Licra werden zur Verfügung gestellt
- Theorieunterricht mit Video- und Fotoanalyse der Praxiseinheiten
- gratis Surfschul-DVD mit den von dir gesurften Wellen
- Beach Shuttles zu den besten Surfspots, je nach Bedingungen und Level der Teilnehmer
- gratis Leihbrett
- gratis Kajak
- gratis Sandboarden in den Dünen von Pipa
---
Was wirst du lernen?
---
Als Anfänger:
- Einführung zur Surfausrüstung und Zubehör;
- Sicherheitsbestimmungen;
- Wellenbildung im Meer;
- Geographie Praia da Pipa: Wellen und Strände;
- Surfgeschichte. Vom Anfang an bis heute;
- Surfposition, Paddeln, Umgang mit und Sitzen auf dem Surfbrett;
- die Breaking-Zone freimachen und Umgang mit Wildwasser;
- Vorrangregeln;
- Take-off-Techniken(auf dem Brett stehen);
- Take-off Timing;
- Line-up-Position;
- Wellen surfen bevor sie brechen;
- grüne Wellen sicher und kontrolliert surfen
Als Fortgeschrittener:
- Analyse und Bewertung;
- das richtige Surfzubehör für dein Level finden;
- Verbessern des Paddelns, Sitzens und der Wave-Catching-Technik
- Verbessern der Line-Up-Position
- Timing, die Wellen erkennen, Vorrangregeln
- die Hydrodynamik des Surfbretts;
- Bereitmachen für den Bottom Turn;
- Wie surft man welche Welle?;
- Geschwindigkeit und Trimming verbessern;
- Manöver: Off-the-lip, Cutback und Floater
- freie Verwendung der Surfausrüstung ausserhalb der Kurszeiten
- Leihgebühr: 25 Real (€10.70)/Tag
---
Weitere Aktivitäten
---
Wir verraten dir einen tollen Weg, um Surfen und das Erforschen von Stränden, Städten, Dörfern und Natur zu verbinden: Mach´einen Surftrip mit Surfcamp Pipa Brazil!
Unser Team besteht aus erfahrenen Surfguides, die dich zu den besten Wellen in der Umgebung bringen, die zu deinen Surfskills passen. Du kannst an geheimen Spots surfen, die nicht überlaufen sind, und hast die Wahl zwischen 28-30 verschiedener Breaks an der 40 km langen Küste von Pipa (ca. 14 Breaks im Sommer und 16 im Winter)
Die Surfari ist ideal für alle, die gerne alleine oder in Kleingruppen reisen. Ihr seid 3-5 Tage mit euren Mitreisenden unterwegs und habt so die Möglichkeit, neue Freunschaften zu schliessen und euch gegenseitig am Land sowie im Wasser was abzuschauen. Das Durchschnittsalter der Teilnehmer liegt zwischen 18 und 35 Jahren, das Geschlechterverhältnis ist ausgeglichen. Unsere Teilnehmer kommen aus aller Herren Länder. Die Gruppengrösse liegt bei maximal 8 Personen plus 2 Guides.
Surf Pipa School steht für Sicherheit im Wasser. Teilnehmer, die über keine oder nur wenig Surferfahrung verfügen, müssen erst einige Kursstunden absolvieren, bevor sie frei surfen dürfen. Es kommt nicht darauf an, wie hoch die Wellen sind. Alle Anfänger surfen zuerst nahe am Strand, wo die Wellen nicht so stark sind.
Erfahrene Surfer paddeln an den Anfängern vorbei direkt ins Line-Up. Während des Surftrips können sie sich auf die Erfahrung der Einheimischen und auf Surfwettervorhersagen verlassen. Wir surfen üblicherweise an drei oder vier verschiedenen Spots entlang der Küste.
Die Surfari startet in Praia da Pipa bei unserem Surfcamp. In 3-5 Tagen kannst du die besten Wellen finden und wunderschöne Strände erforschen.
Das Camp eignet sich auch für komplette Anfänger. Jegliche Ausrüstung wird zur Verfügung gestellt und der tägliche Surfunterricht ist gut organisiert. Fortgeschrittene Surfers und Profis werden von den Wellen in der Region begeistert sein.
Während eines grossartigen Urlaubs finden hier viele die Inspiration, die ihren Horizont erweitert und ihr Leben bereichert. Das ist die schönste Belohnung für uns und es motiviert uns, auch weiterhin unsere Vorstellung des Paradieses mit anderen zu teilen.
Im Preis enthalten:
- Surfunterricht mit ausgebildeten und erfahrenen Instruktoren
- eine grosse Auswahl an Surfbrettern; Vorabreservierung eines bestimmten Modells ist möglich
- Spot-Transfer (4x4 oder Buggy)
- Sandwiches und Getränke (bitte angeben, ob ihr Vegetarier oder Veganer seid)
- Pipa fernab der traditionellen Touristenpfade erkunden
- ausgezeichnete Surfbedingungen die zu eurem individuellen Level passen
- Surfen an wunderschönen, nicht überlaufenen Stränden
- Surfen inmitten der Natur
- freier Transport zur Bushaltestelle
- Unterkunft (bei All-Inclusive Package)
Surfaris das ganze Jahr über!
Weitere Angebote:
- Kitesurf-Kurse und Verleih
- Surfbrett-Verleih: 25 Real (€10.70)/Tag
- Yoga, Pilates,...
MEHR DETAILS, ANREISE & FAQ
---
Saisonale Bedingungen
---
- Wassertemperatur: 25-29 ºC
- Lufttemperatur: 25-35 ºC
- Wellen das ganze Jahr von 3 Fuss (1 Meter) bis 10 Fuss (3 Meter)
---
Crowd Factor und Einheimische
---
- überlaufene und ruhige Spots
- die Einheimischen sind normalerweise sehr freundlich
---
Wie ist die Umgebung/Region?
---
Praia da Pipa

Willkommen im tropischen Paradies!
6 km südlich von Tiabu do Sul liegen die aufregendsten und bekanntesten Strände von Rio Grande do Norte. Die Strände von Pipa zählen zu den spektakulärsten in ganz Brasilien. Weltoffen und international - an diesen Stränden vermischen sich Brasilianische Akzente mit Sprachen aus aller Welt. Ausflüge in die Wälder, zu den Dünen und Stränden sind immer eine bereichernde Erfahrung. Die vielseitige regionale Küche befriedigt selbst die anspruchvollsten Gaumen.? In den heissen Nächten von Pipa gibt es immer Bars mit Livemusik. Die Energie der Menschen ist ansteckend - Widerstand zwecklos! Etwas weiter im Süden geht es ruhiger zu: Praia das Minas bietet 7 km lange verlassene Strände, die den unter Naturschutz stehenden Schildkröten als Zufluchtsort dienen.
Pipa ist weltweit für die atemberaubende Schönheit ihrer Natur bekannt. Pipas Strände zählen zu den schönsten Brasiliens und ziehen sowohl einheimische als auch ausländische Touristen an. Hier und auch in Porto de Galinhas, findet man natürliche Becken, atemberaubende Strände und hervorragende Surfbreaks wie zum Beispiel die Inselgruppe Fernando de Noronha, wo die Gegenwart von Deflinen alltäglich ist. Die imposanten bunten Klippen erinnern an Arraial d'Ajuda (Bahia), der unter Naturschutz stehende Atlantic Forest ist ähnlcih der Gegend in Itacaré und der Wind kann es locker mit dem in Jericoacoara aufnehmen. Nichts zuletzt kann sich die Gegend um Pipa der Dünenfelder von Natal und der lebhaften Guaraíras Laggon (ideal zum Fischen, für Boots- und Kanuausflüge und der perfekte Hintergrund für einen wirklich goldenen Sonnenuntergang) rühmen.?
Wenn euch die Natur nicht überzeugen kann, dann aber sicher die Architektur, Mode, Kultur, Kunst und Lebensfreude der Brasilianer.
Pipas Nächte sind eine Attraktion für sich: Stylische Bars, die besten Restaurants im Bereich der regionalen, nationalen und internationalen Gastronomie, Cafés, Kunstgalerien und eine reiche und vielfältige Handwerkstradtition.
Das Dorf besteht aus Fischern und Kleinunternehmern aus Brasilien und der ganzen Welt, die dieses kleine Fleckchen Paradies zu ihrer Heimat auserkoren haben. Die Bevölkerung ist warmherzig und sehr hilfsbereit. Ihr werdet euch bald wie zu Hause fühlen.
Wartet nicht länger und bucht eine Reise zu diesem magischen Ort. Aber seid gewarnt: Ein paar Tage werden nicht ausreichen, sondern euch nur den Mund wässrig machen für einen weiteren Surfurlaub in Praia da Pipa, Brasilien.
- Gesundheit: keine Impfungen nötig, Krankenhaus 6 km vom Camp entfernt
---
Aktivitäten und Angebot
---
- Shopping
- kein Kino, aber viele Bars, rauschendes Nachtleben, viele kleine Konzerte und ausgezeichnete internationale Gastronomie
---
Anreise
---
Anreisemöglichkeiten

- Bus, Auto, Taxi
- Shuttle-Service vom Flughafen/Bahnhof zum Camp 120 Real (€ 52)
- Entfernung zum Flughafen: 85 km
- öffentliche Verkehrsmittel
- Taxikosten Flughafen-Camp: 130 Real (€ 56)
Wichtige Details:
- im Camp werden Kreditkarten akzeptiert
- Bankomat im Zentrum
- Kosten für Bustransfer/öffentliche Verkehrsmittel: 10,50 Real (€ 4.50)
PREISE & LEISTUNGEN
---
Surfari - 3 Tage Surftrip ab 450 reais pro Person
---
Der Preis beinhaltet:
Surfanweisungen von erfahrenen und zertifizierten Surflehrern
viele unterschiedliche Boards 
Transport zwischen pick-up und Ende des Surfabenteuers
Sandwiches und Getränke 
Surfen an Stränden, die nicht überfüllt sind
---
Surf Camp Pipa Hostel
---
| | | |
| --- | --- | --- |
|   | Hauptsaison |   |
|   | 30 reais | geteiltes Zimmer - ohne Frühstück |
|   | 70 reais | privates Zimmer für 2 - ohne Frühstück |
|   | Nebensaison |   |
|   | 20 reais | geteiltes Zimmer |
|   | 50 reais | privates Zimmer für 2 |
|   | - |   |
|   |       | geteilte Küche |
|   |   | gratis wi-fi |
|   |   | Surfmagazine |
|   |   | Ventilator |
|   |   | Surfdvds |
|   |   | Bettwäsche |
|   |   | Terrasse |
---
Anfänger/Fortgeschrittenen Surfkurs, 3 Tage - 380 reais pro Person
---
KURSE: Unser 3 Tage Surfkurs für Anfänger und Fortgeschrittene konzipiert . 3 Stunden Unterricht pro Tag für 3 Tage .

UNTERKUNFT: Ihre Unterkunft ist nur einen kurzen Spaziergang zum Strand und lokalen Bar . Die Zimmer im Surfcamp sind entweder 3 oder 4-Bett und Upgrades auf ein privates Zimmer / Doppelzimmer können zum Zeitpunkt der Buchung angefragt werden . Zertifizierte Lehrer von International Surfing Association ISA Level 1 & 2.
 
AUSSTATTUNG: Die gesamte Ausstattung ist am aktuellen Stand der Technik und in ausgezeichnetem Zustand. Eine vollständige Palette von Surfbrett Größen sind vorhanden.  Alle Transporte zu den Kursen am Strand sind in unserem Buggy oder Jeep zur Verfügung gestellt.
Gratis DVD Video und Foto Ihres Surfkurse. 
---
Anfänger/Fortgeschrittenen Surfkurs, 6 Tage
- 580 reais pro Person
---
  Der Preis beinhaltet:
 
 
 
BONUS: 1 Surftrip inkludiert
 
Theoriestunden mit Video und Foto Analyse der praktischen Surfstunden
 
3 Stunden Unterricht pro Tag
 
professionelles Surfcoaching (Certified ISA and ILS) 
 
Softboard für Anfänger 
 
Surf School DVD gratis
 
Strandshuttle zu den besten Plätzen
 
gratis: Boards zum Ausborgen, Kayak und Sandboard in den Dünen
 
 
       


Beginner:

- Einführung in das Surfequipment
- Sicherheitsvorkehrungen
- wie Wellen entstehen
- Geographie von Praia da Pipa

- Geschichte des Surfens

- wie positioniert man sich auf dem Board, wie paddelt man, wie steht man auf, etc.




Fortgeschrittene:

- Analyse des Könnens
- wie kann man das beste Material für sein Level wählen
- Verbesserung der Techniken
- Verbesserung der Position
- wie surft man unterschiedliche Wellentypen
- wie wird man schneller
- Manöver: Off-the-lip, cutback, and floater
  (aktueller Wechselkurs: 1€ = 4,17 Brazilian Reais (BRL)


Wie, was und wann?
- Camp ist ganzjährig geöffnet
Buchung und Preise
- Stornieren der Buchung: 7 Tage im Voraus