ÜBER DAS SURFCAMP
---
LAGE UND SURFBEDINGUNGEN
---
Big Waves Soledad befindet sich in einem emblematischen Haus aus dem Jahr 1900, das wir mit viel Liebe und Mühe restauriert haben und das alles, was noch vorhanden war, alt hält. Wir befinden uns an der Northern General Road Nr. 52, 35413, in der Gemeinde Moya auf Gran Canaria. Kanarische Inseln.

---
CAMP CHARAKTER

---
Das Camp bietet Platz für 28 Personen.

---
CAMP BETREIBER
---
Fran
Liebhaber des Meeres und der gegenwärtige Moment. Er begann seine Karriere mehr als 10 Jahre als Rettungsschwimmer an den Stränden. Später machte er seinen Abschluss als professioneller Taucher und Seerettungsschwimmer und kennt alle Ecken und Flecken der Insel perfekt. Mit ihm sind Spaß und Abenteuer garantiert.

Carlos
Liebe zum Leben und zur Natur, Freund seiner Freunde und Leidenschaft für das Meer und seine Umgebung. Surfer seit über 25 Jahren und der lokale nördliche Gran Canaria vor. Lässt alles, um ein neues Abenteuer zu beginnen, das mit dem Meer und der Behandlung seiner Freunde zusammenhängt, daher geborene SOLEDAD BIG WAVES. Kennt alle Ecken und Flecken der Insel bis zur Perfektion, mit ihm sind Spaß und Abenteuer garantiert.

UNTERKUNFT UND VERPFLEGUNG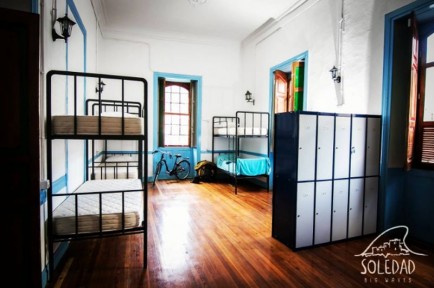 ---
UNTERKUNFT
---
Das Soledad Big Waves ist eine restaurierte Finca aus dem 1900 Jahrhundert, steht unter Denkmalschutz und wurde mit viel Liebe zum Detail und künstlerisch aufgearbeitet. Eine Kulisse einer anderen Epoche: bunt und in Holz verliebt, modern und alt kombiniert. Traumhaft.
Das Soledad Big Waves Hostel verfügt über einen riesigen Aufenthaltsraum, der ein Patio ist, dort befindet sich neben einer gemütlichen Sitzecke auch die Kochnische, wo du einen Herd mit Backofen, Toaster, Wasserkocher, Kaffeemaschine und zwei Kühlschränken hast.
Im Hostel haben wir Damen- und Herrentoiletten getrennt von einander und ein Badezimmer mit getrennten Duschen.
Alles weiträumig und mit viel Licht und Liebe.
---
VERPFLEGUNG
---
Hier kannst du dich selbt versorgen mit frischen Mangos, Papayas und Avocados zum Frühstück. Zum Mittag reichen wir dir ein Lunchpaket und am Nachmittag und am Abend kannst du ins Restaurant gleich neben dem Hostel zum Schlemmen gehen.
SURFKURS UND AKTIVITÄTEN
---
ABLAUF DES SURFKURSES
---
Im Keller haben wir 200 m² zum Surfen. Bewahren Sie Tische, Toiletten und alles, was Sie brauchen, vor und nach einer guten Sitzung auf. Es ist der Ort, an dem Unterricht erteilt und Sportgeräte gemietet werden.
Hier können Sie alles rund ums Surfen mieten, anfragen und buchen.
Von Anfängerkursen über Fortgeschrittenenkurse bis hin zu mentalem Surf-Coaching.
---
SONSTIGE AKTIVITAETEN
---
 Wir bieten auch Yoga, Thai Massagen und Surfskaten an.


MEHR DETAILS, ANREISE & FAQ
---
SURFBEDINGUNGEN
---
Of The Puertillo befindet sich in Arucas, es ist ein felsiger Strand und Sand, aber normalerweise haben gute Bedingungen zum Baden. Es hat auch Duschen und Überwachungsdienste. Trotz der Wellencharakteristik der Region sind sie bei Menschen im Norden der Inselstrände sehr beliebt.

---
UMGEBUNG / REGION
---
Wie ist die Umgebung bzw. Region?
Die einheimische Nordküste Gran Canarias, die im Sommer mit großartigen Sandstrandbrüchen gesegnet ist, bietet das ganze Jahr über Wellen. Genießen Sie die Ruhe des kanarischen Lebens im Endless Summer nach einer langen Surf-Session und spüren Sie die einzigartige Energie.

Der Massentourismus hat es noch nicht so weit geschafft, was bedeutet, dass wir hier das ganze Jahr über surfen und in lokalen Restaurants mit Pellkartoffeln mit Salzkruste in roter Mojo-Sauce schlemmen. Grüne Täler bringen Sie zum Klettern und Wandern entlang kleiner Wasserfälle bis nach Firgas, erleben einen Surfurlaub anders, einzigartig, weil Sie in das malerische und authentische Gran Canaria eintauchen.
Was kann man neben dem Surfen noch machen?
In der Umgebung gibt es nicht nur tolle Wellen zum Surfen: El Paso, El Bunker, La Derecha del Roque, El Picacho, sondern auch viele andere Möglichkeiten für Aktivitäten: Das Meeresschwimmbad von San Lorenzo liegt weniger als 4 Gehminuten von Soledad Big entfernt Wellen, dort können Sie sich sonnen und schwimmen.
Eine Wanderung zum Cenobio de Valeron dauert etwa 1,5 Stunden und führt Sie entlang einer Küstenstraße mit weitem Blick auf das Meer und vorbei an Bananenplantagen, wo Sie die Geschichte der Ureinwohner Gran Canarias hautnah erleben können. Wenn Sie noch fit sind, gehen Sie den Weg des ehemaligen Hirten nach San Felipe. Klettern Sie auf die natürlichen Kletterfelsen der Täler von Moya und San Felipe und erleben Sie einen Sporturlaub mit viel Abwechslung.
PREISE & LEISTUNGEN
---
PACKAGE A - from XXX € pro Woche / Person
---
Unterkunft im Mehrbettzimmer: 355 € pro Woche / Person
- 7 Nächte im Wohnheim
- 5 Tage Surfen (4 Stunden pro Tag)
Unterkunft im Frauenzimmer: 363 € pro Woche / Person
- 7 Nächte im Frauenheim
- 5 Tage Surfen (4 Stunden pro Tag)
Unterkunft im Doppelzimmer: 384 € pro Woche / Person
- 7 Nächte im Doppelzimmer
- 5 Tage Surfen (4 Stunden pro Tag)
Unterkunft im Einzelzimmer: 398 € pro Woche / Person
- 7 Nächte im Einzelzimmer
- 5 Tage Surfen (4 Stunden pro Tag)