ÜBER DAS SURFCAMP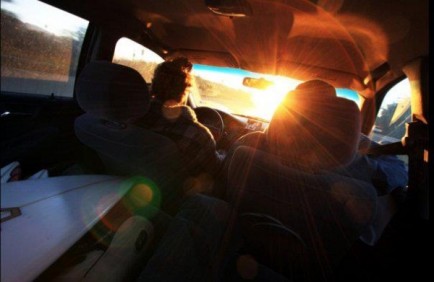 ---
LAGE UND SURFBEDINGUNGEN
---
Die Surfspots sind innerhalb von 15 bis 45 Autominuten ab dem Camp erreichbar. Kalifornien bietet ideale Bedingungen für Anfänger und Fortgeschrittene. Damit du eine Vorstellung davon hast, zeigen wir dir hier schon einmal eine Auswahl öffentlicher Surfspots. Die geheimen Spots zeigen wir dir dann vor Ort.
San Diego
San Diego bietet alles, was das Surferherz höher schlagen lässt. Auf rund 100 Kilometern findest du Reef breaks, Point Breaks und Sandstrände. Unsere Surfguides werden anhand den Wetterbedingungen und deinen Fähigkeiten immer einen tollen Spot finden.

Oceanside
Am nördlichsten Punkt von San Diego befindet sich Oceanside. Oceanside ist berühmt für sein Piers, Wanderwege und seine Weltklasse Beach Breaks. Wer die örtlichen Gegebenheiten kennt, findet hier eine schöne - einsame - Sandbank, um dem Alltag zu entfliehen und in Ruhe die Wellen geniessen zu können.

Trestles and Orange County
Was soll man über Trestles sagen? 10 Minuten vom Camp entfernt liegt einer der weltweit bekanntesten Surfspots. Wegen der High-Performance Welle macht die ASP World Championship Tour jährlich halt in Trestles . Die Besten der Besten bieten hier ein unglaubliches Spektakel. Wenn du bereit bist, dich ebenfalls auf die Wellen einzulassen, unterstützen wir dich gerne bei dieser Herausforderung.

Lass dich aber nicht von den Profis einschüchtern. Die Surfguides sind hier aufgewachsen und zeigen dir auch Spots, die zum Einstieg geeignet sind und du kannst nach deiner Rückkehr stolz sagen: Ich surfte in Trestles.

Huntington / Newport Beach
Jährlich findet an der Huntington Beach das US Open statt. Mit gutem Grund gibt sich die Surffamilie hier ein stell dich ein. Hammer-Wellen und Surflifestyle pur machen diesen Ort zu "Surf City USA". Zwischen Huntington und Newport Beach hat es kilometerlange Sand bottom Beach Breaks. Surfvergnügen pur.

LA County
Wenn wir von LA Surfing reden, dann denke an Venice-Beach, Santa Monica, Baywatch und an gefährliche Brandung mit Keanu Reeves. Los Angeles ist all das, was du von Hollywood kennst. Traumhafte Strände, fantastische Wellen, perfekte Points, Reefs kombiniert mit unterschiedlichen beach breaks. LA bietet alles und ist die Geburtsstädte des progressive surfing.
Und nach einer tollen Surfsession gibt's Lunch am Sunset Strip in Hollywood. Echtes Kalifornien Feeling.


---
CAMP CHARAKTER
---
Surfen ist anders. Surfen ist ein lifestyle. Surfen macht süchtig. Und Surfen ist ein riesiger Spass. Ja, Surfen tut man im Meer und wie alles, was man im offenen Meer macht, birgt auch das Surfen Gefahren. Es gibt Risiken und wir sind uns im TheCaliCamp deren bewusst. Darum schicken wir nur gut ausgebildete und erfahrene Surfguides mit dir raus in die Wellen.
Das Surfen selbst hat eine lange Geschichte . Europäer entdeckten diese Sportart zum ersten Mal 1767 als sie an der Küste von Tahiti ankamen. Wie die ersten Europäer nahm auch mich die Faszination Surfen sofort in den Bann. Als ich aber das erste Mal auf einer grünen Welle stand, war es um mich geschehen. Es veränderte alles. Und dies schreibe ich als Schweizer, der in den Bergen mit Skiern, Snow- und einem Skateboard aufgewachsen ist. Surfen ist einfach einen Ticken mehr " wow".
Es ist verrückt. Eine Welle reitet man durchschnittlich 6 Sekunden . Womöglich gehst du raus in den Ozean und du erwischst über die gesamte Session keine einzige gute Welle - aber dann...du siehst, wie das Wasser sich vor dir anfängt aufzutürmen, startest mit Paddeln und spürst, wie dich die ankommende Welle aufnimmt. Du springst mit aller Kraft auf dein Board - und dann fühlst du es - den einen Moment voller Magie. Das ist alles, wonach du Ausschau hältst. Diesen einen magischen Moment.
Im TheCaliCamp wollen wir, dass du so viele magische Momente wie möglich erlebst. Wir trainieren unsere Surfguides, damit Sie dich an die besten Spots bringen und dir die richtigen Tipps geben, damit du ein tolles Surferlebnis mit nach Hause nimmst.
UNTERKUNFT UND VERPFLEGUNG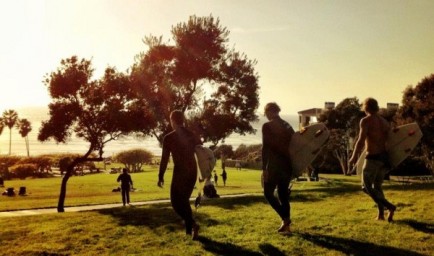 ---
UNTERKUNFT
---
Dana Point Marina Inn

5 Minuten zu Fuss vom Strand entfernt, umgeben von Restaurants und Surfshops, ist das Marina Inn die richtige Location für unsere Surftripps. Auf tripadvisor sind die Erfahrungsberichte seit der Renovation vor zwei Jahren hervorragend und dies aus gutem Grund. Das Personal ist typisch Kalifornisch hilfsbereit und zuvorkommend, die Zimmer sauber und das Preis/Leistungsverhältnis top.

Dana Point liegt mitten in Orange County und ist einer der sicherten Orte in den USA.

Im Doppelzimmer

Zwei Betten, weiträumiger Duschraum und saubere Zimmer. Hier kannst du dich wohl fühlen und nach einer Surfsession sich entspannt zurücklehnen. Jedes Zimmer verfügt über WIFI und einen eigenen TV sowie eine Minibar. Alle Zimmer sind klimatisiert, damit auch bei grosser Hitze ein angenehmes Gefühl herrscht.

Zur Hauptsaison bieten wir dazu 4-Bett Zimmer an, welche auch von allein Reisenden gebucht werden können.

Pool

Der Pool kann frei genutzt werden, wenn man auch nach der Surfsession noch nicht genug vom Wasser hat.

Fitnessraum

Wer nach dem Surfen noch Power hat, der darf sich gerne im Fitnessraum an seine Grenzen bringen...


---
VERPFLEGUNG
---
Im Preis ist tägliches Frühstück inbegriffen.
Brötchen, Joghurt, Flakes, Früchten, Kaffee und Tee.

Mexikanisch, frischer Fisch, Thai, Italienisch, Vegan oder ein richtiges US-Barbecue? In den USA findest du sämtliche Köstlichkeiten der Welt. Und dies mit unglaublichen Ausblicken direkt aufs Meer bei Sonnenuntergang. Ob du mit unseren Guides unterwegs bist oder dich mitten in der Nacht der Heisshunger packt, für deine Verpflegung ist gesorgt.
Die Preise sind vergleichbar mit Deutschland; die Portionen sind dafür etwas grösser. Die Qualität ist durchs Band Spitzenklasse. Wo bei uns in Europa die Früchte von weit hergeholt werden müssen, kommen sie in Kalifornien fruchtig frisch auf den Tisch.
SURFKURS UND AKTIVITÄTEN
---
ABLAUF DES SURFKURSES

---
Du bist ein Neuling

Du kannst von Anfang an bei unseren Surfguides mitfahren und der Surfguide wird dir bei den ersten Schritten helfen. Wir legen dir aber sehr ans Herz, dass du das Basic Surf Training für  buchst. Du lernst folgendes:

    Sicherheit im Ozean
    Theorie wie du Vertrauen beim Surfen aufbaust
    Material Training
    Deine erste Welle
    Wie du richtg paddelst
    Atem und Ausdauertraining

Das Training ist für Anfänger und fortgeschrittene Anfänger geeignet.

Du bist schon gesurft

Nimm an unseren Surfguides Sessions teil! Du wirst garantiert Spass haben, wenn du an den besten Spots von San Diego über Orange County bis nach Los Angeles deine Wellen nimmst. Vom 2 Sterne Surfer bis zum 5 Star Surfer bringen wir dich an die richtigen Plätze zur richtigen Tageszeit.

Was ist Surf Guiding?

Surfguides sind keine Lehrer. Du nimmst nicht an einem Kurs teil, wo du zu machen hast, was man dir sagt. Unsere Guides bringen dich an die tollen Surfspots, machen ein kurzes Aufwärmtraining, zeigen dir, auf was du achten musst und geben dir Tipps, wie du die Welle am besten nimmst. Du kannst ihnen Fragen zur Sicherheit stellen oder dir Hilfe holen, wenn du nicht weiter kommst. Danach geht es raus in die Wellen - wo du möglichst viel Spass haben sollst.

Wie sieht ein typischer Tag aus?

Dein Surfguide holt dich zwischen 6:30 und 10:00 im Camp ab und fährt mit deiner Gruppe zum Surfspot, wo du zwischen ein und zwei Stunden in den Wellen bist. Anschliessend bringt dich der Guide zurück in den Camp für ein Mittagessen. Wenn du auf einem Tagestripp bist, wirst du gemeinsam mit der Gruppe in der Nähe des Surfspots essen. Hast du dich auch für die Nachmittagsession angemeldet, holt dich zwischen 14:00 und 15:00 der Guide für die zweite Surfsession ab. Um ca. 17:00 bist du zurück im Camp und hast Zeit zu relaxen, socializing und ein feines Nachtessen.

Sunset Surf

Wenn es passt, bieten wir einmal in der Woche ein spezielles Erlebnis an - einen Sunset Surf. Unser Camp-Boss Dave Cinquini bringt dich und die Gruppe persönlich an seinen geheimen Lieblingsspot. Nach einer unvergesslichen Surfsession beim Sonnenuntergang, zünden wir ein Lagerfeuer an und geniessen zusammen ein echt amerikanisches TheCaliCamp Barbecue.


---
SURF-EQUIPMENT
---

Ob Mann oder Frau, ob Anfänger oder fortgeschritten, wir bieten dir das richtige Surfboard und den passenden Wetsuit damit du dein Kalifornien Abenteuer richtig geniessen kannst. Das richtige Material ist wichtig; deshalb legen wir auch besonderen Wert auf eine gut gepflegte Auswahl.

Das Surfmaterial kann auch ausserhalb der Guidingzeit für eigene Surftouren gebraucht werden.

Denk daran, Surfboards sind fragil und können auch zu Bruch gehen. Damit du dir keine Sorgen machen musst, bieten wir dir eine Mietversicherung an.


---
SONSTIGE AKTIVITAETEN
---
Yoga, Fitness & Spa
Für dein persönliches Wohlbefinden gibt es in der Nähe Yoga. Brauchst du eine Massage, damit dein Rücken zur Ruhe kommt, buchen wir dir auch gerne einen Termin in Campnähe.
Surfen ist anstrengend und darum tun wir alles, damit du auch genügend Erholungszeit findest und den Aufenthalt geniessen kannst.
Wal Safari, Tauchen, Fischen und Jet-Ski
Wenige Minuten vom Camp entfernt findest du den Hafen von Dana Point und dort kannst du was erleben...ob ein aufregendes Rennen mit dem Jet-Ski, auf einer Wal-Safari, beim Tauchen oder in einem U-Boot. Dana Point Harbor ist ein richtiger Freizeitpark des Ozean. Du kannst schon im Vorfeld Touren buchen oder dich vor Ort von uns beraten lassen.
Outlet Shopping
Willst du richtig Geld sparen? Surfkleider, Boards oder das richtige Geschenk für zu Hause, hier findest du Hammerpreise von A wie Adidas bis Z wie Zumiez. Kalifornien ist berühmt für seine Shoppingmöglichkeiten und wir bringen dich dorthin, wo der Koffer voll, aber die Brieftasche geschont wird. Von Los Angeles bis San Diego kennen wir jeden wichtigen Outlet Shop.
PARTY!!! :-)
Hollywood! San Diego! The OC! Party wie nirgendwo sonst. Wir organisieren regelmässig Tripps zu den angesagten Orten und in die Underground-Szene. Wir bringen dich nicht nur zu den Clubs, wir sorgen auch dafür, dass du ohne ewiges Anstehen rein kommst. Achtung: Vergiss aber nicht, deinen Wecker zu stellen, denn am nächsten Morgen ruft die nächste Welle.
City Tours
Du bist zwar zum Surfen hier, aber was wäre Kalifornien ohne einen Städtetrip? Warum nicht am Wochenende mit ein paar Freunden vom Camp ein Auto mieten und ab nach Las Vegas dein Glück zu versuchen? Damit du Kalifornien erlebst, wie es einheimische erleben, gibt es Tagessurftouren, bei denen du auch einen Abstecher in die Metropolen von Los Angeles und San Diego machst.
Sports, Comedy & Concerts
Kalifornien bietet mehr. Mehr von allem! Willst du ein Spiel der College Football oder NBA Basketball Liga sehen? Vielleicht stehst du aber auch auf Musik : Rihanna, Matchbox 20 oder dann doch Metallica? Wie gesagt, hier gibt es sie alle.
MEHR DETAILS, ANREISE & FAQ
---
GEHEIMTIPP HERBST

---
Kaliforniens Herbst beste Surfbedingungen im Jahr, warmes Wetter, leere Lineups
Die besten Surfbedingungen, tolles Wetter,
und ein leeres line up
Wenn es eine Jahreszeit gibt, die alle Kalifornier lieben, dann ist es der Herbst. September und Oktober bieten die berühmten goldigen Sonnenuntergänge. Warmes Wetter und der offshore Wind sorgen für super Surfsessions.
Was macht September/Oktober so speziell?
In erster Linie sind es ausserordentlich gute Surfbedingungen
- Offshore Wind fast jeden Morgen (die Wellen brechen perfekt)Die Süd- und Nordhemisphäre - sorgen gemeinsam für die besten Wellen, die Kalifornien zu bieten hat
- Der geringe Tide-Swing (Gezeiten) ist perfekt für guten Surf den ganzen Tag
- Der Sommer ist vorbei, die Touristen sind weg, das Lineup ist dir!
Es sind nicht nur die Wellen:
Wenn der Sommer vorbei ist, wird es hier nur besser. Das Wetter wird noch wärmer (27-32 Grad). Weniger Autos sind auf den Strassen und wir sind schneller an der Beach. Auf die Gefahr hin, dass wir uns wiederholen - es sind wirklich die besten Wellen des Jahres!
Gut für Einsteiger und fortgeschrittene Surfer.
Surfst du bereits? Super! Es herrschen perfekte Bedingungen, um die eigenen Surfkünste zu verbessern. Point breaks und Beach Breaks sind die Wahl. Und wenn du das erste Mal surfst, ist es für uns ein leichtes, die richtigen Wellen für dich zu finden.
---
JOURNEY
---
Pick up vom Los Angeles Airport ist im Preis inbegriffen
PREISE & LEISTUNGEN
---
PACKAGE  - ab 890 € pro Woche / Person
---
Das Paket beinhaltet:
    Transfer vom Flughafen Los Angeles oder San Diego
    Unterbringung in einem 2 Stern Hotel
    Frühstück mit Brötchen, Joghurt, Flackes, Früchten, Kaffee und Tee
    Gratis Internet (WIFI)
    Surfmaterial (Surfboard, Wetsuit, leashes)
    Transport vom Hotel zu den Surfspots
    Sommer: Täglich zwei Surfguiding Sessions (Montag-Freitag)
    Winter: Täglich wenn möglich zwei Surfguiding Sessions, ansonsten eine. (Montag-Freitag)
    Samstag Beach/City Transport

Das Surfmaterial kann auch ausserhalb der Guidingzeit für eigene Surftouren gebraucht werden.

Preise pro Person:


Hochsaison Juli/August/September

                                   4-Bett Zimmer     Geteiltes Doppelzimmer     Einzelzimmer

8 Tage / 7 Nächte           890 € / 999 $       1 070 € / 1190 $               1 492 € / 1674 $
15 Tage / 14 Nächte    1 693 € / 1899 $      2 050 € / 2299 $               2 870 € / 3219 $


Normale Saison Oktober - Juni

                                                            Geteiltes Doppelzimmer      Einzelzimmer

8 Tage / 7 Nächte                                          890 € / 999 $             1 247 € / 1399 $
15 Tage / 14 Nächte                                   1 693 € / 1899 $            2 406 € / 2699 $

Geteilte Doppelzimmer können auch von Alleinreisenden gebucht werden. Sie teilen sich dann Ihr Zimmer mit einem zweiten Gast.
Auf Anfrage bieten wir für Gruppenreisen Spezialkonditionen an.


---
EXTRAS

---
Basic Surf Training
Für Anfänger & fortgeschrittene Anfänger jeweils Montags     88 € / 99 $
Board Versicherung bis zu 3 Wochen                                   35 € / 40 $
Transfer von und nach Hollywood / Venice Beach                 45 € / 50 $