ABOUT THE SURF CAMP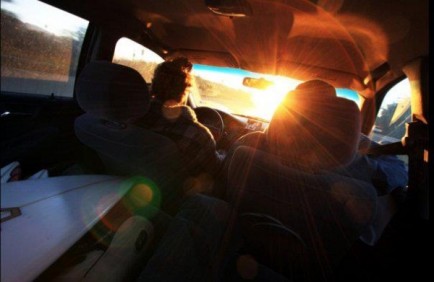 ---
LOCATION AND SURF CONDITIONS
---
Within 15 to 45 Minutes we find great Surfspots around the Camp. From beginners to advanced Surfers...here we give a a quick views and be sure, there are some secret Spots you will be amazed of.

San Diego

San Diego is actually a very broad area with over 60 miles of coastline and is well exposed to swell from each and every direction. We know the way to find you waves specific to the days conditions and your ability while discovering SD. San Diego truly has everything on offer. Reef breaks, point breaks, and sand bottom beach breaks inhabit the area.

Oceanside

Sitting at the northern most point of San Diego is Oceanside. This is a beach famous for its pier, its military base, its boardwalk and its world class beach break lining the city from tip to tip. Here it all comes down to finding a nice empty sand-bar and enjoy the waves with just you and friends which we make readily available to you with the help of our guides.

Trestles and Orange County

Now what shall we say about Trestles?…. World renowned one of the single most high performance waves on the planet and, not to mention, 10 minutes from the camp. Loved by every professional in the sport of surfing it is a spot worthy of a place on the ASP World Championship tour. If you're up for the challenge we would love to assist should you demonstrate the ability to surf such the more prominent 'peaks'. For the more intermediate surfer DON'T LET THE PRO'S SCARE YOU AWAY!!! Trestles is not just "A Spot" but an area with many nooks, crannies and empty areas. At the end of the day world famous perfection is at your finger tips. There are also a wide variety of "secret spots" that are a little harder to get to but offer miles of coast with peaks offering some of the longest rides of your life.

Huntington / Newport Beach

Huntington Beach or "Surf City USA" which hosts the US Open of surfing each year is the host for 1 reason. Great waves and an unbeatable surf presence in and out of the water. Along with its neighbor, Newport Beach, both provide miles and miles of sand bottom beach break and peaks every step of the way. To surf alone in California is not necessarily that hard when you know where to go. It's one of our many specialties

LA County

When you think of beaches in LA you may think Venice, Santa Monica or maybe even 'Baywatch'. To a certain extent you are thinking correctly. However, on the right days the Los Angeles area offers world class surf across a vast area. Perfect points and reefs combined with a wide variety of open beach break, LA provides it all. Imagine surfing Malibu. The birthplace of modern progressive surfing. And before you know it you're headed off to Hollywood for lunch on "The Sunset Strip." Or how about a stroll along the walk of fame? The true California experience.


---
CAMP CHARACTER
---

Surfing is different. Surfing is a lifestyle. Surfing is addictive. And it is certainly a lot of fun. Of course, surfing is done in the ocean, and everything you do out there is dangerous. There are Risks, so that's why we at TheCaliCamp send you only with trained and experienced surfers.

Surfing has a long History. European encounter it the first time 1767 when they arrived at the coast of Tahiti. The fascination of Surfing is incredible. I'm writing this as a Swiss Guy who grow up in a Country with no ocean. Only Mountains. So I did a lot of Ski, Snow- and Skateboarding (I even got a ticket for it). But when I caught my first wave, it changed everything.

It's right, you only ride a wave for an average of six seconds. You may even go out on the Ocean and you wait an hour for a good wave. But then there is one coming. You start to paddle, the wave takes you, you jump on the board - and then you feel it - a moment of magic. That's all you're looking for and for that moment in time, its all that matters.

At TheCaliCamp we want you to have that magic moment. So we train our Surfguides to bring you to the best spots, to give you a safe and awesome experience. No matter if you are a beginner or a experienced surfer. You can be sure, everyone at the Camp knows that very special feeling, when you get up on your Surfboard and feel that magic moment. See you when you get here.
ACCOMMODATION AND CATERING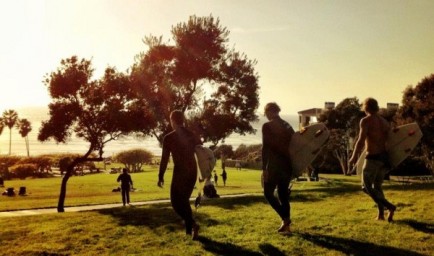 ---
ACCOMMODATION TYPES
---
Dana Point Marina Inn

5 minutes to the beach, restaurants and surf shops close by is what makes the Dana Point Marina Inn the right place for a surf camp. On tripadvisor you find great Reviews since renovation and top notch service and staff. Typical California kindness is what you'll find here. The rooms are clean and tended to daily.

Dana Point is in Orange County and nestled within a very safe neighborhood.

The Double Room's

Two beds, big shower and a clean room. Here you can chat and relaxwith your roomate about the days events and surf sessions. All rooms have WIFI, TV and a refrigerators. With air conditioning you have always the right temperature.

Pool

Take a swim, rinse off the salt water or have a read on your favorite book in the newly renovated pool. There are vending machines chairs for your lounging. Certainly a great place to rest in between surf sessions.

Fitness room

Any power left after surfing?


---
CATERING
---
Daily Breakfast of Pastries, Cereal, Yogurt, Fruit Coffee, and Tea included.

You better believe our guides know all the right places to eat! Classic American diners, Mexican restaurants and taco stands along with fresh fish, Thai, Italian and vegan. Depending on your mood these are a few examples of what might be just around the corner. Whether you're on the move with your guides, or in the camp needing a late night snack, you're covered!
SURF COURSE AND ACTIVITIES
---
SURF COURSE DETAILS
---

You're An Absolute Beginner
You can join our guided surf sessions and go for it with the help of your guide. But we highly recommend to take the Basic Surf Training on Monday.

Includes

    Ocean safety discussion
    Theory lesson on building comfort in the surf
    Equipment training
    Hands on surf session
    Paddletechnique course
    Breathing and endurance tips

Good for first time surfers and advanced beginners.

You're Already A Surfer

Join the Surf guides! Guaranteed great fun from Orange County to San Diego and Los Angeles. From the 2 Star Surfer to a 5 Star surfer we bring you to the right place at the right time daily.
What Is Surf Guiding?

Surfguides are not teachers. You're not joining a class where you have to do, what your teachers say. Our guides will bring you to great Surfspots within our reach. They provide an "on the spot" introduction to the break and will lead a brief warmup. The guides are there to offer advice, answer questions, and essentially make sure you, as the guest, are catching waves and having the best time possible while maintaing safety in and out of the water.

What does a typical Day look like.

- The Guide picks you up between 06:30 and 10:00 and you drive to the Surf spot: 1 to 2 hours of surfing
- The Guide brings you back to the Camp, so by noon you are ready for lunch (unless otherwise you are on one of our scheduled "day trips"
- Between 14:00 and 15:00 the Guide picks you up for a second Surf Session.
- Your back around 17:00 for some relaxation, yoga, dinner, socializing, sleep and do it all over again.

Sunset Surf

Once a week we have a special Sunset Surf. Our Camp Boss Dave Cinquini brings you personally to his secret Sunset Spot. After a unforgettable Surf session at a nearby beach, we'll follow it up with a beach bonfire and bbq courtesy of TheCaliCamp.

For a great surf experience you don't just need good waves, you also need great equipment. Know more about our Equipment


---
SURF MATERIALS
---
Bring your own or borrow ours: We offer a wide range of equipment including wetsuits for men and women as well as surfboards for the beginner all the way to expert level. Surfing on quality equipment is a necessity and we aim to take your surfing to the next level. We take it upon ourselves to provide this and can be included in your overall package. Just ask and we'll make sure you have the right board under your feet!

We leave the surf equipment with you so you can go on your own if you'd like!

As a reminder, surfboards are in fact fragile items and if damaged require immediate repair. You will be offered equipment insurance if desired upon booking.


---
OTHER ACTIVITIES
---
Yoga, Fitness & Massage

Yoga and massage are available to you during your stay. If its a massage or a Yoga session you're in need of just ask and we'll make sure to get you in for an appointment. Both of these things during your stay will help you surf and feel better. Be sure to take advantage while you're here!

Whale Safari, Diving & Fishing Charters

Just minutes from the camp in Dana Point Harbor, we have a wide arrangement of activities from our local friends down on the docks. When in season we offer whale watching, and year round, we will arrange fishing charters (group, or private) scuba diving, jet skis, SUP and much much more. We're very lucky to be located so close to this amazing harbor. It truly is an ocean amusement park.

Outlet Shopping

Surfwear, equipment, formal wear, outerwear, souvenirs, gift shopping etc etc.. We know you wont want to miss this. From Los Angeles to San Diego and everything in between we will make sure you get the goods! California is famous for it's shopping and when you're ready to splurge we make sure you're getting the best deal! We even arrange from time to time a full day full of sight seeing and shopping. If you're looking for the perfect gift or souvenir to take home we're glad to offer up any ideas to help out. And then make sure you find the right place to buy it!

Weekend Activities

PARTY!!! :-)

Hollyood! San Diego! The OC! Like to get loose? Good answer.. so do we! We regularly organize outings to some of southern California's hottest venues as well as the notorious "underground" scene on offer our immediate and surrounding areas. We'll provide not only the transportation, but make sure you get instant access at some of the worlds greatest bars and nightclubs. Ask and we'll get you there... Just be sure to set that alarm clock in your room for the next days surf! : )

City Tours

We know you came to surf. As much as we love surfing we also understand you've come a very long way and deserve to see it all. So we suggest taking a day or 2 off the waves to go see the sights with the other guests. Your guide can even help you to pick the best day..maybe a small wave day to get out and see places you've only witnessed on television. We make sure to include in our daytrip schedules for the week, "cultural city and coastal tours" with your surf guides. Tour guides are boring. Surf guides are not!

Sports, Comedy & Concerts

Califonia offers more. More of everything - you find great sport events, awsome concert and the best theatres. But also there are small live gigs. We wil show you...


MORE INFO, HOW TO GET THERE & FAQ
---
SECRET SEASON
---
Best surf condition, awesome weather, empty line up
If there is one time of year that all Californians love, it is the Fall. September and October are not to be missed. Golden sunrises and sunsets, warm dry weather, light winds, and daily offshore conditions are enjoyed.
You heard it here so don't miss out!
What makes September/October so awesome?
Exceptional surf conditions
Offshore winds nearly every morning
The southern and northern hemisphere working together for best surf conditions California can offer
Moderate tide swings making it good for those ALL DAY surf sessions
Summer is over. The lineup is yours!
Its not just about the waves
When the Summer ends, nothing but good things continue to happen here. The weather can be even warmer (around 80F -90F). Minimal traffic on the roads means more access and more mobility to spots. And once again, the waves can be the best they will be all year!
Good for first time, and advanced surfers.
Already surf? Great! These conditions are perfect to improve your skills. Point breaks and beach breaks are the choices of the day. And if you're surfing for the first time, finding good waves for beginners is also very easy for us.
---
JOURNEY
---
Ways to get to the camp
Pick up from Los Angeles Airport is included.
PACKAGES & PRICES
---
PACKAGE  - from 890 € per Week / Person
---
This package includes:

    Airport Transfer
    Hotel Accommodation (queen sized bed)
    Breakfast of Pastries, Cereal, Yogurt, Fruit Coffee, and Tea Daily
    Free Wifi
    Equipment (wetsuits, surfboards, leashes)
    Transport to and from Hotel to Surf Spots
    Surf Guiding twice daily (Monday-Friday)
    Saturday beach/city transportation
    Summer: Surf Guiding twice daily (Monday-Friday)
    Winter: Surf Guiding twice daily if possible. One minimum. (Monday-Friday)

We leave the surf equipment with you so you can go on your own if you'd like!

Prices per person:

High season July/August/September

                                      4-Bed Room           Shared Room               Single Room

8 Days / 7 Nights           890 € / 999 $           1 070 € / 1190 $           1 492 € / 1674 $
15 Days / 14 Nights     1 693 € / 1899 $         2 050 € / 2299 $           2 870 € / 3219 $


Regular season October - June

                                                                   Shared Room                Single Room

8 Days / 7 Nights                                          890 € / 999 $             1 247 € / 1399 $
15 Days / 14 Nights                                   1 693 € / 1899 $            2 406 € / 2699 $


Shared rooms can be booked by single travelers. You would be paired with another surf camp guest.
Please ask for Special Group Rates.


---
EXTRAS
---
Basic Surf Training
Each Monday. For first time surfers and advanced beginners.       88 € / 99 $
Board Insurance up to 3 weeks                                                35 € / 40 $
Transfer to and from Hollywood / Venice Beach                         45 € / 50 $