ABOUT THE SURF CAMP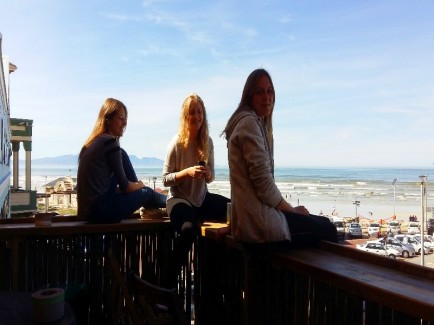 ---
LOCATION AND SURF CONDITIONS
---
African Soul Surfer is set right on the beach at Surfer's Corner in Muizenberg, which has consistently mellow waves year round perfect for beginner to intermediate surfing, and excellent for advanced longboarding.
---
CAMP CHARACTER
---
We keep the groups small (max 6) to give everyone enough attention.
ACCOMMODATION AND CATERING
---
ACCOMMODATION TYPES
---
Ensuit Room
Several rooms have Ensuite Showers & washbasins for your comfort. All toilets are in communal bathrooms.
Double Room
7 x Double rooms, all with great sea-views, smaller ones with private balconies. Some have additional beds to accommodate Family bookings.
Family Room
Most Family rooms have sea-views & consist of a Double bed plus 1-2 extra Single beds.
Single Room
3 x cute Single/Double rooms, small in size but great in view from the private balcony.
Standard Dorms
For those on a tight budget we have a range of 4-6 bed dorms available, Mixed or Female only options
---
CATERING
---
- Self-Catering
- Breakfast included
SURF COURSE AND ACTIVITIES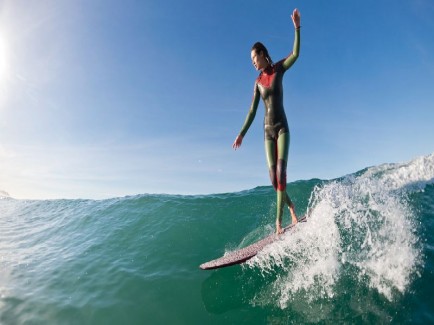 ---
SURF COURSE DETAILS
---
With some of the best learn-to-surf waves on our doorstep, our team of surf coaches will be glad to share the Stoke with you and guide you into catching some waves. Lessons start on the beach, where the basics are explained and demonstrated, before paddling out and helping you catch waves and get to your feet.
---
SURF MATERIALS
---
Lessons include instruction, surfboards and wetsuits and last 90 minutes. Those who wish have the option to use the equipment for a further 60 mins directly after the lesson. Rental:
If you've done a few lessons, or just didnt bring your own gear with you, we have a range of quality boards to suit the conditions, ranging from 6'6 to 9'0 surfboards and a few 9ft 'Logs' for those who know how to use them.
---
OTHER ACTIVITIES
---
- Wine Tours
- Beach Horse Rides
- Garden Route Trips
- Kalk Bay Caves
- Kayak with Penguins
- Big 5 Safari
- Skydiving
- Paraglyding
- Sandboarding
- Deep Sea Fishing
- Ziplining
- Kloofing
MORE INFO, HOW TO GET THERE & FAQ
---
 SURF CONDITIONS
---
The water is a lot warmer than the Atlantic coast surf spots, and the atmosphere in the water is generally friendly and easy-going. With sand-bottom waves that break for up to 200m, its an ideal setup to progress your surfing.
---
SURROUNDINGS / REGION
---
Activities and facilities

- Blue Bird Market
- Kitesurfing
- Hiking
- Pool & Water Slides
- Shopping
PACKAGES & PRICES
---
2 Days Upgrade - from R 1495 per Night / Person
---
This package includes:

- 1x healthy breakfast & coffee/tea
- 2x 1.5 hours surf lesson with quality instructor & all surf equipment in the morning
- 2x 1.5 hours free surf with equipment in the afternoon
- Relaxed schedule - afternoons free to surf, relax or explore
- 1x night accommodation in a single sea-view room 
---
3 Days Budget - from R 1795 for 2 Nights / Person
---
This package includes:

- 2x healthy breakfast & coffee/tea
- 3x 1.5 hours surf lesson with quality instructor & all surf equipment in the morning
- 3x 1.5 hours free surf with equipment in the afternoon
- Relaxed schedule - afternoons free to surf, relax or explore
- 2x night accommodation in a shared dorm
---
3 Days Upgrade - from R 2595 for 2 Nights / Person
---
This package includes:

- 2x healthy breakfast & coffee/tea
- 3x 1.5 hours surf lesson with quality instructor & all surf equipment in the morning
- 3x 1.5 hours free surf with equipment in the afternoon
- Relaxed schedule - afternoons free to surf, relax or explore
- 2x night accommodation in a private sea-view room
---
5 Days Budget - from R 2995 for 4 Nights / Person
---
This package includes:

- 4x healthy breakfast & coffee/tea
- 5x 1.5 hours surf lesson with quality instructor & all surf equipment in the morning
- 5x 1.5 hours free surf with equipment in the afternoon
- Relaxed schedule - afternoons free to surf, relax or explore
- 4x night accommodation in a shared dorm
---
5 Days Upgrade - from R 4795 for 4 Nights / Person
---
This package includes:

- 4x healthy breakfast & coffee/tea
- 5x 1.5 hours surf lesson with quality instructor & all surf equipment in the morning
- 5x 1.5 hours free surf with equipment in the afternoon
- Relaxed schedule - afternoons free to surf, relax or explore
- 4x night accommodation in a private sea-view room