ABOUT THE SURF CAMP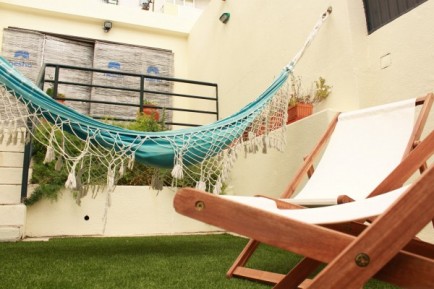 ---
LOCATION AND SURF CONDITIONS
---
Totally renovated in 2016, this house is situated in the heart of Lisbon, in the nice and safe Alvalade neighborhood. With easy access to the historic city center (15 min trip by subway) and Sintra or Cascais beaches (40 min trip by train) and located, Nesha Surfhouse Lisbon is the perfect choice if you want to have a mixed experience between surf & beach and cultural & nightlife. We offer surf classes on a daily bases, with direct transfers to and from the beach (ask us more info about our surf packages).


---
CAMP CHARACTER
---
THE SURF
Lisbon picks up all the north, west and south swells from the Atlantic, making surf conditions very consistent. From May till October, the waves are smaller but you can always expect waves of 3-5ft with really great water temperature. During winter the swell size is always bigger, making it a place for those looking for challenging surf. Even for beginners there are lots of sheltered spots where the waves break perfect while in most exposed spots can be stormy.

From the wild and uncrowded sandy beaches of Caparica to the urban spots like Carcavelos (famous for its winter barrels) or the point break of São Pedro do Estoril you can find a big variety of surf breaks in the Lisbon area. Also, we are a short driving distance to beaches like Guincho, Praia Grande, Ericeira (World Surfing Reserve) and Peniche, famous for hosting one of the ASP World Tour events that brings professional surfers like Kelly Slater among others to Portugal in October.

THE HOUSE
The house has a cozy garden with solar exposition and an outdoor shower (ideal for when you get back from the beach). This is the perfect spot to have a BBQ meal, to relax and sunbath.
The house has a fully equipped kitchen where you can cook and gather to have a meal with your friends.
The living room has a book corner where you can enjoy some reading and relax, as well as a LCD TV with Playstation and other games.
All house as WIFI available.
Camp character
We are a family-like atmosphere, suitable for all ages. The main language used in camp is English (sometimes Portuguese, our mother tongue).


---
CAMP OPERATOR
---
We are a group that brings together a team of young and familiar people who are connected since early ages to radical sports, nature and healthy lifestyle.


ACCOMMODATION AND CATERING
---
ACCOMMODATION TYPES
---
COMMON AREAS:
Living room: Lounge area; LCD TV; Cable Channels, Playstation & other games; book corner
Toilet
Full equipped kitchen. Kitchen utensils, Toaster, Microwave oven, Dish-washer, Washer, Dryer, Freezer, Coffee machine, Electric oven, Electric stove, Crockery and cutlery, Electric kettle, Hand blender, Toaster.
Dining area
Garden with lounge area, exterior shower and BBQ facilities
- WIFI available
- Linen and bath towels are included.

SUITE (Private bathroom)
Large suite with private bathroom, A/C and balcony.

BEDROOM (Shared bathroom)
Double bedroom with private balcony and solarium.

MINI-ROOM IN DORM (Shared bathroom)
Mini-room in dormitory, with double bed and lounge area, curtains that provide more privacy and access to individual locker. Shelter, reading light and phone charger (electric outlet) next to the bed.

BED IN DORM (Shared bathroom)
Bunk bed in dormitory. Access to individual locker. Shelter, reading light and phone charger (electric outlet) next to the bed.

Shared Bathroom: Toilet, bath tub, bidet, hair dryer, first aid kit.


---
CATERING
---
We work with self-catering. Guests have access to a fully equipped kitchen, dining area and BBQ facilities.
We often organize dinners and small gatherings in the house, we'll let you know and invite you to participate.




SURF COURSE AND ACTIVITIES
---
SURF COURSE DETAILS
---
KIDS SURF LESSONS
We offer lessons for kids aged 6-12. Each lesson is up to 2:30 - 3:00 hours per day and include Surfboard & Wetsuit. The parents can be close by or even participate in the surfing class. We pick you up from the apartment (very close as it is a walking only area) and take you to the beach with the best conditions. Safety and fun are priorities.

BEGINNER SURF LESSONS
Our lessons are 2:30 - 3:00 hours per day and include Surfboard & Wetsuit. We pick you up from the apartment and take you to the beach with the best conditions. You will be at a small group with an experienced surf instructor. The beginner's lessons are taught in waist deep water. You will learn everything from standing to turning and finally paddling outside and catching 'green' (unbroken) waves.

INTERMEDIATE SURF LESSONS
Our lessons are 2:30 - 3:00 hours per day and include Surfboard & Wetsuit. We pick you up from the apartment and take you to the beach with the best conditions. You will learn and / or practice riding the waves, you will be given tips about how to positioning to catch the wave and initiate some maneuvers.

ADVANCED SURF LESSONS
Our lessons are 2:30 - 3:00 hours per day and include Surfboard & Wetsuit. We pick you up from the apartment and take you to the beach with the best conditions. You will learn about surfing in the area, were are the best peaks and be given guidance on what you want to improve in your surfing skills.

SURF EQUIPMENT
You can rent all kinds of surfboards and wetsuits with us.


---
SURF SPOTS
---
CAXIAS
Only works on big winter south / southwest or west swells but if you get the right tide and wind (offshore winds come from N / NW / NE) you can score some barrels on the perfect lefthander that breaks near the pier. On really big swells you have a righthander point break at the opposite corner of the beach.

SANTO AMARO DE OEIRAS
One of the best point breaks in Portugal! It works with big winter NW / W / S / SW swells. If you are confident, you can jump into the peak from the rocks in front of the castle, but make sure you time it right or you'll be washed back up onto them. It's a heavy, fast and often hollow wave which will be populated by the best surfers in Portugal, so make sure you let them have their waves. Basically, GO BIG and don't stop. This can be one of the best waves in Portugal when it is on. In Summer, you will see a lagoon, so best to come between September-March when the Winter swell rolls in.

TORRE
Another winter spot, sheltered from the big W and S / SW stormy swells. When every spot is blown up and stormy you can find some small but perfect rights near the fortress, on the right side of the beach. For advanced surfers you also have fast and hollow waves, breaking left and right, on the center and on the left side of the beach, near the jetty.

CARCAVELOS
Carcavelos is Lisbon's gem. When it's on, like from 4 to 8 feet, you have multiple peaks to both sides along the large beach. All hollow and with some juice with shallow sandbars. One of the best beachbreak's that Portugal has to offer. It works with NW / W / S / SW swells and offshore wind come from N. Fits every surf level from beginner to professional.

S. PEDRO DO ESTORIL
Another righthander point break that holds swell. It´s longboarder´s paradise! Long rights from the outside peak until the shore. Good spot also for beginners due to the soft and long white water waves. At paddling distance, you have Bafureira, a spot for more advanced surfers, another righthander point break but a more powerful and tricky wave.

COSTA DA CAPARICA
Actually, Costa de Caparica, has 30kms of beachbreaks. From the city center, where the jetties and the beach orientation makes waves bigger and with more defined breaks, to the wild and uncrowded south beaches. Depending on the swell and the sandbars you can find a dream wave just for you on the south of Caparica. Works all year round and is better with NW / W swells and winds from the East. It´s one of the places our school goes often due to uncrowded waves and the beauty of the landscape. Uncrowded waves and a beautiful landscape along with a great bar at the Beach.

G-POINT
Want to have a really different surfing experience? If you are lucky and your stay matches with the elements you can surf a wave generated by the ferry boats that cross Tejo river every morning coinciding with a particular wind/tide/sand equation. It's a 45-minute drive from Lisbon -- pretty much in the middle of nowhere.

GUINCHO
One of the most beautiful beaches around Lisbon... Lefts and rights with many spots along the beach. A good alternative when the waves are small at the other spots but better to surf in the morning before the wind shows up. Hosts lots of national and international surfing competitions all year round.


PRAIA GRANDE
Situated in Sintra area it´s one of the most consistent breaks near Lisbon. A good option for those flat summer spells, Praia Grande rarely hasn´t got rideable waves. Hosts the Bodyboard World Tour event in August / September every year.

ERICEIRA
The region of Ericeira has been recently awarded as World Surfing Reserve. It´s a world-class surf zone encompassing approximately 8 km of coastline. It contains a high density of outstanding surf breaks, including iconic breaks such as Ribeira d'Ilhas and Coxos, among others.
The coastline of Ericeira is dominated by rocky cliffs, and these are what gives the area its character, along with its famous beaches located in small bays. The diversity of waves in the area, along with their various degrees of difficulty, enables good surfing conditions for all levels of surfers, from beginners to professionals. Also, Ericeira is home to regional and international surf competitions. Ribeira d'Ilhas currently hosts the Quiksilver Pro Portugal each year, an ASP men's prime professional contest.

PENICHE
The peninsula of Peniche offers both north and south-facing coastlines. The result is the finest surfing conditions everyday regardless of the swell and wind direction. The Peninsula of Peniche always offers you a beach where the wind is off shore, creating perfect waves. Along the 15 Km of coast line you can find more than 20 surf spots for all levels of surfers, from beginner to advanced.
Annually, in October, its famous break of Supertubes hosts one of the ten events of the ASP World Tour of Surfing, the Rip Curl Pro Portugal. Surf Lisbon Team is always there and will take you to see all the action live with Kelly Slater, Mick Fanning, Taj Burrow, Gabriel Medina, among others.


---
OTHER ACTIVITIES
---
YOGA
We can arrange yoga sessions at the beach or at home (min 3 participants).
MORE INFO, HOW TO GET THERE & FAQ
---
SURF CONDITIONS
---
Breaks directly at the main spot and at nearby spots
Sand and reef break, all kinds of difficulty levels.
Seasonal conditions
From May till October, the waves are smaller but you can always expect waves of 3-5ft with really great water temperature.
Crowd factor and local people
Some spots can be crowded but as a surf school we choose our preferred and suitable spots do practice. Locals share the waves with others.


---
SURROUNDINGS / REGION
---
Characterization of surroundings/region
NEIGHBORHOOD
Everything here seems to exist in perfect harmony, a success story of a neighborhood that was developed in the 1940s from the ground up. Housing for a variety of social groups, collective facilities and a full range of services are integrated in Alvalade. Walking the streets past a mix of 1950s buildings and rows of houses, the vibrancy of this area is easily felt. Numerous shopping areas are here, highlighted by the famous Mercado de Alvalade yet including street-side shops amid diverse renovation projects. Avenida da Igreja is busy with car traffic and its sidewalks filled with people strolling along, perhaps enjoying ice cream or going into any number of good restaurants and cafes. Equally famous is the church at the top of Avenida da Igreja that is usually overflowing on Sundays, attracting residents as well as people from outside the neighborhood. Green areas for walking, running and sports include Estádio 1º de Maio and the Parque da Mata de Alvalade, both being great choices. Alvalade is quiet, safe and close to the center of Lisbon.
On top of that, you have all the transportation system just around de corner (subway - green line, 15 min trip to the city historic center; train – access to Cascais and Sintra beaches; bus; taxi).


Activities and facilities
We offer all type of private guided tours, on request.
You can easily access restaurants, bars, shops, cinemas, gardens, beaches, touristic attractions. We have all kind of public transportation (bus, train, subway) just next to home.


---
JOURNEY
---
Ways to get to the camp
Quickest option: taxi, it takes about 10 min from Lisbon International Airport.
Smart option: subway, red line towards S. Sebastião, change to green line in Alameda, towards Telheiras, exit in Roma station, it takes about 20 min.
PACKAGES & PRICES
---
SURF & STAY - from 384 € per Week / Person
---
This package includes:

- 7 nights stay with 5 days surf lessons
- You are entitled to surf lesson with a qualified surf instructor, insurance, surfing         equipment, transportation from and to house / beach.
- Surf lessons for all levels (beginners, intermediate and advanced) 2:30 hr / 3 hr a day, in a small group, by a qualified surf instructor, so that you can take advantage of the surf lessons the best way possible;
- Selection of the surf spot that presents appropriate conditions to each surfing level;

Accomodation                Suite (x1)         Bedroom (x1)      Mini-room (x2)    Dorm bed (x2)
                                  Price for 2 pax     Price for 2 pax     Price for 2 pax      Price for 1 pax
Season
Low (Nov-Apr)                          875 €            802 €                    752 €           384 €
Medium (May, Okt)                   930 €            838 €                    785 €            404 €
High (Jun-Sep)                         986 €            891 €                    815 €           419 €



---
ONLY ACCOMODATION - from 112 € per Week / Person
---
This package includes:

Accomodation       Suite (x1)   Bedroom (x1)   Mini-room (x2)   Dorm bed (x2)   Entire House
                            Price for 2 p   Price for 2 p    Price for 2 p     Price for 1 p    Price for 10+ p
Season
Low (Nov-Apr)                48 €               38 €            31 €                16 €               184 €
Medium (May, Out)         57 €               44 €            36 €                20 €               204 €
High (Jun-Set)                66 €               52 €            41 €                22 €               228 €

CLEANING FEE / stay      25 €               17 €            15 €                  9 €                 95 €

Minimum stay
1 night – Bedroom; Mini-room; Dorm-bed
3 nights – Suite
7 nights – Entire house


---
SURF COURSE & YOGA LESSONS - from 25 € per Person
---
This package includes:
- You are entitled to surf lessons with a qualified surf instructor, insurance, surfing equipment, transportation from and to house / beach.
- Surf lessons for all levels (beginners, intermediate and advanced) 2:30 hr / 3 hr a day, in a small group, by a qualified surf instructor, so that you can take advantage of the surf lessons the best way possible;
- Selection of the surf spot that presents appropriate conditions to each surfing level;

Prices per Person
                                                       1 day            3 days            5 days

Kids Surf Lessons                              50 €               125 €              200 €
Beginner Surf Lessons                       50 €               125 €              200 €
Intermediate Surf Lessons                  50 €               125 €              200 €
Advanced Surf Lessons                      50 €               125 €              200 €

Surf Equipment Rental                       15 €                 40 €               55 €
Yoga (min. 3 participants)                   25 €                65 €                80 €