ABOUT THE SURF CAMP
---
CAMP OPERATOR
---
AST are owners of professional surf schools in El Salvador anld Nicaragua with 6 years of experience operating in Playa Miramar, Nicaragua, Las Flores and La Libertad El Salvador. Our newest destination Popoyo Nicaragua complements our destinations in Central America with four amazing locations for family and friends wanting to learn to surf. Our professional guides with years of experience will cater to you from the time you step into our operating countries and will be with you the entire time becoming international friends for life sharing the experience of surfing.
ACCOMMODATION AND CATERING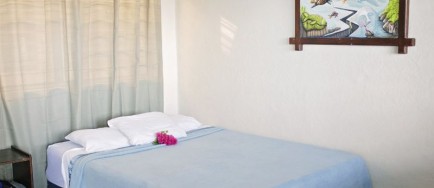 ---
ACCOMMODATION TYPES
---
Hotel Las Flores
Las Flores is the Eastern most part of El Salvador sitting on the Pacific, with palm-lined coasts and black sand beaches. Known as the area of flowers, Las Flores is teeming with flora and fauna, surrounded by wild mango trees and coco palms.
Our property has a boutique feel, and is the only building positioned directly on the point with Las Flores to your left and La Vaca and El Toro to your right. Your room is so close to the break, and you'll be able to have a breakfast smoothie while chatting to your friends in the surf. We offer a full-service restaurant and a fully-stocked bar service with lightning fast WIFI.

Hotel Punta Roca
Our property sits directly on the water along a walkable boardwalk from the pier to the point, where world-class surfing awaits. Within our hotel, we have two restaurants with unobstructed ocean views.
Sandwiched between our restaurants is our infinity pool where you can enjoy a cold beverage after a long day of adventuring and look out into unforgettable sunsets
Our accommodations are all oceanfront rooms with views of the Playa and Punta Roca Surfing Beach. Each room has tiled bathrooms with hot and cold showers, Satellite TV, Sliders or windows facing the Playa. There are 4 Balcony rooms for private or shared accommodations, these rooms get first right to our surf tour guests so if you are trying to go on the cheap these rooms are not guaranteed at time of booking your El Salvador surf vacation.
---
CATERING
---
The AST Las Flores location offers an open concept kitchen space, where you're able to eat fresh out of the water seafood, steaks, shell fish and Salvador style ceviches. We have full breakfast, lunch, and dinner options for you to order whenever you're hankering for some delicious Salvadorian cuisine.
Restaurant hours from 7AM to 9PM
While you're in town it's a must to visit a local Pupusaria. Pupusas are the staple of El Salvador. Corn or Rice masa hot off the grill, stuffed with cheese, and additional chorizo, pork and chicken.
SURF COURSE AND ACTIVITIES
---
SURF COURSE DETAILS
---
All of our surf lessons include surfboards, 2 – 4 hours a day of one on one or group classes, all meals, adventure transfers and amazing oceanfront accommodations. The surf season for surf lessons starts in November and ends in March, but we can cater to beginner surfers all year long depending on wave and weather conditions. Create your adventure today and begin your introduction to the sport of surfing.
---
OTHER ACTIVITIES
---
- Volcano Hiking Tours
- Juayua Waterfalls
- Mayan Ruins
- Colonial Town Tours
- Biking Adventures
- Off-Road Moto Tours
- Zip Line Adventures
- Buggy Cars Tours
- Ruta de las Flores Cultural Tour
- La Libertad Surf Excursions
- Conchagua Volcano Tours
- Island Tour
MORE INFO, HOW TO GET THERE & FAQ
---
 SURF CONDITIONS
---
The region of Las Flores is a surfer's mecca, boasting a long right-hand pointbreak perfect for the veteran ripper or the foamie-bearing novice. The 150-yards of hearty wave can begin with a roomy barrel and peels down the side of a photo-worthy peninsula, with size-y days lighting up the beach with waves worthy of a show-stopping performance. Beginners typically leave with best-wave- of-their life stoke, and are able to get a deeper sense of surfing while spending time on the long rights of Las Flores.
Around the corner from the main peak is La Vaca and El Toro, less frequented but sparing no quarters on the wave machine. Punta Mango, the freak-wave and favorite for advances surfers, is a quick boat ride away. Las Flores has a wave for everyone, you just have to come here to find yours.
---
 SURROUNDINGS / REGION
---
Activities and facilities
When you purchase a surf or vacation package from us, our hotel provides round trip airport transportation.
Once you're here, you can roam around the daily markets of La Libertad or check out the fisherman's pier and ogle over all the fish species.
Have one of our local drivers or guides take you over to near by towns such as El Tunco for night life, Sunzal and Mizata for slow paced tranquility, or perhaps venture on over to San Salvador for some shopping and a nice dinner.
PACKAGES & PRICES
---
 5-10 Nights Surf Tour Las Flores - from $897 per Week / Person
---
This package includes:
- Bilingual Surf Guide
- Unlimited Surf Transfers in Las Flores Area
- 2 Boat Trips to Punta Mango
- Oceanfront Hotel: AST Punta Flores
- Private and Shared Rooms
- Private Bath, Ac and TV in room
- WIFI
- Coffee, Fruits and Cereal
- Breakfast Lunch and Dinners
- Swimming Pool
- 1 Complimentary Non-Alcoholic Beverage with Provided Meal
- 1 Restaurant
- 1 Bar
- In Room Dining
- Nightlife Transfers to San Miguel

5 Night Surf School: $895.00/PP
7 Night Surf School: $1,095/PP
10 Night Surf School: $1,495.00/PP

There is a $200.00 additional fee for single guests
---
4-9 Nights Surf Tour Punta Roca  - from $800 per Week / Person
---
This package includes:
- Bilingual Surf Guide
- Unlimited Surf Transfers in Las Flores Area
- 2 Boat Trips to Punta Mango
- Oceanfront Hotel: AST Punta Flores
- Private and Shared Rooms
- Private Bath, Ac and TV in room
- WIFI
- Coffee, Fruits and Cereal
- Breakfast Lunch and Dinners
- Swimming Pool
- 1 Complimentary Non-Alcoholic Beverage with Provided Meal
- 2 Restaurants
- 2 Bars
- In Room Dining
- Nightlife Transfers to El Tunco

4 Night Surf School: $625.00/PP
6 Night Surf School: $799.00/PP
7 Night Surf School: $1,050.00/PP
9 Night Surf School: $1,200.00/PP

There is a $200.00 additional fee for single guests