ABOUT THE SURF CAMP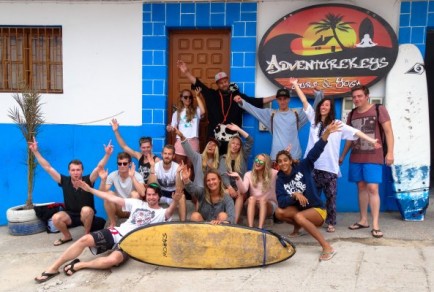 ---
LOCATION AND SURF CONDITIONS
---
Adventure Keys Surf & Yoga is just just off the main street in Taghazout. With minutes walk from Taghazout Centre, or a short drive to most Surf spots, Surfers are able to pick their spot from our panoramic rooftop, however, in general, our professional Surf Instructors will make the Surf spot choices depending on your level of surfing.
---
CAMP CHARACTER
---
Adventure Keys Surf & Yoga is an all ages Surf and Yoga house with no restrictions. Underage Surfers must be accompanied by adults or seek written approval from their guardians before signing-up for our Surf Camp. If families wish to attend our Surf Camp, we have bespoke options with private apartment accommodation too. Evenings are social, when all the happy campers meet up and talk about their Surf day over a few drinks and a lavish traditional Moroccan dinner.
ACCOMMODATION AND CATERING
---
ACCOMMODATION TYPES
---
Sea View Hostel with room types: Dorm Rooms, single rooms, double rooms with shared bathrooms, and family rooms as well as apartments with private bathroom, kitchen. Rooms don't have balcony, but some rooms have a sea view. The hostel has a panoramic terrace, Aerial Yoga and chill out rooftop, carpark, Hammam & Hot Tub, Free High Speed Internet, TV, X-Box, Pool Table, Foosball and other entertainment and games etc. Rooms are non-smoking, and have linen as well storage locker provided. Other basics include towels, hair dryer, hot showers, as well as laundry.
---
CATERING
---
Here at Adventure Keys Surf House, we have all inclusive, full board options, so you can spend your time enjoying your holiday. We provide home made buffet breakfast, meals packed for your lunch at the beach, and traditional Moroccan dinners, prepared by our gourmet Chef, every day. We also cater for vegetarians and vegans, and can take care of your specific culinary needs. If you have any type of food allergies, we advise you to notify us prior to your arrival.
If you feel like dining out, you can find many Cafes and Restaurants in Taghazout Centre, which is just 2 minutes walking distance from AdventureKeys Surf & Yoga. For those that wish to explore and enjoy their evenings, we offer Agadir City Pub Crawl, visit to the Souk, Open Mic Nights, and several other activities.
SURF COURSE AND ACTIVITIES
---
SURF COURSE DETAILS
---
At 8AM, you will have the option to attend your morning Yoga session on our panoramic rooftop, taking in the fresh air and morning views of Taghazout Bay. After you finish Yoga at 9AM, you will be served a light buffet breakfast to get you energised for the day. At 10AM, you will meet your Surf Instructor, pack your Surf board, Wetsuit and personal items to set for your Surf spot for the day. There are several Surf spots in Taghazout, and your Surf Instructor will be responsible for selecting the spot depending on local weather and sea conditions. 
At 11AM, you will commence your 2 hour Surf lesson, which includes theoretical knowledge with practical demonstration of the various techniques of Surfing. During the surf lesson, you will receive supervised training and surf technique correction tips from your Surf instructor. At this point, we are hoping that you have already caught After the first session ends around 1PM, you will take a 1 hour break for lunch at the beach and have the chance to soak up the sun and indulge in local treats.
In most cases, our Surf Instructors can speak fluent English and French, however, we can arrange other bilingual surf instructors depending on the size of the group.
After lunch, you will have 2 hours of free surf time to practice what you have learnt and relax at the beach with your awesome new friends. At 4PM, the Surf Instructor will help you pack up before you make your way home to AdventureKeys Hostel between 4:30PM and 5PM. 
---
SURF MATERIALS
---
You will be provided with a Wetsuit of your size, Surfboard, leash and board wax depending on the type of board you choose - we have over 100 different boards to choose from. You will also be provided with AdventureKeys Surf Camp surf shirt, so you can easily be identified while surfing. Please remember to carry a hat and sunscreen, flip-flops, sunglasses, and any other basic necessities you might require. We will provide Water, Lunch and Fruits for your time at the beach. 
---
OTHER ACTIVITIES
---
Day trips to Agadir Souk
Zumba, Pilates and Aerial Yoga 
Hammam/ Hot Tub
Paradise Valley day trip
Aragan Oil Village trip
MORE INFO, HOW TO GET THERE & FAQ
---
SURF CONDITIONS
---
Breaks directly at the main spot and at nearby spots
The coast down here is a large one and full of options for Surf and other Water Sports.
We have around 9 beach breaks and these Surf Spots are usually where beginner surfers go to learn surfing basics. The waves mainly break on the sand, which is a very safe environment for learning. Tides have a big effect on the waves in Taghazout; for beach breaks they give their best around here with Med high tide to full high tide and here spring tides is when the sea goes really low and comes back really high - it happens here twice every 28 days.
Seasonal conditions
If the question is  summer or winter, its safe to say both, and actually here winter (same as European Winter months), is good for all surfing levels, but summer actually is a perfect season for people who seek learning basics and progressing their skills. During summer, the waves and the water temperature are perfect for learning surfing (we don't need wetsuits during summer months). 
Wind Conditions - It does get a bit windy every now and then, especially when a season is changing, which makes it a good opportunity to be introduced to other water sports along the coast.
Crowd factor and local people
During the peak season (November - March), Taghazout locals love to come and watch surfers pull their tricks in the big waves, so it does get crowded when swells are on the doors, but mainly only on weekends, and it doesn't affect the quality of your experience. In fact, locals feel happier to see happy campers have fun at their shores. With that said, there are several Surf spots in Taghazout, and only a couple of them get a bit busy.
In general, locals are really friendly in Taghazout, and as long as you respect the local culture and traditions of Moroccan people, you will only see a happy Moroccan treating you with a smile in Taghazout. Surfing is a peaceful activity and the atmosphere in Taghazout is completely different to the rest of Morocco. You will see it when you arrive - there is no hustle, there is no drama!
The locals are very hospitable, and happy to share their food, their time and waves. There are no problems as long as one follows the etiquettes of surfing that are internationally known, and if you are a beginner, we not only teach you the techniques of surfing, but also make you familiar with surf etiquettes, so you too have fun without making problems for other surfers in the community.
---
SURROUNDINGS / REGION
---
Characterization of surroundings/region
Taghazout is just 30 minutes drive north of Agadir city. We will offer you free Airport/ Bus Station pick up. The locals are friendly, and the atmosphere is generally quite relaxed in Taghazout. The cost of living is cheaper than European countries like Spain/ Portugal, however, you can also find a lavish meal and a pricey Cafe or Restaurant in Taghazout Centre, which is just a few minutes walk from our Surf house. The food quality is generally good, however, we advise you to drink only bottled water in Morocco, and avoid seafood in areas that are not near the coast. Not to say that the water is dirty, but we recommend not to try and risk with your metabolism. You don't need any vaccinations before traveling to Morocco, however, we do advise you to have Travel Insurance before you join us for the Surf Camp. Surfing is a fun sport, but has its risks, and we would not want you to take any chances with your health and safety whist indulging in this amazing adventure with us.
Activities and facilities
During the evenings, we have several entertainment options such as Open Mic Night in a local Taghazout Cafe, Agadir Pub Crawl or Social drinks at a local bar. In the 7 days package, we also include trips to Agadir Souk, Paradise Valley, Argan Oil Village, etc.
Other facilities available in the hostel are Hammam/ Hot Tub, Pool Table, Foosball, TV/ X-Box etc. 
---
JOURNEY
---
Ways to get to the camp
In most cases, you will fly into Agadir airport, and your airport pick up will be included in the 7 days 6 night all inclusive Surf and Yoga package. For your departure, we can help organise a Taxi for you at fair local prices. 
In case you fly in to Marrakech or Casablanca, we can either arrange for your pick up and transfer to AdventureKeys at additional prices, or you can book a bus (with CTM.ma) to arrive in Agadir, and then Agadir bus station pick up will be included in your all inclusive package.
Important details
If you join our Surf Camp without travel insurance, you will be signing a disclaimer thereby waiving AdventureKeys off any liability. If you require a visa for Morocco, we can assist you with a purchase confirmation of your surf package with us, however, it will be upon confirmed booking with us, and we will not be liaising with any immigration agency on your behalf. You may seek assistance of a specialist, should you feel the need for legal assistance in your visa application process. Any damage to AdventureKeys caused directly by guests will require appropriate reimbursement of any such damages and claims.
PACKAGES & PRICES
---
PACKAGE A - 7 DAYS 6 NIGHTS ALL INCLUSIVE SURF & YOGA - DORM ROOM 
from 299 € PER PERSON
---
LOW SEASON (1 APRIL TO 30 SEPTEMBER)

WHATS INCLUDED:

ARRIVAL PICK-UP (from Agadir Airport or Agadir Bus Station)
6 NIGHTS STAY IN DORM ROOM
SURFBOARD HIRE
WETSUIT HIRE
6 SURF LESSONS
2 YOGA SESSIONS
MEALS [6B.6L.6D]
HAMMAM & HOT TUB
VISIT AGADIR CITY
VISIT THE SOUK
VISIT PARADISE VALLEY
BBQ NIGHT, PUB-CRAWL
FREE WiFi, TV, X-BOX
PANORAMIC TERRACE
WHATS NOT INCLUDED:

VISA & AIRPORT DROP-OFF
PERSONAL ITEMS & EXPENSES
TRAVEL/ MEDICAL INSURANCE
AIRFARES OR BUSES
---
PACKAGE B - 7 DAYS 6 NIGHTS ALL INCLUSIVE SURF & YOGA - DORM ROOM
from 399 € PER PERSON
---
HIGH SEASON (1 OCTOBER TO 31 MARCH)

WHATS INCLUDED:
ARRIVAL PICK-UP (from Agadir Airport or Agadir Bus Station)
6 NIGHTS STAY IN DORM ROOM
SURFBOARD HIRE
WETSUIT HIRE
6 SURF LESSONS
2 YOGA SESSIONS
MEALS [6B.6L.6D]
HAMMAM & HOT TUB
VISIT AGADIR CITY
VISIT THE SOUK
VISIT PARADISE VALLEY
BBQ NIGHT, PUB-CRAWL
FREE WiFi, TV, X-BOX
PANORAMIC TERRACE
WHATS NOT INCLUDED:
VISA & AIRPORT DROP-OFF
PERSONAL ITEMS & EXPENSES
TRAVEL/ MEDICAL INSURANCE
AIRFARES OR BUSES
---
PACKAGE C - 7 DAYS 6 NIGHTS ALL INCLUSIVE SURF & YOGA - SINGLE ROOM
from 359 € PER PERSON
---
LOW SEASON (1 APRIL TO 30 SEPTEMBER)
WHATS INCLUDED:
ARRIVAL PICK-UP (from Agadir Airport or Agadir Bus Station)
6 NIGHTS STAY IN PRIVATE SINGLE ROOM
SURFBOARD HIRE
WETSUIT HIRE
6 SURF LESSONS
2 YOGA SESSIONS
MEALS [6B.6L.6D]
HAMMAM & HOT TUB
VISIT AGADIR CITY
VISIT THE SOUK
VISIT PARADISE VALLEY
BBQ NIGHT, PUB-CRAWL
FREE WiFi, TV, X-BOX
PANORAMIC TERRACE
WHATS NOT INCLUDED:
VISA & AIRPORT DROP-OFF
PERSONAL ITEMS & EXPENSES
TRAVEL/ MEDICAL INSURANCE
AIRFARES OR BUSES
---
PACKAGE D - 7 DAYS 6 NIGHTS ALL INCLUSIVE SURF & YOGA - SINGLE ROOM
from 459 € PER PERSON
---
HIGH SEASON (1 OCTOBER TO 31 MARCH)

WHATS INCLUDED:
ARRIVAL PICK-UP (from Agadir Airport or Agadir Bus Station)
6 NIGHTS STAY IN PRIVATE SINGLE ROOM
SURFBOARD HIRE
WETSUIT HIRE
6 SURF LESSONS
2 YOGA SESSIONS
MEALS [6B.6L.6D]
HAMMAM & HOT TUB
VISIT AGADIR CITY
VISIT THE SOUK
VISIT PARADISE VALLEY
BBQ NIGHT, PUB-CRAWL
FREE WiFi, TV, X-BOX
PANORAMIC TERRACE
WHATS NOT INCLUDED:
VISA & AIRPORT DROP-OFF
PERSONAL ITEMS & EXPENSES
TRAVEL/ MEDICAL INSURANCE
AIRFARES OR BUSES 
---
PACKAGE E - 7 DAYS 6 NIGHTS ALL INCLUSIVE SURF & YOGA - DOUBLE/TWIN ROOM
from 329 € PER PERSON
---
LOW SEASON (1 APRIL TO 30 SEPTEMBER)
WHATS INCLUDED:
ARRIVAL PICK-UP (from Agadir Airport or Agadir Bus Station)
6 NIGHTS STAY IN PRIVATE DOUBLE/TWIN ROOM
SURFBOARD HIRE
WETSUIT HIRE
6 SURF LESSONS
2 YOGA SESSIONS
MEALS [6B.6L.6D]
HAMMAM & HOT TUB
VISIT AGADIR CITY
VISIT THE SOUK
VISIT PARADISE VALLEY
BBQ NIGHT, PUB-CRAWL
FREE WiFi, TV, X-BOX
PANORAMIC TERRACE
WHATS NOT INCLUDED:
VISA & AIRPORT DROP-OFF
PERSONAL ITEMS & EXPENSES
TRAVEL/ MEDICAL INSURANCE
AIRFARES OR BUSES
---
PACKAGE F - 7 DAYS 6 NIGHTS ALL INCLUSIVE SURF & YOGA - DOUBLE/TWIN ROOM
from 429 € PER PERSON
---
HIGH SEASON (1 OCTOBER TO 31 MARCH)
WHATS INCLUDED:
ARRIVAL PICK-UP (from Agadir Airport or Agadir Bus Station)
6 NIGHTS STAY IN PRIVATE DOUBLE/TWIN ROOM
SURFBOARD HIRE
WETSUIT HIRE
6 SURF LESSONS
2 YOGA SESSIONS
MEALS [6B.6L.6D]
HAMMAM & HOT TUB
VISIT AGADIR CITY
VISIT THE SOUK
VISIT PARADISE VALLEY
BBQ NIGHT, PUB-CRAWL
FREE WiFi, TV, X-BOX
PANORAMIC TERRACE
WHATS NOT INCLUDED:
VISA & AIRPORT DROP-OFF
PERSONAL ITEMS & EXPENSES
TRAVEL/ MEDICAL INSURANCE
AIRFARES OR BUSES