ABOUT THE SURF CAMP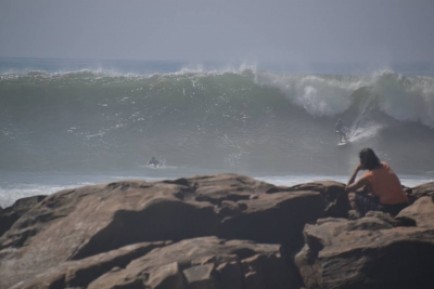 ---
LOCATION AND SURF CONDITIONS
---
The surf and weather in Taghazout are perfect for most of the year and Taghazout Surf Waves operates all year. During the summer we see small to meduim swells with surf mostly on the beaches, which is a perfect time for those who are looking for beach fun and surfing small waves.
In winter the waves are much better for all levels. There is a great variety of surf in the Tagahzout area between October to April, this is what makes the area a famous surfing mecca!
Taghazout is one of the most beautiful destinations in Morocco. It is known as a surfing mecca because of its perfect location on the Atlantic coast, its great waves for all levels, its warm weather and its golden beaches. For these reasons, and many more, people keep coming back to Taghazout from all over the world all year round
ACCOMMODATION AND CATERING
---
ACCOMMODATION TYPES
---
We have two type of rooms upgrade and standard. Upgrade rooms means that you will have a private double or twin single beds with a private bathroom, it is a good option for couples and two friends. Standard room means that the rooms are without bathrooms with shared bathroom. We have different type of standard rooms. Double, twin single, triple bedrooms suitable for groups of friends. 


What's included?
-Ccean view terrace
-Friendly professional service 24/7
-Drink your own alcohol on site
-Free wifi
-Save available for valuables
-Car parking available
-Chill lounge
-Sun loungers
-Towels provided
-Bed sheets & blankets
-2-4 bed shared rooms
-Private double rooms for couples
-Sunset and sunrise yoga options
-Breakfast included
-Buffet Dinner included
SURF COURSE AND ACTIVITIES
---
SURF COURSE DETAILS
---
Beginner:
Our beginner lessons are aimed at newcomers to surfing, providing a thorough introduction to surfing, from theory all the way through to practice. The lesson will cover all the important first steps to get you going, starting on the beach and then moving into the water, teaching you how to handle the surfboard, safety in the water, how to read the ocean conditions, paddling and most importantly catching those broken waves. We aim to see you riding your first wave in lesson one!
Intermediate: 
Our intermediate lessons are for those who have mastered the white water and are ready to move into the unbroken green waves. These lessons build upon the basics already learnt, focusing on paddle technique, control over the board and increasing the speed and frequency of your take off when riding those green waves. Our surf instructors will also teach you about spotting the best waves and when to catch them – timing is everything!
Advanced:
Our advanced lessons are for experienced surfers looking for some extra guidance in the water. The coaches will surf out with you, helping to show you which waves to go for and improve upon your duck diving and cutbacks. These sessions are a great way to get some additional pointers and tips from our experienced local surf instructors who will take you to some of Taghazout's famous reef and point break spots in search of that perfect wave.
---
SURF MATERIALS
---
Materials used during surf course are inclusive. See packages and prices.


---
OTHER ACTIVITIES
---
Paradise Valley:
Paradise valley is a historic valley and nature reserve hidden in the mountains of Idaoutanane near Taghazout. Taghart Ankrim is its original name, as the river Ankrim runs through it. In the 60s hippies came to spend time by the swimming pools and waterfalls of the area. Popular folklore says that Jimi Hendrix named the valley after spending time there enjoying hanging out among the beautiful palm trees, amazing waterfalls, swimming in the stunning natural pools and sunbathing and jumping off huge rocks. All of these natural wonders can still be enjoyed today!
The excursion we are offering to paradise valley also gives you the chance to discover local life and visit the places where argan oil and local honey are produced. While there you can learn some common Berber words and enjoy a delicious traditional meal cooked by a local chef.
Essaouira:
A large fishing harbour, the old medina with its fortified walls and a long sandy beach. Enjoy the french flair and take your time to explore Essaouiras rich culture: diverse art galleries, spice markets and the easy-going local people
MORE INFO, HOW TO GET THERE & FAQ
---
SURF CONDITIONS
---
Breaks directly at the main spot and at nearby spots
Excellently located, Taghazout Surf Waves is walking distance from 7 awesome surf spots and sandy beaches. Just a 5 minute journey from Taghazout, the camp is set in the relaxing location of Taghazout  with cafes, small shops and even a hamam/massage parlour.  Amidst beautiful mountains, Taghazout Surf Waves  is just a short drive from world class surf spots including the amazing Boilers, Anchor Point and Killers.
---
SURROUNDINGS / REGION
---
Taghazout Surf Waves  is located in the surfing village of Taghazout, 40 minutes away from Agadir international airport, which is a very short hop from most European countries. Taghazout is one of the closest places for any European surfer who wants to experience Moroccan culture and ride perfect waves.
---
JOURNEY
---
Ways to get to the camp
There are direct flights from many major airports in Europe. Taghazout is just a 40-minute drive from Agadir airport. Travellers from the United States can connect in Casablanca, or at a European airport. Transfers from Agadir can be arranged easily. It's just a three-45 minutes  drive from Taghazout and costs about 30  euro for 4 people. If you want us to arrange a transfer for you, or you would like a quote, please contact us.
PACKAGES & PRICES
---
PACKAGE SURF COACHING - from 350€ per Week / Person
---
This package includes:


-7 days accommodation in a shared room in our surf hostel (single, twin or double rooms also available)
-5 days of surf lessons (2 hour lesson and 2 hours free surf each day)
-Surfboard, wetsuit for the week
-Transport to the best spots for your surf lessons
-Breakfast, packed lunch and drinking water every day
-Beautiful ocean view terrace
-Airport transfers to/from Agadir airport
-6 days dinner
-Wifi
---
PACKAGE SURF GUIDING - from 380€ per Week / Person
---
This package includes:


-7 days accommodation in a shared room in our surf hostel (single, twin or double rooms also available)
-Surfboard, wetsuit and all other equipment for the week
-Transport to the best spots for your surf lessons
-6 Breakfast, packed lunch and drinking water every day
-Beautiful ocean view terrace
-Airport transfers to/from Agadir airport
-5 days dinner
-Wifi
---
PACKAGE BED & BREAKFAST - from 240€ per Week / Person
---
This package includes:


-Friendly and helpful staff service 24/7
-7 days breakfast
-7 nights accommodation
-Beautiful ocean view terrace
-Wifi
-Surfboard, wetsuit and all other equipment for the week
-Transport to the best spots for your surf lessons
-Airport transfers to/from Agadir airport
-5 days dinner
---
PACKAGE YOGA PACKAGE - from 490€ per Week / Person
---
This package includes:


-7 days accommodation in a shared room in our surf hostel (single, twin or double rooms also available)
-5 days of surf lessons (2 hour lesson and 2 hours free surf each day)
-Surfboard, wetsuit for the week
-Transport to the best spots for your surf lessons
-Breakfast, packed lunch and drinking water every day
-Beautiful ocean view terrace
-Airport transfers to/from Agadir airport
-5 days dinner
-3 Days 1 Hours session of yoga