ABOUT THE SURF CAMP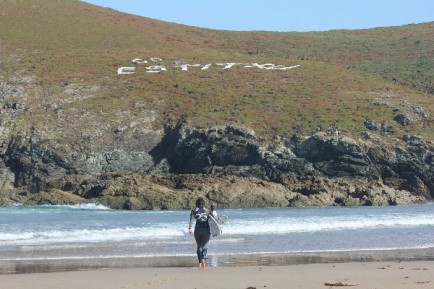 ---
LOCATION AND SURF CONDITIONS
---

Our surf camp is located 50 meters from the Playa de Pantin, one of the best in Europe to practice our sport, as the record of waves is high and its orientation is favorable prevailing winds (S, E, NE). In the area of Pantín have multiple options for surfing, is located just off the beach Baleo with similar conditions, beaches with smaller waves like Villarrube and beaches with different orientations, as Valdoviño (SW) or Doniños and Campelo (N , NE), and all this in an area of 15 km.
---
CAMP CHARACTER
---

Our camp is a family camp for up to 14 people, where we try to transmit the values of conviviality and respect, both for people and the environment. We are fortunate to be located in an idyllic setting surrounded by nature everywhere, where a climate of peace and tranquility, our camp is geared to all kinds of people looking to perfect their surf in a relaxed and harmonious atmosphere, everyone is welcome, we also accept animals, provided they are well behaved
---
CAMP OPERATOR
---

The surf camp is run by David and Estitxu Estremo, after several years designing this project was conducted with the illusion of passing through his teachings everything positive that surfing has given throughout their lives .
ACCOMMODATION AND CATERING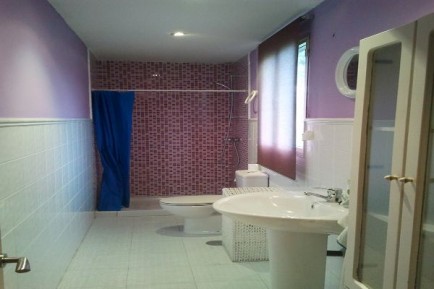 ---
ACCOMMODATION
---

Our accommodation-possibilities surfhouse is located 50 meters from the beach. We have a large living room, where we do videocorrección sessions, two shared with 6 and 4 respectively bunk and a twin room. We have two bathrooms and a communal kitchen. The house is surrounded by a closed area of 2000 square meters more where the terrace chill out and the property where the rest of the activities (volleyball, yoga, slack line...) are performed. Wifi available throughout the house and land.
---
CATERING
---

We have several accommodation, free pack (bed, breakfast and surf lessons), full pack (all inclusive with three meals) and self catering or bed and breakfast.



SURF COURSE AND ACTIVITIES
---
SURF COURSE DETAILS
---

The surf lessons last for 2 hours and will be organized in the morning and evening in groups of a maximum of 5 students per instructor. There will be subsequent recording sessions and videocorrección. The groups are separated by levels and languages, being possible languages Spanish, English and Portuguese. You can take the course surf without being housed in the surf camp.
---
MATERIALS
---

All surf equipment is included in the course. Surfboards used in initiation level foam are 7 or 8 feet. Advanced level boards are fiber adapted to the conditions of each.
---
OTHER ACTIVITIES
---

Besides surfing also perform other activities such as beach volleyball, yoga and pilates to surf, slack line, indoboard, hiking, kayaking ... And we surf equipment hire available all year.



MORE INFO, HOW TO GET THERE & FAQ
---
JOURNEY
---

Pantín Beach, is located in the city of Valdoviño (Galicia). If you want to come by plane, the closest airport is in A Coruña, and then Santiago de Compostela, then had to catch a bus to Ferrol, a place where we would go to pick you for free from the surf camp. We also arrange transfers from airport to surf camp.
On the beach of Pantín the waves are soft and break on a sandy, the water temperature is around 14-18 degrees between April and October.
---
INTERNAL RULES
---
 
In our school we seek the highest level of  learning and fun! Our teaching methodology is individualized for each student, grouping students by age and level, taking 5-6 people by monitor.
The minimum age to attend our school is 10 years and the minimum requirement is a basic management of aquatic skills, TO KNOW HOW TO SWIM! Each student is required to bring his ID or passport, social security card and if you have a private insurance, the insurance policy. It is mandatory to inform the direction of the surf camp of any medical or specialized diet to conduct the student (Celiac, Diabetic, asthmatic etc). All the students under 18 must fill in an application duly signed by their parents authorizing them to attend our camp. All our instructors are the best trained in both technical matters and security, all this certified by the FES and FGSURF. The director and principal instructor of the surf camp has a degree in Physical activity and Phisiotherapy and of course, more than 20 years experience teaching surf! Students will be monitored 24 hours a day. All activities will take place in our large enclosed garden. They won´t leave the area except for tours and surfing lessons. We have liability insurance and accident insurance. We have a room with a phisiotherapist for prevention of injury.
---
FAQ
---
How and where to be collected?
We are flexible for checking-in and checking-out. We will adapt to your schedule. The collected will take place the first day we say in the duration of your stay. If you are traveling by public transport ( plane, train or bus) you will have three options to be picked up:
FERROL: Terminal bus and train closer to Pantin, just 20 minutes from the camp. To collect you is included in the price of the camp. A CORUÑA: It is the nearest airport , just 35 minutes from Ferrol and the best option for everyone. Transfers are not included in the final price. Check rates. SANTIAGO DE COMPOSTELA: there is another airport which is 1 hour and 15 minutes from Pantin. Transfers are not included in the final price. Check rates.
If you decide to travel in your own vehicle FERROL is the destination. Once you get there,  there are 15 km to the beach of Pantin.At  the end of the line entrance to the beach you will see ACUALON BAR, the camp is located just 50 m behind.
To see the exact location of the camp see paragraph CAMP/DIRECTIONS. Any doubt about the route you can consult by phone or email.
*RATES TRANSFERS
FERROL: Free A CORUÑA: 30 € SANTIAGO DE COMPOSTELA: 45 €
En el caso de que en el mismo trayecto se recogiese a varias personas se aplicaría un 20% de descuento a cada uno.


What is the ideal age to come to our camp?
The camp is open for children from the age of 10 to everybody who would wish to join us. Groups will be organised according to age and there will be a special week dedicated to children between 10 and 12 years old. The only requirement to come to our camp is to know how to swim!!!


How long are we going to be in the water?
Classes will be 2 hours a day in the morning and 2 hours in the afternoon depending on weather and sea conditions, and always there will be a monitor for every 5-7 students.
Material wil be at your disposal all day even if you want a third bath!!


What kind of surveillance there will be?
There will be a 24 hours adult supervision. At night there will be monitors in charge of the camp. We provide simple rules of behavior and safety to live together.  If the student break them, he would have to leave the camp without the right to any refund.


Can I bring my stuff?
Of course!!! We recommend you to bring it! So we will advise you on your equipment ,and if it fits your level, weight and height. In ALAWA SURF CAMP we have boards, longboards and SUPs. Your monitor will guide you on the material you may need. You will always have the board that best suits your level, weight and height. The wetsuits are integral O´Neill and Alder 3/2 mm.


What should I bring?

Passport or ID Social security card Private medical insurance card, if you have
If you are under age please do not forget to fill the authorization that we send you via email, duly completed and signed by parents or guardians.It is mandatory to start the activity. If you have any medical treatment do not forget to bring the medication and notify the staff in advance. We handle bed linens and towels.
Clothing and personal items:
We recommend you to come with a mobile phone to be located.
Beach towel, long and short pants, sweat pants, several shirts, swimwear, flip flops, sneakers, sweatshirts, warm sweater coat, 1 raincoat, sunscreen and sunglasses will be needed.


What kind of payment do you accept?
The Payment of the reservation fee can do so via bank transfer or Paypal.
The second payment is due no later than the day of arrival at camp, this can be paid in cash upon arrival of the student.
You need to have paid the entire camp before starting the activity.


What kind of food are there?
The weekly menu will include a balanced diet designed in the effort that you perform every day. Two dishes and dessert at noon and evening and a full breakfast in the morning, you will also have fresh fruit on hand throughout the day.


Can I go to two or more camps followed?
Yes, you'll save 10% in your second camp as well if you bring your friends!


Spoiler title
Not at all, because the learning program  of the surf school adapts to the level of each person. Whether you know nothing of surf as if you already have some experience or  your level  is of competition, the courses are tailored to your current level.


How do we organize the inputs and outputs?
We are flexible for inputs and outputs. Day in and day out we recommend entering after 17:00 and leave before 12:00 Therefore if you bring your child as if you need us to do the pick up and drop service. We adapt to your schedule.



PACKAGES & PRICES
---
FULL PACK
---
- Pack of 7 days / 6 nights with full board and lodging.

- In this mode there will be surf lessons, two hours in the morning and two hours in the afternoon, with recording of the classes and subsequent session videocorrección.

- Activities such as beach volleyball, modernization carver skate boarding, hiking trails, indo board, slack line, pilates for surfing ... are included in the price all the activities necessary to perform material and insurance will be organized.

- The food will be served by catering to a local restaurant that offers the best Galician homemade food.


Prices camps in June and September: 420 euro
Prices camps in July and August: 480
---
FREE PACK
---
- Pack of 7 days / 6 nights bed and breakfast.

- In this mode there will be surf lessons, two hours in the morning.

- They are included in the price all the activities necessary to perform material and insurance.


Prices camps in June and September: 310 euro
Prices camps in July and August: 340

Collected at airports, train stations and buses are not included.

Prices:

FERROL: Free.
A CORUÑA: 30 euros.
SANTIAGO DE COMPOSTELA: 45 euros.

If you are a group a 20% discount will be apply to each person.



---
ONLY SURF COURSES

---

One group surf lesson (2 hours): 25 euros per person
1st class individual surf (2 hours): 35 euros per person
Course 5 days of surf: 100 euros per person
---
ONLY ACCOMMODATION
---

Only accommodation in shared room, 6 or 4 persons: 20 euros per person
Pack of 6 nights: 100 euros