ABOUT THE SURF CAMP
---
LOCATION AND SURF CONDITIONS
The location for the surf courses is the Amado Beach Hut.
July is the hottest month in Algarve with an average temperature of 24°C (74°F) and the coldest is January at 12°C (54°F) with the most daily sunshine hours at 12 in August. The wettest month is December with an average of 117.2mm of rain. 
From july to august the water temperature is generally about 20-21°C.  
---
---
CAMP CHARACTER
---
Over the years, The Algarve Surf School has become more than just a business. So many friendships, relationships and even marriages have come about amongst a combination of our full-time staff, seasonal staff and guests. All people that have connected with us in one way or another, as a result of our love for surfing and welcoming travellers into our lives.
We hope to be able to continue this life for many years to come.

Our team consists of a combination of locals and travellers from all corners of the globe.
We have really high standards with regards to hiring and training the new recruits each year. As one of the longest standing surf camps in Portugal, we're constantly building on the progress we have made over the years and raising standards.
All our surf instructors have to have formal certification as standard. In addition, new recruits go through intensive in-house training. This ensures consistent levels of instruction and also means all instructors are fully briefed on the specifics and peculiarities of our unique surf destination.
We always seek out ultra-personable, sociable team members for our hostels with a really high commitment to first class guest service.
As a service-driven company, we are well aware of the importance of our team members and making sure they get taken care of fairly.
ACCOMMODATION AND CATERING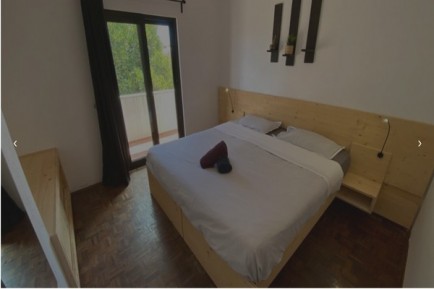 ---
ACCOMMODATION TYPES
---
Lagos Surf Hostel

If you're a backpacker, then Lagos is undoubtedly on your list; a city with something for everyone – historic sites, outdoor adventures by day and an infamous party nightlife.
Our hostel can be found in a more peaceful part of town – close enough to walk to the city centre and beautiful beaches, but far enough to hear the birds chirp in the morning instead of the stragglers leaving the bars.We pride ourselves on finding the right mix between having a fun house, and also being able to get up in the morning to adventure or surf all day!
Please note that we are not a party hostel and are located in a residential area.


-Bed in a shared room (4 to 6 per room) or double room (1 double bed)
-Awesome healthy breakfast
-Superfast Wifi
-Linen
-Kitchen facilities
-Swimming pool
-Games room with snooker, ping-pong & UNO!
-Cable T.V.
-Laundry facilities
-B.B.Q area

Sagres Surf Hostel
Sagres is at "The End of the World" which makes it kind of a big deal. But to us, being at the most Southwesterly point of Europe means awesome surfing beaches and stunning surroundings – a playground for both beginners and experienced surfers.
-Bed in shared room (4 to 6 per room) or twin room (two beds)
-Awesome healthy breakfast
-Free high speed Wifi
-Linen
-Kitchen facilities
-Ping pong
-Dartboard
-Cable T.V.
-B.B.Q area    
---
CATERING
---
Lagos Surf Hostel

BREAKFAST & LUNCH
We serve a full breakfast with freshly baked goods daily from 9am to 10am. We also provide a packed lunch for guests surfing with us.
DINNER
Some nights of the week we do themed hostel meals like Mexican or Moroccan nights. Once a week we have a BBQ that is usually followed by a few drinks at the local Surf Bars.


Sagres Surf Hostel

BREAKFAST & LUNCH
We serve a full breakfast with freshly baked goods daily from 9am to 10am. We also provide a packed lunch for guests surfing with us.
DINNER
Some nights of the week we prepare hostel meals like Mexican or Moroccan nights. Once a week we prepare a BBQ that is usually followed by a few drinks at the local Surf Bar.
SURF COURSE AND ACTIVITIES
---
SURF COURSE DETAILS
SURF DAYTRIP
1 day Surf Daytrip includes the following:
2 x surf lesson/day (1h30 each) Surfboard and wetsuit Tuition with certified surf instructors Sports insurance    
LESSON DETAILS
BEGINNER LEVEL
Safety rules Body surf Stand up techniques Proper surfing position Walking on the board Frontside and backside turning Simple element of ocean knowledge
The white water/ broken waves is the best environment to learn and improve quickly. You shouldn't head for the green waves if you're not confident with the above techniques. Remember: be a beginner; don't be a kook!
Lesson format: morning and afternoon lessons (1.5 hours each) or one single 3 hour session (depending on the conditions). Board, wetsuit and sport insurance included during the lesson.
Student to instructor ratio: 8
INTERMEDIATE LEVEL
Safety rules Surf break functioning Spot analysis Paddling techniques Turtle/Eskimo roll How to catch a green wave Applying basic techniques on green waves Angle take off Surfing etiquette
Plenty of practice, complemented by all the theory and safety that you need to become a responsible and competent surfer. The board you are allocated will be determined the instructor.
Lesson format: Not as strict as the beginner level, we'll try to get you in the water when it's good and do the theory before, after or in between the surf sessions. Board, wetsuit and sport insurance included during the lesson.
Student to instructor ratio: 8
---
---
SURF MATERIALS
---
Surfboard and Wetsuit Hire Fresh Water Showers Picnic Tables Surf Essentials Mini Store
Located next to a cafe serving food and drinks
*Cards and Cash are Accepted
---
OTHER ACTIVITIES
<
---
Special Packages

-Ladies mini Break

A four-night package for busy women who'd like a few days' downtime, to have a go at surfing and enjoy the best of what the Algarve coastline has to offer. We've created the perfect mix of fun activities, interspersed with plenty of time to chill, sunbathe and enjoy a few drinks. You won't have to think about anything other than which cocktail you want and whether you fancy joining in the yoga session.

-Longboard Clinic
The Longboard Clinic is a special week designed for intermediate to advanced longboarders who want to improve their technique. Providing plenty of time in the water and daily video analysis with our head coach Ale Rista at our Lagos Surf Hostel.
*Limited spaces available, guaranteeing the best coaching and fast improvement.
-New Year's Eve Surf Week

Spend your New Year's week surfing and celebrating with us! This package includes 7 nights staying at our Lagos hostel and a 5-day surf course.
The programme consists of 3 days surfing before the New Year, followed by an epic night of fireworks and partying in the historical centre of Lagos. After a day of rest you'll enjoy another 2 days of surfing to start the year off in style.

-Surf Camp Week

Learn to surf with certified instructors, while staying at one of our well-equipped hostels. You can choose between either our Lagos or Sagres locations. To add to the experience the team organizes social events like our famous BBQ's; not to mention the great nights out!

-Boat Parties at Lagos Surf Hostel:
We organise boat parties every couple of weeks during the summer months. When these happen be sure to not miss out!
3 fun filled hours on a boat just off the beautiful coast of Lagos with food and drinks included.
MORE INFO, HOW TO GET THERE & FAQ
---
About the Surf Course

---
Are kids lessons provided and what is the age range for these?
Kids' lessons can be provided for those between 8 to 13 years old. After the age of 13 they can join our adult lessons.
Can I take half day lessons?
It is not possible to book half day lessons in advance, but exceptions can be made depending on availability on the morning of the actual day.
How are the Surfing Day trips setup? (time of arrival and departure, location etc)
Lessons are held at Praia do Amado during the summer months (April to October) then we relocate depending on swell during the winter months.
Instruction is from 11 am to around 4 pm with a break for lunch at midday  (2x 1hr30 lessons)
Beach transfers are free from our surf hostels.
Beach transfers from other locations are an extra €5/person/day
Pick up time is between 9.45 to 10 am.
Which language are the lessons held in?
Our lessons are given in English.
We do however have instructors of various nationalities and the lessons are given in a very visual way with loads of demonstrations to make it easier for non-native English speakers.
---
 SURROUNDINGS / REGION
---
What is the difference between the Lagos and Sagres locations?
Lagos is a gorgeous, touristy town with plenty of restaurants, beautiful beaches and busy nightlife. Our Lagos hostel is located slightly outside the city centre and is right next to several supermarkets. The hostel is often home to Lula the pug who is bound to greet you near the swimming pool as you arrive!
Sagres is a relaxed little surfer town with dramatic cliffs and beautiful sunsets. Our Sagres hostel has a homely, outdoors vibe if you're looking to de-stress and feel as though you're in amongst nature. The town provides a mix of local cafes and restaurants as well as our surf shop for board rentals and the Hangout cafe if you're looking to treat yourself.  
How are the Private and Shared Dorms arranged and how many beds in each?
– 6 bed mixed dorms
– 4 bed mixed dorm
– 6 bed girls dorm
– Sagres private twin bedroom
– Lagos private double bedroom
---
 JOURNEY
---
Do you provide a transfer service from the airport to the hostel / how do I get to the hostel from the airport?
We leave this service to dedicated airport transfer companies. They are by far the easiest way to get to us, and very affordable.
Here are a few we recommend:
www.hoppa.com
www.airportcitytransfer.com
www.shuttledirect.com
*Be sure to book over 24 hours in advance.
Bus / Train to Lagos using the following links:  www.rede-expressos.pt or cp.pt then a bus from Lagos to Sagres: www.algarvebus.info
You can also choose to hire a car. This website usually does the job: 
www.portugal-auto-rentals.com
Important details
Do I need to arrive on a Sunday or can I arrive on a different day?

We are flexible on arrival dates, but if you are looking for the best value for your money we recommend booking our Surf Camp Week package for which you will need to arrive on a Sunday.
We also recommend arriving on a Sunday whenever possible so that the majority of the guests start lessons on the same day. This allows us to provide better lessons with a more structured plan. From a social point of view, we find that everyone connects better if they have the chance to meet on the same day or closer to the beginning of the week.
PACKAGES & PRICES
---
PACKAGE A  SURF CAMP WEEK - from 320€ per Week / Person
---
| | | | | | |
| --- | --- | --- | --- | --- | --- |
| SURF CAMP WEEK | FEB – MAY | JUN | JUl - AUG | SEP | OCT - DEC |
| SHARED DORM | €320 | €340 | €499 | €449 | €340 |
| PRIVATE ROOM (min 2 people) | €390 | €410 | €569 | €519 | €410 |
*This package runs weekly
---
PACKAGE B  LONGBOARD CLINIC - from 340€ per Week / Person
---
| | | |
| --- | --- | --- |
|   |   |   |
| SHARED DORM | €340 |   |
| PRIVATE ROOM (min 2 people) | €410 |   |
This package only runs on specific weeks of the year


---
Accommodation Only - from 18 € per Night / Person
---
Minimum 2 nights
| | | | | | |
| --- | --- | --- | --- | --- | --- |
|   | FEB – MAY | JUN | JUl - AUG | SEP | OCT - DEC |
| LAGOS SHARED DORM | €18 | €20 | €35 | €29 | €20 |
| LAGOS DOUBLE ROOM (min 2 people) | €25 | €30 | €46 | €35 | €30 |
| SAGRES SHARED DORM | €18 | €20 | €35 | €29 | €20 |
| SAGRES TWIN ROOM (min 2 people) | €25 | €30 | €46 | €35 | €30 |
---
Surfing Lesson Cost - from 55€ per Day/ Person
---
 
LOW
HIGH
 
LOW
HIGH
SURF LESSONS
AT AMADO
FEB - JUN
& OCT - DEC
JUL - SEP
SURF DAYTRIP FROM
LAGOS OR SAGRES
FEB - JUN
& OCT - DEC
JUL - SEP
1 DAY
€55
€65
1 DAY
€60
€70
3 DAYS
€150
€180
3 DAYS
€165
€195
5 DAYS
€225
€275
5 DAYS
€250
€300