ABOUT THE SURF CAMP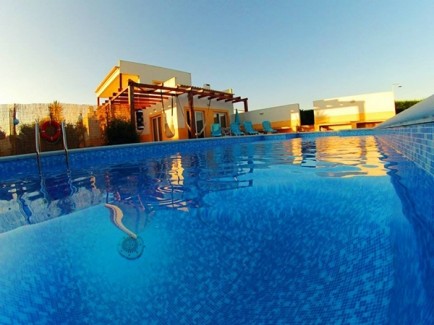 ---
LOCATION AND SURF CONDITIONS
---
Surf Camp 1: Luxury House
Our Guest House is located in the heart of the Costa Vicentina Natural Park, just a 2 minute drive from Ponta de Atalaia, an excellent viewpoint over the sea, and the site of rare archaeological ruins of a Fortress-Monastery of Muslim Warrior Monks, dating back to the XII century, named Ribat of Arrifana, unique in Portugal, and, the second in the Iberian Peninsula, Ponta da Atalaia has a circuit where you can walk by the sea, between rocks and cliffs, and enjoy the breathtaking sunsets this region has to offer.
We are only a 5 minute drive from 3 of the best beaches in the area, Arrifana, Monte Clérigo and Amoreira. The house has three rooms, two double rooms with a shared bathroom and one en suite room.
We also have a fully equipped kitchen where you can cook, an outdoor barbecue, a living room with fireplace that connects directly to the outdoor court yard, where you will find our pool and a lounge area with a net to play rackets, three couch swings where you can relax and also a terrace table where you can enjoy your meals by the pool.
Surf Camp 2: Surf Camp
Our Surf camp is located in Vale da Tellha, Aljezur, close to all the local bars and restaurants. But most important its near our natural stunning beaches , where you can enjoy surfing.
Our modern accommodation provides comfortable sleeping areas, and includes a fully equipped kitchen, private showers, large communal living/dining area ideal for socializing and sharing your surf experiences and exclusive to us – a Sauna.
You can also chill out in the outdoor BBQ area, gazing up at the stars at night and share your surf success stories. In our surf camp we have Wi Fi and cable TV available. It's just a 3 minute walk to the most trendy surf bar in the area, where you can enjoy their theme parties and also the best shots and cocktails.
---
CAMP CHARACTER
---
Surf Camp 1
Age: +- 18 to 40
Relaxed camp, 1 suite room, 2 double rooms, big garden, pool, lounge áreas, bbq, wi-fi, cable tv, big shared living room and kitchen. (6 to 9 persons), english and portuguese.
Surf Camp 2
Age: +- 18 to 40
Relaxed camp but with more activitie, with a diferent people from diferent parts of the world, 1 double room big bed, 1 double room, 1 single room, 1 shared room for 12 persons, 1 shared room for 8 persons, big bathroom for big groups,  big outsider area, lounge áreas, bbq, wi-fi, cable tv, big shared living room and kitchen. English and portuguese.
People can go walking to the bars, restaurants.
ACCOMMODATION AND CATERING
---
ACCOMMODATION TYPES
---
HOSTEL
room types:
-single rooms
-double rooms
-private  and shared bathroom
-kitchen
-balcony
extras:
-carpark
-swimming pool
-internet
-TV
-We provided towels & hair dryer
---
CATERING
---
We provide breakfast and all the facilities to our guests can cook and do your own meals.
SURF COURSE AND ACTIVITIES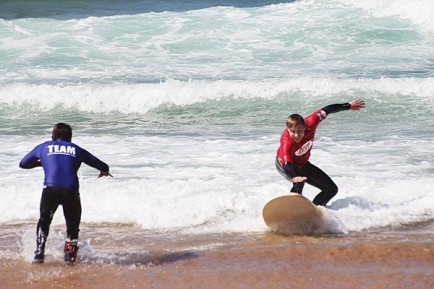 ---
SURF COURSE DETAILS
---
Daily program of a surfing day:
– Morning Transport  or meeting on the beach
– Introduction of students and coac
– Supplying the material ( Surfboard + Wetsuit + Leash )
– First Class ( duration : 1h30 )
– Break
– Second Surf Class ( duration : 1h30)
– Return home
– 8 students per instructor
– Arrifana and Monte Clerigo beaches
– possible without accommodation
Surf Camp package: 
– 5 full surfing days
– 10 lessons in total 
– all surf equipment needed
– transport to the best beaches of the day
– small snack at the beach ( fruit and water)
– 7 nights accommodation and daily breakfast
– free Wi Fi
– Insurance for surf lessons
– Use of all surf camp facilities
– Surf parties
– 10% discount at SW Surf Shop ( the best in the area )
---
SURF MATERIALS
---
Softs boards
Fiberglass boards
Epoxy boards
Rentals
Free use of the material suring the break timese
---
OTHER ACTIVITIES
---
We can offer:
Sup tours and rentals
Bike rentals
Surfboard rentals
Wetsuit rentals
Yoga
MORE INFO, HOW TO GET THERE & FAQ
---
SURF CONDITIONS
---
Breaks directly at the main spot and at nearby spots
In 5 minutes you have the best waves of this coast line, Arrifana beach with a lot of good sand banques and the most famous point break in the south of Portugal for experient surfers.
Monte Clerigo beach is an  amazing sandy beach with good waves for learn.
Seasonal conditions
Winter or Summer we have really good conditions every year.
---
SURROUNDINGS / REGION
---
Characterization of surroundings/region
Aljezur is located along the western coast of the Algarve, within the Soutwest Alentejo and St. Vincent Coast Nature Park: this region, mixes landscapes clifftop landscapes and sea fronts.From the north to south, from Odeceixe to Carrapateira, the municipality is a mixture of many views, marked by archaeological vestiges of elevated interest, museums, windmills, cultural landscapes, histo-cultural circuits and recreational trails and BTT bike trails. The coast is carved by nature, with a coast of 40 kilometres (25 mi) marked by beaches from Odeceixe, until Amado, known for its surfing conditions.
Activities and facilities
sports on offer, excursions, guided tours, bars, discotheques or special events, and others...
PACKAGES & PRICES
---
FULL SURFCAMP PACKAGE - from 330 € per Week / Person
---
This package includes:
– 5 full surfing days
– 10 lessons in total with the best instructors
– all surf equipment needed
– transport to the best beaches of the day
– small snack at the beach (fruit and water)
– 7 nights accommodation and daily breakfast
– free Wi Fi
– Insurance for surf lessons
– Use of all surf camp facilities
– Surf parties
– 10% discount at SW Surf Shop (the best in the area)

prices per week: 
| | | |
| --- | --- | --- |
|          |     share room         |     double room (2 pers.)   |
| oct. - jun.            |        330 € |              750 € |
| jul.  - aug. |        380 € |              800 € |
| sep. |        350 € |              770 € |