ABOUT THE SURF CAMP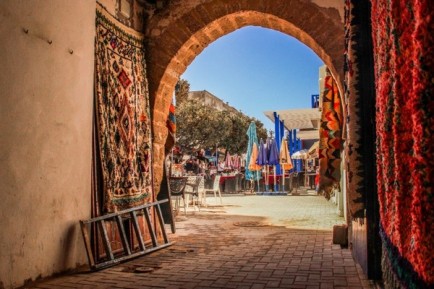 ---
CAMP CHARACTER
---
Surfing is awesome and very popular! Surfing the waves and enjoying the sea you can completely clear your head. It`s the perfect mix of exercise and relaxation and to experience this by yourself you have to know what you're doing. With lessons you will master this sport more easily. Ananas will be right there guiding you all the way so you can have fun and progress as much as possible during the time you spend with us. We believe in quality and our goal is to make sure that our visitors get the best possible experience. Enjoy the warm, friendly atmosphere of the surf culture in our beautiful Essaouira.
---
CAMP OPERATOR
---
Anas or Ananas:
I am the creator and owner of the school, Anas, born and raised in Essaouira. I have been kitesurfing for more than 12 years now, and I like to think I am one of the very best kiters in Essaouira, and one of the best teachers too. After travelling and working worldwide; Morocco, Cape Verde, Brazil, Thailand, I decided to come home and create my own kite and surf school. Everyone encouraged me to make that decision and live my passion; to teach people to become accomplished kitesurfers. My huge experience in kitesurfing and speaking 5 languages fluently: German, English, French, Portuguese and Arabic, makes it easy for me to communicate and teach you, whatever level you are at. I love making your kite dreams come true!
ACCOMMODATION AND CATERING
---
ACCOMMODATION TYPES
---
We offer different types of accomodation:
1. RIAD MIRA
We have one of the best rooftops in whole Essaouira. We have free WiFi and all those modern fournitures to make it unforgettable stay ! The location is central in the old Medina of Essaouira. All important things like shops , Barber, etc. around.

2. RIAD NAFOURA
A stay at Dar Nafoura Mogador places you in the heart of Essaouira, within a 15-minute walk of Essaouira Beach and Mellah. This beach riad is 0.7 mi (1.2 km) from Place Moulay el Hassan and 0.8 mi (1.3 km) from Skala de la Ville. Make yourself at home in one of the 9 individually decorated guestrooms. Complimentary wireless Internet access is available to keep you connected.
3. RIAD Ô RIAD  
This cosy house is located in the heart of the Medina, and only 5min walking to the beach, has a mixtes of single, double and suits rooms decorated in Moroccan Berber style !
4. KITER HOUSE 
Only 5 minutes from the beach, our house provides a friendly, fun atmosphere to relax in after your kite or surf sessions. Our house is not fancy, but we are famous for our warm welcome and we'll make you feel at home. We have single and double rooms available with shared bathrooms. There is also a kitchen, lounge and small sunny terrace to enjoy a tea or beer on.
---
CATERING
---
Each evening we have a 'family dinner', where we buy the food and then everyone helps make it. Or you are free to explore the restaurants in the medina which are only steps away.
SURF COURSE AND ACTIVITIES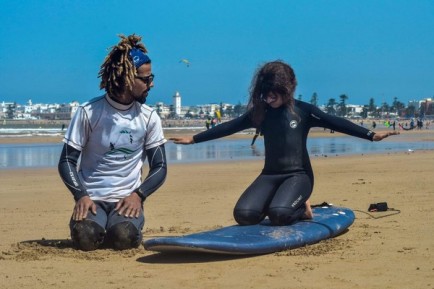 ---
SURF COURSE DETAILS
---
Either you are an eager beginner or experienced surfer, with us you will enjoy water sports and other activities in a safe and friendly environment. Our experienced staff will be right there to guide you all the way, so you can have fun and make progress as much as possible, during the time you spend with us. We believe in quality and our goal is to make sure that our visitors get the best possible long-lasting experience. You will most definitely enjoy the warm, friendly atmosphere of the surf culture in our beautiful Essaouira. Choose your favorite pack and let`s have sunny, salty days together!
---
OTHER ACTIVITIES
---
Kitesurfing
MORE INFO, HOW TO GET THERE & FAQ
---
SURROUNDINGS / REGION
---
Characterization of surroundings/region
Only by feet, you can explore this small white city and get used to the slow rythme of Essaouira.Although its a small city, is quant and unique. The Medina is alive with color and alluring scents and a great feeling of timeless energy. The locals are friendly, relaxed and enjoy talking with visitors. You can shop to your hearts content and find many colourful, Moroccan souvenirs.

Activities and facilities
Kitesurfing
---
 JOURNEY
---
Ways to get to the camp
You can find different options, like buses, most of our guests prefer to take a transfer and we are happy to organise that.


PACKAGES & PRICES
---
PACKAGE A - SURF PACK - from 490€ per Week / Person
---
This package includes:
- 10 Hours surfing lessons
- Free Surfing rental
- 7 Days accommodation
- Daily breakfast
- Camel riding(sunset time)
- 2 Dinners/BBQ
- Guiding during your stay
---
PACKAGE B - SURF PACK - from 250€ per 3 Days/Person
---
This package includes:
- 6 Hours Surfing lessons
- surfing rental
- 3 Days accommodation
- daily breakfast
- 1 Dinner/BBQ
- Guiding during your stay
---
PACKAGE C - SURF PACK - from 120€ per 2 Days/Person
---
This package includes:
- Maximum 4 people in the group
- 2 days of guiding and teaching surfing
- All gear, including wetsuit and surf board
- 1 night accommodation in our Surfhouse
- Daily breakfast
- A BBQ/Dinner with the team