ABOUT THE SURF CAMP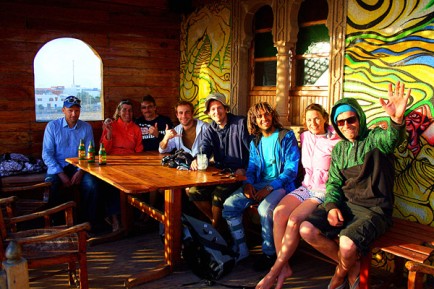 ---
LOCATION AND SURF CONDITIONS
---
Sidi Kaouki, Essaouira, Morocco: directly at the 5 kilometer long beach with embraced by reef breaks, beautiful landscape and wildlife, etc.)- distances to surf spots, town centre, other important sites- description of spot; one spot or various spots?- surf conditions directly at the camp and at nearby spots
---
CAMP CHARACTER
---
Target group, every surfer (surf-windsurf-kitesurf- SUP) 6-99 years old, Girls Camps, camp size family atmosphere, surf and Yogacamps, average age 30 - main language French, english, german, camp- family-/child-friendly- dogs permitted
---
CAMP OPERATOR
---
 Owner: Felix Gerl
Team of 12 -15 , 3 teachers (Amine, Jamal, Abdl Hamid), 2 camp maintainers (Aziz and Hassan), 1 vietnamese chef and 2 moroccan chefs (Duc, Hicham and Hassan) 3 Service persons (Abdul, Ibrahim and Mohamed, 1 manager (Irina) and freelance teachers –
Already as a kid Felix travelled to Morocco with his parents, in 2005 he parked his van at the beach and after a while he decided to stay at this little paradise where he found perfect conditions: in summer wind or kitesurf. The constant wind in summer is even stronger than in Essaouira and here you have long waves of 1-3 meter, which you can ride backside with the help of the side offshore. In Winter the wind stops and the swell picks up to ride the lonely waves of the different spots at the station and nearby.
In 2008 started Felix to build the villa from surfers for surfers at the still hidden surfs spot of Sidi Kaouki and run it together with one friend. His focus lied in wind and kitesurfing and to serves some energy giving food.
Starting once with 2 people nowadays you find a great team of 11 persons which always improves their Villa and its services to provide all surfer souls everything they wishe for to get their body mind and soul connected through surf, yoga, healthy food and drinks.
As well the village developed some more accommodations than just the campsite.
Still at this spiritual place you will not find just some surfers, the hippies always traveled here to get their space, freedom and unity.
ACCOMMODATION AND CATERING
---
ACCOMMODATION TYPES
---
 type: hotel, apartments, camping, situation: with sea view,  room types: single room, double room, triple, private or shared bathroom, kitchen, balcony, garden- extras: carpark, swimming pool, internet, TV, (bed linen, towels, hair dryer – all depends- yes and no), etc.- electrical adapter necessary? NO- storing of valuables- in our station
smoker or non-smoker accommodation? Morocco has no non smoking zones, but we have a lot of space here
---
CATERING
---
surf camp: half pension, individual bookings with different accommodation: self-catering: kitchen provided? YES-
Larbis Shop, Bread Bakery, - restaurants nearby or directly at campsite? Both
From 1 euro to 6 euro(price level)- catering by surf camp: special meals for vegetarians/persons who are allergic to something,
Own restaurant – breakfast and dinner included + 1 bbq at the beach, yes, gluten free food, Glutamate free food, vegetarian food, organic food from local farmers, allergies should be told in advance
SURF COURSE AND ACTIVITIES
---
SURF COURSE DETAILS
---
 Surf
Up to 8 people 1 instructor, 2-3 hours course when at homespot, if another spot 3-4 hours course, every day lessons, special packages for 3 days or 7 days, individual booking possible, surfguiding, beach break and reef break at sidi kaouki, imsouane, cap sim, and more, all levels welcomed, language english, French, arab or berber, only course participation (without accommodation) possible? YES
Windsurf
Up to 15 people with 2-3 instructors, 2-3 hours course when at homespot, if another spot 3-4 hours course, every day lessons, special packages for 3 days or 7 days, individual booking possible, surfguiding, beach break and reef break at sidi kaouki, moulay, essaouira and more, intermediate levels, advanced levels, language english, French, arab or berber, only course participation (without accommodation) possible? YES
Kitesurf
Up to 3 people 1 instructors, 2-3 hours course when at homespot, if another spot 3-4 hours course, every day lessons, special packages for 3 days or 7 days, individual booking possible, surfguiding, beach break and reef break at sidi kaouki, moulay, essaouira and more, beginner, intermediate levels, advanced levels, language english, French, arab or berber, only course participation (without accommodation) possible? YES
---
SURF MATERIALS
---
We offer different surf lessons depending on the already existing  surf skills and the personal goals on surfing. If Beginner, intermediate or advanced, clients can choose of 2hours for testing or up to one week full course, starting from ?? Euro per day. If clients don't bring their own material or want to try out different shapes of surfboards in our rental service we have 29 divers surf boards:            
•       Shortboards
•       Malibus
•       Longboards
•       Softboards
•       Bodyboards
We have especially for us shaped SidiKaouki Minimalibus as well! For sure we will help to find the best board and the ideal peak depending on the surf level of your clients.
If visitors wanna surf on their own and just need to get to a spot surfguiding will help them to find the perfect peak. Our employees will lead the clients securely to all spots in our Surf Shuttle Bus which fits all material as well.



MORE INFO, HOW TO GET THERE & FAQ
---
SURF CONDITIONS
---
Breaks directly at the main spot and at nearby spots
Sidi Kaouki in Central Morocco is an exposed beach break that has quite reliable surf and can work at any time of the year. Offshore winds blow from the south. Tends to receive a mix of groundswells and windswells and the ideal swell direction is from the northwest. The beach breaks offer lefts and rights. The quality of the surf isn't affected by the tide. Even when there are waves, it's not likley to be crowded. Watch out for rocks.
Seasonal conditions
 Graphs: http://wisuki.com/statistics/115/sidi-kaouki
Crowd factor and local people
 No crowds at all at homespot, if locals are in the water they share, if you respect them!
Secret spots without anyone in the water
---
SURROUNDINGS / REGION
---
Characterization of surroundings/region
Sidi Kaouki is located 150 km North from Agadir and 28 km South Essaouira directly on the Atlantic coast. This easy?going town has been known for a wonder healer called Kaouki who lived in the Marabout. People have pilgered to this town for over 500 years and up until now, the beach has not lost any of it´s mystical power.
This piece of earth is known worldwide for it´s dreamy surf possibilities. It is the crème d´crème for enthusiastically wavers. In the 5 km bay you will find enough spots to ride on the clean shore broken waves which are between 1-3 m high.
There are not many spots in the world where it is so comfortable to hit the waves. You do not have dangers such as cutting open your feet, etc.
Fine sand beach as far as the eyes can take you!
The next largest city Essaouira has been called the pearl of Morocco. Artists from the whole world gather here enjoying the history and charm of this city. You will really enjoy the activities in the small streets and marketplaces of Medina.
In Sidi Kaouki you will find the old berber culture which is very laid back and different to arabic villages. Here most of the people speak berber, arab, and French.  In the little restaurants, Riads and Hotels you can speak as well english. Here in Sidi you can mostly pay in cash with Dirham and sometimes Euro, Dollar or swiss franc. The local restaurants and shops are really cheap and simple, but you can find some westernized restaurants with foreign owners as well.
Activities and facilities
Essaouira is Morocco's most likeable seaside town, with a colorful dock of working fishermen, fresh sardine grills, whitewashed and blue-shuttered houses, and feathery Norfolk pines. Dark, narrow rooms beneath the town's medieval ramparts originally stored ammunition. Later, they housed donkeys and goats. Now, the cubbyholes are home to the finest marquetry artists in the world. You can wander through the harbor of essaouira, its fishmarket and the bubbly medina, In the medina you can shop the really unique handcraft of morocco: carpets, edibles, leather, , jewelry, marquetry, metalwork, pottery, perfume and more.
More infos:
Carpets
First and most prominent of the handicraft traditions are carpets and rugs, hand-knotted and in some cases, still coloured with vegetable dyes. Designs (apart from the Turkish-inspired patterns of Rabat carpets) are predominantly traditional to Berber tribes. Their colours and symbolic motifs enable experts to pin down not only the area in which a carpet was produced but sometimes the tribe or even family that made it. Top-quality carpets sell for thousands of dirhams; more affordable and easily portable are Berber rugs, kilims or blankets.
Edibles – spices, nuts, oils, olives, sweets
Edibles are a popular purchase. As well as spices, nuts, herbs, olives and Moroccan sweets, possible buys include argan oil, produced in the southwest. It is sold, either on its own or mixed with ground almonds (a nut butter called amalou).
Leather
Leather goods are widespread, from unpolished leather bags and belts to distinctive pointed slippers (babouches) and ornate pouffes, studded and dyed. Some leather goods are finished in a style closer to Italian designer luggage..
Jewelry
jewelry is available for sale everywhere, although one of the best places to buy it is in Tiznit's famous silversmiths' souk and in the souks of Taroudant, Essaouira and Marrakech. Dull silver is the basic material: heavy but beautifully decorated bracelets, delicate filigree rings, chunky necklaces of semi-precious stones (or occasionally of plastic, for the unwary) are most commonly found. Slightly more unusual, and sometimes antique, are decorated daggers, scabbards, or Qur'an boxes, covered with silver-wire decoration. The fastenings are often a weak point. Beware, too, of silver-plating masking what the Moroccans call b'shi-b'shi – meaning rubbish.
Marquetry
Marquetry is another traditional craft: wooden furniture, ornaments, chess sets and small wooden boxes made in cedar, thuya and oak, as well as boxes and mirror frames inlaid with camel bone. Many wooden goods are inlaid with veneers or mother of pearl. Often the quality of finish is less than ideal: hinges are points to watch. The woodworkers' ateliers at Essaouira are an ideal place to buy (and to watch the manufacturing process).
Metalwork
Metalwork ranges from copper or brass items such as trays with fine, ornate hammered designs (which, along with a small folding wooden stand, make attractive tables) to wrought-iron and pierced copper or brass lanterns, mirror frames and tables with tiny hand-carved zellige-tile inlaid tops. There is also custom-made, contemporary designer furniture which is in good supply in Marrakech's ironworkers' souk near Madrassa Ben Youssef.
Pottery
Pottery ranges from the rough earthenware of household pots and crocks to gaudy (and predominantly tourist-orientated) designs and beautiful blue and white, green or coloured ceramics from the main pottery centres of Safi, Fez, Meknes and Salé. Marrakech and Essaouira both have extensive pottery souks.
Perfume
Perfume is loved by Moroccans of both sexes. Western brands are admired, but traditional scents, such as musk, orange flower, patchouli and amber, remain popular and are usually found in pure essential oil form in the spice souks and apothecaries of most medinas. Incense is used in the home on special occasions and for perfuming clothes.
Woodwork
Woodwork such as boxes and turned containers made of thuya, a lavishly grained, aromatic wood that grows only on the the Atlantic Coast, is what Essaouira is famous for. Elaborately painted wood is also a Moroccan tradition: look for ornate painted mirror frames and hanging wall shelves of all sizes.
Furthermore you find a lot of hidden cafes, restaurants or even surfshops in the little alleys. If this is not enough besides surfing to do, you can lose the rest of your energy in the clubs or music bars close to the medina.
---
JOURNEY
---
Ways to get to the camp
There are several weekly flights from all large airports in Europe to Agadir or Marrakech. Upon arrival, there is a luxury taxi waiting to pick you up and take you directly about 170 km to Sidi Kaouki. From Paris or Casablanca, you can take flights directly to Essaouira which is 15 km from Sidi Kaouki. If yor are already in Morocco you can travel as well by train and local buses.
Important details
3 months tourist visa upon arrival, no special application to provide, airport transfer costs round about 700 dirham or 70 Euro, if you come with more people you can split the costs. With more than 5 people you will get a mini bus. As well we will take care of your surf equipment.
From Essaouira you can take a local sharing taxi for round about 10 Dirham or the local bus going every one or one and half hour. The taxi takes 30 minutes, the bus costs 6 Dirham from Bab Doukala in Essaouira ( the big door or entrance to the medina) well that depends on how many stops are made, if you are lucky it takes 30 minutes. If not maybe one hour.
From Marrakech you can take a local bus for 100 Dirham ( you have to ask around there at the train station) 3 – 4 hours with supratours (http://www.marrakechtraintickets.com/supratours-bus-tickets/) From Agadir you can take CTM buses or Pullmann for round about 100 Dirham as well.
PACKAGES & PRICES
---
ONLY ACCOMODATION - from 25,- € per Night / Person
---
Pricelist Rebali Riads

 Dar Etoile (shared pool)


Double accupancy
145 €
Quadruple accupancy
170 €
 Dar Azreq (shared pool)


Quadruple accupancy
190 €
Dar Jeseli (shared pool)


Quadruple accupancy
190 €
Dar Mevada (private pool)


6 accupancy
290 €
Riad Sila (private pool)


Double accupancy Room
95 €
Double accupancy Master Suit
120 €
6 accupancy 3 bedrooms
310 €
8 accupancy 4 bedrooms
385 €
Riad Valmar (private pool)


Double accupancy Room
95 €
Double accupancy Master Suit
120 €
8 accupancy 4 bedrooms
430 €
10 accupancy 5 bedrooms
500 €
Pricelist Hotel Windy Kaouki

 Double apartment ground floor (Sahel Edelweiss, Atlantic)


Double accupancy
32.50 €
Triple accupancy
28.33 €
Quadruple accupancy
25.00 €
 Double apartment 1st floor (Tafoukt, Argil)


Double accupancy
35.00 €
Triple accupancy
30.00 €
Quadruple accupancy
26.29 €
 Double apartment with 2 balconies (Bosco)


Double accupancy
37.50 €
Triple accupancy
33.29 €
---
MATERIAL RENTAL - from 15,- €
---
Pricelist for material
Rent for windsurfing/kiting material
 
 term of lease
price
3 days
145.00 €
                 
 
 
4 days
170.00 €
                
 
 
5 days
187.00 €
                 
 
 
6 + 7 days
242.00 €
                 
 
 
8 days
264.00 €
                 
 
 
9 days
286.00 €
                
 
 
10 days
308.00 €
                 
 
 
11 days
330.00 €
                 
 
 
12 days
363.00 €
                 
 
 
13 + 14 days
 396.00 €
                
 
 
 
 
 
optional equipment
Carbon boom
 
18% surcharge (on basic price)
 
 
Wood edition
 
12% surcharge (on basic price)
 
 
 
 
Rent for surf material
 
term of leas
price
2 hours
15.00 €
 
 
3 hours
20.00 €
             
 
 
1 day
25.00 €
                  
 
 
2 days
45.00 €
                  
 
 
3 days
60.00 €
                  
 
 
4 days
75.00 €
                
 
 
5 days
85.00 €
                  
 
 
7 days
110.00 €
 
 
---
ONLY KITE COURSE 

---
 Kite lessons incl. all accessoires
2 hour
40.00 €
---
ONLY SURF COURSE
---
 surf lessons incl. all accessoires
2 hours
70.00 €
4 hours
140.00 €
6 hours
200.00 €
 
---
SPECIAL SERVICES
---
 Airport transfer
Bidirectional for up to 4 persons
140.00 €
 Car rental
E.g. Fiat Uno per day
28.00 €