ABOUT THE SURF CAMP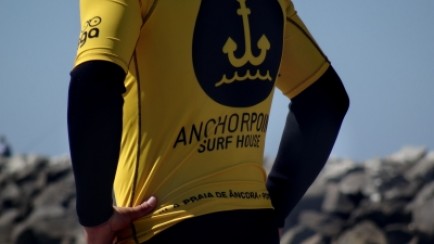 ---
LOCATION AND SURF CONDITIONS
---
Vila Praia de Âncora in English means "Anchor Beach Village" and it's a small fishing and tourist town situated near the Spanish border in the Northern Portugal.
The Surf House is located right in front of the beach (you just have to cross the road).
This beach usually has a good right wave; it is usually easy and ideal for beginners. Along the beach there are several beach breaks good for more advanced surfers.
Around Vila Praia de Âncora there are also some beaches with all types of waves, for all kinds of surfers, from beginners to advanced.
---
CAMP CHARACTER
---
A typical Portuguese summer house converted into a surf house overlooking the Ocean, a quiet and familiar house. 
---
CAMP OPERATOR
---
A typical Portuguese summer house converted into a surf house overlooking the Ocean, a quiet and familiar house. 
Here you can find marvelous beaches and beautiful landscapes as well as its numerous monuments with exceptional history. The village activities are usually based on tourism. It's ambient and cultural heritage, handcraft, aquatic sports, fishery and traditional gastronomy will definitely make your stay in Vila Praia de Âncora worth it. When the weather is not appropriate to go to the beach you can visit Vila Praia de Ancora's Portinho and watch the fishermen preparing the boats and the nets for fishing in the sea, you can also take a walk or cycle in the Ecovia of Atlantic. Another option is a visit to the mountains where you'll find breathtaking landscapes plus waterfalls and rivers with clear water.
ACCOMMODATION AND CATERING
---
ACCOMMODATION TYPES
---
Accommodation types:
The house has two independent floors; each floor has a maximum of 6 people.
Each floor has:
-3 Double Rooms ( 2 Rooms with double beds & 1 Room with 2 single beds)
-1 Shared Bathroom
-1 Kitchen with everything you need
-1 Living Room
-1 Terrace overlooking the sea
Facilities:
- Breakfast included 
- free Wi-Fi
- bikes, skates and Kayaks available
- surf lessons
- surfing gear available
- surfing rentals 
- Tours
- transport from/to airport available
SURF COURSE AND ACTIVITIES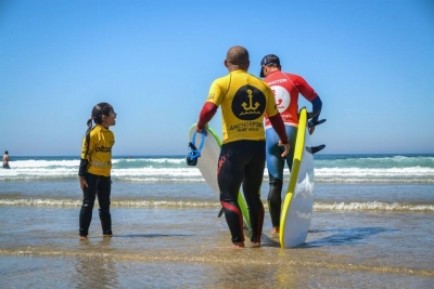 ---
SURF COURSE DETAILS
---
Classes provided by Instructor graduated in Sport Sciences with a established curriculum in the Portuguese Surfing.
Classes with maximum of six students per Instructor, We have small groups therefore we can significantly increase the safety and quality of our surf courses. 
The school's and its instructors main goal is to provide everyone the fantastic and thrilling experience that is Surf.
On a beginner level we focus on transmitting the basics about the surfing technique to our students, ocean conditions, safety and equipment usage.
We train our beginner and intermediate students by adapting pedagogic and didactic techniques that improve our methods of teaching and coaching. On a more advanced level we coach our student with the world class methodology, coaching techniques and physical preparation. 
Included:
- 5 surf lessons
- Surfing videos/photos from your surf sessions
- Sports insurance for classes
- Surfing equipment for classes
- Surfing spot transportation for the surfing lessons
---
OTHER ACTIVITIES
---
You can also enjoy many other activities in the areas surrounding the surf camp. There is a skate park nearby. There are also some amazing rivers and waterfalls. Fishing for sea bass in the sea or trout in the river is possible. You can also tour the nearby towns such as Caminha, Moledo, Afife, Viana do Castelo and Vila Praia de Ancora.
MORE INFO, HOW TO GET THERE & FAQ
---
JOURNEY
---
Ways to get to the camp
Oporto international Francisco Sá Carneiro airport is only 80 km away and easy to reach by public transport. Guests also have the possibility to order an airport shuttle on arrival and departure.
PACKAGES & PRICES
---
PACKAGE SURFING & ACCOMMODATION - from 320€ per Week / Person
---
This package includes:

- Breakfast included 
- free Wi-Fi
- bikes, skates and Kayaks available 
- 5 surf lessons
- Surfing videos/photos from your surf sessions
- Sports insurance for classes
- Surfing equipment for classes
- Surfing spot transportation for the surfing lessons
- surfing gear available; 
- 2 Tours (waterfall and city tour)
Prices: 

APR – JUN & OCT. 320€
 JUL – SEPT. 350€
---
PACKAGE BED & BREAKFAST  - from 170€ per Week / Person
---
This package includes:

- breakfast included
- free wi-fi
Prices: 
APR – JUN & OCT. 170€
JUL – SEPT. 200€