ABOUT THE SURF CAMP
---
LOCATION AND SURF CONDITIONS
---
Accommodation: 11 Te Arai Point Road, Te Arai.
> Incredible ocean views & surrounding bushland.
> 60 minutes drive from Auckland CBD.
> 5 minutes drive to town centre
> 5 minutes drive to nearest supermarket
All surf lessons held at either Te Arai Reserve Beach or Mangawhai pending conditions.
Nearby beaches include: Te Arai, Mangawhai, Forestry, Muriwai, Orewa, Omaha, Pakiri & more!
---
CAMP CHARACTER
---
All ages and stages welcome. Perfect for families, couples, solo travellers and large groups. Relaxing camp, child friendly. 
---
CAMP OPERATOR
---
Aotearoa Surf School was founded in 2002 and was one of the founding surf schools in New Zealand. Aotearoa Surf is owned and operated by Che, a local surfer who has a devotion for all things related to the ocean. He has a passionate, experience and qualified team or instructors from the local area who pride themselves on giving every person who comes through the camp the best possible experience and memories.
ACCOMMODATION AND CATERING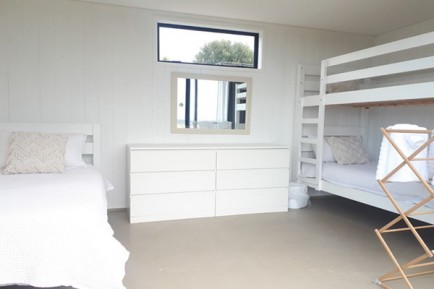 ---
ACCOMMODATION TYPES
---
> The Barrier (Private Double/ Twin Pod)
> The Pacific (Private Double/ Twin Pod)
> The Heads  (Private Triple Pod)
> Glamping (Private Tent)
All rooms have:
> Shared bathrooms
> Ocean views Parking
> Surf lesson packages available
> Share kitchen
> Linen and towels provided
> Wifi
> TV 
---
CATERING
---
Self Catering share kitchen facilities Breakfast Available at extra charge Supermarket and shops nearby BBQ area
SURF COURSE AND ACTIVITIES
---
SURF COURSE DETAILS
---
Aotearoa Surf School's 2-hour surf lessons are perfect for first timers, beginners, or those simply wanting to brush up on a few techniques. Lessons take place on Auckland's favourite east coast surf beach where small groups are taught by experienced instructors who will tailor our winning lesson plan to ensure that everyone's specific needs are not only met, but exceeded.
You can buy singular lessons, or for an even better deal, you can book 3, 5 or 10 lesson packages. 
Lesson Outline:
> Beach awareness and understanding the wind and waves.
> Surfboard design and use, ocean entry and handling.
> Catching waves with best practice body and hands positions.
> Good paddling style and how to master the pop up technique.
> Riding your surfboard in position/ posture.
Once basics are reached (generally needs multiple lessons):
> How to accelerate and turn the board.
> Getting out the back, positioning and wave selection.
> Timing, take-offs and getting down the line.
Suitable for: Ages 6+

---
SURF MATERIALS
---
What To Bring:
> Swimwear
> Towel
> Water
> Waterproof sunscreen
What's Included:
> 2 hours coaching from a highly qualified, experienced instructor
> Surfboard, wetsuit and rash vest
> Photos available on the day
---
OTHER ACTIVITIES
---
Auckland's largest selection of rentals on the east coast with over 120 surfboards and 200 wetsuits, plus paddle boards, kayaks and bikes available. Hire is available from 8.30am – 6.00pm every day at the Aotearoa Surf shop and Hire Centre at 11 Te Arai Point Rd.
They also provide long-term rentals, giving you the freedom to road trip Auckland & Northlands in search of the best surf spots!
> Soft boards for beginners: all sizes up to 9 foot
> Hard boards: fun-boards, mini-mals and long-boards from 7 – 10 foot
> Short boards & fishes for intermediate to advanced surfers.
> Full-length 2mm & 3mm quality wetsuits: Vissla Oneill & Quicksilver
> Free use of our soft racks and tie downs: suitable for any vehicle and designed to carry 6 surfboards, 4 paddle-boards or 2 kayaks. Very easy to install and safe to use.
MORE INFO, HOW TO GET THERE & FAQ
---
 SURF CONDITIONS
---
Breaks directly at the main spot and at nearby spots

All breaks surfed with Aotearoa are beach breaks. They offer fun, consistent waves that are perfect for beginner to intermediate surfers.
Seasonal conditions
Te Arai water temperature peak in the range of 19 - 23 degrees celsius around the beginning of February of each year. They reach their minimum in late August and sit at around 13 - 16 degrees celsius. Air temperatures are warmest in early to mid February.
Crowd factor and local people
Te Arai is a relatively remote beach and therefore crowds really only become an issue in the middle of summer. You will still find, particular if you are a beginner, that there are plenty of waves to go around!
---
 SURROUNDINGS / REGION
---
Characterization of surroundings/region
Te Arai sit right on the very edge of the Auckland and Northland regions. The Auckland Region is one of 16 regions of New Zealand, named for it's largest town, Auckland. The region encompasses the Auckland metropolitan area, small towns, rural areas and coastal beaches as well as the islands of the Hauraki Gulf.
New Zealand has a very unique and dynamic culture. The culture of its indigenous M?ori people affects the language, the arts and even the accents of all New Zealanders. 

Activities and facilities

> Surf Lessons (Group & Private)
> Kids Programs & Camps
> School Holiday Program
> Women's Only Surf Club
> SUP Lessons
> Wildlife Tours
---
 JOURNEY
---
Ways to get to the camp

1.5 hours to Auckland Airport. Public transport available.
PACKAGES & PRICES
---
PACKAGE A - 2, 3 & 5 NIGHT STAYS
From $195 per person, per night
---
Learn the ropes and then get straight out on your own OR tailor your package from start to finish. Great for; single travellers, couples or family groups where only some people in your group want to surf. Surf & stay packages are fully customisable to each travellers individual needs.
INCLUSIONS
> Group surf lesson
> Unlimited surfboard, paddle-board & kayak hire
> Breakfast daily
PRICES:
Please enquire for detailed price list
Terms and conditions apply. Prices are subject to change.
---
PACKAGE B - COUPLES SURF & STAY
From $200 per person, per night
---
This package includes:

The ultimate couples surf getaway. Learn to surf from scratch with a tailored program to teach you to quickly and efficiently learn to surf so that you can get out there on your own by the end of the trip! Couples with our brand new Eco Pods, it's the perfect city escape or weekend getaway.
INCLUSIONS
> Family or 4 or 5 people
> Group surf lesson
> Private surf lesson
> Unlimited surfboard, paddle-board & kayak hire
> Breakfast daily
PRICES:
2 nights $795 per couple
3 nights $995 per couple
5 nights $1,195 per couple
Terms and conditions apply. Prices are subject to change.
---
PACKAGE C - FAMILY SURF & STAY
From $345 per person, per night
---
The perfect family escape and an incredible opportunity to bond with the kids. Our family surf and stay packages are all about learning to surf in the best possible way; fun, easy and friendly, with your accommodation and activities organised for you! Save on accommodation and surfing rates with our family package.
INCLUSIONS
> Family or 4 or 5 people
> Group surf lesson
> Private surf lesson
> Unlimited surfboard, paddle-board & kayak hire
> Breakfast daily

PRICES:
2 nights $345 per person
3 nights $445 per person
5 nights $545 per person

Terms and conditions apply. Prices are subject to change.