ABOUT THE SURF CAMP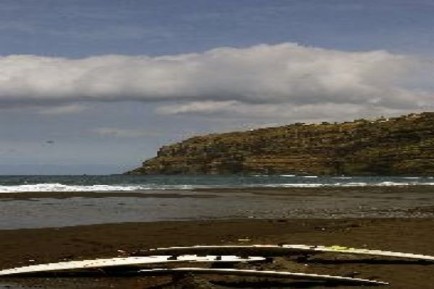 What makes us so different from any other Surf School in Tenerife is that we are a mobile surfing school, so we always seek for the most suitable waves in the island. We have several vans to move to both North and South's surfing spots.
Some of the beaches that we mostly visit are: Martiánez, El Socorro, Punta Brava, Montaña Pelada, Los Patos, El Ancón, The Americas, Taganana and Benijos among other …
Don't forget also that although most people are interested in learning surf, we also offer Bodyboarding lessons. Apart from our daily lessons, you can inquire about private lessons from beginners to advanced surfers, surf baptisms, hen nights, incentives for companies (Team Building) and discounts for groups, residents in Tenerife, students of the ULL and other promotions.
Why surf in Tenerife?
Tenerife is recognized to have one of the best climates in the world with an average temperature of 22-26 C and water temperature of 19-22 C. It's probably the best choice you can make for an unforgettable surfing holiday. Our Surf School Tenerife has teached more than 10 thousand amateurs throughout our more than 7 years of experience. All our Surf Instructors are qualified for teaching surf or are current professionals themselves.
Thanks to modern technology w always know where the waves are. Tenerife is in the middle of the Atlantic ocean, a powerful ocean that offers a wide variation of waves. Some days it's going to be huge and other days it'll just be perfect for you. It also depends on the kind of surfer you are or will be. Once you learn to stand up and control several kind of waves, you might be able to surf by yourself in this wonderful Island of Tenerife.
Tenerife enjoys a lovely weather throughout the year. We will never have less that 15º degrees. In the south of the island, temperatures are better. If the sun comes out, it doesn't matter what month it is, it'll be hot enough to surf even without wetsuit.
When it comes to the waves, it is known that several professionals have named the island as to be the "Hawaii of the Atlantic". Not only Tenerife, all the 7 Canary Islands. There are several spots in Tenerife that are 'Only Pros' when the tides are huge. Round about September there are amazing swells that the locals call 'Mareas del Pino' which bring huge waves of up to 8 metres in several spots.
We, at Atlantik Surf help people to catch a wave, stand up and surf. We will teach you the basics for you to find new challenges in the island. Our surf teachers are or have been professional surfers or bodyboarders. Remember Bodyboard is even more practiced than surfing in the island, so check it out and know that we also provide bodyboarding lessons in Tenerife.
ACCOMMODATION AND CATERING
The accommodation must be booked by your self. Of course we can give you advise for nice apartments, hotels and vacation homes.
SURF COURSE AND ACTIVITIES
Atlantik Surf (Surf School & Camp) offers the best surfing lessons in the Island of Tenerife, Canary Islands. Our surf courses have a maximum size of 8 people that will be taught by qualified local teachers, no matter which course you assist. Our surf teachers have their professional licenses and/or were professional surfers themselves.
In our Surf Courses in Tenerife, Surf instructors teach each group in order to correct each of your mistakes individually; introducing you into the art of surfing as good as possible and making you improve your skills quickly. Each day we will have three hours of surfing lessons. More than three hours would be a waste of money, as your body won't have any power left for new tasks and you would have no energy for the next day. That's why we don't offer more than the needed lessons. We want you to improve your skills as quickly as possible, what we will achieve through personalised and intensive coaching.
Our Surf equipment
We have boards in different sizes and shapes to offer the most suitable board for each individual, according your size and progress during the course.
We teach you with softboards that are suitable for beginners and intermediate levels, from the brands "Victory", "Gnaroloo" and, "Madness". We also have hardboards from "Bic", although they are not very recommended for the first surfing lessons.
All bodyboards and flippers used in our lessons are of professional quality and materials. The large experience we have on bodyboard in the Canary Islands has proven they are the best option for an adequate learning of bodyboard.
The wetsuits of 3.2 mm thickness will be long unless you prefer to use a short one. Our long wetsuits are all Rip Curl and in excellent conditions. We have availability of sizes from Junior 14 up to XXL. Over the wetsuit you will be wearing our school top with our logo. For rocky / reef spots, we also have different sizes reef booties.
Location
Most of our lessons will take place in the beaches of Puerto de la Cruz and the surroundings, but as we are equipped with our surf vans we will take you all around the island to ensure you get the best waves every day.
The beaches chosen by our teachers for the lessons are Playa Martiánez and Playa Jardín in Puerto de la Cruz; Playa El Socorro in Los Realejos; Playa de Taganana, in Santa Cruz; Playa Montaña Pelada, in El Medano, Granadilla de Abona and Playa Las Américas, in Las Américas, Adeje.
MORE INFO, HOW TO GET THERE & FAQ
-
PACKAGES & PRICES
| | |
| --- | --- |
| 1 day | 40 € |
| 2 days | 76 € |
| 3 days | 114 € |
| 4 days | 152 € |
| 5 days | 190 € |
| + 5 days | 35 € / day |
Included:

- 3 hours surfinglessons daily (practice and theory) surf course in groups of max. 8 people   every day, instructions by qualified (FES) English speaking surf teachers.

- Surf equipment included: long wetsuit + surfboard.

- Transport to the beach from Puerto de la Cruz included (The transport is not included in the time of the lessons. We drive to different surf spots depending on the conditions).

- Liability insurance