ABOUT THE SURF CAMP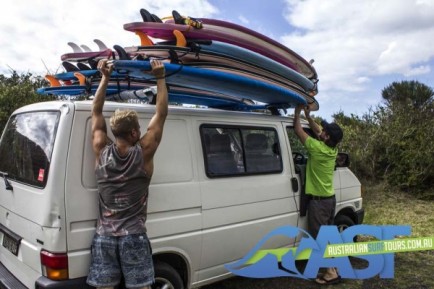 ---
LOCATION AND SURF CONDITIONS
---
Australian Surf Tours will take you to the best waves and the most scenic locations the South Coast has to offer.   We have a base South of Sydney in a beautiful location surrounded by over 20 world-class surf spots and more Australian wildlife than you will see anywhere outside a zoo. Most of these surf breaks face in different directions so we can always find good waves no matter where the wind and swell comes from. We also have a few secret surf spots just to keep it interesting!
---
CAMP CHARACTER
---
The Campsite has full amenities. Toilets, hot showers etc. We camp overlooking the ocean so whether you want to look for dolphins, wade in the rock pools or just relax and fall asleep in a hammock listening to the sound of the ocean, you will have an amazing time.
The usual age group is in between 18 and 35 years, but in learning to surf there's no such thing as "too early" or "too late".


ACCOMMODATION AND CATERING
---
ACCOMMODATION TYPES
---
Camping style accommodation. Very personal extra large tents (2 people per tent), specially made super comfortable camping beds, sleeping bags, pillows and sleeping bag liners are all provided for you to make this an exiting and enjoyable travel option for everyone. We camp overlooking the ocean so whether you want to look for whales, wade in the rock pools or just relax and fall asleep in a hammock listening to the sound of the ocean, you will have an amazing time.


---
CATERING
---
During your days in the surfcamp of Australian Surf Tours you will have an all inclusive holiday. The food will be healthy and plentiful to help your body maintain the energy it needs to keep surfing and we will make sure it is classic Australian cuisine…you might even try a Kangaroo burger or two! Food is prepared in traditional ways, mostly on a BBQ. There are plenty of healthy snack foods available to keep up your energy between meals!
For any guests with food allergies or special requirements, we are more than happy to cater for you.


SURF COURSE AND ACTIVITIES
---
SURF COURSE DETAILS
---
All of our Surf Instructors are qualified Level 1 Coaches through Surfing Australia or equivalent with the International Surfing Association (ISA). Our coaches are all advanced surfers with years of experience. They will give you all the time you need to ensure you are on your feet tearing up the waves before you go home. Our surf lessons will always have a student to coach ratio able to give individual attention to everyone in the class.
---
SURF MATERIALS
---
You should bring towels, swimwear, clothes, toiletries, sunscreen and warm clothes for night time.
We supply everything else - Surfboard, wetsuits, accommodation, beds, sleeping bags, pillows, all food and drinks.


---
OTHER ACTIVITIES
---
As proud Aussies we want to show you all there is to Australian surf lifestyle. During our downtime we'll go swimming in natural rock pools, relax in hammocks and have encounters with stingrays, dolphins, rosellas, lorikeets  and kangaroos.


MORE INFO, HOW TO GET THERE & FAQ
---
SURF CONDITIONS
---
Breaks directly at the main spot and at nearby spots
There is no actual main spot, but at the spots you will be driven to there are all kind of breaks: reef breaks, long point breaks or beach breaks!
Seasonal conditions
The average water temperature goes from 16°C in june/july to 23°C in january. For the air temperature you can expect a similar trend. It goes from 18°C in june/july to 24°C in january.
Crowd factor and local people
Australia is a surfloving country so there will always be local people surfing at the beach but the crowd factor depends from surf spot to surf spot. Compared to other surf locations these spots are uncrowded.


---
SURROUNDINGS / REGION
---
Characterization of surroundings/region
Redfern is basically a part of Sydney which is a city with a lot of culture, sights and history. There is always something to do for you. If you are not interested in the great city Sydney you might want to check out the wildlife right at the camp at Red Point. In a single day it is possible to see dolphins, whales, seals, possums, bandicoots, giant sting rays and the good old Aussie Kangaroo. We hope you bring enthusiasm with you because there is no place for boredom!
Activities and facilities
In Sydney you can do and find everything you want an looking for whether it is a cinema, shopping center, bars or discotheques. There is nothing you can not find.


---
JOURNEY
---
Ways to get to the camp
Sydney can be reached by airplane from basically all over the world.
With public transportation you will be able to get to the camp from the airport within 45minutes. Taxis are available at the airport, too. If all that fails tnen you should contact Australien Surf Tours. AST will try to pick you up.


PACKAGES & PRICES
---
 PACKAGE A - ONE DAY SURFING from 95 $ per Day / Person
---
This package includes:

-Surf for a day all inclusive 


---
 PACKAGE B -THE WEEKEND CAMP from 295 $ per 3 Days / Person
---
This package includes:

-All food (breakfast, lunch, dinner, snacks)
-All camping equipment (tents, camp beds, sleeping bags, sheets, pillows)
-All surfing equipment
-Transport to and from the surf camp
-Wildlife viewing and feeding
---
PACKAGE C - THE 2-DAY MIDWEEK SURF CAMP from 285 $ per 3 Days / Person
---
This package includes:

-All food (breakfast, lunch, dinner, snacks)
-All camping equipment (tents, camp beds, sleeping bags, sheets, pillows)
-All surfing equipment
-Transport to and from the surf camp
-Wildlife viewing and feeding
---
 PACKAGE D - THE 4-DAY SURF CAMP from 495 $ per Week / Person
---
This package includes:


-All food (breakfast, lunch, dinner, snacks)
-All camping equipment (tents, camp beds, sleeping bags, sheets, pillows)
-All surfing equipment
-Transport to and from the surf camp
-Wildlife viewing and feeding