ABOUT THE SURF CAMP
---
LOCATION AND SURF CONDITIONS
---
This is more than just a surf camp your time out of the water is as much fun as your time in the water!
All our surfing is done a short bike ride across the island to a pristine secluded beach.  Where we surf is all sand bottom so it is perfect for beginner surfers and most days we don't have to share our waves with anyone else.
---
CAMP CHARACTER
---
Our surf camp is perfect for guys and girls aged between 18 - 35.  We try and limit numbers to 20 participants at the camp at any one time. Our camp has a very chilled atmosphere for those of you looking to relax and connect with nature.  For those of you looking to party a little, there are a number of small bars on the island whcih provide plenty of cold beer beautiful sunsets and beach volleyball.. All surf camp guests are also able to use all of Couran Coves resort facitiies.
---
CAMP OPERATOR
---
Australian Surfing Adventures runs and owns the camp.  We have 20+ years experience running surf camps all around the world and think this is the best location for a surf camp we have found yet.  We are always stoked to meet new people and share this epic part of the world.
ACCOMMODATION AND CATERING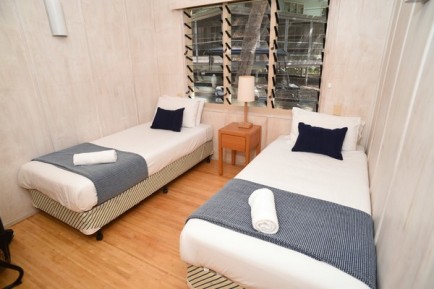 ---
ACCOMMODATION TYPES
---
Accommodation

Your accommodation at the surf camp is in self-contained eco villas which are part of Couran Cove Resort with 2 – 4 people per room there is plenty of room. All the eco villas have 2+ bedrooms, a kitchen, bathroom and a common area to chill out.. With your accommodation, you will also be given a bike to explore the island with.
---
CATERING
---
Healthy Meals

We provide you with 3 healthy meals everyday breakfast, lunch and dinner. There are also restaurants and cafes on site. We can accommodate all types of dietary requirements, please let us know at the time of booking.
SURF COURSE AND ACTIVITIES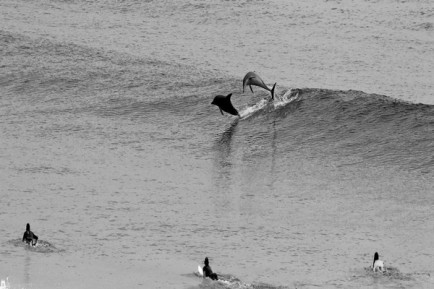 ---
SURF COURSE DETAILS
---
Our most popular classes are group lessons. Experience the thrill as you learn surfing, have a laugh and make new friends. With a maximum of five students per instructor, you get lots of attention. We teach you the best techniques and tips to get you surfing all the way to the beach.
---
OTHER ACTIVITIES
<
---
Surf & SUP Lessons

You will be given a surf lesson each day along with a stand-up Paddle lesson/tour to watch the sunset.
Activities

FREE activities include tennis, basketball, squash, mini-golf, shuffleboard, skating, 25-metre lap pool, kayaking and much more
MORE INFO, HOW TO GET THERE & FAQ
---
 SURF CONDITIONS
---
Breaks directly at the main spot and at nearby spots

We surf on our own secluded sand bottom beach break.  It is perfect for beginners to master the art of surfing.
Seasonal conditions
The water is warm all year round at the camp with it's coldest temparature being in winter getting down to 18-19 degrees. We are also lucky enough to get waves all year round.
Crowd factor and local people
Crowd factor is zero that is why we love it here. 
---
 SURROUNDINGS / REGION
---
Characterization of surroundings/region
The Gold Coast is one of Australia's premier holiday destinations. Famous for its beaches, surf, theme parks, shopping, nightlife and hinterland, it has been attracting Australian families for many decades.
The Gold Coast is located in south-east Queensland, just one hour south of Brisbane, and stretches from Oxenford in the north to Coolangatta in the south, South Stradbroke Island in the east and incorporates Surfers Paradise on the coast.  The region has 70 kilometres of uninterrupted coastline and is fringed by rainforest hinterland, including world heritage-listed national parks.  The region is famous for its attractive environment, climate and lifestyle and has a highly specialised economy that is dominated by the tourism industry.
Activities and facilities
At the surf camp we have endless activities and sports you can participate in which include tennis, 2 gyms, volleyball, basketball, bike riding, bush walking, 25 metre lap pool, kayaks, stand up paddles, sunset yoga sessions, running tracks and so much more.
---
 JOURNEY
---
Ways to get to the camp
Please meet us at Marina Mirage 74 Seaworld drive Main Beach, at the Couran Cove ferry terminal 30 minutes before your scheduled transfer
The Ferry is included in the price and takes approximately 45 minutes each way.
For groups of 4+ we offer a FREE pick up service from the Gold Coast area only.
PACKAGES & PRICES
---
PACKAGE A - 2 nights / Per Person =$449
---
This package includes:
2 night's accommodation in Eco Cabins (Maximum 2 people to a room) 2 x 2 hr surfing lessons including surf/yoga warm-up 2 x 1hr Stand Up Paddle lesson and tour Surfboard and rash vest 2 x continental breakfast, 2 x healthy lunch, 2 x Dinner (1 Aussie BBQ dinner included in 7 day packages) Meals also vary on when you arrive and when you depart. All snacks and water 1 Sunset yoga session 2 days push bike hire Boomerang throwing lesson (1 Lesson for your stay) Professional photo package Morning yoga warm-ups before surfing Transport to and from Marina Mirage on the ferry Use of resort facilities such as kayaks, stand up paddleboarding, fishing, swimming lap pool, tennis, squash, batting cage, shuffleboard, and a host of other activities Beach volleyball Dolphin and whale spotting (May – November for the whales) Memories to last a lifetime
---
PACKAGE B - 4 nights / Per Person =$739
---
4 night's accommodation in Eco Cabins (Maximum 2 people to a room) 4 x 2 hr surfing lessons including surf/yoga warm-up 4 x 1hr Stand Up Paddle lesson and tour Surfboard and rash vest 4 x continental breakfast, 4 x healthy lunch, 4 x Dinner (1 Aussie BBQ dinner included in 7 day packages) Meals also vary on when you arrive and when you depart. All snacks and water 1 Sunset yoga session 4 days push bike hire Boomerang throwing lesson (1 Lesson for your stay) Professional photo package Morning yoga warm-ups before surfing Transport to and from Marina Mirage on the ferry Use of resort facilities such as kayaks, stand up paddleboarding, fishing, swimming lap pool, tennis, squash, batting cage, shuffleboard, and a host of other activities Beach volleyball Dolphin and whale spotting (May – November for the whales) Memories to last a lifetime
---
PACKAGE C - 7 nights / Per Person =$1099

---
This package includes:
7 night's accommodation in Eco Cabins (Maximum 2 people to a room) 7 x 2 hr surfing lessons including surf/yoga warm-up 7 x 1hr Stand Up Paddle lesson and tour Surfboard and rash vest 7 x continental breakfast, 7 x healthy lunch, 7 x Dinner (2 Aussie BBQ dinners included in 7 day packages) Meals also vary on when you arrive and when you depart. All snacks and water 2 Sunset yoga sessions 7 days push bike hire Boomerang throwing lesson (1 Lesson for your stay) Professional photo package Morning yoga warm-ups before surfing Transport to and from Marina Mirage on the ferry Use of resort facilities such as kayaks, stand up paddleboarding, fishing, swimming lap pool, tennis, squash, batting cage, shuffleboard, and a host of other activities Beach volleyball Dolphin and whale spotting (May – November for the whales) Memories to last a lifetime