ABOUT THE SURF CAMP
---
LOCATION AND SURF CONDITIONS
---
The Mentawai Islands are renowned worldwide as a surfer's paradise, and the reason is simple: the incredible abundance and variety of waves, unmatched anywhere else on Earth. There are left-handers and right-handers, rippable walls and perfect barrels, easy waves for beginners, challenging waves for experts, and everything in between.
Awera Resort and Spa is strategically located within easy access to a huge range of waves. In the bay at our beach there are three breaks, but we also have a fleet of boats to take guests to over ten additional nearby spots inc the famous telescopes. With this array of waves on hand, there's always something to suit every style of surfing and every level— a true surfer's paradise.
---
CAMP CHARACTER
---
We are strategically located on a stunning private beach on a beautiful island. Historically the Mentawai's have been known only for surfing so we are proud to be the resort that offers much more than that. A small and exclusive hotel we have a stunning infinity pool and the first thermal pool Spa in the Mentawai's, with a high range of massages and natural treatments plus incredible active experiences from supping up the mangroves, clear kayak adventures and daily yoga sessions.
ACCOMMODATION AND CATERING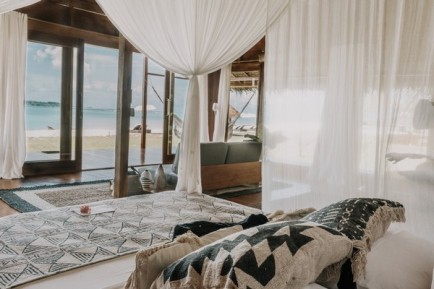 ---
ACCOMMODATION TYPES
---
Our exclusive family & private villas are carefully decorated in a minimalist ethnic style. Respecting Mentawai architecture, with traditional thatched roofs, pillars and solid wood walls, large sliding glass doors, leading out to a private deck equipped with a sofa and hammock, let you take full advantage of the breath-taking vistas.
The villas are located at the center of our complex, nestled in a privileged natural environment, surrounded by palm trees and tropical jungle, just a few steps away from the private beach.
Each villa comprises 52m2 or 100m2 of spacious comfort. Features include:
Private lounge
- Fully equipped private bathroom
- Hot water Single beds: 1.20m x 2m Double beds: 1.80m x 2m
- Air-conditioning
- Fan Mosquito nets for all beds
- Clean towels and sheets
- Chill-out deck
- Surfboard rack
- Outdoor shower
- Clothes rack
- Wi-Fi connection

---

CATERING

---

Perfectly positioned at a stone's throw from the ocean, the restaurant and bar combine unmistakable style, modern design and traditional Mentawai architecture.


With a chill-out area, bar and restaurant; a perfect place to hang out and enjoy the views the bay offers. With such epic vistas and three different waves breaking right in front of you, the show just keeps on giving. 

Our homemade meals cooked with TLC, looking out onto the sparkling ocean. We constantly innovate our menus, drawing inspiration from the new food scene that's taken on in Indonesia thanks to fans of organic, vegetarian and vegan food. Fish and meat dishes are also our speciality! We do cater for vegans, vegetarians and coeliacs. 

 Included your stay

Three delicious buffet meals per day (breakfast, lunch and dinner).
- Unlimited complimentary snacks at any time of day.
- Unlimited complimentary soft drinks, fresh coconuts, coffee, tea and water.
SURF COURSE AND ACTIVITIES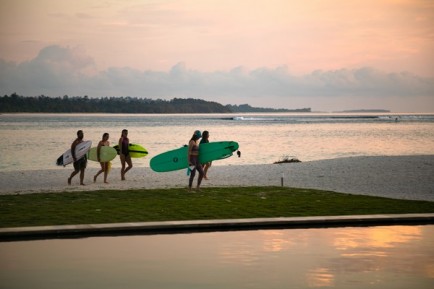 ---
SURF PACK DETAILS
---
Surfer Pack - Designed for intermediate/advanced surfers this includes all boat trips to the surf. (We usually go out 3x per day and we always try to find the best spot regarding the forecast and surfing level of the group)
Surf school - For beginners this package includes a daily surf lesson with optimal instruction and boat trips for lesson if necessary.
---
SURF MATERIALS
---
As well as foamys and longboards included for the "Surf School" Awera Resort and Spa is we offer more than 30 surfboards for rental. There are high performance surfboards, twin fin, single fin, evolutive surfboards and several longboards on offer. Please book in advance.
---
OTHER ACTIVITIES
---
If surfing is not your passion, we also offer a variety of daily activities to really enjoy the area, E.G Stand up paddle boarding , exploring in our clear kayaks, hiking, snorkelling and private yoga classes. 
Thermal pool & Spa
At our resort, wellbeing is about more than just a dip in the pool, a Jacuzzi or a massage. It is about providing a retreat, a place where you can leave the world at your doorstep and just focus on yourself, surrounded by peace and silence.
An intimate space with a finely-tuned menu of treatments,  put yourself into the hands of our experienced professionals to rediscover your inner wellbeing. Relax and let yourself to be pampered, and immerse yourself in our imaginative treatments inspired by various Indonesian cultural traditions.
MORE INFO, HOW TO GET THERE & FAQ
---
 JOURNEY
---
The closest airport to Awera Resort is Padang and currently the best way to fly to Padang is via Jakarta/Bali with Garuda or Lion Air or via Kuala Lumpur with Air Asia. Singapore is also an option. Please check: www.airasia.com  /  www.garuda-indonesia.com  /  www.lionair.co.id   Once in Padang Airport you have two options 
Ways to get to the camp
We offer an  ALL INCLUSIVE TRANSFER SERVICE the Comfort Package
1. Guests opting for our COMFORT PACKAGE are picked up at the airport and taken to their 4* hotel for the night.
2. The following day you'll be picked up at your hotel and taken to the city port, where the Fast Ferry leaves for the Mentawai Islands, a three-hour crossing away (Fast ferry tickets included).
3. Once in Tua Pejat, you're picked up by our staff and taken by speedboat to the Resort, which is a ten-minute crossing away.4. The same goes for your return journey. When your stay come to an end, we'll take care of everythiing and make sure you arrive on time for your flight.
Or you can go it solo
1. Arrival at PADANG AIRPORT. There is only one point of entry to get to the Mentawai Islands: Padang City airport.
2. Fast Ferry from Padang to the Mentawais (TUA PEJAT) The ferry departs at 7am on Wednesdays, Fridays and Sundays, and at 6am on Mondays. We always advise our guests to arrive in Padang at least one day before the ferry departs.
3. Transfer from Tua Pejat to Awera Resort & Spa. Once in Tua Pejat, guests will be picked up by our staff and taken by speedboat to the Resort, which is a ten-minute crossing away
Important details;
Surf tax, the Mentawai Government has implemented a Rp. 1,000,000 surf tax (around 80$) per surfer valid up to 15 days, which can be extended. 
Please check you have an up to date passport.
PACKAGES & PRICES
---
PACKAGE A - from $1225 US per Week / Person $175 US per day
---
This package includes:
- The transfer on speedboat from/to Tua Pejat, the closest village we have.
- A private villa fully equipped (as mentioned above)
- 3 delicious meals per day. We do cater for vegans, vegetarians and coeliacs. Please let us know in case you have any special dietary requirements.
- 2 daily yoga lessons per day. 
- Free access to our private beach and swimming pool.
- Use of our games zone and chill out area Wi-fi access everywhere in the resort
Please remember the base rate doesn't include;

-  SURF PACKAGE If you are a surfer please choose the Surf Package option when confirming the booking. (We usually go out 3x per day and we always try to find the best spot regarding the forecast and surfing level of the group). $50 usd/day.

-   TRANSFER SERVICE, if you would like us to take care of your transfer, please choose the Comfort pack option when confirming the booking. The price is $220 us per person.

We also have a variety of other activities including Surf school pack for beginners, wellness pack with access to the thermal spa and a variety of treatments plus much more. 
Please ask for more details when booking. 
We are the best resort for families and groups travelling with children, with special rates; $103 usd/night 5-12 years old and free for all children below 5.