ABOUT THE SURF CAMP
---
LOCATION AND SURF CONDITIONS
---
 We are located beside Los Palmas in an area of La Ventana not currently used by many other kiters or kite schools so we have a bit of a private beach to offer you the best lessons possible!
---
CAMP CHARACTER
---
 Beginner, Intermediate
---
CAMP OPERATOR
---
My name is Nicole Eden I have owned Girl On A Board Kite School since 2013. I love the concept of an all female team and us being here to empower you. However, there are too many amazing men out there to focus on just women. We are opening our market to the other half of the world. Haha and we hope you still enjoy the same welcoming vibe, friendly smiles, top of the line equipment we have always had.

I love La Ventana and so happy to have this place to share with an already amazing community of kiters, kite schools and future kiters. Let us help you plan your vacation we have all the services at our finger tips from accomodations, transportation, and more!
ACCOMMODATION AND CATERING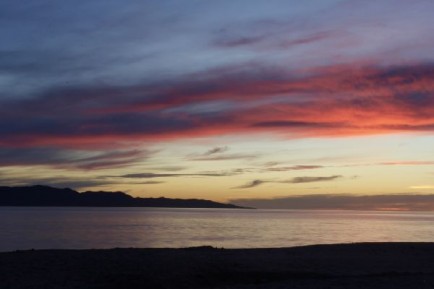 ---
ACCOMMODATION TYPES
---
Casa Tara Retreat
With a privileged beachfront location and a spectacular view of La Ventana Bay, Casa Tara rises from the depths of Baja Penisual in Mexico as a secluded paradise of pleasure and well-being. The retreat centre offers daily yoga from a variety of teachers. The rooms are beautifully situated on a hill so every room has a view of the ocean.

Daycare
We offer at home or daycare services. We accept babies with advanced notice. Over 2 years drop off service starting at 11am till half hour past when the wind stops blowing. Non windy days we close early. Its 100 pesos per hour and 170 for two kids. Please email us for details.
---
CATERING
---
 The restaurant serves a variety of vegitarian and pescadarian food.
Full Board included
SURF COURSE AND ACTIVITIES
---
SURF COURSE DETAILS
---
Kite Lessons
Professional Kite School we are focused on your success! We adapt our lessons plans for your skill sets and learning speed! Our lesson plan is structured to teach you all of the essential skills so that you can safetly practice on your own after the lesson is over. We buy new kites every year so the gear will be the best quality to maximize your safety. We offer atv assisted and jet ski assisted lessons.

Day 1 What we cover
We have found the quickest way to teach is to start with land training. We skip the trainer kite as it can develop bad habits instead we use a 5 meter kite and short lines so that you are able to develop the confidence, muscle memory and learn the theory while you are flying the kite. On day one we teach you how to set up the gear properly, to read the wind and weather/ beach conditions to identify when it is safe to kite. At the end of the lesson we teach you how to launch and land the kite and self rescue

Day 2 What we cover and btw if you learn fast we speed up to do Day 3 on Day 2 and if you learn slow we take is slower..
Customized for you my friends!

Everything you learned on day one we get to practice in the water Tandem. This is usually the most fun as we get to play in the water together. We use full size kites and short or long lines depending on the weather. There are a few additional skills that you need to learn such as body dragging up wind and getting in and out of the water on your own.

Day 3
This is the day!! You will be on your own with the kite and with a radio helmet or with jet ski support depending on what you book. You get to show off your kite control with adding the new element of the board. For some just coordinating the kite and the board is enough while others are able to control the kite and the board and are able to practice water starts and riding! Book your advanced lesson to practice riding upwind or to learn new tricks
---
SURF MATERIALS
---
Equipment included
---
OTHER ACTIVITIES
---
Yoga
400 Hour Yoga Alliance Teacher.
Ongoing Masters Program in Mind/Body Therapy.
Reiki Master and Chi Kung 7 Lotus Instructor
Wednesday 5:30 breathwork and meditation
Saturday 9am Power yoga
Sunday 9am Yin Yoga
MORE INFO, HOW TO GET THERE & FAQ
---
 SURROUNDINGS / REGION
---
Characterization of surroundings/region
We are located beside Los Palmas in an area of La Ventana not currently used by many other kiters or kite schools so we have a bit of a private beach to offer you the best lessons possible!
PACKAGES & PRICES
---
PACKAGE KITE N YOGA  - from 1710$ per Week / Person
---
 Baja Board is a professional kite school focused on ensuring you have fun and safe lessons. We customized to your needs and the wind conditions so you will always feel safe and comfortable whether you learn fast or slow.

The morning after you arrive will start with a delicious meal at Casa Tara Retreat and a yoga class. We will pick you up at the hotel at 11am to start your kite lessons. After the lessons, which will be 2-3 hours long, we will drop you back off at the hote. You will be free to book a massage or chose to rest up or explore the small town of La Ventana. The lessons will be three days long. The schedual will be flexible so we can pick the best three days of wind. On the remaining days you book a boat to go exploring, walk the beaches, take more yoga classes or just rest.

This package includes:
the kite lessons
accomodations
full board
yoga