ABOUT THE SURF CAMP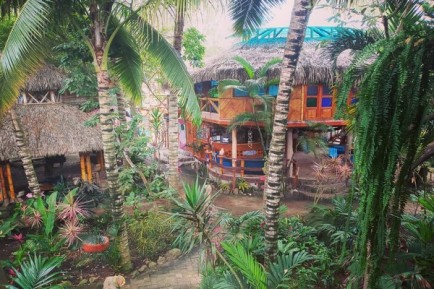 ---
LOCATION AND SURF CONDITIONS
---
Find us in Ruta del Spondylus in the north of the village center, in the entrance of "La Punta" neighborhood. Come and discover this incredible sense of flow in the waves with us! Enjoy your holiday learning to surf with beautiful Blasa tables with professional instructors, in an amazing atmosphere! Our main concern is your safety and comfort. So our service offers you excellent tables and lycra, certified professional instructors, with experience and unique attention. We work with love and that's the big difference!
---
CAMP CHARACTER
---
The surf lessons are open to all! No matter how old, men or women, athletes or not … EVERYONE can hop on a surfboard! It all depends on your motivation, perseverance and desire !! It can be a little difficult, but feel the adrenaline, speed and pleasure to flow in the wave worth it!
ACCOMMODATION AND CATERING
---
ACCOMMODATION TYPES
---
Come to our hotel in Montanita, Ecuador, and live a unique experience, sharing smiles, love, and relax with friends, surrounded by nature and good energy!
We are a small inn in a picturesque and typical architecture (bamboo, wood, and clapping) surrounded by vegetation, with its own philosophy, blending surf, art and nature, with a mystical and ancestral touch.

ROOMS:
All our rooms include everything you need to be comfortable
Free WIFI - 30 Seconds to beach & Free beach towels - Free delicious breakfast! - Yoga class, meditation workshop & a lot more! - Balcony and hammock - Private bathroom & Hot water

GARDEN & FACILITIES:

- Yoga class every day &/or a lot of great activities! Workshop, functional training etc.
- Hammock and yoga area free to use for all guests
- Car park for free & 24 Hour security for your tranquility
- Cinema lodge with big screen & DVD colection

---

CATERING

---

RESTAURANT AND PIZZA OVEN:

- Amazing food from breakfast to dinner
- All you can eat pizza every Monday (20h-22h)- $10
- Delicious breakfast options included in stay from 8h30 to 11h
- Kitchen open from 8.30am to 10pm, fresh food for all taste: typical food, veggie & international.

Our restaurant El Eden welcomes you every day for breakfast, lunch or dinner, in the heart of Balsa Surf Camp and its lush vegetation. We offer 5 delicious breakfast options, including 1 vegan. You will also find a menu with seafood, a French Ecuadorian fusion and different veggie dishes. Don't miss every Monday our famous Pizza Party with our special wood oven. Our fresh homemade food is always cooked with love. El Eden is your next gourmet rendezvous!
SURF COURSE AND ACTIVITIES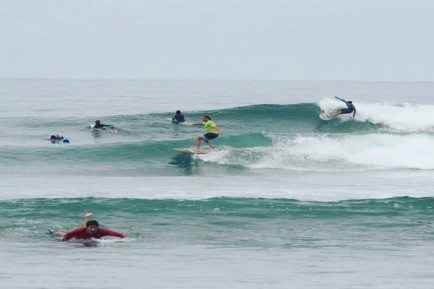 ---
SURF COURSE DETAILS
---
The originality of our Surf Camp is more than discover a country and its waves, you'll also meet a whole culture, surfing in Balsa. Our goal is that students at the end of the class, can take a wave alone, without the instructor's physical help, to fully enjoy the sensations of this sport! The class lasts an hour and a half, the first forty minutes are dedicated to the theory and practice in the sand. It is the student's preparation before going overboard. These explanations and exercises facilitate the practice on the waves. Our classes are taught by young local instructors, very good surfers, some national champions, who are certified by the International Surfing Association (ISA). They have patience and above all love their job: to pass the love for surfing and sharing their own passion! Each planning depends on the tides and the level and the student's encourage. These 15 hours can be arranged during the day, morning and evening, according to the pace of the student and the tides. There are three levels with warming theory, practice and different exercises. Every hour is under surveillance and supervision of the instructor with specific exercises. We will also film the student so he can watch himself and be corrected in a better way with the help of the instructor.
---
SURF MATERIALS
---
 The board rental is made according to the level of the person and the tide. We reserve the right to refuse a rental for your safety and that of the equipment.
PACKAGES & PRICES
---
SURF SCHOOL PACK - from 585€ per Week / Person
---
This package includes:

- 7 nights in a private cabin with private bathroom, terrace and hammock.
- 6 surf lessons with ISA certified instructors
- 1 Surf Training class (Functional workout and surf exercises)
- Pictures and videos of your surf session, correction with the surf instructor
- 3 meals a day in our Eden Restaurant
- Yoga group classes everyday at 10am except Tuesday
- A special surfer massage, 60 minutes for each one
- 1 jacuzzi session
- 1 steam house session
- 1 visit of the Balsa workshop with Rasty
- Balsa Surf Camp shirt for free!
- Free WIFI
- Access to our cinema room and many chilling places
---
FREE SURF PACK - from 600€ per Week / Person
---
This package includes:

- 7 nights in a typical Ecuadorian cabin
- Surf rental for the whole stay
- 1 session with a local surf guide
- 3 Surf Training class (Functional workout and surf exercises)
- Pictures and videos of your surf session, correction with the surf instructor
- 3 meals a day in our Eden restaurant
- Yoga group classes everyday at 10am except Tuesday
- 1 special "surfer" massage of 60 min
- 1 jacuzzi session
- 1 steam house session
- 1 visit of the shape workshop with Rasty
- 1 Balsa Surf Camp t-shirt as a gift!
- Free Wi-Fi
- Access to our cinema room and many chilling places
---
YOGA & SURF PACK - from 628€ per Week / Person
---
This package includes:
- 7 nights in a typical Ecuadorian cabin
- 3 surf lessons with an ISA certified instructor
- 3 meals a day in our Eden restaurant (vegan option)
- Pictures and videos of your surf session,
- 3 Yoga classes in group (or more, each at 10am except Tuesday)
- 3 private Yoga classes
- 1 "Holistic" massage
- 1 session of Tarot or Maya Oracl
- 1 session of "Reconnective Healing"
- 1 jacuzzi session
- 1 steam house session
- 1 Balsa Surf Camp t-shirt as a gift!
- Free Wi-Fi
- Access to our cinema room and many chilling places
---
SURF INTENSIVE TRAINING PACK - from 730€ per Week / Person
---
This package includes:

- 7 nights in a typical Ecuadorian cabin
- 1 session with a local surf guide
- 6 advanced surf lessons
- 6 Surf Training class (Functional workout and surf exercises)
- Pictures and videos of your surf session, correction with the surf instructor
- Rental surfboard for your whole stay
- 3 meals a day in our Eden restaurant
- Yoga classes everyday at 10am except Tuesday
- 1 steam house session
- 1 jacuzzi & steam house session
- 1 special "surfer" massage of 60 min
- 1 visit of the shape workshop with Rasty
- 1 Balsa Surf Camp t-shirt as a gift!
- Free Wi-Fi
- Access to our cinema room and many chilling places