ABOUT THE SURF CAMP
---
LOCATION AND SURF CONDITIONS
---
The resort is built on stilts over the sea in the quietest side of the bay. The area is not affected by the waves coming in creating the surf spots in our front yard. The main building where the restaurant is situated is connected by a boardwalk to the bungalows with the rooms. We've used as many natural materials as possible for the construction, such as wood and bamboo. It's important to respect and preserve the untouched nature in the area.
---
CAMP OPERATOR
---
Having my own surf resort is a dream that I've had for several years. After 15 years of traveling around the world to surf the most beautiful waves on the planet. I focused more on surf spots least known to the public to be able to surf uncrowded perfect waves, this is how I discovered this incredible bay, the "Bay of Plenty".

Since 2012 I went back every year, camping in the jungle for couple weeks at a time before I decided to settle down in the bay. This is where I started to build Banyak Surf Resort so I can share my dream with the world.
ACCOMMODATION AND CATERING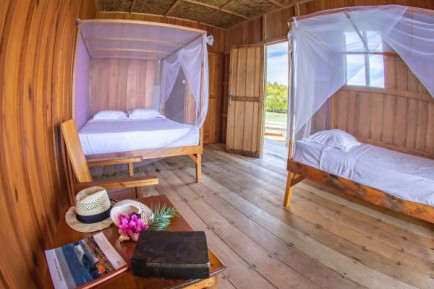 ---
ACCOMMODATION TYPES
---
Banyak Surf Resort is a complex of wooden bungalows built on stilts over the water in the beautiful Bay of Plenty. We have 2 bungalows divided in two rooms each connected with a board walk to the main building where the restaurant is situated. We are building an additional new 2-bedroom (the second bungalow is in construction and will be ready for the 2020 season) bungalow for the 2020 season. The resort is in the quietest area in the bay where you can have peaceful nights and wake up with enough energy to tackle each new day of your trip in our paradise.

We have 2 rooms with 1 bed 160x200cm and 1 bed 120x200cm and 2 other rooms with 2 beds 120x200cm. Our rooms are equipped with fans, bathroom and toilet. Towels and mosquito net are provided. The electricity of our surf camp works with generators, for ecological reasons we cut the current 2 or 3 hours in the morning and 2 or 3 hours in the afternoon when generally we need it the least. We advise you to bring for the comfort of your trip: reef booties, a small kit of first aid, environmentally friendly products, such as shampoos, soaps, toothpastes and natural sunscreens. We do everything to preserve the unspoiled nature that surrounds us.
---
CATERING
---
Being French and my Venezuelan wife, we will prepare your meals by mixing Indonesian cuisine and world cuisine. Do not hesitate to tell us if you have a special diet or if you are allergic to a particular food. We are waiting for you to have a great time surfing the perfect waves in the middle of these pristine islands.
SURF COURSE AND ACTIVITIES
---
OTHER ACTIVITIES
---
Canoeing:
The resort is located ideally so you can hang out in the bay or take a tour around the mangroves. Simply magnificent! Each room gets your own canoe to go exploring!

Snorkeling:
All you have to do is jump out of your room to find yourself in the midst of incredible reefs and small fish of many colors. We can also bring you to visit other reefs in the Banyak archipelado. Snorkeling gear are available at the resort.

Fishing:
You can also fish straight from your private terrace or from a kayak. For those who love big fish, we can bring you on a fishing trip out at sea to do offshore trolling or speargun fishing. (speargun is not included).

Island Hopping:
We can visit all the nooks and crannies of this beautiful piece of nature filled with deserted islands and the surrounding small villages.
MORE INFO, HOW TO GET THERE & FAQ
---
 SURF CONDITIONS
---
Breaks directly at the main spot and at nearby spots
There are 3 differents waves in the bay:

Gunturs - A right with 3 sections that has several barrels. It's a swell magnet working all the time. It's a barrels machine.
Lolok Point - An incredible freight train left that appears with a good overhead swell... There are several sections that wrap around the point of the island with a number of barrels.
Dindos- A perfect left for maneuver.

There are other waves on Bangkaru Island - Approximately 40 min by boat.

Treasure Island - The pearl of the Banyak Islands - a right with 3 tube sections...
Cobra- An unbelievable barreling left in a beautiful setting.
Turtle- Easy left, perfect for intermediate level.
---
 JOURNEY
---
Ways to get to the camp
To visit us, you must go to Gunungsitoli on Nias island or Sinabang on Simeulue island, north of Sumatra. We organize a taxi from the airport to the harbour where we will pick you up with our speedboat to go directly to the resort.
Important details
We are open from April until October.
- Check in before 4 pm.
- Check out before 10 am.
PACKAGES & PRICES
---
PACKAGE A  - from 1120 € per Week / Person
---
This package includes:
3 meals per day.
2 beers per day.
Snacks, fruit juices, sodas, coffee and tea.
Daily boat trips to the surf spots in the bay.
Twice a week a boat trip to one of the other surf spots outside the bay, depending on surf condition.
The boat trip from Singkil to the resort - round trip.
Fishing gear, snorkeling gear and kayak available.

The price does not include:
Taxi from the airport to the meeting point.
Transport from Nias or Simeulue in speedboat round trip.
Airport taxes and fees.
Visas and travel insurance.
Speargun.