ABOUT THE SURF CAMP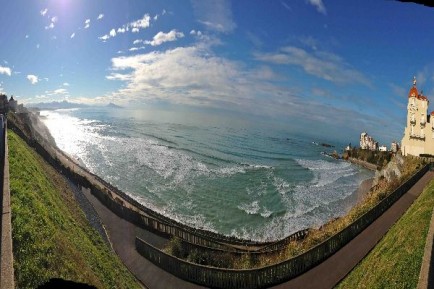 ---
LOCATION AND SURF CONDITIONS
---
Biarritz is known throughout the surf world for its good waves and natural beauty. The swell varies from below 2 feet on calm days to over 15 feet after storms. Summer waves are typically 3 to 6 feet high and the water temperature is in the low 70's F (over 20° C).Spots and schedules will depend on tides and weather.
---
CAMP CHARACTER
---
our concept :
• to offer complete immersion in a family atmosphere where everyone can feel confident and comfortable
• and learn french through a varied program of activities both academic and social.
Our goal :
• to integrate all students, even the most reserved, thanks to our friendly environment,
• to offer a dynamic and people-centered approach to teaching a foreign language,
• to be attentive and available in order to provide a quality service that meets your needs.
---
CAMP OPERATOR
---
Philippe LACOSTE, our director, has managed FLE (French Foreign Language) teaching staff for 15 years.  He started his first language center combining French lessons with sports. After pioneering this concept and finding it very successful, he decided to start a new organisation. BLCI now offers a wide range of language courses, sports and cultural activities.

Isabelle CHARBONNEAU, our head teacher, has 15 years experience in FLE as a teacher and manager for various language centers in France. Isabelle's first FLE experience was when she opened her own school in Bournemouth England. It proved so successful that she continued her career in FLE in France which ultimately led her to starting her new school in Biarritz.
ACCOMMODATION AND CATERING
---
ACCOMMODATION TYPES
---
 During your stay in Biarritz, you will share daily life with a French family.
SURF COURSE AND ACTIVITIES

Very Simple Image Gallery:
Could not find folder /www/htdocs/w0080964/new30/slide/biarritzlnanguage/course/

---
SURF COURSE DETAILS
---
The instructors :
Government certified professional surf instructors. They will adapt to your level, whatever it may be, allowing you to improve throughout your stay.

5 surf sessions per Week
---
SURF MATERIALS
---
Boards and wetsuits provided. 
---
OTHER ACTIVITIES
---
Surf schools, surf shops, surf competitions and the recent festival : "nuit de la glisse", ... So many activities to honour the ocean.
MORE INFO, HOW TO GET THERE & FAQ
---
---
 SURROUNDINGS / REGION
---
Characterization of surroundings/region
In the 19 th century under the realm of Napoleon III and Empress Eugenie, Biarritz became the most prestigious seaside resort on the Atlantic coast.
It remains, today a favorite holiday destination.
Activities and facilities
Iconic sites :
• Villa Eugénie or Hôtel du Palais,
• The Art Deco Casino,
• The Russian Orthodox Church
•  Chapelle Impériale,
•  Port-Vieux.
Biarritz's famous beaches : plage du Miramar, la Grande Plage, le Port Vieux, la Côte des Basques (known for surf), la plage de Marbella et la plage de la Milady.
Biarritz , a favoured location :
• For lovers of the ocean : the Sea Museum and Aquarium, City of the Ocean (interactive museum), Virgin's rock, the lighthouse, the beaches, ...
• For various outdoor activities (surf, mountain sports, water sports, jai alai, rugby, golf, ...).
• For an internationally renowned cultural calendar various festivals throughout the year : dance, Latine American Films, Audio visual Programs, concerts, ...
---
 JOURNEY
---
Biarritz : 
760 km Southwest of Paris - 180 km South of Bordeaux - 28 km North of the Spanish border.
•  By car : Highway A10 from Paris. 
•  By train : Direct TGV trains from Paris " Montparnasse " train station. 
•  By plane : Biarritz-Parme international airport has daily flights connecting with Paris, London, Lyon, and Geneva.
PACKAGES & PRICES
---
PACKAGE Surfing Language Course - from 500 € per Week / Person
---
This package includes:

5 surf sessions per week
20 hours french sessions per week (9:30 - 12:30)

2 weeks - 990€
3 weeks - 1350€

every additional week - 400€
 accommodation is not included.