ABOUT THE SURF CAMP
ACCOMMODATION AND CATERING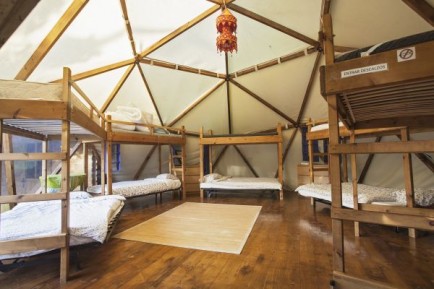 ---
ACCOMMODATION
---
Camping! It is located in a wide green area with wiews to Mountains and closed to the sea and the marshes, but also close to the center of the Village.
We offer single, double and shared rooms. In wood cabins and in tents. There are shared spaces as kitchen, yurt-room, dining room, showers, bathrooms, grill, hammocks, terrace.
There is free public parking closed to the camp, projector and screen available for video projections, movies...
Non smoker in closed areas. Smoker in opened areas.
---
CATERING
---
- breakfast included, self-catering
- half and full pension available for groups by reserve.
- kitchen provided and dining roomVarious shops and supermarket nearby.
- fresh fish right in the harbour , delicatessen products shop, herbalist, traditional market, Surf shops and local surfboards factory
- Cheap: variety of pizzeria, burguer and sandwich bar. Medium and high level restaurants for fresh fish, meat and seafood.
- special meals for allergics to lacteous and wheat/ vegetarian food available.
SURF COURSE AND ACTIVITIES
MORE INFO, HOW TO GET THERE & FAQ
---
More Information
---
For the courses you can practice at several beaches; the principal one is "La playa de Los Locos", which is one of the best beaches for surfing in the north of Spain. It is classified as Surf Nature Reserve since 2012 and it has been ranked as the best beach of Cantabria in 2015. Moreover, you can also enjoy the waves of "La playa de Tablía", that has a 10 out of 10 according to the Surf Guide in Spain and "La playa de la Concha" more accessible to take up this sport.
Apart from the multiple surf courses, paddle surf courses can also offer you an exceptional experience due of the diversity of landscapes, beaches, rivers, cliffs etc., where you will have an inimitable perspective of the Cantabrian coast.
Inside the housing in our Surfcamp you will find a huge buffet breakfast. The breakfast will make yourself stronger in the morning and it will give you the energy to improve your control of the table over the waves.
PACKAGES & PRICES
Prices Classes
Courses are offered daily with 2.5hours classes in the morning and or in the afternoon


| | | | | | | | |
| --- | --- | --- | --- | --- | --- | --- | --- |
| lesson (h) | 1        | 2        | 3        | 4        | 5         | 10       | 14 |
|   | 29€       | 55€        | 75€        | 90€       | 110€        | 170€        | 249€ |
Paddle Surf classes with morning and afternoon 2 hours of duration


| | | | | | |
| --- | --- | --- | --- | --- | --- |
| lesson (h)   | 1        | 2       | 3       | 5       | 10      |
|   | 35€         | 59€         | 85€         | 125€        | 235€ |
---
Low Season Packages - from 113€ 
---
3 days and 2 nights 113 €

5 days and 4 nights 183€ 

7 days and 6 nights 269 €
10 days and 9 nights 390 €

12 days and 14 nights 511 €


---
Mid Season Packages - from 129€
---
3 days and 2 nights 129 €

5 days and 4 nights 215 €

7 days and 6 nights 301 €
10 days and 9 nights 431 €

12 days and 14 nights 455 €


---
High Season Packages - from 134€
---
3 days and 2 nights  134 €

5 days and 4 nights  221 €

7 days and 6 nights 318 €
10 days and 9 nights 455 €

12 days and 14 nights 597 €

* High season: 21 July to 21 August.

*Mid Season: 1 to 20 July and 22 August to 5 September and Easter.

*Low season: rest of the year