ABOUT THE SURF CAMP
---
Location
---
Bonosurf is located in Teluf Meranti on Kampar river's bank. It's a small friendly village of 2500 people with small shops, saturday night market, 4 schools... GSM phone coverage is excellent (3 different antennas) and you can get internet through 3G key
---
Surf conditions
---
Bono is a tidal bore and tidal bores work when big tides occur, that is to say 10 times a month.

It's almost impossible to surf the Bono without a boat unless you know where to wait for the last section before Teluk Meranti village. That's why be purchased 2 brand new rigid inflatable boats. Our seasoned pilots will drive until the bests sections and will pick you up after your ride.

It's rather a small camp because we only have 8 rooms. The atmosphere is very relax and we offer a Bono Rodeo option for all those who don't want to surf the tidal bore.

---
Camp operator
---
We are a french team. We discovered Bono 2 years ago during an Indonesian trip and we decided to implement a surfcamp there so that a bigger public may discover that amazing phenomenon.

Yep company
Author of the World Stormrider Guide
ACCOMMODATION AND CATERING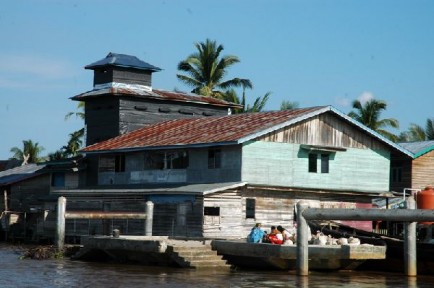 ---
Accommodation type: Hotel
---
You  will stay at Mega Lestari Hotel in Teluk Meranti. The hotel owns 8 decent rooms with 4 doubles and 4 singles, all with fans. There is mosquito bed netting in the rooms even if mosquito factor is pretty low. A large ventilated living room with sofas makes life fairly easy.
---
Catering
---
Meal are taken at restaurants. The main restaurant is opposite the hotel: food is varied with rice, river fishes, chicken and some tasty (if not spicy) local recipes, some sweet stuff. No beer available in town, please don't bring alcohol. We provide you with mineral water.
(Accomodation and catering are included in our tariffs!)
SURF COURSE AND ACTIVITIES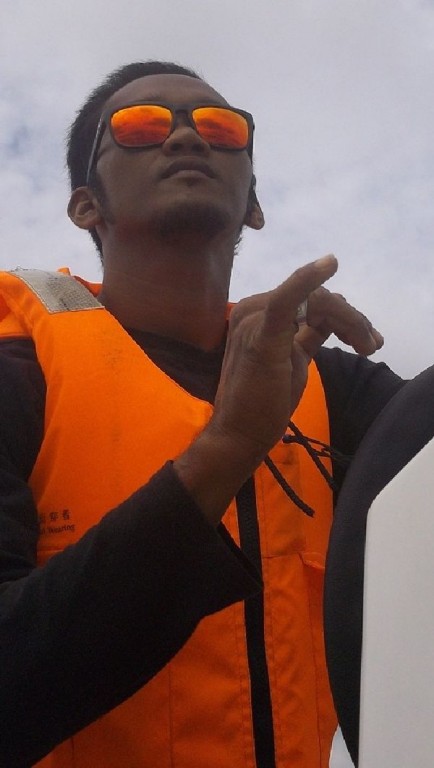 ---
Surf course details
---
For beginners, we organize a surf first experience in bono last section near Teluk Meranti (teachers speak English).

---
Surf materials
---
we have 3 boards for rent. Cost is 10 € per day.
Stand Up Paddle (SUP) : 10 x 28' x 4 ½ Longboard : surftech 9' Tudor HPNR model (2009), Center Box / Futures Fins
Length : 9' ; Nose : 18" MID : 22.88" ; TAIL: 14.25" THICK:2.75", Volume : 63cc Surfactory : 7ft. Rounded nose.
---
Other activities
---
Every day, Bono riding will happen during 4 to 5 hours, from 9-10am to 2-4pm. Accordingly, there will be little time for other activities.

However, here are a handful of ideas ( 1€ is about 12000 IDR Indonesia Rupiahs) :
Rent a 
Stand-up
 (30,000 Rps per hour)  and paddle alongside the village Rent a 
motorbike
 (20,000 Rps
per hour) and explore the area Taste a swallow's nest soup (chinese delicacy) : 120,000 Rps
/ soup !!! Fish from the cement jetty (bring your own gear) Visit the schools with Unas, our teacher friend Get a local massage...
MORE INFO, HOW TO GET THERE & FAQ
---
SURF CONDITIONS
---
Seasonal conditions
Don't worry, we are in Indonesia, water temperature is very hot, around 24 degrees, the bigger the tide is, the bigger are the waves. Waves varies between 1 and 3 meters, there are a few barrel sections.
Crowd factor and local people
Locals are very kind and helpful, there is no crowd factor =)


---
JOURNEY
---
Ways to get to the camp
AIR : from Europe or Asia, it's better to fly Kual Lumpur (KUL)

Air Asia operates now from Paris-Orly (with 4 flights a week) and London-Stansted(1 flight a day). Average pricing is 550€ r/t, and supplement for boardbag (has to weight less than 20 kg) is 20€ per trip.

You will land at KLIA and you need to transfer to LCCT, which takes 20 minutes by bus (2,5 Ringgits per trip + 5 Ringgits for boardbag). Bus leaves every 30 minutes, expect one hour tranfer time.

At this stage, there is 1 flight per day from Kuala Lumpur to Pekanbaru (PKU) in Central Sumatra. Usual cost is 80€ r/t, a boardbag costs 70 Ringgit (18€) per trip. Take care, they charge 40 Ringgit per kg over 20 kg !!!

  AIR : Singapore is an option too, but it's more expensive and takes 2 days

If you go for the Singapore option, below are the instructions to get to your final destination, Teluk Meranti :

• First take a Maxi-Cab (50 SG$, 30 €) from Changi to Waterfront

• Take a fast ferry from Singapore Waterfront to Sekupang on Batam island (45 minutes,  around 35-50 SG$, 20-30€)

• Take a speedboat from Sekupang to Tanjung Batu on Kundur island (2 hours, 220.000 Rps (20€) but only from 0800 to 1500. Same on return).

• Then take the daily  speedboat from Tanjung Batu to Teluk Meranti (3 to 4 hours, 180.000 Rps (15€) but quite packed !).
Departs 0700 – arrives 1000 or 1100 (depending on Kampar river flow)
Returns 1300 – arrives 1600 or 1700 (depending on Kampar river flow)

You may also charter Teluk Meranti 200Hp 10-seater speedboat but that's 2.500.000 Rps (200 €)

  AIR : from Indonesia, Australia or America, best is to fly to Jakarta (CGK)

There are 10 to 16 flights per day between Jakarta and Pekanbaru with Lion Air, Garuda and Riau airlines.

  OVERLAND

You best option is to land in Pekanbaru, capital of Riau Province. You need 25 US$ or the equivalent in Ringgit or € to obtain your visa upon arrival and a passport with at least 6 months validity. Visa will be granted for 30 days.
Our local operator there, River Difender, will be taking care of your arrival. You can decide to stay one night in Pekanbaru(700,000 people, oil capital of Indonesia) to enjoy a scenic day drive the next day, or go straight to Teluk Meranti, which last anything from 4 to 7 hours depending on road conditions.
Hotel Aziza in Pekanbaru is 15 minutes from the airport, provides clean deluxe rooms at 350,000 Rps (about 30€ for a double bed room) with free breakfast, free wifi, massage...

Pekanbaru sightseeings: Masjid An Nur Grand Mosque. Or come through Telkomsel shop to set-up a 3G connection with local SIM card (700,000Rps for the key, 100,000 for the card + 100 Mb download).

Transfer : Toyota Avanza (3 passengers max per car), boards on roof ok.
Cost of transfer is 1,100,000 Rps per trip (90€).
PACKAGES & PRICES
---
Packages
---
Surfing bono - Package A

---
Price:
- Individuals :
240$ / day
- Groups :
160 to 210$ / day
Includes :
- Accomodation (Mega Lestari hotel)
- All meals & mineral water
- Boats and fuel
- Trained pilots
- Briefing and maps
---
Bono rodeo - Package B
---
Price:
- Individuals :
225$ / day
- Groups :
99 to 180$ / day
- Extra first surf :
25$
Includes :
- Accomodation (Mega Lestari hotel)
- All meals & mineral water
- Boats and fuel
- Trained pilots
- Briefing
- Beginner boards