ABOUT THE SURF CAMP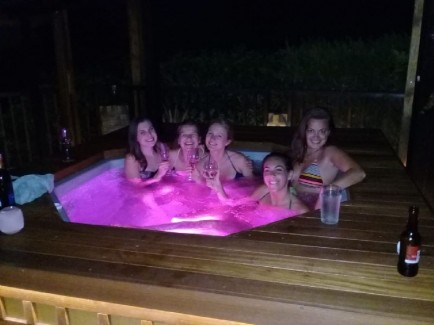 ---
LOCATION AND SURF CONDITIONS
---
We are situated 5 minutes from 9 of the best surf spots in Cape Town! These are also some of the best surf breaks in South Africa. Drive an extra few minutes and you can add a bunch more surf spots to that list. We are all about finding the best waves in Cape Town to suit your ability.
You can check out the waves from our house as we have a distance see view, a stunning mountain view and the most incredible sunsets.
We are located in the heart of Cape Point, so there is also plenty to see and expierence around the area. Go check out Cape Point Nature Reserve where the mountain and ocean meet in a thunderous clash of water against rock, producing a dramatic landscape inhabited by an incredible diversity of life or go visit the cute Pinguins in Simonstown which is also just around the corner. We will also take you to Chapmans Peak drive, which is literally 5 minutes away from our camp and one of the most spectacular marine drives in the world.
We are also surrounded by plenty of beautiful restaurants and local markets where we will take you on the nights that we go out.
If you should still have some energy left you can go for a beautiful horse ride on the beach at the Imhoff farm which is right by our camp too.
There is also a big shopping mall 5 minutes away from the camp if you just want to check out some South African Shops or buy yourself some goodies.
---
CAMP CHARACTER
---
We are an owner runned small opeartion (max of 6 people) so you will become part of the family very qickly. Raymond was born and raised in South Africa and I am originally from Germany, so we speak German and English in our Camp.
It doesn't matter if you are a beginner, an intermediate or advanced, everyone is welcomed at our camp and we will make sure that you have an amzing experience. As we are very active during the day we like to chill out together in the evenings, so we often have a South African Braai (BBQ) on our beautiful Veranda or sip on a cold drink in our Jacuzzi. If the weather is not our friend, we like to chill out by the fire place or have a movie night. Our vibes are super relaxed as we often get up quite early to hit the waves or start the day with an energizing yoga lesson, all depending on the weather conditions, we take it as it comes. 
---
CAMP OPERATOR
---
Our names are Steffi and Raymond Ninow, we are husband and wife and are the proud owners of Cape Point Surf Yoga Camp, a culmination of many years of big dreams and hard work. Steffi is the yoga instructor and I'm the surf instructor/guide. We met and fell in love in Jeffrey's Bay, South Africa, in 2013 and have since sailed, travelled and worked around the world. We have tried our hardest to soak up the very best aspects of the beautiful destinations we have travelled to and apply them to our dream project, Cape Point Surf Yoga Camp.
ACCOMMODATION AND CATERING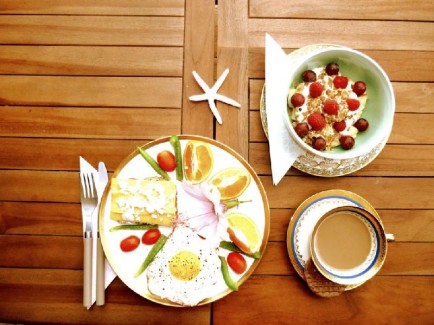 ---
ACCOMMODATION TYPES
---
We have three different accommodation options in our surf yoga house (one Twin room, one double room and one King Ensuite). This keeps our groups relatively small (no more than 6 people at a time) so that we can provide the best quality experience for you. We think you will find that you become a part of the family very quickly.
Along with these rooms is a kitchen where we create the awesome meals for you. You are welcome to keep specific goodies in the fridge and help yourself to tea and coffee in the kitchen anytime. There is also a communal Lounge area with an awesome view and fireplace. Here we often have movie nights or screen the latest surfing feature films. The outside veranda is the chill out jacuzzi zone where we sip on some cold ones and make traditional South African braais (barbeque).
---
CATERING
---
Included in your packages are beautifully prepared deluxe breakfasts, light lunches and super yummy dinners.

We also cater for specific diets, so just let us know if you are Vegetarian, Vegan or if you have any specific Allergies or anything else, we got you covered.
SURF COURSE AND ACTIVITIES
---
SURF COURSE DETAILS
---
What does a surf day at Cape Point Surf Yoga Camp look like? We wake up, have a delicious and healthy breakfast, we head on down to the best spot of the day, make our cool little beach setup, hit the waves for a surf lesson, chill on the beach and eat our tasty light lunch, then hit the waves again. After this we often take a little drive to an epic sundowner spot or have a drink in the Jacuzzi.
We want to show you how beautiful Cape Town is so we often go and see something awesome on the way back from the surf. 
If the weather is not so great for chilling on the beach between sessions we usually come back to the surf camp to have a super lunch and warm up again before we brave the elements for another surf!
When you arrive we have a little sit down and a chat to assess where you are in your surfing abilities. So whether you are a total beginner an intermediate (level 2) or very experienced we will make the best possible plan for you. We understand that everyone is on a different level and will make sure that you are not being held back by others, or pushed beyond your abilities. 
We also take videos of you surfing to analyse technique and then you can have this footage for free!!!
---
SURF MATERIALS
---
We provide brand new and high quality surf equipment including wetsuits, booties, local shaped boards for advanced Surfers and soft top boards for beginners. Before you arrive we will ask you about your height, weight and shoe size to make sure that we have the perfect surf equipment that suits your abillities. We do not charge surfboard insurance as we understand that mistakes happen. We just want you to have an amazing time and to get the most out of your surf lessons.
---
OTHER ACTIVITIES
---
We believe that surf and yoga compliment one another so we have also developed packages that integrate the two arts. So come join Steffi in our beautiful mountain view yoga studio that we have built from scratch on the property. Here we bring the energy back into our bodies and we focus on stretching the shoulders and all the parts that might feel slighty stiff from all the surf and get you ready for the next day. It's just a beautiful place to find some stillness, to slow down and to find your inner peace.
All the props are provided (mats, straps, bolsters etc.)

If you are not into Yoga, don't worry, there is a lot to do around the area (Chapmans Peak drive, Cape Point Nature Reserve, Pinguins, hikes, beautiful sundowner spots etc).
Otherwise you just take it easy, enjoy an ice cold drink in our Jacuzzi and finish your day of with a beautiful sunset and some yummy dinner.
MORE INFO, HOW TO GET THERE & FAQ
---
 SURF CONDITIONS
---
Breaks directly at the main spot and at nearby spot.


We are spoilt with a large variety of waves all within a 10 minute drive from us. From the Surf Camp we look directly out to a beautiful suf spot called Dunes, a perfect beach break. Directly to the South of Dunes is the popular break called Long Beach, a high performance beach break. Just to the North of Dunes is Noordhoek, a punchy beach break. Then you only need to drive the Soetwater road 3 minutes over the valley we live on and a whole other set of waves and conditions opens up to you. Then we have the whole of False Bay close by with amazing spots such as the famous Muizenberg (15 mins from Surf Camp) This might be one of the best learn to surf waves in the world and is certainly renowned for it's high quality Long board conditions. There are always waves from beginner to advanced in Cape Town. Few places have this much variety so we get to choose the right waves for your abilities.
Seasonal condition

You need to imagine the massive Cape Point that sticks out to the South of Cape Town. Our Surf Camp is situated slap bang in the middle of the base of this Point. Now this Point acts exactly like an Island. So when the predominant summer South Easterly winds blow it is always offshore on the one side of the Cape Point and in the winter with the North Westerly winds it is always offshore on the other side of the Cape Point! It really is like an Island as you can always find offshore spots no matter what the wind direction i. Also, Cape Town is very much in the Southern latitudes so there is ALWAYS swell, Summer and Winter. We have never not surfed because the waves are too small. There are always waves. Of Course it must be said that we have very cold water in Cape Town all year, but with advancements in wetsuit technology this is not a problem. We are not cold when we are surfing in our wetsuits. 
Crowd factor and local People

We know where the spots are in Cape Town so we do not take you to the crowds. It is not uncommon for us to be surfing with no one else around, or with only just a handful of other surfers. If you only go to surf spots that are famous then you will find large crowds. These crowds mostly consist of traveling surfers and are chilled. The locals in Cape Town are fond of traveling surfers, but they place heavy emphasis on surf etiquette and respect. We are also big on surf etiquette at our surf camp and believe in respecting other surfers.
---
 SURROUNDINGS / REGION
---
Characterization of surroundings/region
We are about 35 minutes drive to the City of Cape Town and to the Airport, depending on traffic. We are also right in the centre of the best sight seeing and tourist attractions in Cape Town, such as the Cape Point Game Reserve, Chapman's Peak Drive, Kalk Bay, Cape Point Vineyards and Simons Town Penguins. Local People are extremely friendly and love meeting travelers. They speak a mix of English, Xhosa and Afrikaans. No vaccinations are required. Our currency is called Rand. 1 Euro is about 15 Rand. If you have an abroad health insurance our hospitals and medical care is very good. Renting cars is easy, cheap and recommended.
Activities and facilities
We focus primarily on Surf and Yoga. But because we take small personal groups sometimes you may decide to go do an awesome hike instead of one surf lessons or go on a boat trip or even see some Wildlife. There are bars and hip places very close by and also good shopping facilities. We just take you when you need to go :)
---
 JOURNEY
---
Ways to get to the camp
Easy peasy. When you land you can simply Uber to us for about 380 Rand or organise with us to come fecth you. Or you can rent a car to drive to us. Public transport is very poor in South Africa so catch a train or bus is out of the question. A regular taxi will also cost you too much money.
Important details
Bring your smile and a great atittude! And don't forget your apetite because we will be feeding you delicious food :)
PACKAGES & PRICES
---
PACKAGE A  - from 490 € per Week / Person
---
This package includes:
7x nights accommodation
14x surf lesson (2 per day) 
7x Deluxe breakfast, lunch and dinner

The package includes all equipment rental such as wetsuits, surfboards, yoga mats etc. We do not charge surfboard insurance. We understand that mistakes happen.

Within this package you have three different Acommodation Options:
1. Shared Twin room with shared bathroom (max 2 People) for 490€pp per week
2. Double Room with shared bathroom (max 2 People) for 590€pp per week
3. King Ensuite with private bathroom (max 2 People) for 650€pp per week 
---
PACKAGE B  - from 530 € per Week / Person
---
This package includes:
7x nights accommodation
14x surf lesson (2 per day)
7x Yoga lesson
7x deluxe breakfast, lunch and dinner

The package includes all equipment rental such as wetsuits, surfboards, yoga mats etc. We do not charge surfboard insurance. We understand that mistakes happen.

Within this package you have three different Acommodation Options:
1. Shared Twin room with shared bathroom (max 2 People) for 530€pp per week
2. Double Room with shared bathroom (max 2 People) for 660€pp per week
3. King Ensuite with private bathroom (max 2 People) for 690€pp per week