ABOUT THE SURF CAMP
---
LOCATION AND SURF CONDITIONS

Our location is right on the beach at Cape Town's most famous surf break, Muizenberg. This is where surfing in South Africa started nearly a century ago, and still provides one of the best learn-to-surf breaks in the world! Why is it so good? No rip currents, no reefs, mild water temperature and gentle, clean surf that provides long rides and plenty of open face to hone your skills on.
---
CAMP CHARACTER

Classes won't have more than 6 students to every qualified instructor.  You'll make fantastic progress with all that attention and personalized service.
ACCOMMODATION AND CATERING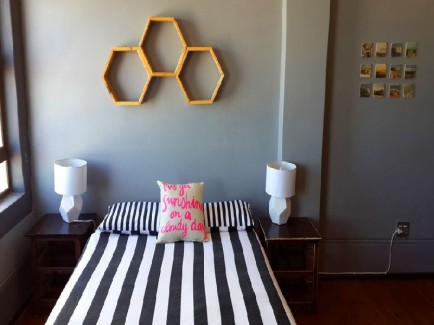 ---
ACCOMMODATION TYPES
---
Set right on the beach, there are different accommodation options depending on the package chosen. All private rooms have seaviews, dorms look out onto the mountain.
There are numerous restaurants within walking distance, an in-house self-catering kitchen, plus various chill-out areas to mingle with the other guests of the camp.
SURF COURSE AND ACTIVITIES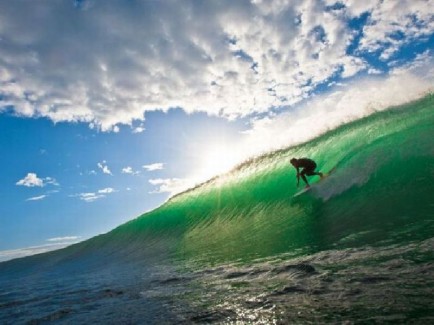 ---
SURF COURSE DETAILS
---
At our surf camp, you'll have class daily at 9am to get the best conditions with the wind, for 1.5 hours. Then if you still have the energy you have the option to continue 'free-surfing' for an additional hour. Classes run 7 days a week. The great advantage of our surf camp is our location on the beach where you've got all the surfing equipment you need at your disposal all the time, and can keep an eye on the surf conditions.  After class is out, you'll still have lots of free time to explore or take on some of our other classes like Yoga or Pilates. You'll be the one to decide when you want to go surfing or when you just feel like relaxing and watching the waves roll by out front.
---
OTHER ACTIVITIES
---
We like to provide lots of different activities for you to do in the middle of the day, to give a well-rounded experience of our beautiful surrounds. Guided hikes up the mountain, visits to the penguin sanctuary, horse-riding along the beach are some of what we offer. Plus you'll get to meet people from all over the world. On Wednesdays we have our famous weekly get together Braai (BBQ) on the balcony, where everyone at the camp gets together at our beach bar. Fridays we go down to the village night market for some fine food & entertainment.
MORE INFO, HOW TO GET THERE & FAQ
---
 SURF CONDITIONS
---
We set right on the beach at Surfer's Corner in Muizenberg, which has consistently mellow waves year round perfect for beginner to intermediate surfing, and excellent for advanced longboarding.
The water is alot warmer than the Atlantic coast surf spots, and the atmosphere in the water is generally friendly and easy-going. With sand-bottom waves that break for up to 200m, its an ideal setup to progress your surfing.
PACKAGES & PRICES
---
2 Day Budget - from R 1095 per Night / Person
---
This package includes:
2x Surf lessons
2x Studio classes (yoga/chi gung)
1x Superfood breakfast and coffee/chai
1x Night accommodation in Mountain-View Shared Dorm Room
---
2 Days Upgrade - from R 1495 per Night / Person
---
This package includes:
2x Surf lessons
2x Studio classes (yoga/chi gung)
1x Superfood breakfast and coffee/chai
1x Night accommodation in Sea-View Private Room
---
3 Days Budget - from R 1795 for 2 Nights / Person
---
This package includes:
3x Surf lessons
3x Studio classes (yoga/chi gung)
2x Superfood breakfast and coffee/chai
2x Night accommodation in Mountain-View Shared Dorm Room
---
3 Days Upgrade - from R 2595 for 2 Nights / Person
---
This package includes:
3x Surf lessons
3x Studio classes (yoga/chi gung)
2x Superfood breakfast and coffee/chai
2x Night accommodation in Sea-View Private Room
---
5 Days Budget - from R 2995 for 4 Nights / Person
---
This package includes:
5x Surf lessons
5x Studio classes (yoga/chi gung)
4x Superfood breakfast and coffee/chai
4x Night accommodation in Mountain-View Shared Dorm Room

---
5 Days Upgrade - from R 4795 for 4 Nights / Person
---
This package includes:
5x Surf lessons
5x Studio classes (yoga/chi gung)
4x Superfood breakfast and coffee/chai
4x Night accommodation in Sea-View Private Room