ABOUT THE SURF CAMP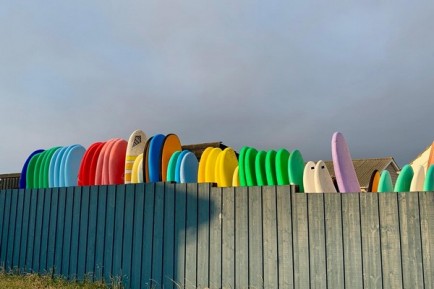 ---
LOCATION AND SURF CONDITIONS
---
Cold Hawaii Surf Camp is located in Denmark (not Hawaii) North Jylland,Klitmoller 7700 Orhagevej 151. We have so many different spots to surf. All in between easy and really high waves. 
---
CAMP CHARACTER
---
Our Surf Camps are ideal for Families, Kids, Couples or on your own.
---
CAMP OPERATOR
---
Mor and Vahine invites you to experience one of the world's best feelings. Try Surfing and be part of our lifestyle, feel our passion and share the love for the ocean. Surfing has given us all that we love, from happiness to freedom, from fitness to wellbeing and from nature exploring to inspiration. Surfing with our professional and friendly crew will be an unforgettable experience for the whole family.
ACCOMMODATION AND CATERING
---
ACCOMMODATION TYPES
---
Our surf camp house located at the heart of Klitmøller at ørhagevej 69. Ideal for anyone who is willing to enjoy a true surf spirit ambiance, talk and breath surfing with the other guests. Share stories and make new friends and memories!
- A comfortable two story house with 8 rooms, 2 showers and 3 toilets
- Coffee and tea corner, living room and a big garden
- Blankets and pillows are provided, bring your own bed linen and towels
- Parking available
---
CATERING
---
You can use our fully equipped kitchen to make and store your food. Besides,our unique concept Surf Shop & CafeN151 is the perfect place to relax and dream away. A lovely lounge with beautiful view as well as plenty of tasty and healthy stuff at the bar such as: 100% Arabica coffee, smoothies, snacks, Organic ice cream and many more are right there!
SURF COURSE AND ACTIVITIES
---
SURF COURSE DETAILS
---
ALL COURSE INCLUDE:
- 2 hours
- All lessons included a Surfboard, Wetsuit, Instructor
- HIGH STANDARD of maximum 8 students per Instructor, followed by international ISA rules!
- HIGH STANDARD of maximum 5 Children students per Instructor. Safety First!
- Get to know your equipment
- Each course includes: Safety instructions, Understanding of currents, dry techniques, warm up and Surf Surf Surf
- All courses take place in Klitmøller, Cold Hawaii.
- Meet up point at Address: Ørhagevej 151, Klitmoller
- Surf boots can be rented for 50kr or purchased at cold hawaii board shop.
---
SURF MATERIALS
---
- Free use of a wide variety surfboards and S.U.P. boards
- Free use of wetsuits
- Free use of bodyboards, skimboards and skateboards


In our board shop you will find the finest surf gear from the world's leading brands (Pukas, Lost, Channel Island/Al Merrick, Jam Traction, Captain Fin, Sticky Bumps, Xcel Wetsuits, Future fins, FCS fins and more ) as well as the local Klitmoller surfboard brand Columbus Surfboards by Mor Meluka. Local Klitmoller clothing are also available and you can find souvenirs that will remind you of the good times in Klitmoller.
---
OTHER ACTIVITIES
<
---
SUP, various events
MORE INFO, HOW TO GET THERE & FAQ
---
 SURF CONDITIONS
---
Breaks directly at the main spot and at nearby spots

We have so many different spots to surf. All in between easy and really high waves.

Seasonal conditions

- January-February water temps between 2-7C
- March-April water temps between 5-9C
- May-June water temps between 9-14C
- July-August water temps between 14-19C
- September-October water temps between 13-15C
- November-December water temps between 8-13C
---
 SURROUNDINGS / REGION
---
Characterization of surroundings/region

Gas station, supermarket SPAR (incl pharmacy service) located few steps away from the camp.
Activities and facilities
The Cold Hawaii Surf Camp Facility is where we meet up, get ready and going surfing from. It's where we come back to after the surf and its where everything is happening! Located Right in front of the COLD HAWAII BOARD SHOP at Orhagevej 151, 7700 Klitmoller.
In our unique facility you can find:
- Sauna
- Changing rooms
- Wetsuit rooms
- Wardrobe to store your belongings
- Shaping room from Columbus Surfboards
- Endless surfboards and SUP's for all levels and sizes.
---
 JOURNEY
---
The public buses are driving in and out Klitmoller to Thisted and from there to the rest of Denmark. In Thisted you can find a train station as well right beside the bus station.  
PACKAGES & PRICES
---
PACKAGE A  -BASIC PACKAGE - from 537€ per Week/Person
---
This package includes:

- Monday-Sunday
- 8 Surf lessons
- 6 nights stay in our camp
- Surf gear available at all time
---
PACKAGE B  - FREE SURFER - from 363€ per Week /Person
---
 This package includes:

- Monday-Sunday
- 6 Night Acoomodation shared room
- Free Surf Gear at all times
---
ONLY ACCOMODATION

---
When booking a surf camp with us, accommodation in a shared room is INCLUDED in the price. You can upgrade your shared room to a private room for 400kr a night per person.
You can book accommodation only as well:
1 night in a  shared room: 400kr (54€)
1 night in a private room 800kr (108€)