ABOUT THE SURF CAMP
---
LOCATION AND SURF CONDITIONS
---
A top Sri Lankan Beach Attraction, Kalpitiya has the perfect conditions for kitesurfing in Sri Lanka in tropical waters, with access to a flat water lagoon and the Indian Ocean, which gives sufers ample playground to enjoy both free rides and wave riding.
---
CAMP CHARACTER
---
We operate an excellent kite school, which is the ideal place to learn and improve your kitesurfing skills and it is the most competent kitesurfing coaching camp in Sri Lanka. Backed by experienced IKO certified (International Kiteboarding Organization) instructors and the best gear with proven safety protocols, students can obtain IKO Kiteboarder Cards upon successful completion of lessons. 
ACCOMMODATION AND CATERING
---
ACCOMMODATION TYPES
---
Each tent features a spacious verandah, providing welcome shade during the day. Sumptuous interiors with king-size beds and unique furnishings turn these living spaces into an intimate and cozy hideaway. Chic en suite bathrooms, replete with rain-showers top off the ultimate luxury tented-living experience. Each pavilion has it's own adjacent, enclosed, outdoor space where you can relax in complete seclusion. Like the rest of the resort, every pavilion features full telephone, internet connectivity, turn down and room service.

We provide:

1. FAMILY TENTS
Each are 60 square meters (850 sq. ft approx.) and have two double bedrooms with two king-size double beds. Each tent can comfortably sleep six (using two sofa beds) and has its own en suite toilet. Alternatively you may reserve a family tent with one king sized bed and two single beds. Each tent has a Verandah, private courtyard and an additional outdoor shower. All rooms are air conditioned with hot water, toiletries, hai dryer, shaving mirror, tea and coffee maker in the room etc. are all provided.

2. STANDART TENTS
Each are 40 square meters (650 sq. ft approx.) and have one double bedroom with a king-size double bed, one single sofa bed and verandah and can comfortably sleep 3. Each tent has its own en suite toilet. Each room has a verandah, private courtyard and an additional outdoor shower. All rooms are air-conditioned with hot water and choice of indoor and outdoor shower. Toiletries, hair dryer, shaving mirror, tea and coffee maker in the room etc are all provided.
Facilities:
WIFI
SUN DECK
FAX & PHOTOCOPY
FREE DRIVERS ACCOMMODATION
ROOM SERVICE
MASSAGE
AYURVEDIC TREATMENT
HOTEL TRANSFERS
FREE PARKING
CURRENCY EXCHANGE
BABYSITTING
SPECIAL DIET MEALS
BEACH BAR
BBQ FACILITIES
AIRPORT TRANSFERS
SAFE
OUTDOOR POOL
CAR RENTALS
PACKED LUNCHES
LUGGAGE STORAGE
---
CATERING
---
Our cuisine is refreshingly cosmopolitan. Our specialities are Sri Lankan and Italian. Home made fresh pastas and wood fired pizzas are on offer. The restaurent prides itselfs on offering cuisines "fresh daily".
SURF COURSE AND ACTIVITIES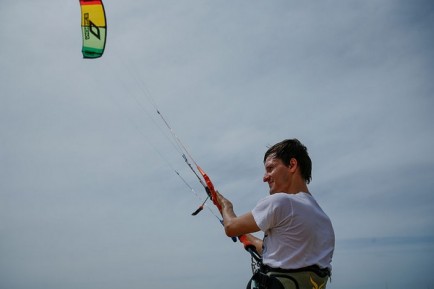 ---
SURF COURSE DETAILS
---
We provide quality lessons and you are rest assured that your are in capable hands. A typical day has 5 hours training divided into a morning session of 3 hours and an afternoon session of 2 hours. We offer standard packages and tailor made packages, to suit all levels, budgets, requirements and preferences.

We offer:
- lessons (from beginners to advanced kite riders)
- supervised riding
- one on one private training (for students willing to improve their skills)
- rental of kiteboarding equipments and kite gears
---
SURF MATERIALS
---
You can rent the gear from us.
---
OTHER ACTIVITIES
---
Dolphin & Whale Watching, Kitesurf, Yoga, Massage Therapy Treatment, Snorkeling, Scuba Diving, Kayaking, Stand-Up Paddle, Water Skiing, Cycling and Fishing

Excursions:
Lagoon Boat Tour
Bird Watching Tour
Kalpitiya Dutch Fort
Cultural Triangle
Kite Safari
Wilpattu National Park
MORE INFO, HOW TO GET THERE & FAQ
---
 SURF CONDITIONS
---
Seasonal conditions
Low Season – 01 April 2020 to 30 November 2020
High Season – 01 December 2019 to 31 March 2020
---
 SURROUNDINGS / REGION
---
Characterization of surroundings/region
Alankuda/Norrochcholai just a few kilometres from Dolphin Beach has one of two night markets in sri lanka offering a wide range of fresh sri lankan produce.
Simply visit the market with our Chef and choose your own vegetables to be freshly prepared to your individual taste.

Activities and facilities
Dolphin & Whale Watching, Kitesurf, Yoga, Massage Therapy Treatment, Snorkeling, Scuba Diving, Kayaking, Stand-Up Paddle, Water Skiing, Cycling and Fishing

Excursions:
Lagoon Boat Tour
Bird Watching Tour
Kalpitiya Dutch Fort
Cultural Triangle
Kite Safari
Wilpattu National Park
PACKAGES & PRICES
---
ACCOMODATION
---
LOW SEASON                                  BB  HB  FB
Single Occupancy - STD/Family Tent $95 $113 $128
Double Occupancy - STD/Family Tent $115 $151 $181


HIGH SEASON                                   BB  HB  FB
Single Occupancy - STD/Family Tent $130 $148 $163
Double Occupancy - STD/Family Tent $165 $201 $231


---
KITESURFING
---
OFFERS:

- DISCOVERY KITESURFING (1 Hour, 35€ Individual, 23€ Group)
- DISCOVERY KITESURFING LEVEL 1 (3 Hour, 105€ Individual, 78€ Group)
- DISCOVERY KITESURFING LEVEL 2 (3 Hour, 105€ Individual, 78€ Group)
- DISCOVERY KITESURFING LEVEL 3 (3 Hour, 105€ Individual, 78€ Group)
- BEGINNERS COURSE (9 hours, 271€ individual, 186€ Group)
- PRIVATE LESSON (1 Hour, 35€)