ABOUT THE SURF CAMP
---
LOCATION AND SURF CONDITIONS
---
We work with several accommodations all on the beach, or within 5 minutes walk to Tofo beach. This bay has gentle waves all year round, perfect for learning! Accommodation will be close to the market center, restaurants and bars, everything is within walking distance.
Tofinho point, for advanced surfers is just one bay down from Tofo. Please let us know if you would like to stay close to Tofinho point, instead of in central Tofo.


---
CAMP CHARACTER
---
All girls & women's retreat, all women over 18 are welcome to come on our trips. Bask in the sun and relax, but also face the challenge of learning to surf and practicing tranquil yoga!
Target group 18~40yrs, fit, active and healthy individuals.


---
CAMP OPERATOR
---
The camp is operated by two girls; one Spanish and one Japanese both in their early thirties. They both love the ocean, nature, and LOVE SURFING! They are very passionate about providing the best service they can to their clients, all the way from giving the surf lessons to grilling fresh fish for your dinner! Between them languages spoken include: English, Spanish, Japanese, Portuguese, French.
ACCOMMODATION AND CATERING
---
ACCOMMODATION TYPES
---
Self Catering Beach House – Double/twin rooms, en suite or with shared bathrooms. Mosquito nets, fans, linen and towels provided. Daily cleaning and security, fully equipped kitchen. We will provide meals upon request, breakfast is always provided!
Boutique Beach Hotel – Double/twin ocean rooms, en-suite with air-conditioning. Restaurant and Bar on site.
---
CATERING
---
Depending on the accommodation option chosen, guests will either eat breakfast at the restaurant on site, or we will provide breakfast supplements (for self catering). Breakfast is a continental spread of toast, condiments, fruit, yoghurt, cheese, tea coffee and juice. Lunches and dinners are provided for groups of 6 or larger.


SURF COURSE AND ACTIVITIES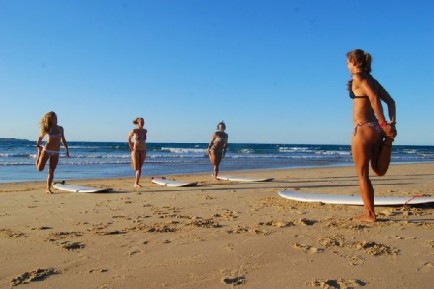 ---
SURF COURSE DETAILS
---
We hold our surf classes in small groups, maximum 4 students to 1 instructor. Lessons are an hour daily, and then students can take the boards out to practice paddling on their own. Lessons are based around the tide, pushing tide from low is always best in Tofo. Course languages in English, Spanish, and Portuguese.
---
SURF MATERIALS
---
We provide rashvests, fibreglass longboards (9'0) and minimals (7'6) and foam boards for beginners. This is all included in our package.
---
OTHER ACTIVITIES
---
Daily Vinyasa yoga classes, and 1 x Ocean safari snorkelling boat trip to see marine wildlife is included in each package.
MORE INFO, HOW TO GET THERE & FAQ
---
SURF CONDITIONS
---
Breaks directly at the main spot and at nearby spots
Sandy point breaks/beach breaks.
Seasonal conditions
Best months on average are March – November. Jan to March is cyclone swell season and suitable for advanced surfers. Winter months (May/Sept), water temperature approx. 23 degrees.
Crowd factor and local people
Very uncrowded waves, and super freindly locals!


---
SURROUNDINGS / REGION
---
Characterization of surroundings/region
Inhambane province is in the south east corner of Mozambique, facing the Indian ocean. Tofo is a small town located 23km from Inhambane town (capital of the province), and also Inhambane airport. It is a dune town, the locals speak the national language, Portuguese. Curreny is in Meticals, but South African Rand is widely accepted.
Activities and facilities
Tofo is a vibrant town with several restaurants and bars, often with live music on the weekends. Other activities available include: SCUBA diving, kayaking, quad-biking, mangrove walks, massage.


---
JOURNEY
---
Ways to get to the camp
There are direct flights from Johannesburg to Inhambane airport, from where we will pick you up. If you fly into Maputo (500km south of Inhambane), we can do a private shuttle which takes approx.. 6 to 7 hours at an extra cost. This can be expensive if it is for a small group.
Important details
VISAs are required, please visit your closest Mozambican embassy or consulate. They are also available on arrival, but we do recommend trying to attain one beforehand. Malaria prophylaxis also advised, Mozambique is a malaria zone.


PACKAGES & PRICES
---
PACKAGE A - Beginners Surf Camp & Yoga Retreat - from 885 $ per Week / Person
---
Even if you have never sat on a surf board before, we guarantee you will be standing and catching your first waves on this trip!  Tofo bay is truly the most beginner friendly, perfect place to start learning. Come with your girlfriends, as well as meet other chicks who love the ocean and being active. There is nothing better than fun and fitness in the sun and sea with your mates. You will leave Tofo as a sun-kissed surfer girl!
Daily surf coaching, yoga classes, healthy meals, and other fun ocean adventures!
Enter the world of surfing, one of the best things you will ever teach yourself… feel the stoke!!!!


This package includes:

7 night beach-side accommodation
Breakfasts
Daily yoga class
Daily surfing lessons
1 Ocean safari snorkeling trip to see Whalesharks & Mantas during their stay (2hr boat trip)
Surfboards, rashvests, yoga mats
4x4 transport locally and around the surf spots
Transfers from Inhambane airport
Branded Rip Curl Surf pack
Daily drinking water

Accommodation in Beach Villa: Large open plan beach villa with three double rooms. Two extra sofa beds can be arranged in the loft. All linen and towels provided, daily cleaning services, night security. Safety boxes available on site. Outdoor terrace with BBQ area and wood fire pizza oven. Fully equipped kitchen for self-catering. Breakfast supplement provided, full board can be arranged on request. - 885$

Accommodation in Beach Hotel: Accommodation: Luxury boutique hotel with limited rooms, suitable option for 1s and 2s. Ocean view twin rooms en-suite with Air Conditioning. Wifi Internet available, Restaurant and bar on site. - 1350$


---
EXTENSION - Surf'n'Safari

---
If you have traveled long and far to come and surf our waves… it would be a real pity to not visit Kruger Park and see the Big 5 in the wilderness. The beauty of our African bush is equal to the beauty of our African oceans.
Sea & Land, Ying & Yang… balance your trip with 3 nights in the bushveld. Instead of falling asleep to the sound of waves, experience falling asleep to the sound of lions and hyenas
After your surf trip, hop onto a short flight to Maputo, the capital city. From there you will be picked up and transferred by a private shuttle across the border into South Africa, Komatipoort. You will arrive at the safari lodge in the late afternoon. Open vehicle game drives start early the next morning, all day through the park.
Two full days of game driving will cover a good portion of the park, on the third day you'll be transferred to Johannesburg (O.R. Tambo International Airport) on the shuttle via Blyde River Canyon. Africa's second deepest canyon, it has a breath-taking view and shouldn't be missed.
These extensions will have to be booked at least a month in advance, so do contact us and let us know!
* Minimum 4 pax required to organize a Kruger trip!


---
EXTENSION - Vinyasa Yoga Retreat
---
Want more yoga? Join our three day Vinyasa yoga retreat in a tranquil setting on the beach in Mozambique…
This wonderful three-day-yoga retreat will allow you to go deeper into the yoga practice that you already experienced during your surf retreat. The body is more open and adapted to go into more advanced postures and to touch upon other exciting topics that go along with yoga.
You will attend 2 classes a day of 1.5 hours, just after sunrise and just before sunset. The classes will focus on different subject each day like back-bends, balances and core strength and will include one or two restorative yoga classes. One one of the 3 days we will go to the beach early around 6am for a breathtaking sunrise guided meditation.
The spiritual journey that comes together with yoga will be touched upon during the workshop "an introduction to yoga philosophy" and during your own practice. This will lead you to feel your growth in both breathing, meditation and transformation. Besides this we will focus on the physical benefits of practicing yoga on a regular basis.


---
Intermediate and Advanced Surf Trips are also available