ABOUT THE SURF CAMP
---
LOCATION AND SURF CONDITIONS
---
Bali is synonymous with rejuvenation and wellbeing. Canggu is a beautiful beach-side town in the south of Bali around 20 minutes from the popular area of Seminyak.
Canggu is a special place, combining the beauty of Bali's spectacular natural surroundings, with boutique stylish shops, healthy eateries, funky gift stores, indulgent spas, beachfront dining and local artisan markets.
Canggu is perhaps most well known for its vibrant surf scene and stunning beaches. A sunset by the beach is a must-do when in Canggu! The area is safe and everything is within an easy walk or cycle.
Some of Bali's Best surf breaks are a stones from away from the Escape Haven Retreat.

We are also a roaming surf programme, surfing different beaches around beautiful Bali based on conditions.  
---
RETREAT CHARACTER
---
Leave your worries and shoes at the door and slip into island mode at our luxurious private sanctuary, where indulgence and wellbeing walk hand-in-hand.
Retreats are customized and tailored to suit your personal needs and goals and your dedicated retreat host will work alongside you to craft your unique itinerary.
You are invited to do as much or as little as you please!
If you're looking to simply relax and unwind, you can spend your days by the luxurious pool and bask in the sun while being pampered from head to toe or enjoying a cool cheeky mojito.
 We believe that every woman has the ability to rejuvenate, transform, and blossom into the most radiant version of herself when given time, space and the support of a nourishing, uplifting environment.
With an average of 12 guests, we keep group sizes small so we can provide the highest quality service and offer you an intimate experience where privacy and exclusivity are key.
 Rather than one size fits all, we love being able to customize your luxury wellness retreat experience with us. While we are boutique, we believe in barefoot luxury where you can unwind and feel free to be yourself just as you are.
ACCOMMODATION AND CATERING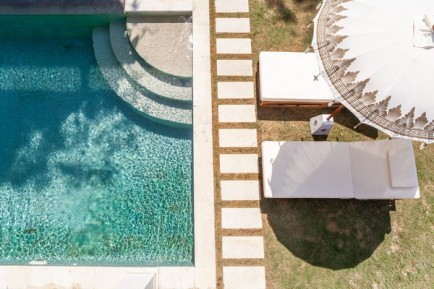 ---
ACCOMMODATION
---
Our retreat consists of three luxurious and spacious villas, our main Retreat complex boasts spacious ensuite rooms, a large pool area, yoga shala and communal areas. Our spacious villas offer you the luxury of privacy and seclusion, whilst still being close to all the communal areas, spa, pool, and yoga shala.
All rooms are spacious, air-conditioned and furnished with both comfort and style in mind.
You'll feel totally at ease in your 'home away from home', with every bedroom having all the modern comforts you need to enjoy your stay – from fresh cotton linens to your own custom blended spa products.
All rooms include:
Luxury room amenities including kimono robes, hairdryers and spa toiletries
Butler service
Daily housekeeping
Our custom blended spa products
Goody bags including sarong, tote bag and some other goodies for you
Nightly turndown gifts and inspirational quotes
---
CATERING
---
We take food very seriously here and it's a key part of our program. Cited as one of the highlights of our retreat weeks, we take pride in our daily changing spa cuisine menu designed to tantalize your taste buds!
What sets us apart as the most popular Bali women's retreat is that we truly cater to guest's culinary needs as we are dedicated, passionate foodies.
We tailor each dish to our guest's personal tastes and dietary requirements whether it be vegan, paleo, vegetarian, pescetarian, dairy-free, grain-free, low fructose and many more.
Another reason why we set the standards in luxury retreats is that we also make all our own food with ingredients sourced from local providers and of the highest quality.
Our spa cuisine is bursting with flavors along with high nutritional content.
As part of your retreat you'll enjoy:
Daily gourmet breakfasts
Fresh delicious lunches Gourmet dinner feasts!
Snack attack platters served some afternoons, poolside
Our cuisine is about delicious quality fuel, not deprivation. We serve an abundance of locally grown organic fresh fruits and veggies, fresh local fish and free-range chicken.
Our menu has been carefully devised by our therapeutic chef, based upon the philosophy of whole foods, so we avoid preservatives and processed foods. It's healthy, delicious and utterly nourishing leaving you feeling satisfied and energized.
SURF COURSE AND ACTIVITIES
---
SURF COURSE DETAILS
---
Revive surf package inclusions:

6 nights luxury accommodation in our stunning Canggu Sanctuary with butler service 
Luxury room amenities including kimono robes, hairdryers and spa toiletries Delicious spa cuisine prepared by our qualified wellness chefs – all breakfasts, lunches and dinners (excl 2 meals)
5 surf sessions

Small group sizes of 1 instructor to 2 or 3 students ensuring safety and confidence
Expert qualified surfing instructors to look after you
Expert Western lead coach ensuring nothing gets lost in translation
Roaming women's specific surf program visiting and surfing different beaches around Bali Boat trip to a secret spot with translucent waters (conditions dependant)
Fresh coconuts after each surf, scented cool towels and gourmet snack boxes
Daily photos of your surfing progress and photo analysis with lead coach Personal disk drive full of your surfing photos
Daily yoga classes
Unlimited spa treatments
Indulge and Ignite day – choose from 10 different adventure or relaxation experiences around Bali
Luxury Wellness Bath (room dependent)

Please note our Revive program is adjusted slightly between December and March. During this period we venture to the wonderful East Coast where you enjoy 3 half-day surf adventures, which includes a trip by boat out to a gentle, crystal clear reef break! You will also enjoy two bonus yoga classes to balance out the yin and yang! 
---
SURF MATERIALS
---
Our Revive surf package includes surf board rental, rash vest, daily photos of your surfing progress and photo analysis with lead coach, Personal disk drive full of your surfing photos.
Prior to your arrival our Retreat planning will confirm your surfing level, surf board preference and surf rash vest size so all that's left for you to do when you arrive is catch some waves!
---
OTHER ACTIVITIES
---
Our Revive surf package also includes, daily yoga, unlimited spa and an Indulge and Ignite day – choose from 10 different adventure or relaxation experiences around Bali.
We have a range of additional activities that you can add to your week with us at an additional cost:
Ayurveda Healing menu
Ayurveda consultation
Balinese Healing
Heller Body Worker
Private Fitness session
Private Yoga session
Additional surf session
Reiki Healing
Energy Healing
Tarot Reading
Nutritional consultation
Sound Healing
Acupuncture Colonics
MORE INFO, HOW TO GET THERE & FAQ
---
 SURF CONDITIONS
---
Breaks directly at the main spot and at nearby spots

Escape Haven Retreat is a stones throw away from Echo Beach and a short trip to many of the other main surf spots in Canggu.  The breaks in Canggu offer a great mix of waves for all levels of surfers and as a roaming surf program we will also travel to other beaches in Bali to find the best wave conditions for you.
Seasonal conditions
We have 2 distinct seasons here in Bali where the temperature for both is around 90° F or 30° C. 'Dry' season, April – November, is beautifully sunny and warm during the day and refreshingly cool at night (no less than 25°C).
'Green' season welcomes a daily shower which keeps Bali beautiful and blooming with greenery! These showers are nothing to fret over, in fact, they can be a blessing in disguise!
Ways to get to the Retreat
We provide complimentary airport transfers to the retreat. If you are arriving from another accommodation in Bali, we are able to provide complimentary transfers to the following local areas only – Seminyak, Kerobokan, Kuta, Legian, Umalas, Petitengit and Canggu.
PACKAGES & PRICES
We have a range of accommodation options available for you to choose from.  Our Retreats are 6 nights/7 days, all inclusive - accommodation, meals, airport transfers and package inclusions.

Master Retreat room + Revive surf package - US$2,894 pp 

Private Retreat room with ensuite + Revive surf package  - US$2,794 pp

Private ensuite room 3 bedroom offsite Pool Villa 1 + Revive surf package  - US$2,694 pp

Private ensuite room 3 bedroom offsite Pool Villa 2 + Revive surf package  - US$2494 pp

Our Revive surf package is our most popular package.  We do also have a range of other packages you can choose from if you would like to focus more on Yoga, Fitness, Pilates, Healing, Detox or tick off some items with our Bucket List package.

You can view all of our packages and compare inclusions on our website:
https://escapehaven.com/retreat-packages/#package-table