ABOUT THE SURF CAMP
---
LOCATION AND SURF CONDITIONS
---
Finimas Residence is one of the best hotel in Maldives offering exquisite hospitality services for people looking to relax and enjoy beautiful Maldivian environment. This budget guest house located on the island Thimarafushi in Thaa. Atoll. The hotel is located right next to the beach. You will experience a treat no other budget guest house in Maldives can offer – the world class un-crowded beaches and a number of dive reefs and best surf point are available to offer for a wonderful experience for sports lovers.
ACCOMMODATION AND CATERING
---
ACCOMMODATION TYPES
---
Standard Twin Room
   
Standard Double room
   
Deluxe Family room
---
CATERING
---
Breakfast
SURF COURSE AND ACTIVITIES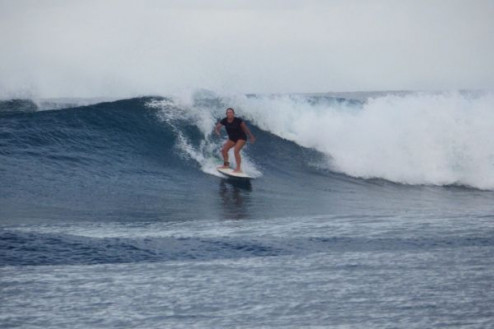 ---
OTHER ACTIVITIES
---
- Picnic Island Trip
- Sand bank Trip
- Night Fishing
- Octopus Hunting
- Island Hopping
- Diving
- Dolphin Watch
- Resort Trip - Day visit


MORE INFO, HOW TO GET THERE & FAQ
---
 SURROUNDINGS / REGION
---
The island of Thimarafushi is one of the inhabited islands of the Maldives. Geographically located in the Thaa Atoll, which is also known as the Kolhumadulu Atoll, the island has a recorded population of 4253 people. As Maldives is famous for its surrounding sea and its bountiful treasures under water, Thimarafushi has its own sea transport vehicles. It owns two launches used for various purposes and nine mechanized dhoani used for fishing.. It has three other boats which travel between Malé and atolls. At September 2013, a new airport on reclaimed land was opened in the island. The size of the island increased to 0.62 km2 following this project, that also added a new neighborhood.In Thimarafushi there is a youth centre which provides many indoor games, like table tennis, billiard, badminton, and futsal. It's not for school students after 6pm. There is a bashi court for women, and a volley court for males and females. and a new basket ball court is to be opened.
PACKAGES & PRICES
---
PACKAGE A: Surf Package - from 700 $ per Week / Person
---
This package includes:
- Full day surfing
- Picnic island trip. with BBQ lunch
- Night fishing