ABOUT THE SURF CAMP
---
LOCATION AND SURF CONDITIONS
---
Aourir was nicknamed "Banana Village" by Jimi Hendrix due to its dense banana groves and its large quantities of bananas sold on the roadside. This seaside area has become well-known especially for surfing in the winter months. It is situated 10 minutes north of the city of Agadir and about 3.5 hours south of Marrakesh. Here, you will experience traditional markets full of fresh fruits and veggies, fish market, and plenty of small cafes and restaurants. Banana beach is within walking distance (five minutes) and the famous surf spot Devil´s rock is also nearby. Follow the Sun is situated just above the roundabout of Banana village in part of a village called Tamaouanza. It is situated up on the hill with beautiful ocean view, breath-taking sunsets, just five-minute walk from the village rush. -Nearby places Agadir - 10 minutes Banana beach - 5 minutes' walk *Tamaouanza - 5 minutes' walk


Surfing is now the common theme for visitors. Morocco is famous for its long right-hand point breaks; thoroughly consistent and generally uncrowded. The most famous of which is a little to the north. In the right conditions, this point can take you on a two-kilometer ride, starting at Anchor Point, joining up with Hash Point, Banana beach, or Devil´s rock. It's called surfing from village to village. There are several other in and around the area making it an ideal destination for all levels of surfing skill. The waves work best between September to April especially for advanced surfers, receiving similar conditions to that of mainland Europe, but with the warm waters of the Moroccan Atlantic up to 21 degrees.The rest of the year, the surf is good for beginners and intermediate
---
CAMP CHARACTER
---
target group 18+ , groups but also indviduals, camp size - family-like atmosphere,  party camp-,average age of participants 25, main language used in camp- english, sllovak
---
CAMP OPERATOR
---
Follow the Sun, as a project, was born few years ago. It started as a personal blog of Myš and Pandej when we travelled around Europe. After the first trip - hitchhiking through Austria, Italy, France and Spain while sleeping in a tent or just couchsurfing - we have met a bunch of amazing people who keep inspire us to continue in blog writing as well as travelling. We became addicted to it!
In 2015 we fell in love with Morroco and that is the main reason why we moved here this year. Travelling is a passion for us, spending time with locals and exploring the world around us as a lowcost traveller has taught us a lot.
Afterall, our team has to expand and has already welcomed a new team members.  Now, we are offering you the excitement in Africa with all tastes and flavors it has and we guarantee you won't have any regrets.
ACCOMMODATION AND CATERING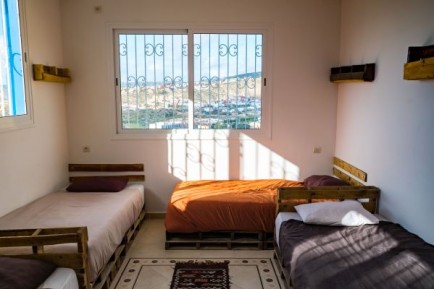 ---
ACCOMMODATION TYPES
---
Relax and enjoy your stay in a space designed to feel just like home. Guest rooms are designed to offer an ideal place to enjoy a refreshment. All rooms are finely decored with original pieces of furniture with design elements. Follow the Sun has three floors. The capacity of the hostel is now available for 17 people. The terrace is located on the third floor with a view over the sea and mountains. There are three private rooms with a double bed. Two share rooms, the first has a capacity of five beds and the second one has a capacity of four beds. Follow the Sun is staffed with enthusiastic people who love to go backpacking themselves and traveled around Morroco before, so they are the best advisors when you want to choose your trips around or explore the city. The reception is available 24 hours a day. The bathroom and the toilets are to be shared. Each floor contains a sanitary block with toilets. The common bathroom is situated on every floor.
-Share Room 4  - Beds he room comes with four single beds and wooden furniture. You have a private balcony with views of the ocean, the village, and mountains.
-Private Room Classic - The room comes with a double bed and wooden furniture. You have a built-in wardrobe in the room. The room provides a breathtaking view of the village and mountains. Relax and enjoy your stay in a space designed to feel just like home.
-Private Room Deluxe - The room comes with canopy double bed and wooden furniture. You have a private balcony with views of the ocean, the village, and mountains.
Accessible 24 / 7, chill out and relax on the terrace with amazing view of the mountains, ocean, and Banana village. It's just the perfect place to stay.
---
CATERING
---
Follow the Sun provides breakfasts for better mornings. They also offer you delicious breakfast, which is included in the price of the accommodation. For vegan options, please contact Follow the Sun in advance to confirm the price. Breakfast is served from 8 till 11 am, but it also depends on your request. Packed lunch is included in the package during surf lessons. Follow the Sun also offers dinners for an extra fee.
SURF COURSE AND ACTIVITIES
---
SURF COURSE DETAILS
---
4-hour surf lessons with instructor
surf and wetsuit rental
Transfer from / to Agadir-Al Massira Airport (AGA)
nights' accommodation
packed lunches
Daily breakfast
Bottled water


---
SURF MATERIALS
---
Surf and equipments: Follow the Sun also rents surfboards for 5 € per day and wetsuit for 5 € per day.
There is possibility to order services of the surf instructor for 25 €  per day per person. The surf instructor speaks English perfectly and provides excellent lessons.
---
OTHER ACTIVITIES
<
---
Visiting Moroccan hammam. The hostel, in collaboration with Taghazout Golden Spa, offers traditional hammam and massages. Hammam is the Islamic variant of the Roman bath, steam bath, sauna, or Russian banya, distinguished by a focus on water, as distinct from ambient steam. A visit to a Moroccan hammam (bathhouse) is a wonderful experience and one of the best ways to connect with Moroccans. Transfer from / to the hostel is included in the price. from 20€



MORE INFO, HOW TO GET THERE & FAQ
---
 SURROUNDINGS / REGION
---
Characterization of surroundings/region
Aourir was nicknamed "Banana Village" by Jimi Hendrix due to its dense banana groves and its large quantities of bananas sold on the roadside. This seaside area has become well-known especially for surfing in the winter months. It is situated 10 minutes north of the city of Agadir and about 3.5 hours south of Marrakesh. Here, you will experience traditional markets full of fresh fruits and veggies, fish market, and plenty of small cafes and restaurants. Banana beach is within walking distance (five minutes) and the famous surf spot Devil´s rock is also nearby. Follow the Sun is situated just above the roundabout of Banana village in part of a village called Tamaouanza. It is situated up on the hill with beautiful ocean view, breath-taking sunsets, just five-minute walk from the village rush. -Nearby places *Agadir - 10 minutes *Banana beach - 5 minutes' walk *Tamaouanza - 5 minutes' walk
---
Activities and facilities
---
Banana Village is surrounded by two sides of mountains and by one of the ocean. There are huge opportunities to hike in the area. 10€

Visiting La Médina La Médina is a handicrafts space created in 1992 by the Italian artist Coco Polizzi, at Ben Sergao, a district close to Agadir, 4.5 kilometers from the city center. Built using techniques of traditional Berber construction, it is a kind of small open-air museum, on five hectares and home to artisan workshops, a museum, individual residences, a small hotel, and an exotic garden.  10€

Visiting Paradise Valley Escape city life and explore the natural beauty of Imouzzer and Paradise Valley! Find flowing streams, limestone gorges, rich plantations, and charming villages in the picturesque Moroccan countryside. Begin your trip with a scenic drive along the winding roads and see the contrasting, colorful landscapes as you reach the aptly named Paradise Valley. The deep, palm-lined canyon, combined with a flowing river snaking along its base, creates an awe-inspiring photo opportunity. Continue your journey through an abundance of argan, almond, and olive trees before reaching Imouzzer, a small village tucked away in the westerly outcrop of the Atlas Mountains. Enjoy free time to explore, meander along the walkways where you can find souvenir shops and cafés. After a rocky walk of about 20 minutes, you reach the pools, which are stunning. During winter, there is a lot more water, and if you keep walking up the valley, you reach a huge waterfall with a big pool you can jump into. Follow the Sun also offer a longer trip to Paradise Valley, which includes lunch / dinner in the breathtaking landscapes of the valley. 25€

Visiting Souk El Had This is the largest market in the region. It has about 6,000 small shops. It is surrounded by walls and has several entrances. It is organized into different sectors: furniture, crafts, clothing, vegetables, meat, spices, etc. It is possible to find all kinds of handicrafts and traditional decorations. The best place to buy all presents for your friends and family. 10€

Trip to the Dune - In the Agadir area, about 50 minutes away from the city there is a secret, hidden place with amazing dunes and landscapes like you've never seem before. 35€
---
 JOURNEY
---
Ways to get to the camp

-Arrival by airplane Please book your flight to arrive at Agadir-Al Massira Airport (AGA). Transfer from and to the airport is included. Follow the Sun will pick you up from the airport.

-Arrival by bus The bus stop at the airport is located outside on the main road, the bus No.37 to Inezgane will be coming from your right as you emerge. From Inezgane, you need to take another taxi or bus to Agadir center and then change for bus or taxi to Banana village / Aourir. It´s complicated and it is not advised to take this option. Banana village just north of Agadir is connected by Citybuses No.32 and No.33 passing through on route to Tamri, these buses originate at Place Salam in the Abattoir district in Agadir, which is the City's transport hub for taxis and buses.


We offer pick-up to our hostel from: Agadir city for 15 €, Agadir Al Massira airport for 30 €,  Marrakesh for 100 €, Essaouira for 60 €
---
Important details
---
Check in after 11.00
Check out till 12.00
PACKAGES & PRICES
---
PACKAGE A  - from 290 € per 5 days / Person
---
This package includes:


5x accommodation with breakfast
3x surf lessons /4hours/ with instructor
3x surf and wetsuit rental
3x packed lunch
transfer from/to the airport Agadir
bottled water
---
PACKAGE B  - from 400 € per Week / Person
---
This package includes:


7x accommodation with breakfast
4x surf lessons /4hours/ with instructor
4x surf and wetsuit rental
4x packed lunch
transfer from/to the airport Agadir
bottled water
---
PACKAGE C  - from 570 € per 10 days / Person
---
 This package includes:


10x accommodation with breakfast
6x surf lessons /4hours/ with instructor
6x surf and wetsuit rental
6x packed lunch
transfer from/to the airport Agadir
bottled water